A solid link building strategy starts with a link gap analysis. But what exactly does that entail, and how can you use it to uncover hidden backlink opportunities for your website?
Read this step-by-step guide to analyze competitors' backlink profiles and identify untapped link prospects. You'll learn basic and advanced tactics of backlink analytics and how to act on the findings.
Get ready to bridge the gap and grow in the SERPs.
What is a Backlink Gap Analysis?
A backlink gap analysis is a link building tactic to identify potential link-building opportunities by comparing your website's backlink profile against competitors.
SEO specialists perform backlink analysis at the domain level and page level to spot more link prospects. They also filter the results by domain authority (DA/DR), organic traffic, and other metrics to build a list of high-quality backlink opportunities likely to boost your rankings.
3 Important Benefits of a Backlink Gap Analysis
Here are three ways to leverage a backlink gap analysis to drive your SEO performance. And they have nothing to do with the common knowledge that backlinks are crucial for search engine optimization.
Benefit #1: You keep an eye on the competition
Keep a close watch on your competitors and their link building strategies. Gain valuable insights into the following:
What kinds of content and pages get the most links in your industry or niche?

Which types of websites tend to link to your competitors?

The link building tactics your rivals use, such as guest posting, infographics, linkable assets, or influencer collaborations.

The gaps in your competitors' strategies that you can exploit.

The keyword clusters your competitors are targeting with their backlinks.
In a nutshell, a proper competitor analysis informs your own SEO strategy and allows you to react timely to the changes.
For example, you can compare referring domains of 2−3 and more sites at a time to detect activity surge. See this blue spike in referring domains for Simform? You can now create a report showing all the backlinks acquired during that time.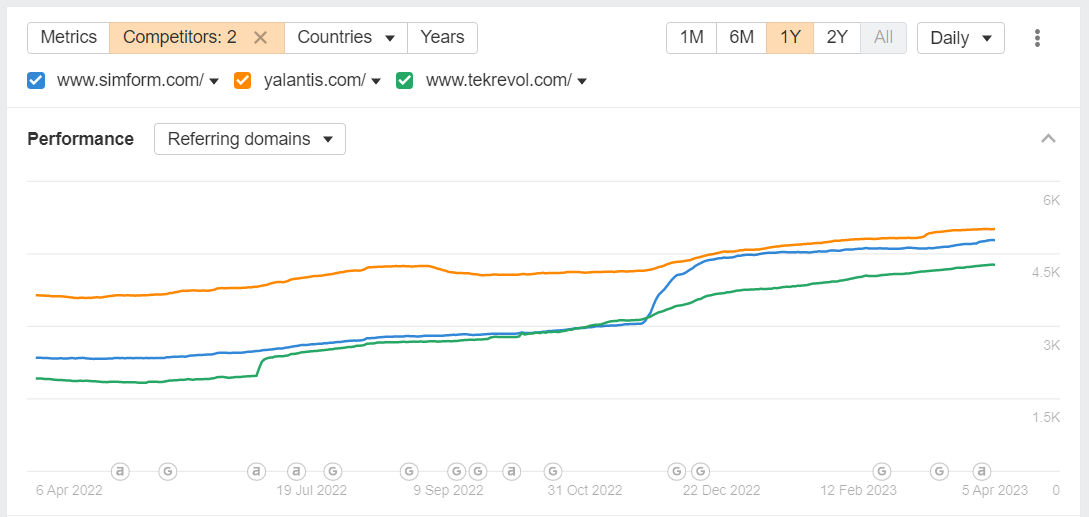 Monitor your competitor link building activities to stay on edge.
So, examine what link building tactics your competitor employed.
Benefit #2: You identify qualified link prospects
A backlink gap analysis is a shortcut to pinpoint qualified link opportunities and enrich your list of prospects. This targeted approach saves lots of time and resources, allowing you to focus on the most relevant and authoritative sites in your industry. As seen in the screenshot, the root domain is missing out on many potent link opportunities from DR 90+ websites.

Loot competitors' backlink opportunities.
In fact, plenty of SEOs, Digital Olympus included, start devising link building strategies with a scrupulous link gap analysis. Besides finding promising prospects, you can use it to understand how many links you should build to the target URLs.
Benefit #3: You identify pages to build backlinks to
By monitoring competitors' backlinks, one can identify what kind of pages/content tend to earn the most backlinks. Therefore, you can invest in creating similar pages to also attract links. Likewise, you can pinpoint the lagging pages on your site that would benefit from a stronger backlink profile.
For instance, if you notice that a particular page is underperforming, it might be due to a lack of backlinks. So, pouring some backlinks onto that specific page will improve its search engine rankings and overall visibility.
Here are some more expert insights on this topic.
«When identifying pages we need to build links to, we first look at the business value of the page — the conversion rate. Then, we're looking to see if we've exhausted all our options for on-page optimizations and content-UX optimizations (adding page jumps, reducing time to first bite, adding TLDRs, adding interactive elements — e.g. tables, videos etc.).

If so — we then look up the keyword we want to rank for with this page in Ahrefs' Keyword Explorer, and compare the link profile of the pages ranking above us. We consider the pages' DR, quantity as well as the quality of the links they have. If we feel that bridging the link gap could help our page climb in SERPs — this is when we make the decision to invest in link building to that page." - Emilia Korczynska, Head of Marketing at Userpilot.
Now, let's get practical and learn how to find and bridge the link gap.
How to Perform a Backlink Gap Analysis Step-by-Step
Here, you'll find actionable advice under every step listed, so you can easily perform backlink analysis as you read.
Sidenote: To analyze competitors' backlinks, you need an SEO tool. Our choice is Ahrefs, but feel free to use any other option you like.
Step #1: Make a list of your competitors
For starters, create a sheet with competing sites within your industry. Add those coming first to your mind. Then, open up Google and analyze the search engine results page by broad but niche-relevant keywords — soft toys shop, keyword research tool, etc.
Next, deepen your search to uncover page-level competitors. Go to Ahrefs' Site Explorer and put your target URLs one by one to study the competition.
For instance, you want to prioritize and promote Cloud native app development exclusively. So, copy your target URL, paste it into Ahrefs, and open the Competing Pages report.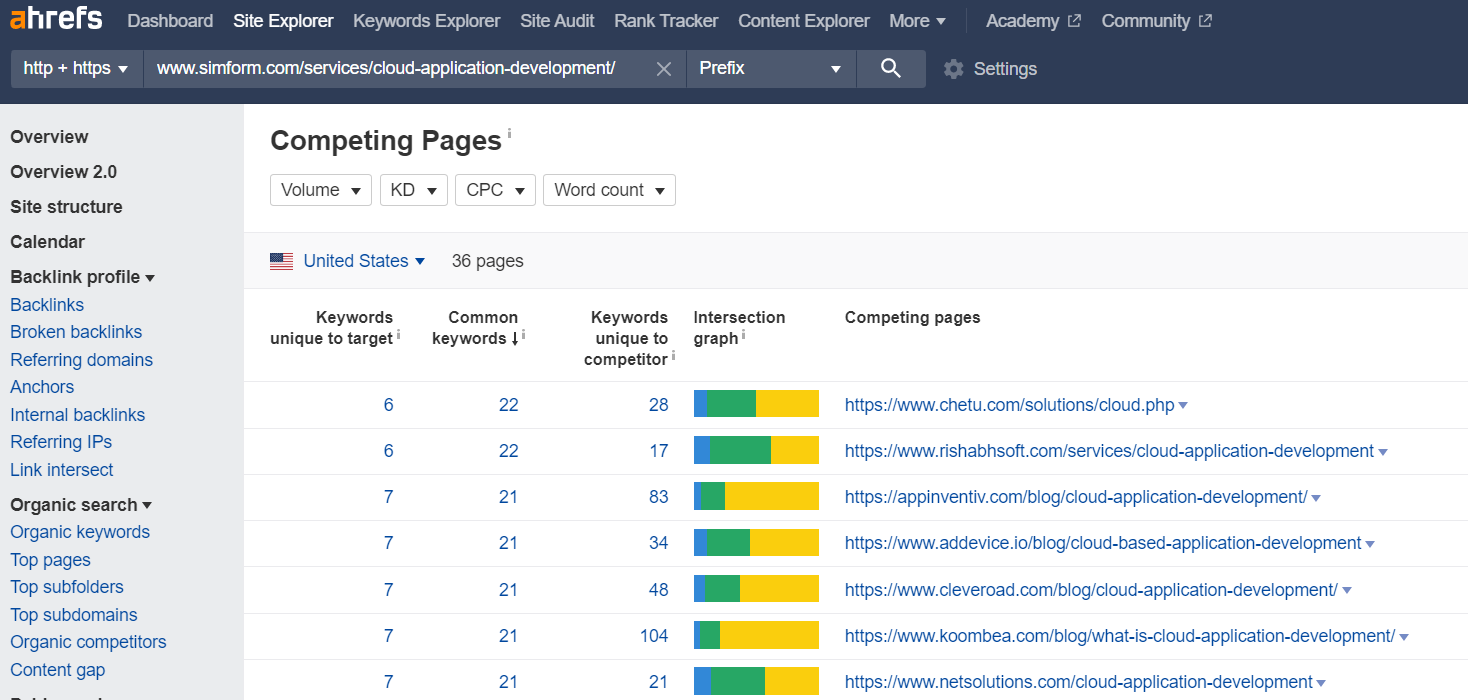 Find your page-level competitors with Ahrefs.
After that, overlap these pages to see who wins the most keywords with the highest rankings in Content Gap. Once leading URLs are spotted, analyze their backlink profiles to get a sense of their backlink strategy.
Another way to identify page-level competitors is to look over the SERP by primary keywords with Keyword Explorer. This report simultaneously displays the top 10 search results and corresponding linking domains, making it super convenient for a quick analysis.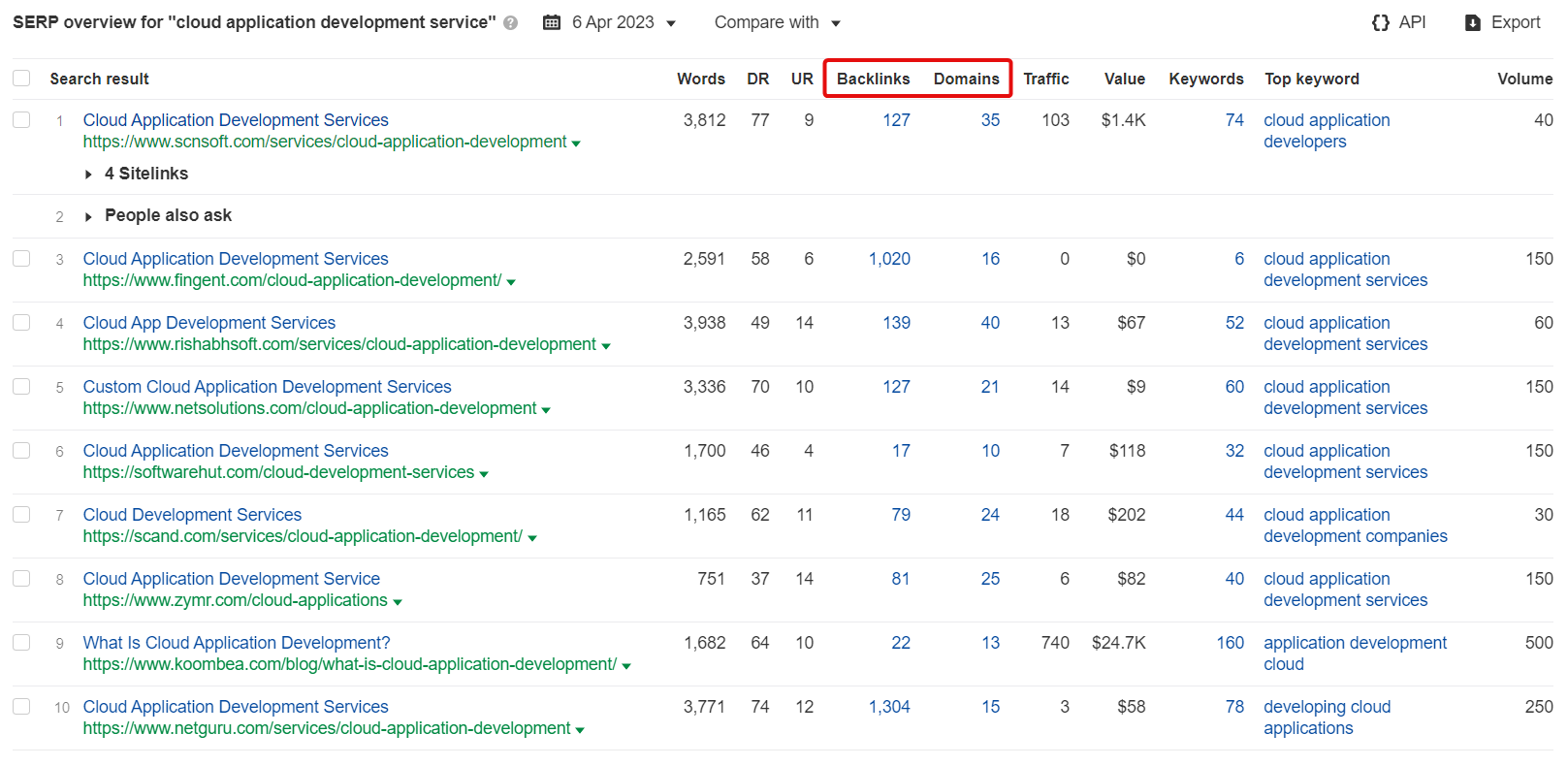 The SERP overview for the keyword.
Once you're done with selecting your domain-level and page-level competitors, move on to the next step.
Step #2: Choose the link intersect option
To find a link gap, both for the domain and the page, navigate to Link Intersect. This tool compares the referring domains of your chosen competitors with your backlinks and shows which referring domains you are missing out on.
In other words, you'll get a comprehensive list of domains that link back to your rivals but don't link to you.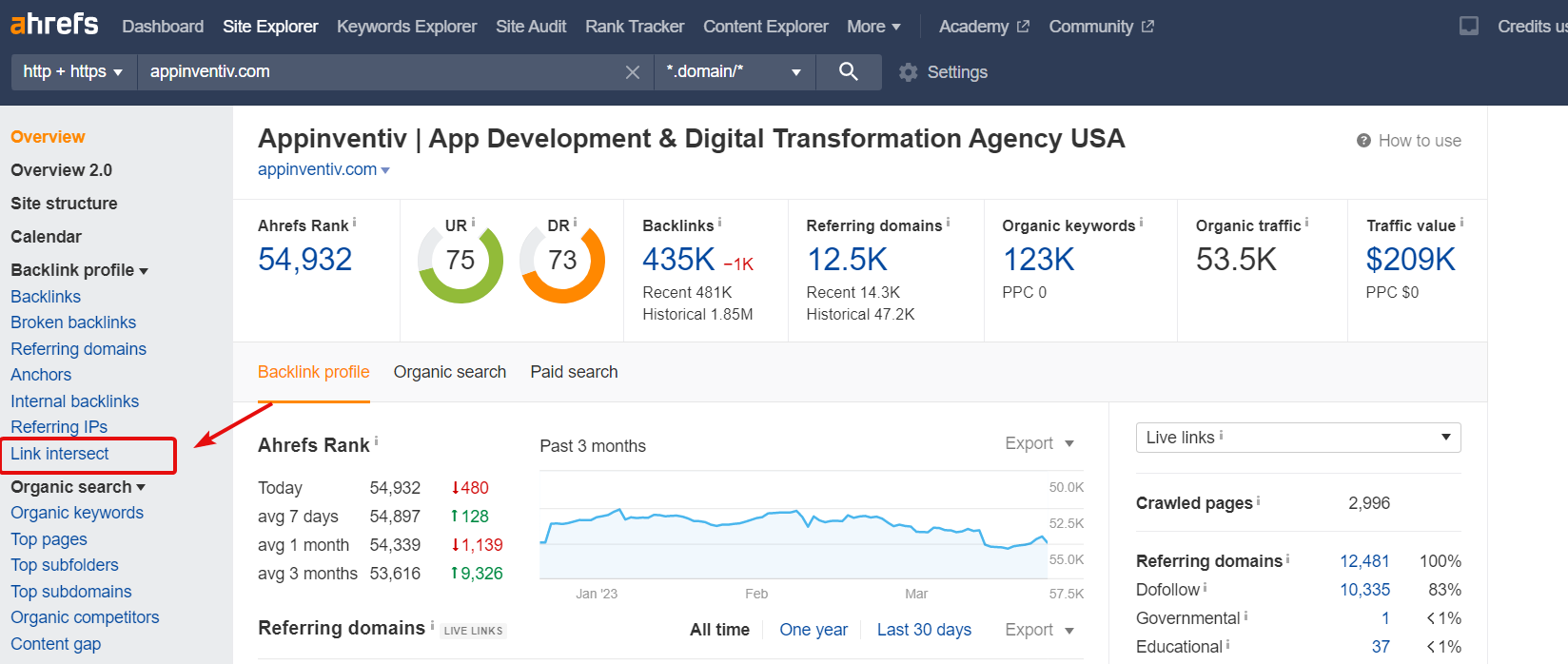 How to find Link Intersect.
P. S. Note that Ahrefs and its Link Intersect tool still have some limitations regarding the accuracy of data.
«The key limitation of all those types of profile comparison tools is the size of the index of the specific tool. No tool will ever have a complete picture. And I think that the other thing is that metrics are never a substitute for a manual review in terms of quality. But of course, some metrics are necessary in order to scale analysis.» — Stacey MacNaught, SEO and Content Marketing Consultant at MacNaught Digital.
Step #3: Enter your competitors and the target website
Upon clicking on Link Intersect, you're prompted to add competing domains for further link analysis. You can enter and compare up to 10 sites simultaneously.
For hyper-relevant results, choose the intersection of all the sites. This way, you can detect sites linking to all of your competitors' domains, making them 99% relevant for you to pursue this opportunity. To widen your search, select all the levels of intersection.
To intersect links on the page level, paste a competitor's URL.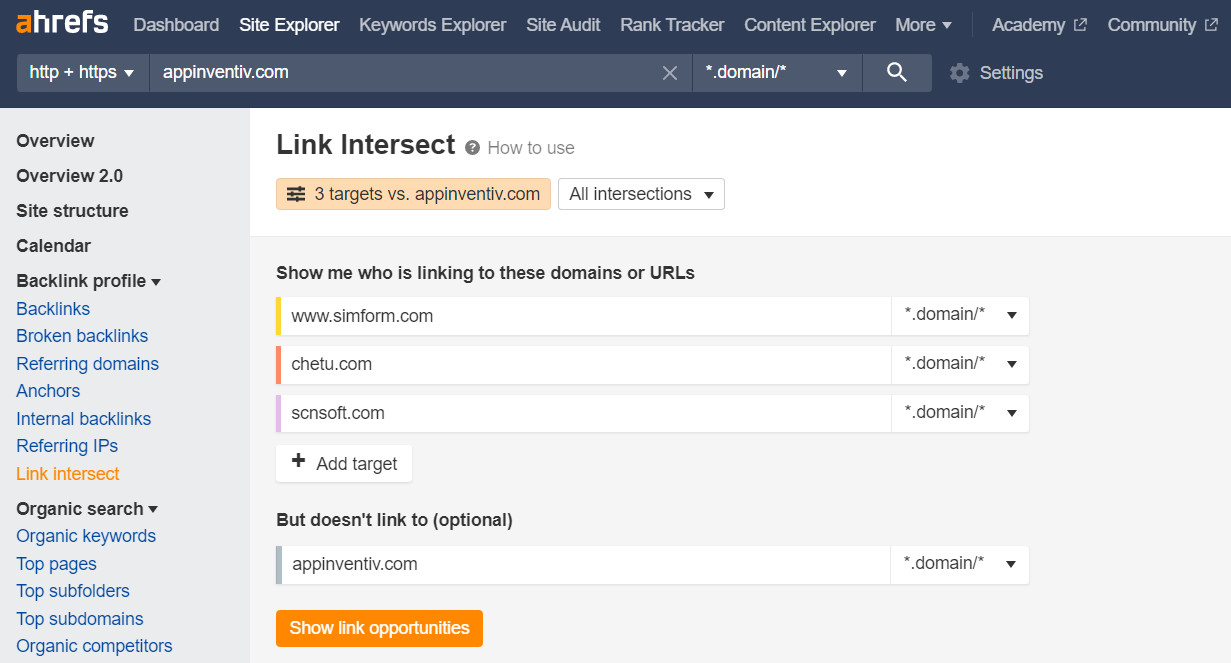 Enter your competitors' domains/URLs and your site.
Step #4: Evaluate the results
By default, the Link Intersect report sorts the results by intersection strength. Simply put, you first see referring domains that are linking to most of the analyzed domains — to three at once in our case.
But while this view may show you the low-hanging fruit, you want to access the entire pool of missed backlink opportunities from reputable sources.
To do so, sort the report by DR. With that, you get sought-after link prospects at the top with the number of backlinks each website receives from the donor.

The link intersect report.
Step #5: Analyze the context behind links
Knowing who refers to your competitors is fine, but you must be curious in which context they do so.
For instance, do they mention blog content or particular research, or is the link the quote attribution?
Simply click on the caret to see the referring page and anchor text alongside the backlink.
The example below shows that different competitors earn backlinks from high-authority domains through subject-matter expert contributions. Select those you want to build links to and start strategizing your link building campaign.

Examine backlink context.
That's it. You successfully performed an advanced backlink gap analysis just in 5 steps.
4 Best Tools for Backlink Gap Analysis
Many SEO tools offer backlink analytics, but only a handful provide a solid and fresh backlink database and come with great UX.
Here are our top picks.
Tool #1: Ahrefs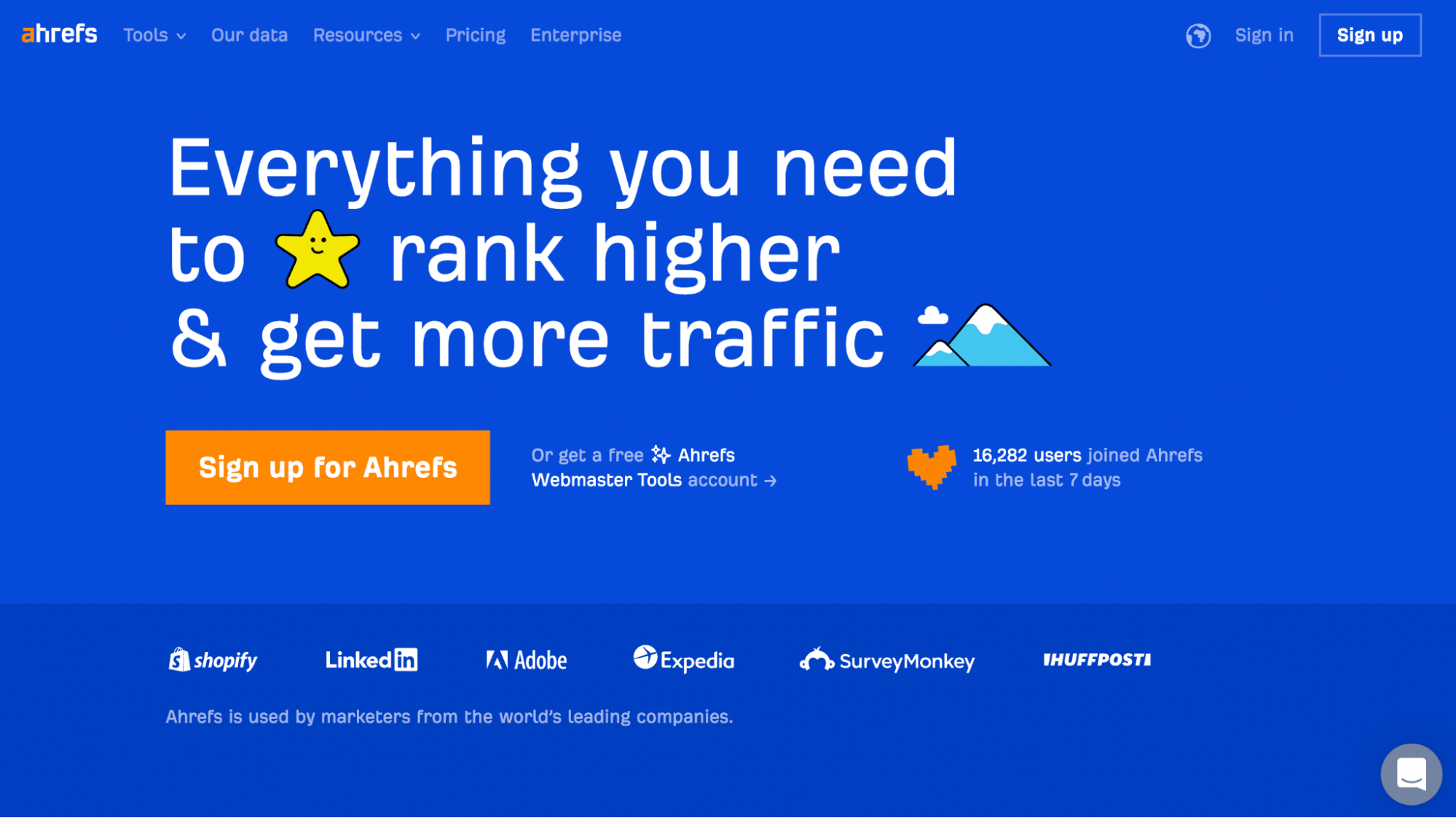 Ahrefs homepage screenshot.
For a link building agency like Digital Olympus, Ahrefs is a must-have tool. It offers the largest backlink database with a plethora of filters to customize reports.
We use Ahrefs at every step of a link building campaign development:
Prospecting

Competitor analysis

Website evaluation

Backlink monitoring

Backlink gap analysis
What we also like is that Ahrefs shows the latest date when it crawled a website or analyzed the SERP by a keyword and allows you to refresh the data in real time.
Pricing: The Standard plan starts at $ 199/month. Although there's a cheaper plan, users can access the link intersect feature only from the Standard plan.
Tool #2: Semrush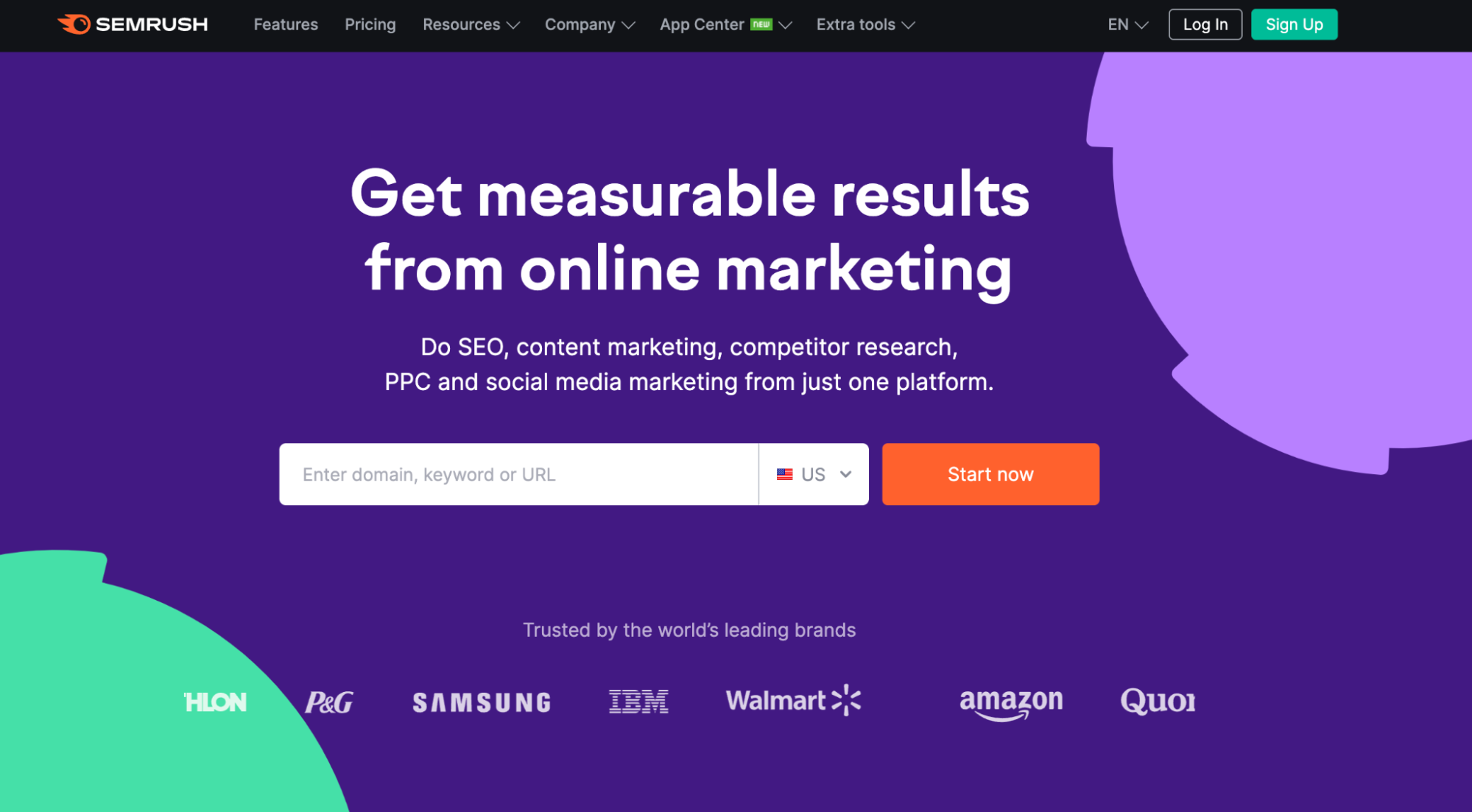 Semrush homepage screenshot.
If you were to ask us whether we prefer Semrush or Ahrefs, we would say it's a matter of habit.
Semrush is a powerful SEO toolkit with its own fresh backlink index. It also has a feature for a link gap analysis and offers almost identical filter options to Ahrefs. Semrush offers advanced keyword and competitive research tools on top and plenty of other add-ons for content marketing, agency reporting, etc., that you can buy.
For link builders, Semrush offers an in-depth backlink checker to quickly evaluate and compare link profiles, a tool for backlink audits and bulk analysis. You can also launch outreach campaigns and track link building progress directly in Semrush.
Pricing: The Pro plan starts at $ 119.95/month.
Tool #3: Moz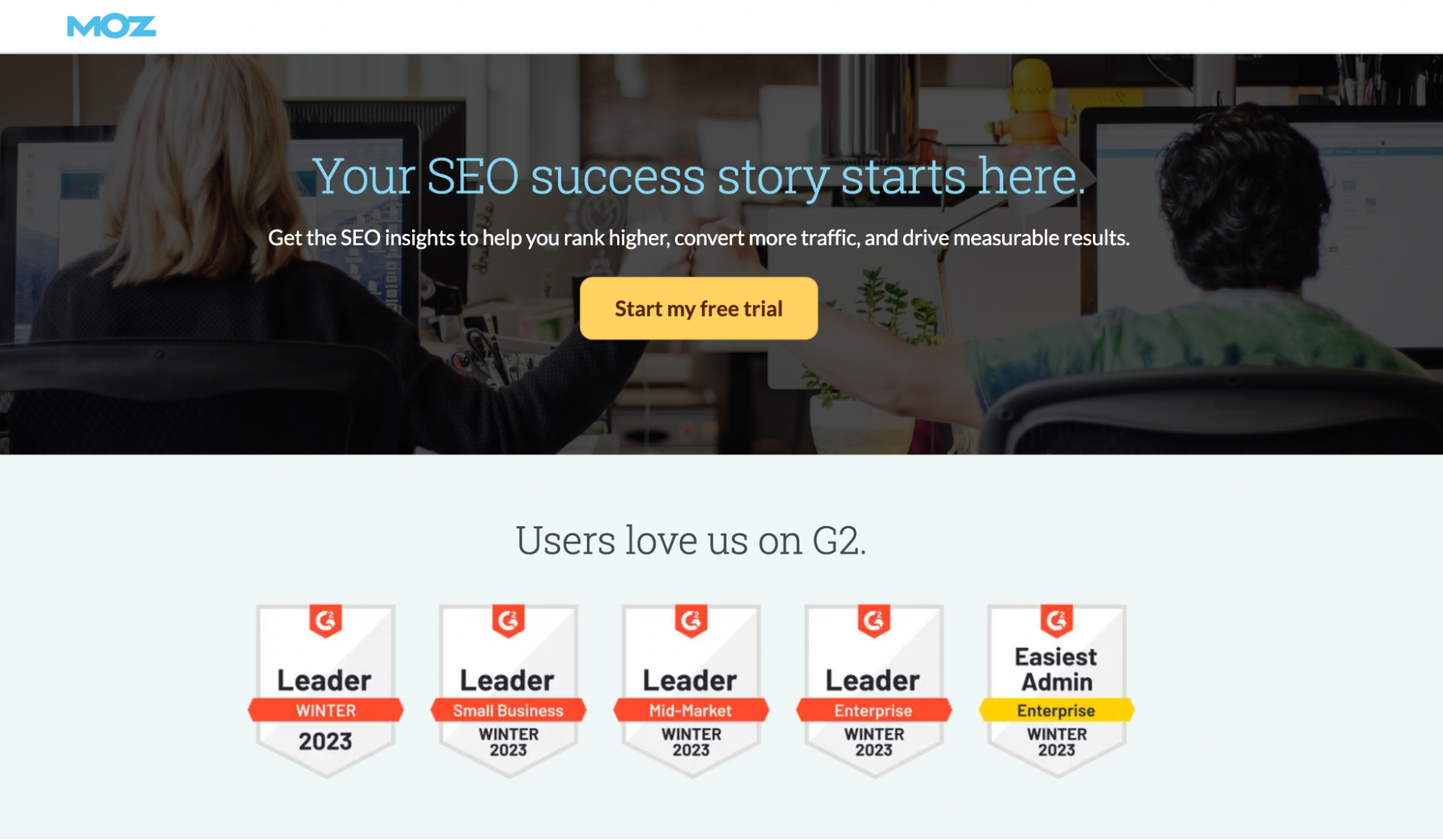 Moz homepage screenshot.
Moz positions itself as an enterprise SEO tool with lots of customization options. It also offers a handful of free tools, with Link Explorer among them.
With Moz, you can assess domain authority and spam score, find broken links to your site, and see lost and new backlinks. Besides that, you can compare link profiles of up to 5 sites.
Pricing: The Standard plan starts at $ 99/month
Tool #4: Serpstat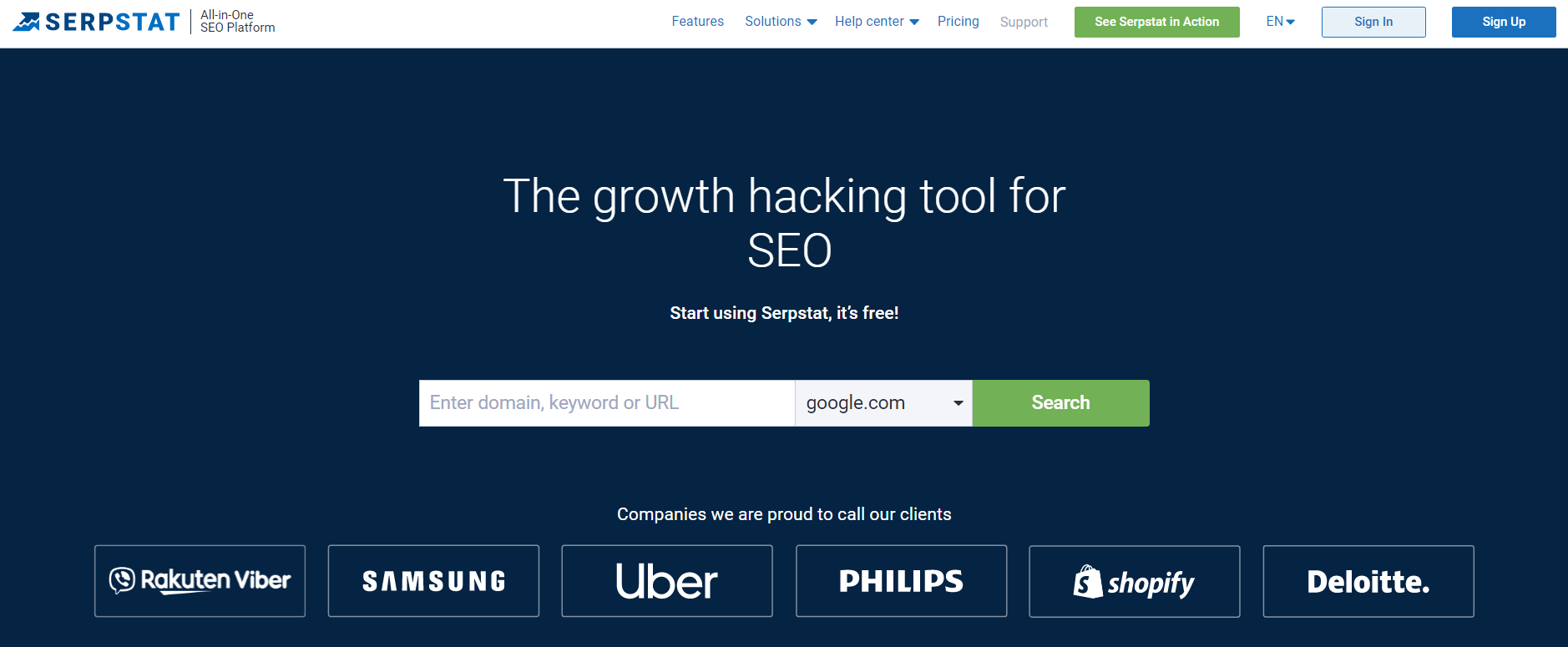 Serpstat homepage screenshot.
This tool is a great choice for small businesses that strive to unlock SEO growth opportunities but have a limited budget. On the other hand, Serpstat has a robust API for enterprises to access live data.
For link building purposes, Serpstat has an overall backlink analysis, a backlink gap tool, and reports on malicious sites. You'll also find popular tools, such as Top Pages by Links and Batch Analysis.
Pricing: To access Link Intersect, choose the Lite plan that starts at $ 69/month.
Now Over to You
A backlink gap analysis unlocks a myriad of untapped backlink opportunities with little effort. Moreover, you can discover new ideas for content marketing and digital PR while examining the most linked-to pages. All you need is to choose a tool and put this guide into action.
If you need a helping hand with link building, contact our Senior Link Building Specialist. We'll discuss your SEO objectives and devise a customized link building strategy that meets your specific criteria.
Discover more related articles on our blog: