Backlinks are a crucial SEO ranking factor for any website. The more unique quality links refer to a page, the greater chances the page will rank high in search engine result pages (we'll touch on it in detail soon).
We can either build backlinks in-house or hand this process over to an agency.
What to choose? This is a great question to consider as it entirely depends on link building goals you've defined for your SEO strategy.
This article features the 7 common reasons why businesses prefer one method over another and when it's better to mix them up.
Let's find the best fit for your company!
Outsourced vs. In-house Link Building: A Complete Comparison
Typically, the main difference between outsourced and in-house link building is that you take (or are deprived of) all the control of the link building process. The second distinction is the price you will be paying for link building services.
But there's much more to discuss! Both options come with pros and cons depending on what a company needs.
Here's a quick overview of each strategy.
Outsourcing link building
If your goal is to gain backlinks fast and with little effort, go for outsourced link building.
As soon as you target to acquire a chunk of quality links every month, let's say 50−60 links, hiring a link building agency is a surefire way to meet your needs.
«It really depends on your motivation behind building links and the stage your company is at.
If you have a brand new website and limited resources on your team — you need to build a lot of links to bump your domain rating. The best way to do this is to hire a link builder or an agency that will get you a lot of high-authority links through their connections to boost your DA/DR.» — Emilia Korczynska, Head of Marketing at Userpilot.
On top of that, you will get:
A streamlined and predictable link building process

Lack of unforeseen blocks

(

e.g., sick days, vacation, personal days) that affect the end result

The possibility of building links at a scale

The number of links you have a budget for

Zero reputation risks for your company if you decide to work with us or a similar agency that doesn't do outreach on their client's behalf
In a nutshell, outsource link building if you aim to get fast and scalable results with no effort from your side.
In-house link building
In turn, in-house link building suits companies that want to control every aspect of the process and progress along with building meaningful relationships with other sites in their niche. Also, doing email outreach from your brand can help you improve brand awareness. But only if it's done right 😉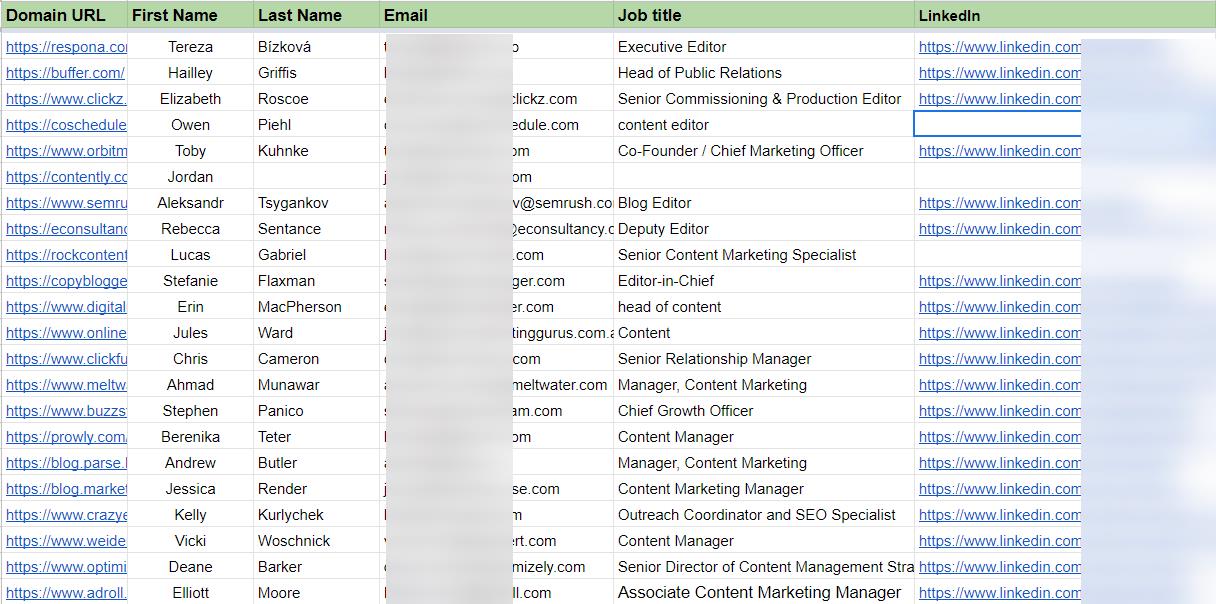 Moreover, if you aim to get super-high-quality backlinks from a list of particular sites or even pages ranking for specific positions and keywords (which is smart), only a few agencies in the market would undertake this request.
You should also consider recruiting an in-house link builder or a freelancer if your goal is to combine digital PR & content marketing with gaining backlinks and referral traffic, as digital PR and link building campaigns require different approaches.
Ultimately, in-house link building is the only way for those who prefer going deep in the weeds. With this, you will be able:
Acquire top-notch links with the highest impact on your site authority and SEO performance

Get full ownership of the process

Adjust KPI and link building strategy due to SEO objectives

Forge relationships with journalists and use the power of networking for other marketing activities such as joint case studies/research

Grow in-house expertise
«Insourced link building gets easier as you build your network. And the content itself is one of your best networking tools, but only if you involve the content team. The key is to co-create content with people who write for authoritative sites. Include them in contributor quotes, especially in original research pieces, then links happen organically (or with a little nudge).» — Andy Crestodina, Co-Founder & Chief Marketing Officer at Orbit Media Studios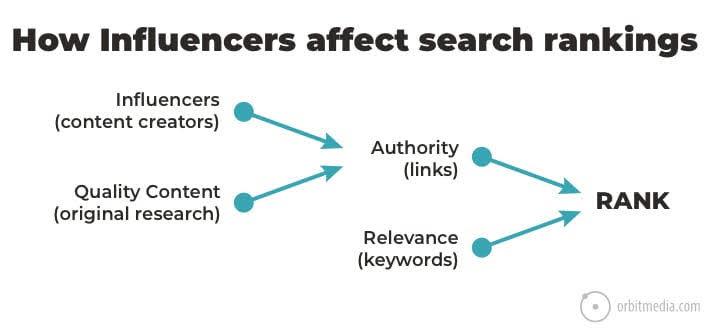 How influencers affect SEO
Summing up, here's a complete comparison of the two strategies:

Now let's dive into the nitty-gritty for each point and learn why industry experts favor one method over another in practice.
When

(

& Why) to Outsource Link Building?
In this section, we are going to talk about when and why companies and business owners should consider outsourcing their link-building efforts.
Let's go!
You want to acquire links fast
Aiming to acquire links fast? Then outsourcing link-building efforts is the way to go. Let me explain it here.
Link building has more to do with forging great relationships with editors and corporate blogs at its core. This is also the most time-consuming and excruciating part of link building.
For those new to the industry and who haven't developed a great network of sites, it will take months to land a few backlinks.
«Link building is a complex process: you must be excellent at communication, have top-notch writing skills, continuously build and maintain relationships with website editors, and manage dozens or sometimes hundreds of negotiations simultaneously. It's not an easy thing.
I haven't seen many companies that built their own huge link building teams. Businesses understand that link building requires colossal time and money investments if they do it in-house. The reality often shows that companies want many high-qualities links from top authority websites. Fast.» — Irina Maltseva, founder at ONSAAS.ME, Growth Lead at Aura
Meanwhile, we at Digital Olympus have already built great relationships with over two thousand corporate blogs across various niches that have excellent domain authority and organic traffic.
We can easily start building up to 30 links per month for a newly landed client from the very beginning.
It's also about the process agencies have built and refined while offering their services. Even though you may decide to hire a seasoned SEO specialist, it will take them a while to set up the internal link-building process and fill in team members on the details.
With that in mind, if you needed to start link building yesterday, entrust it to an agency.
But before doing so, ensure they have successfully completed projects in your industry. Ask them to share as many details as possible including their client's case studies, a sample of links, and their overall link building process.
You have to ensure that the quality of links that an agency is building is what you're looking for.
For instance, you can ask them to share what kind of guidelines they use when it comes to putting together a list of prospects. This will help you understand what kind of links you're going to get from them.
You need to build links at scale
When you cannot reach the monthly goal of acquiring links in-house or need to land lots of them in a short time — a link building agency might help you over the finish line.
Let me exemplify.
Let's say you've been doing link building in-house for three months and already panned out to acquire dozens of backlinks. Great job so far! But in the meantime, you also understand that you need to speed up the process because your competitors have a decent backlink profile.
Here you will be considering hiring an agency or extra hands on your team.
Although both options can work out, we recommend going for a link building agency as they already have experienced specialists to start off working with your project and deliver the first links in no time.
«Speed and scale are the deciding factors for outsourcing/insourcing link building. If you need a lot of links fast, allocate more budget to outsourcing. If you can take your time, hire for link building.
I would always aim to insource over the long term, at least to a degree, to build expertise, gain control, and build a competitive advantage over time. A lot of successful startups outsource in the beginning and insource more as their marketing departments grow. They might start with 100% outsourcing and move to a 70/30 (70% in-house, 30% outsourced) model over time. That seems ideal to me.» — Kevin Indig, Growth Advisor, ex-Director of SEO at Shopify.
Meanwhile, choosing to grow your in-house team will postpone your results as newcomers need some time to figure out how things work. Plus, there's no guarantee they won't leave your company, throwing you back to the drawing board.
In fact, in our agency, we've found that normally a newly hired link builder needs at least 6 months in order to start building a decent number of links. And we have a great onboarding process, tons of expertise in link building, and we use one of the best email outreach tools on the market — Pitchbox.
You have a budget
Hiring a link building agency is better for businesses that have a specific budget allocated for link building. That's because link building agencies have particular pricing plans and usually charge for the number of backlinks they landed within a month. So, you're safe to go.
Another reason may be that your budget is too small for recruiting a middle/senior-level link building specialist. According to Glassdoor, a link building specialist with 1−3 years of experience will cost you $ 74,630 annually (or ~$ 6K monthly).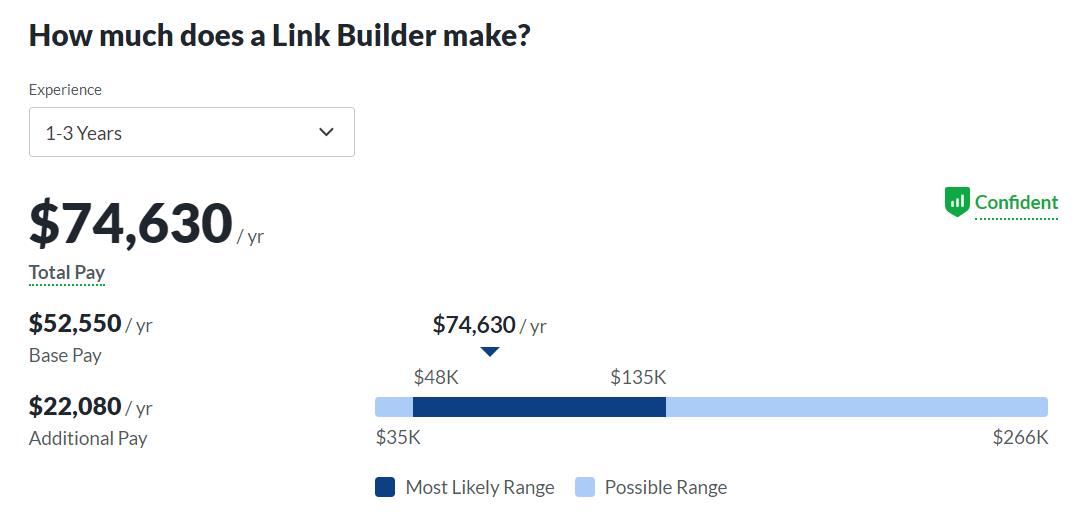 The average salary for a link builder in the US, Glassdoor
Apart from that, you should add up costs for the link builder's toolkit, which usually includes tools such as Ahrefs and Semrush—for analyzing backlink profiles and unlocking link-building opportunities, and PitchBox or similar outreach tools—outreach management systems to automate cold emailing and organize your team.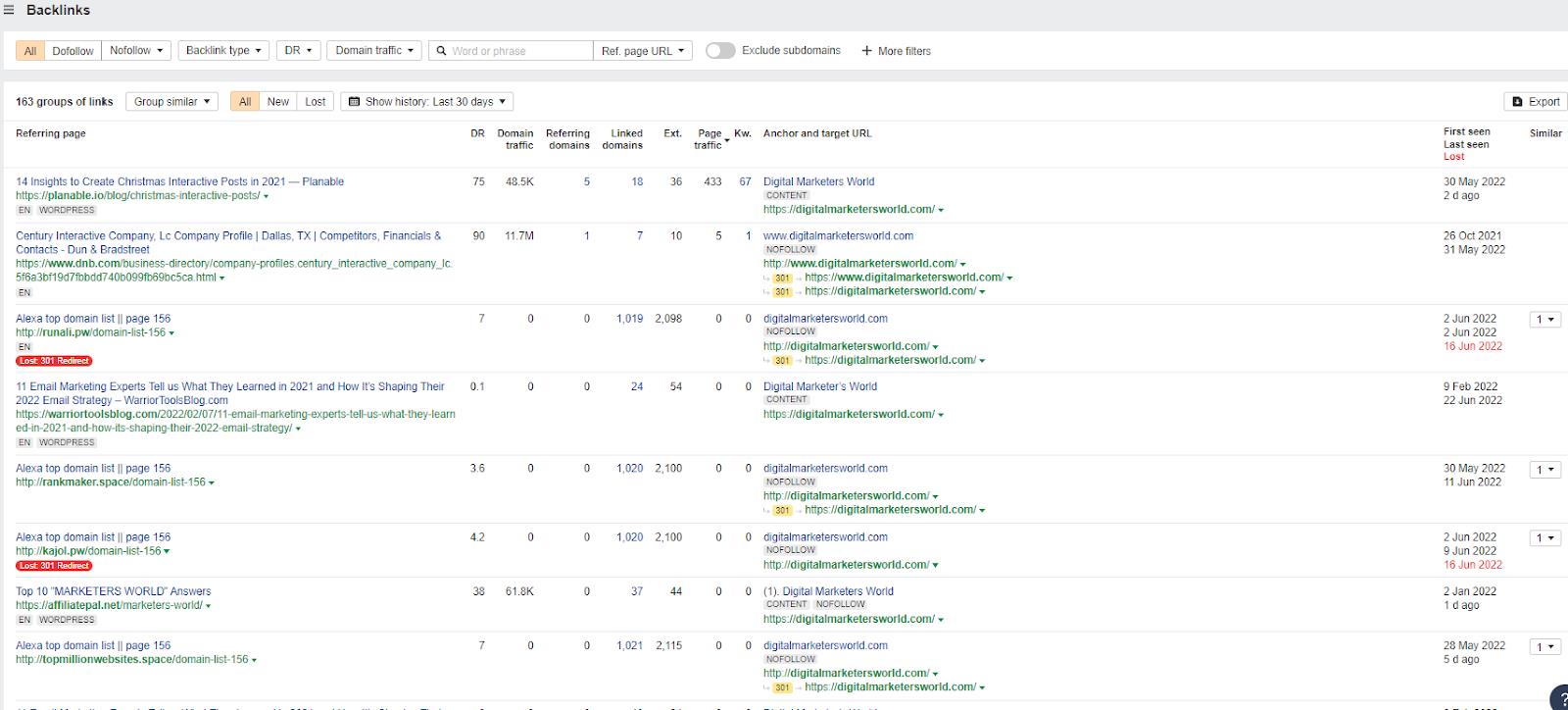 Backlink Analytics tool, Ahrefs
Oh, and make sure you've included a 401K package, sick days, and other perks in your monthly budget your company should cover for a full-time employee.
That way, your expenses increased to ~100K USD annually (or ~$ 8K monthly).
In contrast, the average rate for a link building agency is 3−5K USD monthly for delivering 10−15 quality backlinks.
To wrap up, estimate your budget and risks and make a well-informed decision before hiring an in-house team. You will benefit more from beginning to work with an agency in many ways.
You don't want to jeopardize your brand's reputation
Last but not least, since link-building agencies undertake all the outreach and PR efforts included in the link-building process, brands often remain anonymous until the final stage of actually getting a link.
That's of great importance for a number of companies that don't want to risk their name being mentioned all the time when reaching out to others for potential link-building collaborations.
On the flip side, when doing link building in-house, you're sending gazillions of pitching emails per month from your corporate email. It also jeopardizes your domain's authority regarding the spam rate.
If you don't get replies often to your cold emails, robots can flag your email as spammy and significantly impair email deliverability.
Fewer emails delivered=less answers=fewer links built.
The kicker is that you will be paying a full salary even if things go wrong.
However, if you outsource link building, many agencies don't disclose their customers' names until the last moment. They might also use their own emails to pitch to journalists, therefore, mitigating the risk of landing a customer's email to spam.
Despite all the pros of outsourcing link building, there are some big points you can only get when working on backlinks in-house.
Let's look through them.
When

(

& Why) to Do Link Building In-House?
Here we've broken down three reasons some businesses prefer link building in-house.
Let's take a closer look at each.
You want total control over the link-building process
More specifically, in-house link building is better for companies that want complete control over the link building processes for some reasons. We will outline the common two.
1. Let's say you need to understand how many emails were sent, what the reply rate is, what tools were used, and what the process looks like in every nitty-gritty detail.
Is that your case? Then you should consider building an in-house team.
Link building agencies are not necessarily always very transparent about their processes. And they certainly have internal processes that might not be visible to the client or the client might not have access to.
And it's totally fine.
2. Is your goal to build links to specific pages and from particular websites? Then it is a task for the in-house team as agencies primarily provide backlinks to the main page from various sites.
Check out Emilia's case:
«You can also build links to specific highly converting pages that are lingering on positions 5−10 in SERPs, but again — if there are more than 17 links pointing to these pages already — we didn't see significant effects of new links on the page's position in SERPs, so the time investment wasn't justified.» — Emilia Korczynska, Head of Marketing at Userpilot.
In short, hire an in-house specialist if you want to cater your link-building strategy to particular objectives.
You want to build long-term corporate relationships
This can become a defining factor for gathering an in-house team.
Since agencies undertake outreach for link-building purposes, they also own their relationships and partnerships created along the way.
If you want to own all the contacts of outreached sites and utilize those for other marketing and PR campaigns, you only need to do backlinks by your team.
«In my experience, effective link building comes down to three things: Relationships, Relevance, and Resourcefulness, which I even started calling my "3R rule" 🙂
Last year, I built nearly 100 links just by knowing people, keeping them in mind when creating content and vice versa — without actually trying hard to scale my link building efforts.» — Berenika Teter, SEO Specialist at Klaus.
In contrast, you can go with link building freelancers and allocate them some work to take a weight off your team. By opting for the hybrid team model, you're killing two birds with one stone.
You can still gain backlinks and form connections across the niche, turning them into the company's legacy, and scaling the link-building process.
«Our web stream series, Kalicube Tuesdays, has been HUGE for getting links. Initially, we missed literally hundreds of opportunities. Then we realized that if we found a relevant piece of content the guest had created on another site (their site or on someone else's), then their appearance on our show would be great additional content that they could link to. Not every guest wants to link, but many see the value: it is helpful to their audience and a credibility-booster for them.» — Jason Barnard, host of Kalicube Tuesdays
Beware of collaborating with guest blogging contributors. Paying for links in their guest posts is against Google guidelines since such links should be labeled as «Sponsored.»
You want a link-builder who works exclusively on building links for you
If you prefer a person to work exclusively for your company with a non-compete agreement—in-house is the only right choice.
Frankly speaking, it is a very rare case such stipulations are justified. It may be considered if you work in «grey» niches (gambling, casinos, pharmaceutical, essay, etc.) or use black hat SEO tactics for acquiring backlinks.
Then, without a doubt, you need to create an internal link building strategy and hire an in-house specialist to execute it.
In-house vs. Outsourced Link Building: A Verdict
To outsource or not? What's the verdict? As much as we would like to say that outsourcing link building is a must for every company, it'd be a bit of a stretch.
However, if you're lucky enough to find an agency with a solid experience in your niche—go for it without a doubt! At the end of the day, it's a more cost-effective, quick, and result-driven choice.
Want to get started with outsourcing link building or dispel any concerns? Get in touch with our Digital Olympus team! Together, we will evaluate what kind of link building services would best fit your business needs.
Frequently Asked Questions

(

FAQs)
Q1. What are link building services?
Link building services are activities tailored to acquire quality backlinks to the customer's website and are carried out by a link building company. Link building activities may include guest posting, outreach, using additional software such as HARO, editorial links, etc.
When hiring a link building agency, you're aiming to scale and speed up the link building process and get high-quality links from various relevant, high-domain authority resources. Those could be corporate blogs, media outlets, forums, directories, and more.
Q2. Does link building still work?
It does! If you go and google «link building case studies,» you'll get dozens of success stories of how link building affected one's site growth. For example, 36 links helped one of the Ahrefs pages rank #1 for «SEO stats.» Or here is more: Brian Dean increased his search traffic by 110% in 14 days, thanks to acquiring quality links.
As a final point, Ahrefs detected a clear correlation: the more backlinks a page has, the more organic traffic it gets.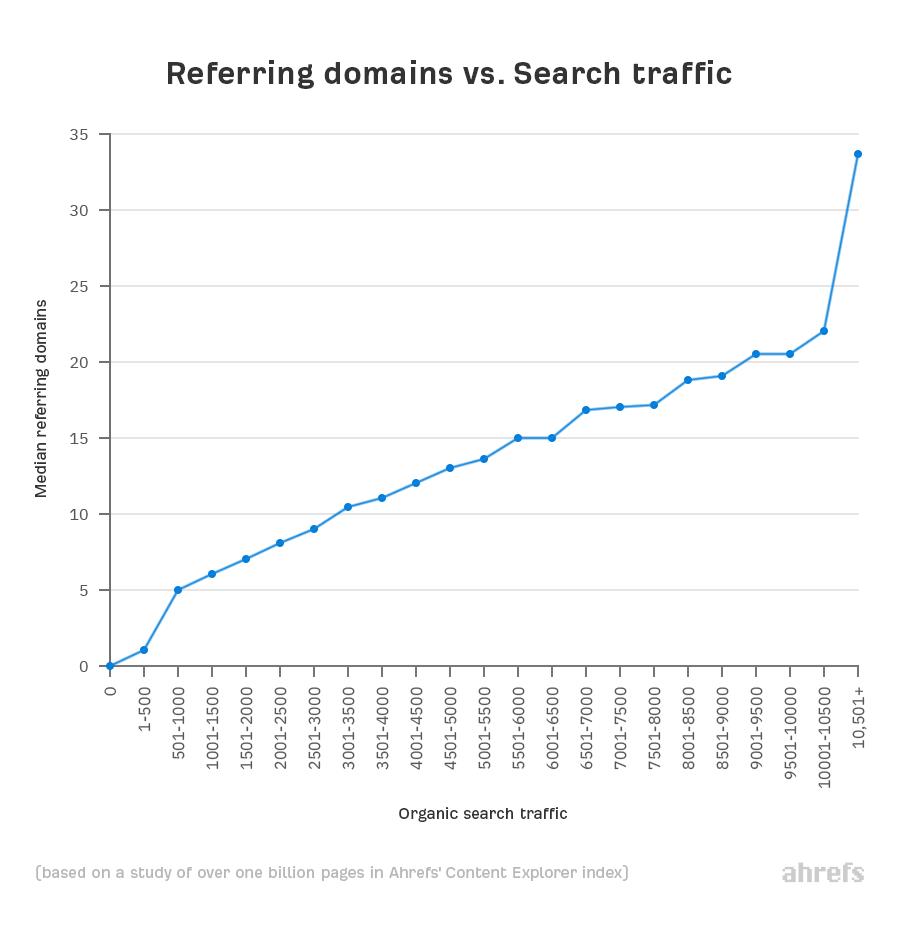 A correlation between the number of links a page has and its search traffic growth
Q3. What is the difference between link building and link buying?
The main difference between link building and link buying is that the former implies getting links with a white hat SEO approach—guest blogging, media coverage, manual outreach, etc. The former suggests landing links from PBNs, paid guest posting, paid directories, and other spammy sites where you need to pay to get a link.
Moreover, it's against Google Webmaster Rules to exchange money or other goods for links. It may lead to getting your site penalized.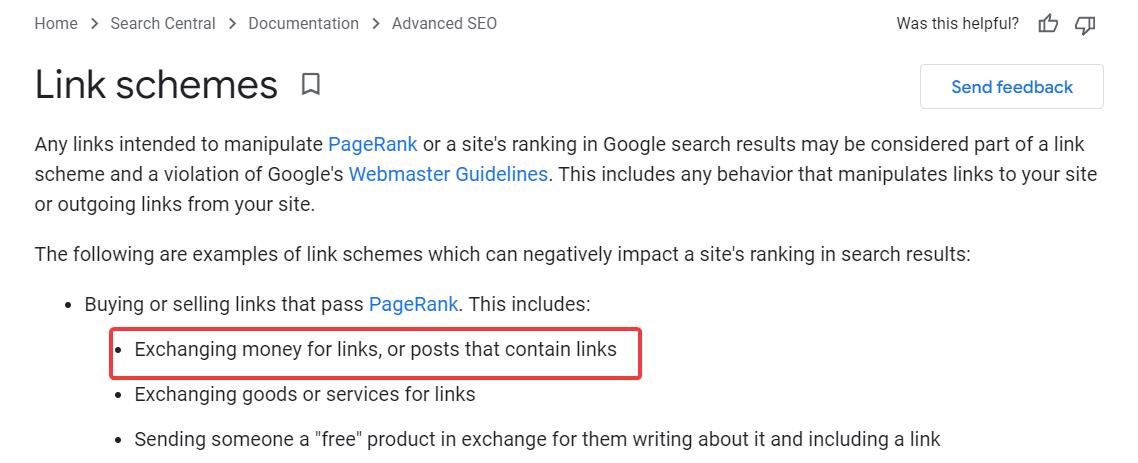 Google Webmaster Guidelines, Link schemes
Q4. What are the benefits of outsourcing link building?
The benefits of outsourcing link building are:
Building backlink profile fast

Diverse backlink profile

Building links at scale

Cost-effective

Lack of unforeseen blocks

(

e.g., sick days, vacation, personal days) affecting outcomes

You pay only for the final result—links