Being a link builder is tough.
Starting your journey as a link builder is even more challenging — you can't possibly be aware of all the traps and pitfalls that might get in your way. However, not all link building lessons have to come at a price.
To help you get your link building journey off to a good start, we've put together our shortlist of top link building strategies below.
We have backed them up with lessons from other SEO experts who shared their experiences in #SEOExpertsVoice, our biweekly Twitter chat.
Let's get started.
1. The Why Of Link Building Matters
The amount of facts and data making a case for link building is enough to trigger the fear of missing out on all the link juice you're lacking. As you yield to this fear, you'll want to dive headfirst into link building, and you're likely to have questions such as:
How many links do I need to increase my SERP rankings?
How can I earn links from bigger brands?
How long will this link building campaign take?
Great questions, but they have their place.
What's missing from this set of questions is the strategic element that helps you understand why you're getting into link building. Daniel K Cheung, Team Lead at Prosperity Media, suggests some of the questions you need to ask:
Most important of all, KNOW YOUR WHY. Why are you building links? What type of links do you need? What links will actually move your URL up in the SERPs? Without knowing this, you're simply burning cash.
The why behind the process of building links is your compass. It helps you stay focused, motivated, and grounded in everything you do to earn links.
At some point, you'll have clients who might not recognize the importance of having a clear understanding of the purpose of link building. Help them define their goals and objectives to get on the same page.
For example, before you get on a discovery call with a potential client, send them a list of questions (Daniel's list above is a good place to start). These questions will help them dig deeper to identify their why and set the stage for a productive conversation.
Boni Satani, Head of Marketing at Zestard Technologies, adds:
I go to the extent of educating them about Marketplaces. Reason: I don't want to end up having a client who just wants to buy some «links.» You also end up focusing on clients who really value quality links.
Educating clients helps them appreciate the dynamics of link building and have realistic expectations of the work you do together.
The result? Successful campaigns and happy clients who are willing to pay you retainers and refer other clients to you.
2. Look Inward Before Acquiring Links
Most of the backlinks you acquire will not help move your intended URL up in the SERPs if your website isn't optimized for these links. Bibi Raven, the founder of Bibi Buzz, shares her observations:
(…) and especially internal linking. I can throw loads of links at your site but if your stuff isn't in order, it's a waste.
By waste, Bibi means you will lose both traffic and rankings, so all the efforts you've put into link building won't be worth it anymore.
For example, acquiring links that point back to a page on your website with a 301 direct is a bad user experience. Your visitors land on such a page expecting to find what they're looking for only to feel frustrated because they can't find it.
Here's what Daniel suggests you do to optimize your website;
Take your time before getting into link acquisition. Get your technical SEO right. Get your onsite content right (i.e., produce content that satisfies search and SERP intent). During which, educate yourself on links. And only then start link building.
Let's break that down:
Ranking Factors 2.0, a study by SEMrush revealed three behavioral elements that indicate the quality and relevance of your website to users:
Bounce rate
Time spent on site
Number of pages a user visits per session
Google's algorithm uses these elements to determine your SERP rankings, meaning that backlinks aren't all you need to improve your website traffic and search engine rankings.
When working on your technical SEO, you should be paying attention to load speed, mobile responsiveness, site structure, ease of navigation, and others, which will help improve user experience.
In addition to technical SEO, you need to take a strategic approach towards creating content by making sure it is worth linking back to.
For example, original research is a linkable asset that is guaranteed to earn you social shares, making it more likely for others to link back to you. Take a look at this post from Social Media Examiner that Buzzsumo analyzed:

In-depth guides, unique case studies, list posts, and opinion pieces are also linkable assets that make you a valuable partner to those you reach out for link building.
3. Optimize Your Outreach Efforts
At its core, link building is all about building relationships.
Optimization of your link building efforts requires you to lead with value and establish strong connections with your prospects.
I'd wish someone would have told me that «How to Win Friends and Influence People» is a great book for link builders. Takeaways:

Become genuinely interested in other people.
Make the other person feel important and do it sincerely.
Talk in terms of other person's interests.
Since the primary medium for your outreach is email, excelling at personalization should be your top priority.
Yet, some link builders tend to forget about personalization and end up sending a ton of copy-paste emails. If you are guilty of that, remember that a lack of personalization only gets you a few replies with your prospects thinking, «how can I unsubscribe from this spammer?»
Creating a personalized user experience is not just a way to get links; it also strengthens your brand credibility. A misconception that keeps haunting any link builder is that personalization starts and ends with using your prospect's first name.
However, you need to go beyond using your prospect's name by customizing your outreach email. Read the content your prospect has published or shared both on their site and social media. Do your research, get to know them, and focus on bringing value.
Some of the tools in the market, such as Pitchbox, highlight the importance of personalization by including it in the range of essential steps of any outreach campaign workflow.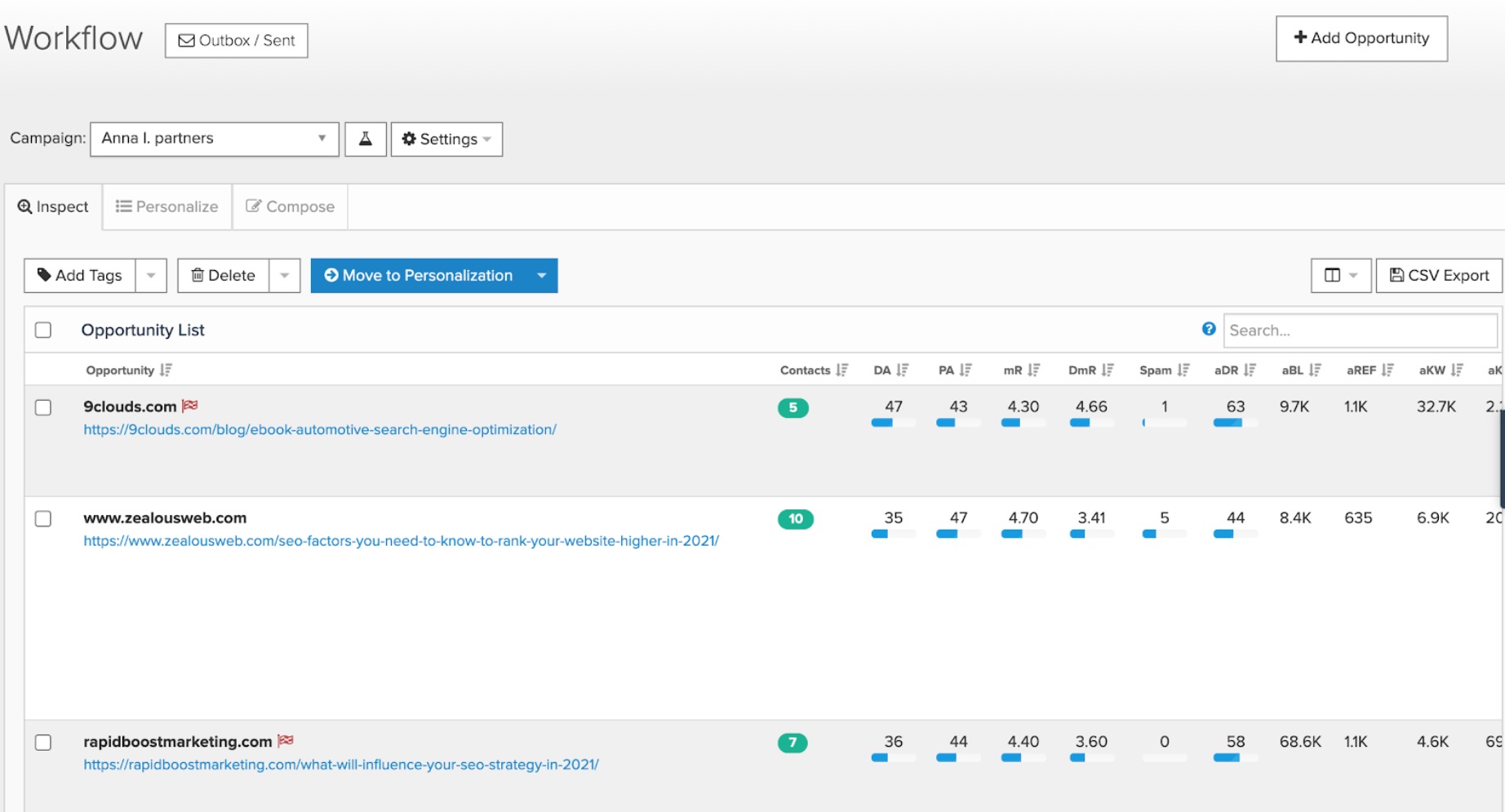 Once you personalize your email outreach, you're no longer going to struggle to create personalized outreach messages from scratch. Instead of wasting their time with flowery greetings and random compliments, cut to the chase, explain why you liked one of their articles, or mention that one of the links in their blog post is broken. Be specific. Then, jump to your questions.
Your first email is highly unlikely to get a response. That's why you need to follow up. Boni agrees with that, given the results he has seen:
Another thing I wish I'd have known before was the importance of Follow-ups. I'd say approximately 50 — 70% of our links go live after sending follow-up emails. I learned about follow-ups & it's sequence after we started working with one affiliate client.
Let's face it: follow-ups are quite annoying and exhausting. Instead of cluttering their inbox with yet another email, show them you care to start a conversation.
What we've found at Digital Olympus is that using different channels to send your follow-ups is really making people more responsive. Go beyond the email ecosystem, and connect with your prospects on Twitter or LinkedIn.
Here's a great example of how Alex has initiated a meaningful conversation on Twitter and reminded about her last email: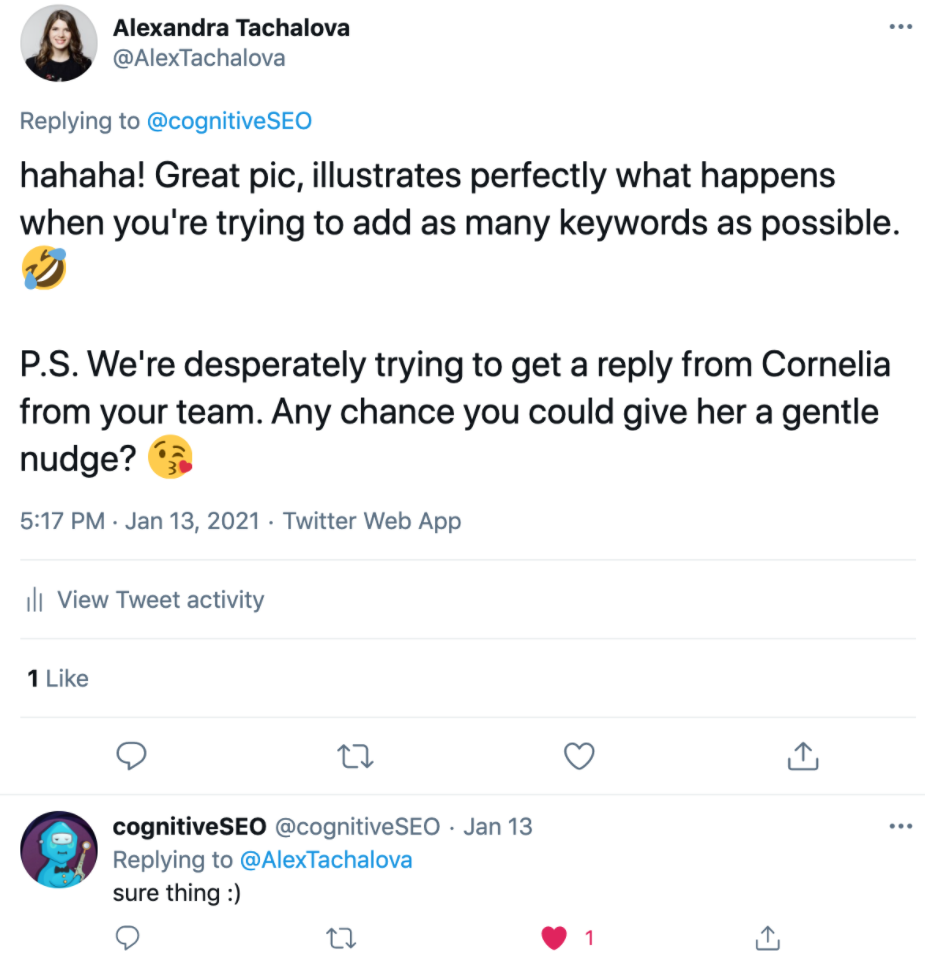 A meaningful comment on their social media platforms or blog will always be appreciated, and get them to reply back.
The caveat to following up is that there's a fine line between being persistent vs. being insistent. If a prospect doesn't seem interested after a certain number of follow-ups, let it go.
How do you know it's time to move on? While there's no right answer for that, Boni has a suggestion:
(…) sometimes people go too far with follow-ups…like sending 5 follow-up emails. Gotta tell them that it's nuts — as you said, one should experiment and keep the optimal follow-up sequence.
4. Evaluate The Quality Of Links You Get
Not all links are equal. To put that into more context, consider the value that you get from a website with a low domain rating and authority vs. the one from trusted brands and corporate websites.
Low-quality links can be trouble-makers. You could spend hours building links only to find out you need to disavow them later. A worst-case scenario would be having your whole site penalized.
Consider link inserts, for example. Link insertion is a working strategy in case you know that the website is a trustworthy source. In fact, most kinds of email outreach strategies employ link insertion.
If you consider link insertion, make sure you take care of link quality control first. Conduct link quality control by evaluating the websites you want links from to know if it's worth the effort and money. Here are our top aspects to consider both for beginner and advanced link builders when it comes to the link quality control process:
Beginner: relevancy; domain rating/domain authority; historical growth of referring domains; anchor cloud; top referring domains; distribution of CTLD of referring domains; organic traffic trend.
Advanced: acquiring links only on corporate blogs or trustworthy brands; reviewing keywords/pages that bring the most traffic; checking newly acquired links.
A good place to start with link quality control would be focusing your attention on earning links from trustworthy brands and corporate blogs in your niche.
With this in mind, go ahead and look beyond their domain authority and domain rating. Here are few questions you should be asking yourself:
What are the top referring domains?
What is the history of referring domains?
Does the anchor cloud of this website show any signs of dubious link building practices?
Take this site, for instance:

Even with a good domain rating, digging deeper into a site reveals something about their organic traffic, and, according to Daniel, «there's a 99% chance that it is a rebirth domain that is making the webmaster money by selling guest posts.»
So what if organic traffic and referring domains look good? Conduct the eyeball test. Here's how you need to do it, according to Bibi:
(…)I always tell people to look at a site as if it's a garden: Is it well-kept or neglected? Do they just let anything grow there? Do they CARE about their garden? If you have to think about a link prospect for more than a minute, just delete it from your list. There are plenty out there that are OBVIOUSLY good. So when you do the eyeball test and check metrics but you find yourself going back and forth — just forget about it — waste of your brain time while there are plenty of good ones out there that are so clearly suitable.
Alexandra Tachalova, the founder of Digital Olympus, adds:
I believe the most important factor in the quality evaluation of any site is the following: Does this site represent a real brand? (if not, then you don't need a link from this site)
Guest post farms aren't a great fit, and this is what they typically look like: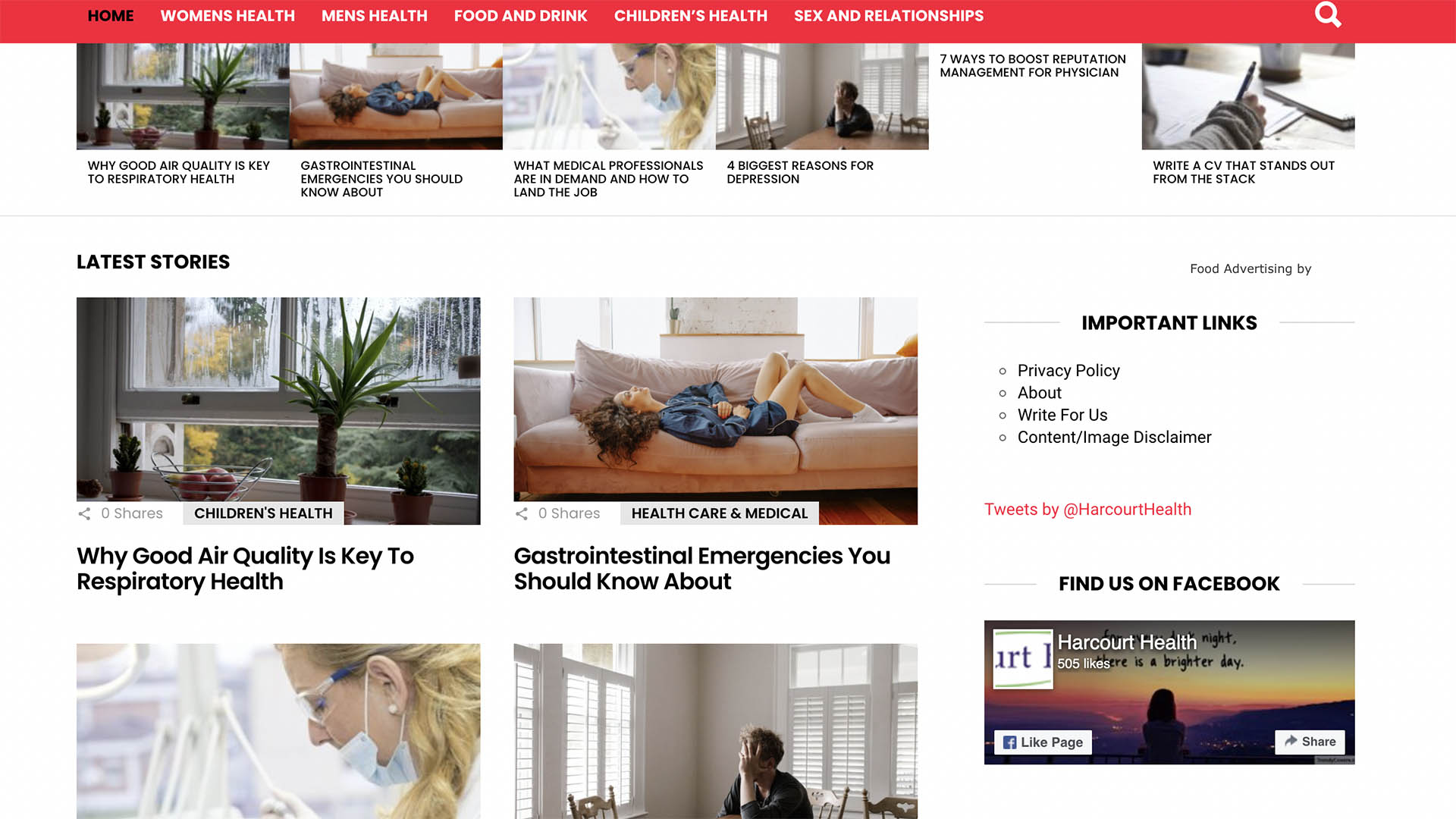 Other websites monetize through paid links and banner ads for such things as gambling or casinos, so run a quick Google search to check if your target site does this:

5. Create Systems And Processes For Consistency
It is challenging to start and complete all the steps of a link building campaign in a single day. Even if you dedicated a whole week to link building, you're going to run out of gas because not everything will go as you expect.
Imagine the amount of frustration you would have to deal with when you submit a guest post that doesn't go live because you didn't send a follow-up, and the editor forgot about it. Bibi makes an argument for systems and processes, saying:
Successful link building has an undisrupted momentum — and your system needs to support that. If something in your process causes a delay in reaching important milestones, the chance is high you lose that opportunity.
For instance, guest posting has its set of activities. Here goes Bibi's routine:
«Goals → target pages → prospect angle → prospecting → inspecting/personalizing → content ideation → templates → outreach → manage inbox → writing → send → links».
On top of that, you'll need to invest in the right tools, such as Pitchbox, Ahrefs, SEMrush, ClickUp, and Slack.
Having systems and processes in place helps you stay consistent, allows you to track your results, and identify areas where you need to improve.
While you're starting out, you may not have an opportunity to build a system yet, which is totally understandable. However, Boni and Bibi suggest investing in a system that works for you as soon as possible. Get the right tools, build a strong team, and give them proper training. As long as you have the budget and time, you can make it happen.
Bibi also highlights:
Accept your own style and your own weak spots. Work around that and with people that are different than you.
Conclusion
The link building strategies we've discussed shine a light on what you need to integrate into your link building campaigns.
While there's always more to learn about link building, spending time on the fundamentals allows you to grow your skills and puts you on the path to being an expert link builder.
Whatever stage you're in, make an effort to evaluate your link building efforts to identify what strategies you need to pay attention to make your work easier and increase your chances of running successful link building campaigns.