In the search for the tool that will meet the expectations of even the most demanding link builders, I've spent 10X hours analyzing the most popular solutions, including:
Now, how does this comparison stand out from hundreds of similar articles that dissect different digital marketing tools, you may ask?
First and foremost, I wrote this post with an intention to make it as helpful as possible both for the beginners as well as old-stagers in the link-building industry. Surely, my extensive hands-on experience did its part to make this article informative. Plus, my insider knowledge of the SEO market after 4+ years at SEMrush helped a lot as well.
In this post, you'll find an in-depth breakdown of the functions of each of the tools listed above. Whether you're looking for a trustworthy tool that will help you analyze your site's backlinks or to set up a solid link building campaign, this post will give you all the answers.
Yes, you'll have to take the time to read this article. It's very thorough, contains a lot of data and examples. But to make it easier for you to navigate within the sections of this post, you can use the following list of chapters:
Database size

2.7 Trillion

9 Trillion

32.5 Trillion

40 Trillion

n/a

n/a
Starting Price

$ 99/mo

$ 49/mo

$ 99.95/mo

$ 99/mo

$ 129.99/mo

$ 499
Number Results per an Exported Report

100K

5K

10K

10K

200k

1M
Referring subnets
Referring IPs
Referring Domains vs Backlinks
Graphs with Historical Growth of Links
CTLDs Distribution
.gov Referring Domains
.edu Referring Domains
Type of Links

(

image, frame, redirect)
Distribution of Anchor Texts
Special Metrics

Pages Best By Links Growth

Topical Trust Flow

Backlink Audit

Spam Score

Broken Pages

Link Detox
Referring Domains vs Backlinks
Graphs with Historical Growth of Links
CTLDs Distribution
Distribution of Anchor Texts
Special Metrics

Top Referring Content

Topical Trust Flow

Backlink Audit

Spam Score

Broken Pages

Link Detox
Referring IPs
.gov Referring Domains
.edu Referring Domains
Type of Links

(

image, frame, redirect)
Referring subnets
Database size

12 Trillion

9 Trillion

32.5 Trillion

40 Trillion

n/a

n/a
Number Results per an Exported Report

100K

5K

10K

10K

200K

1M
Starting Price

$ 99/mo

$ 49/mo

$ 99.95/mo

$ 99/mo

$ 129.99/mo

$ 499
Starting Price

$ 99/mo

$ 49/mo

$ 99.95/mo

$ 99/mo

$ 129.99/mo

$ 499
Database size

12 Trillion

9 Trillion

32.5 Trillion

40 Trillion

n/a

n/a
Number Results per an Exported Report

100K

5K

10K

10K

200K

1M
Referring subnets
Referring IPs
.gov Referring Domains
.edu Referring Domains
Type of Links

(

image, frame, redirect)
Special Metrics

Top Referring Content

Topical Trust Flow

Backlink Audit

Spam Score

Broken Pages

Link Detox
Referring Domains vs Backlinks
Graphs with Historical Growth of Links
CTLDs Distribution
Distribution of Anchor Texts
This article is meant to be very thorough, containing a lot of data, hence the length of it. To make it easier for you to navigate within sections of this post, I created a list of chapters.
CONTENTS
Jump to the Section You Want
Ahrefs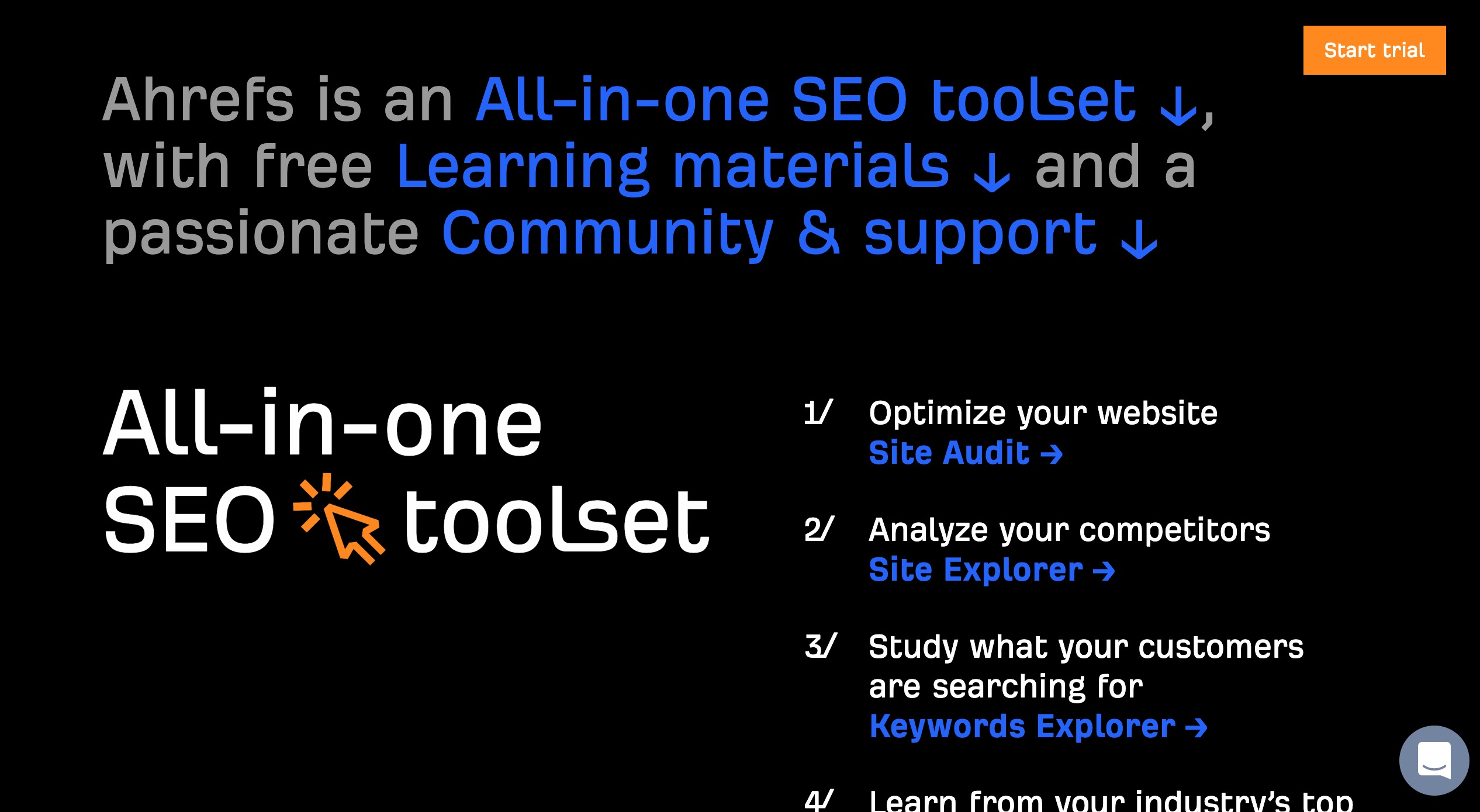 The first solution on my list, Ahrefs, is a toolset for backlink and SEO analysis. It's well-known for its large base of live links, hefty Index, and good speed of Index updates.
The toolset consists of
Site Explorer
Content Explorer
Keywords Explorer
Rank Tracker
Site Audit
If you're not sure if Ahrefs will suit your needs, you can take advantage of a 7-day trial for only $ 7.
Also, if you don't want to purchase the product right away but want a sneak peek of how it works, Ahrefs has a free backlink checker tool, where you can check out the main backlink reports. The only downside is that you have access to very limited information.
Here's what the dashboard in Ahrefs' free backlink checker looks like: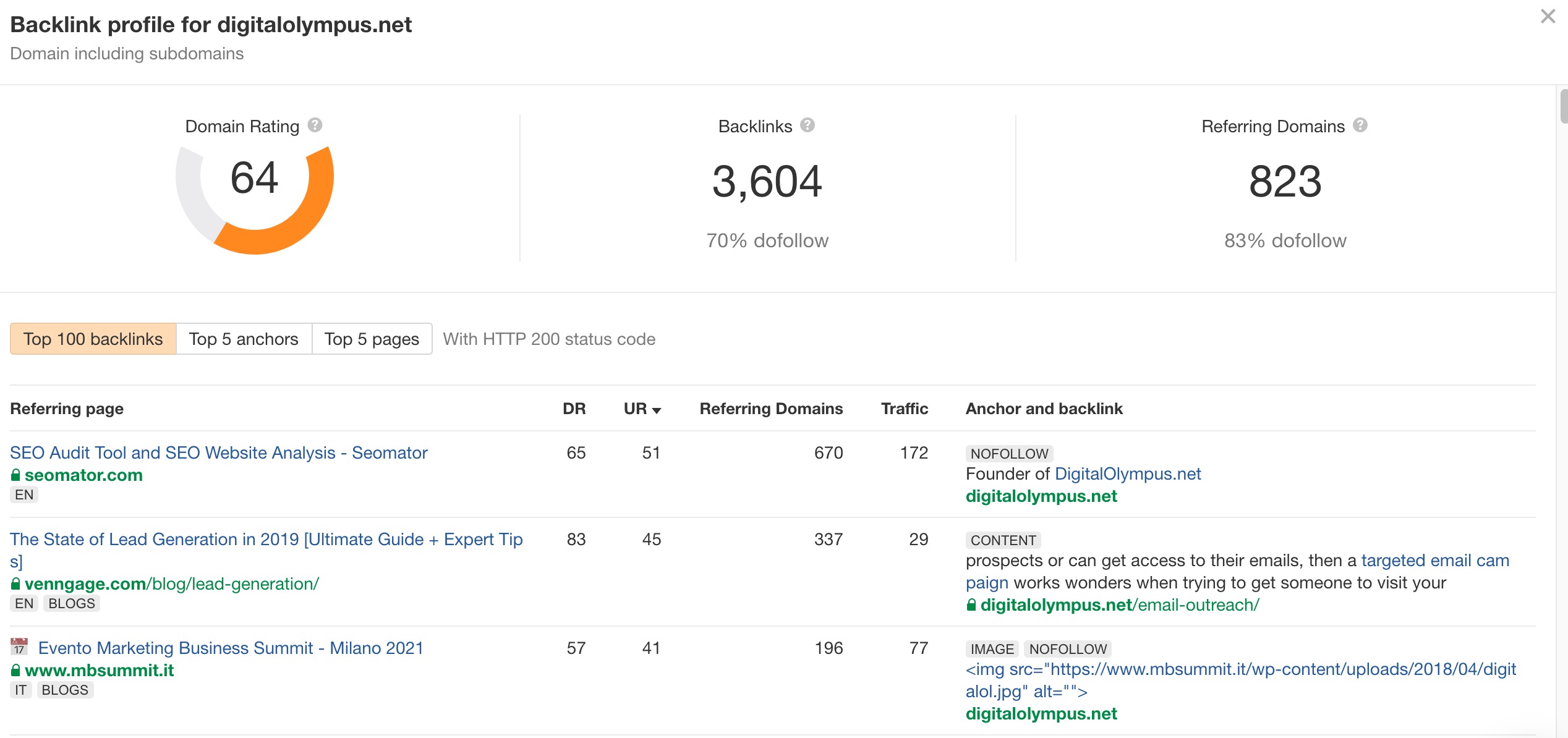 Majestic
Majestic is another SEO intelligence tool. In the company's words, it «surveys and maps the Internet, and has created the largest commercial Link Intelligence database in the world.»
Earlier, Majestic used to focus solely on links, but some time ago, they added some keyword data and reports as well. In Majestic's dashboard, you will find quite a wide variety of tools that will help you deliver an in-depth competitor link analysis report.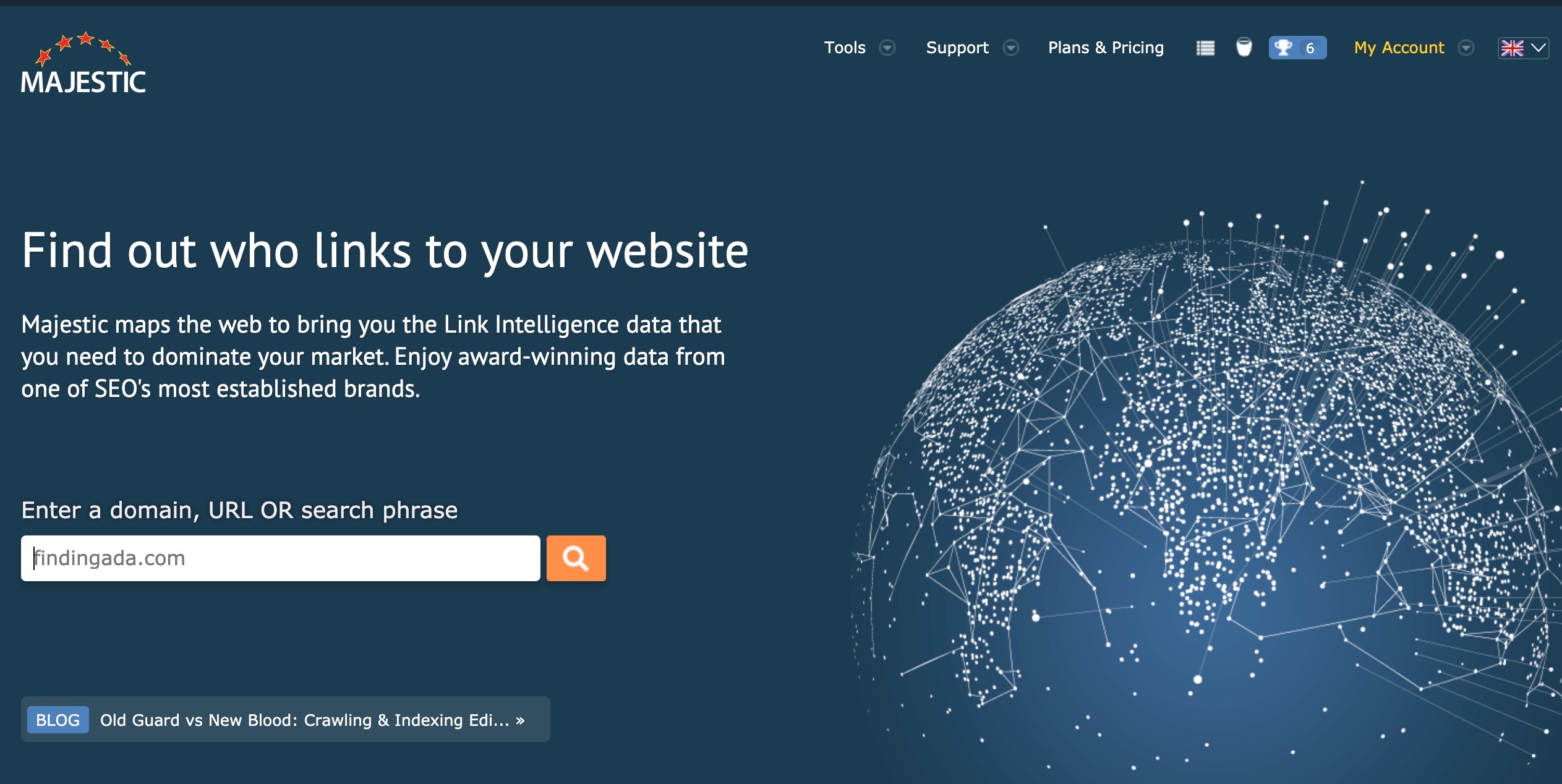 SEMrush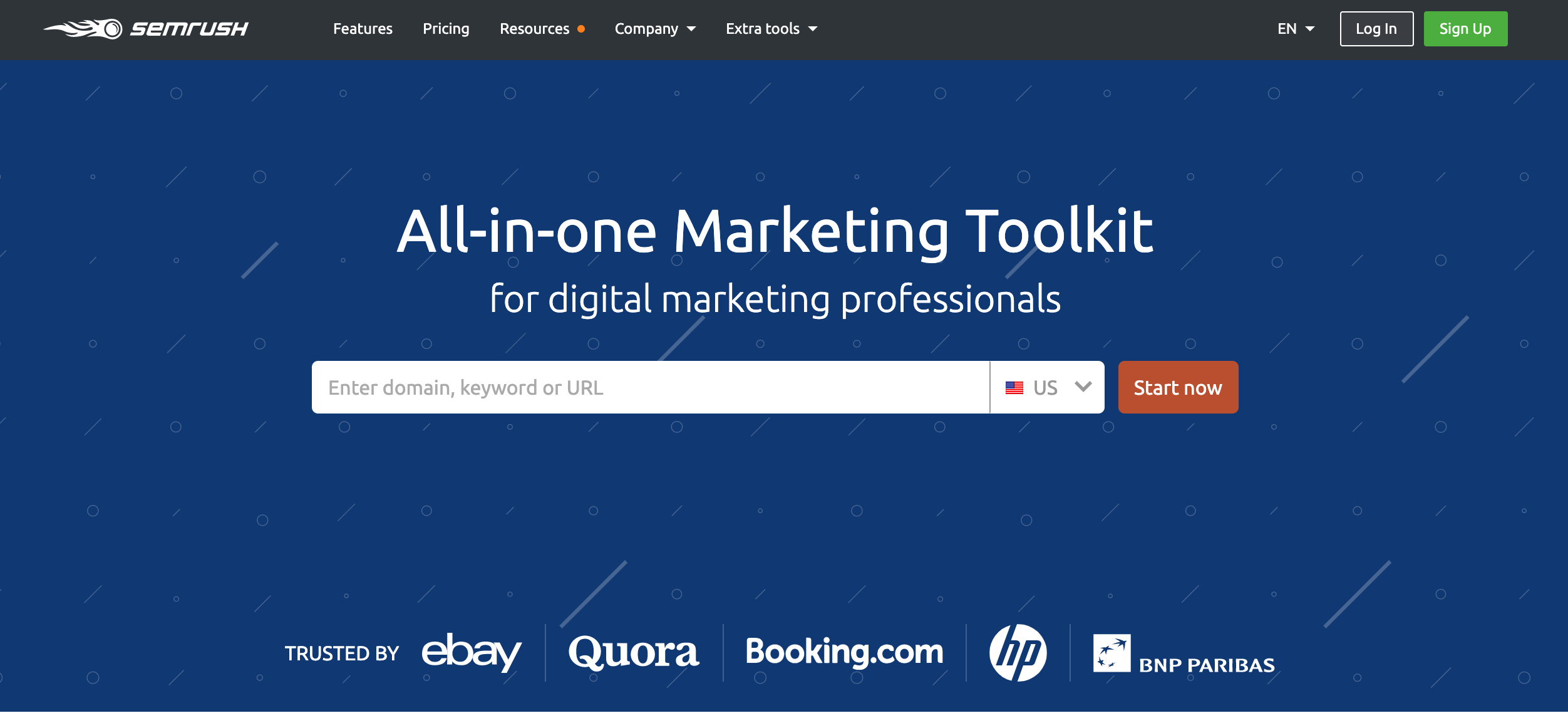 SEMrush presents itself as an all-in-one digital marketing suite for marketers with tools for:
SEO

(

for sure, including link building)

PPC

Social media

Digital PR

Content marketing and much more
Apart from the myriad of SEO tools and reports, SEMrush's most powerful features focus on competitive research. The toolkit for this feature includes competitor traffic analytics, market explorer, the analysis of competitors' top search marketing practices, etc.
Moz
Similar to SEMrush, Moz also offers a great set of SEO tools that will help you rank higher in SERPs and increase your organic traffic. Besides, being famous for its backlink analysis tools, Moz has recently revived its keyword analytics tool that they removed a few years ago.
In the link building community, Moz's solution is especially popular for its Domain Authority score (DA). DA is a metric that shows the overall quality of a site's backlink profile. The higher the domain authority is, the more trustworthy the site is.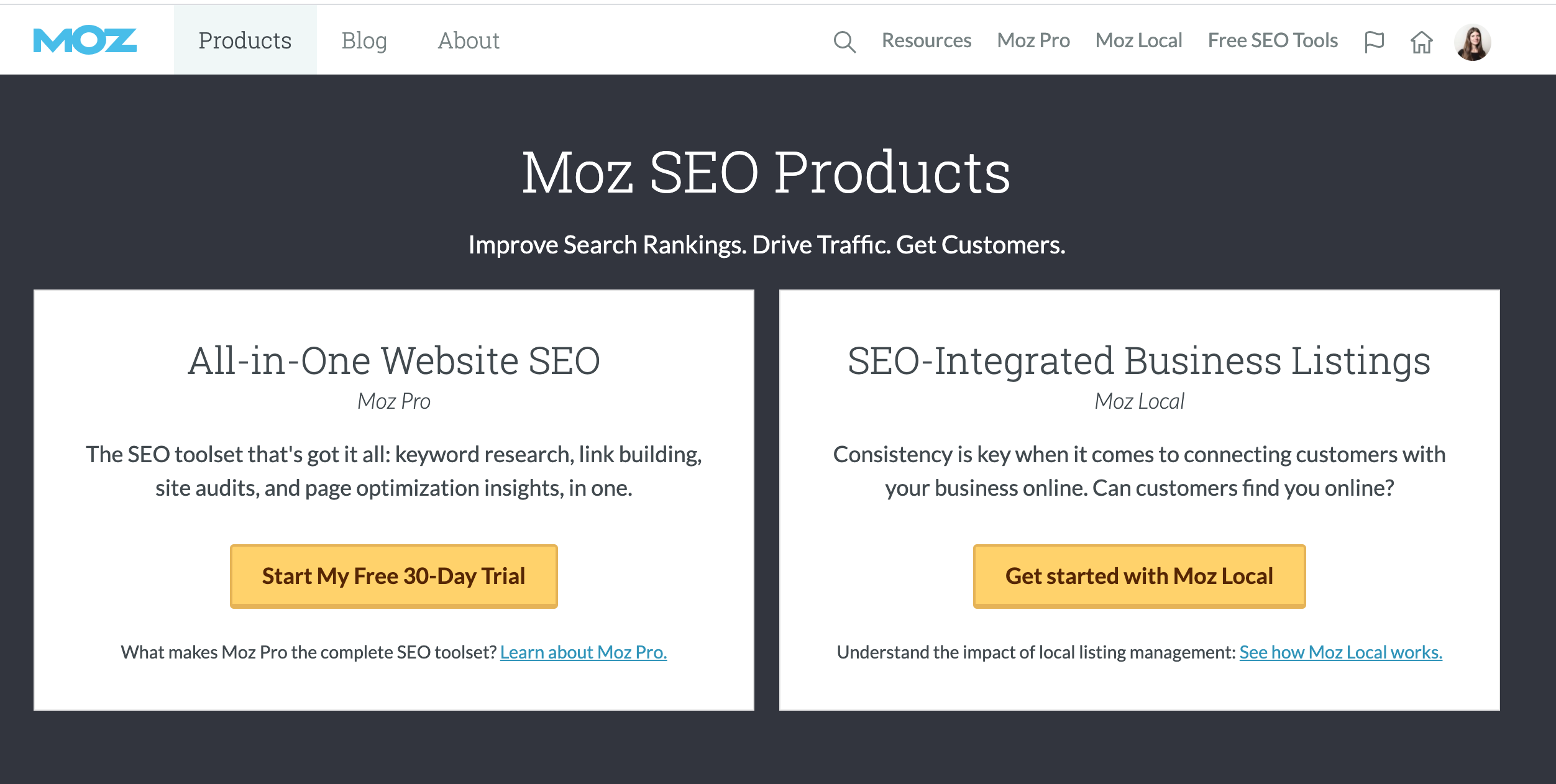 CognitiveSEO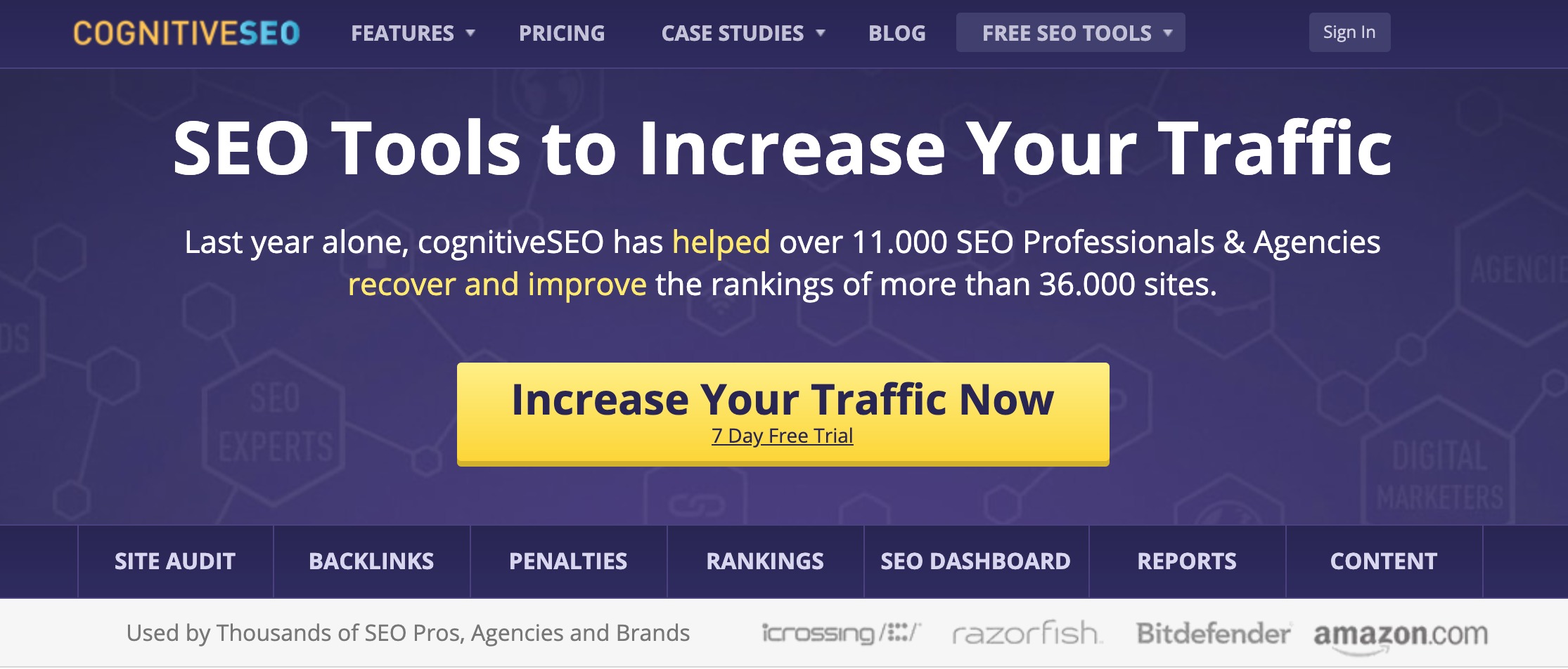 One more SEO tool worth your attention is CognitiveSEO. It provides a rather big selection of reports and tools, including a backlink analysis toolset.
However, the biggest distinctive feature of CognitiveSEO versus the rest of other tools is that it doesn't really have its own backlink crawler. Instead, the company delivered a full integration with Majestic in 2013, so this means that all data that you see in CognitiveSEO is equal to Majestic ones.
For sure, this doesn't mean that they simply copy-paste all the reports and features of Majestic. What makes CognitiveSEO stand out is its own data visualization called Visual Link Explorer. That's the reason why CognitiveSEO has tons of fans and loyal users.
LinkResearchTools
Link Research Tools is by far the most unique solution on the market as it unites a distinctive set of backlink analysis data under one roof.
The main focus of the LRT tool is on highlighting toxic links in the site's backlink profiles. It means that LRT not only shows any site's referring sites but also highlights those that are suspicious or even spammy.
Another feature that makes LRT stand out is its competitive research functionality. It can help you analyze your rival's backlinks and show which links you need to build to outrank them.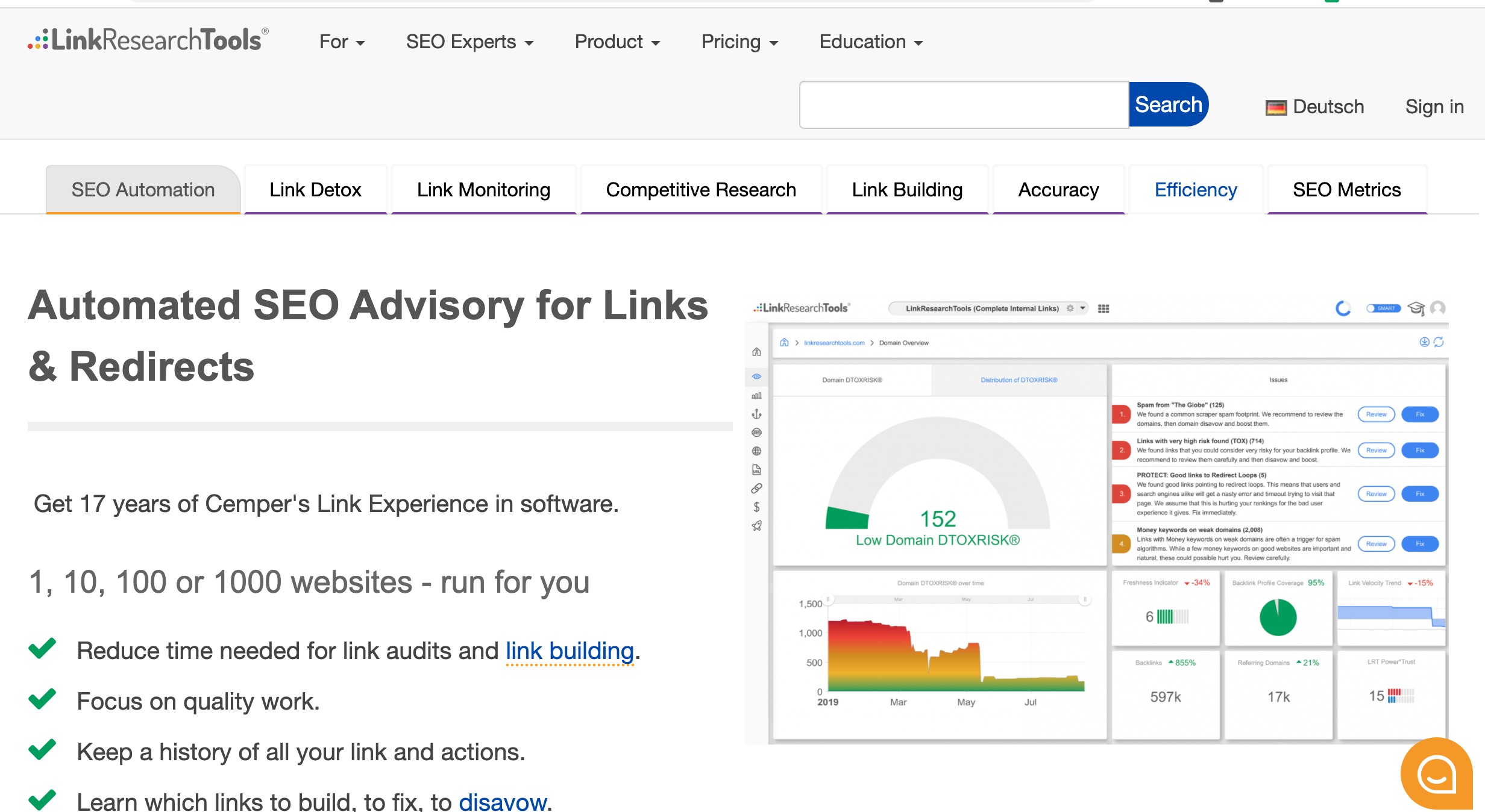 1
Is The Backlink Database Size the Core metric?
A metric like the size of a backlink database seems to be very straightforward and easy to follow, and that's the reason why a lot of marketers prefer to rely entirely on it when they are searching for a new tool. No doubt, we all have a good excuse —lack of time—so I don't think there's a marketer out there who can spend a few weeks testing various digital marketing tools.
Personally, I don't agree that the size of a backlink database is the only metric that indicates whether a tool is the right solution for you. It is certainly among the top ones. But who needs a tool that shows you only some fragmented data without helping you see the full picture?
In general, you have two ways of finding which tool — Ahrefs, Majestic, SEMrush, Moz, CognitiveSEO, or LinkResearchTools — has the biggest database:
Visit their websites and see what they offer at a glance
Perform a random check, which can include five to 10 sites.
1.1
What Do Ahrefs, Moz, SEMrush, Majestic, CognitiveSEO, and LinkResearchTools Claim On Their Websites
Let's start with SEMrush. On the main page of its website, you can find some numbers, but they only illustrate how great their tool is in general. Though I can't say it doesn't work: 6 million users is quite an impressive number!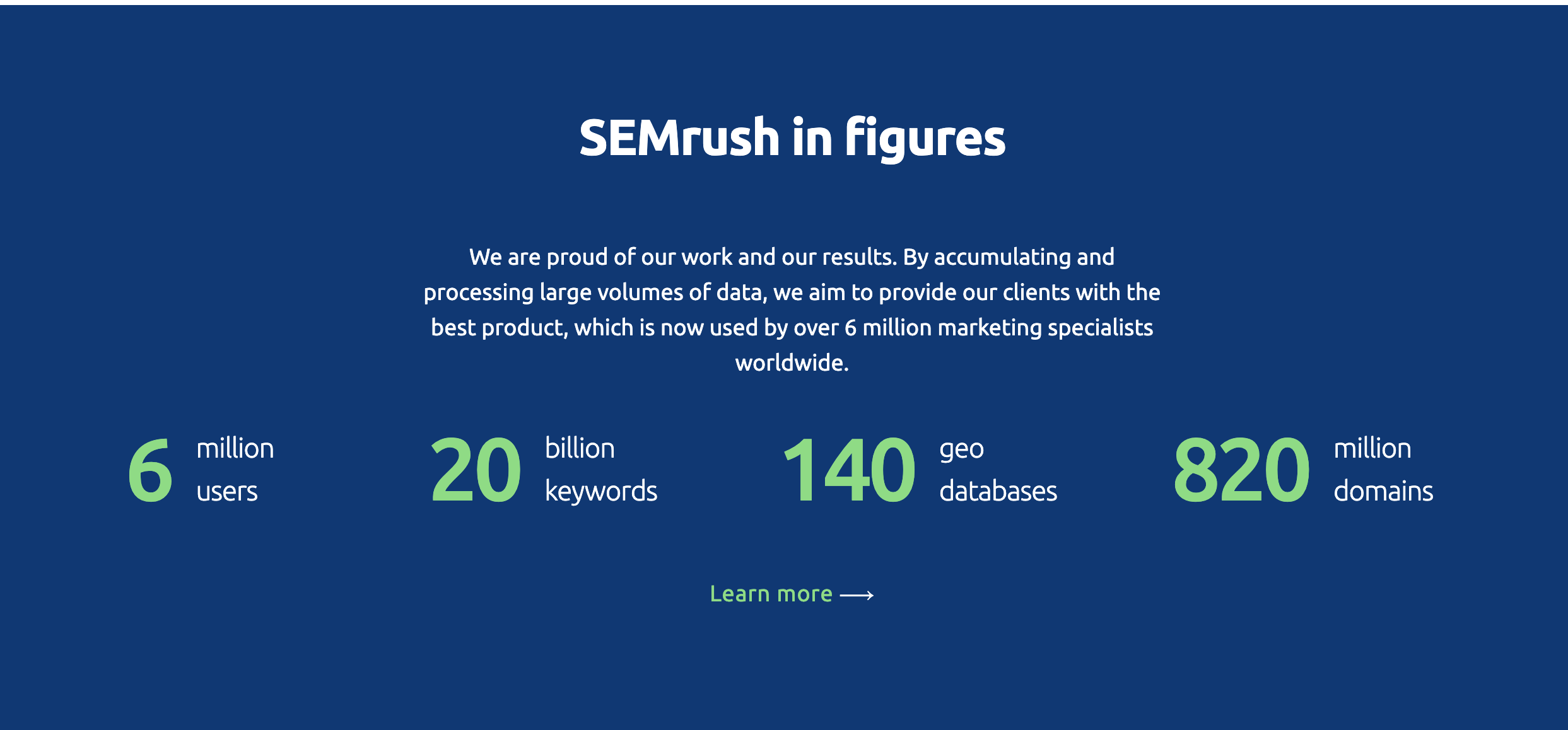 However, if you start digging deeper and click on «Learn more», you'll end up on the landing page. There, after a few scrolls, you'll find more specific numbers about their backlink database:

Looks like SEMrush has over 6,2 Trillion backlinks in its database.
In comparison, Majestic has this data listed on the bottom of its homepage. Ahrefs and Moz mention the size of their backlink database on the separate landing page, similar to SEMrush.
So here're the results:
| | | | | | | |
| --- | --- | --- | --- | --- | --- | --- |
| Database Size | 2.7 Trillion | 9 Trillion | 32,5 Trillion | 40 Trillion | n/a | n/a |
Please note that these numbers are constantly changing, and all backlink analysis tools are trying to grow their database on a daily basis. I am doing my best in keeping up with these changes, but if you feel like there's something that needs to be updated, please let me know in the comments section or message me on Twitter.
2
The Functionality of Backlink Analysis Tools, or Looking Under Their Hood
When a company embarks on an adventure of a marketing campaign, quantity, in most cases, is regarded as a good thing. Lots of traffic — good. Thousands of pageviews — excellent! The more, the merrier.
But the question is whether this abundance of traffic really converts into something meaningful. I know a lot of sites with an astronomical number of visitors that are coming from search queries irrelevant to what products or services a company offers (you can see this very often in SERP). Realistically, it is a vanity metric that doesn't really help a company grow.
The same logic can be applied to data: quantity in itself cannot drive success and profit. Having trillions of data won't help you advance. In fact, it's more likely to blur your vision and make decision-making arduous, increasing cost, and reducing efficiency.
Data needs to be visualized, organized in the right order, to be easily accessible, and readable at-a-glance. To make sense of those heaps of data, you need to have the right functionality to work with it. And this is what you're going to learn below.
What reports and features top 6 backlink checker tools support
Typically, if a tool doesn't provide the set of reports and predefined metrics, you won't really know what the tool is capable of. Unless you're a dexterous marketer by day, and a coder by night. Then dealing with raw data shouldn't be an issue when you're trying to understand a tool's SEO plan. But the majority of marketers, including myself, prefer using tools that offer such insights in a few clicks. That's the real value of backlink analysis tools because they give you exactly what you're looking for, without the need of filtering data manually.
2.1
Spammy or not: understanding the nature of a link or a domain
In this section, I put together a list of metrics that help marketers determine the trustworthiness of referring domains linked to a specific website.
In the table below, you can see the metrics that play a crucial role in differentiating quality links from spammy ones. The table shows if the tools that I analyzed include any of these metrics. Below this table, I'll explain why I've chosen these aspects as key in understanding the nature of any backlink profile.
The Number of Referring Subnets and IPs
Information about the diversity of referring subnets and IPs specifies if the websites linked to a certain domain are hosted on the same servers. Google checks both of these metrics and penalizes those sites that have too many links coming from the same subnets or IPs. To make the long story short, that's the very first signal to Google that you've built a private blog network (PBN) to boost your rankings.
If you spot too many links that are coming from the IP, then it's better to check these links and disavow them to avoid being penalized by Google.
So, In Ahrefs, you'll see the data on both Referring Subnets and IPs on their main dashboard. If you click on each number, Ahrefs will forward you to a detailed report.

In its turn, SEMrush doesn't show any results for referring subnets, but you can still find information about IPs in a separate report tab. Also, SEMrush provides a very informative table where you can see all the IPs grouped by the number of referring domains that are associated with each IP: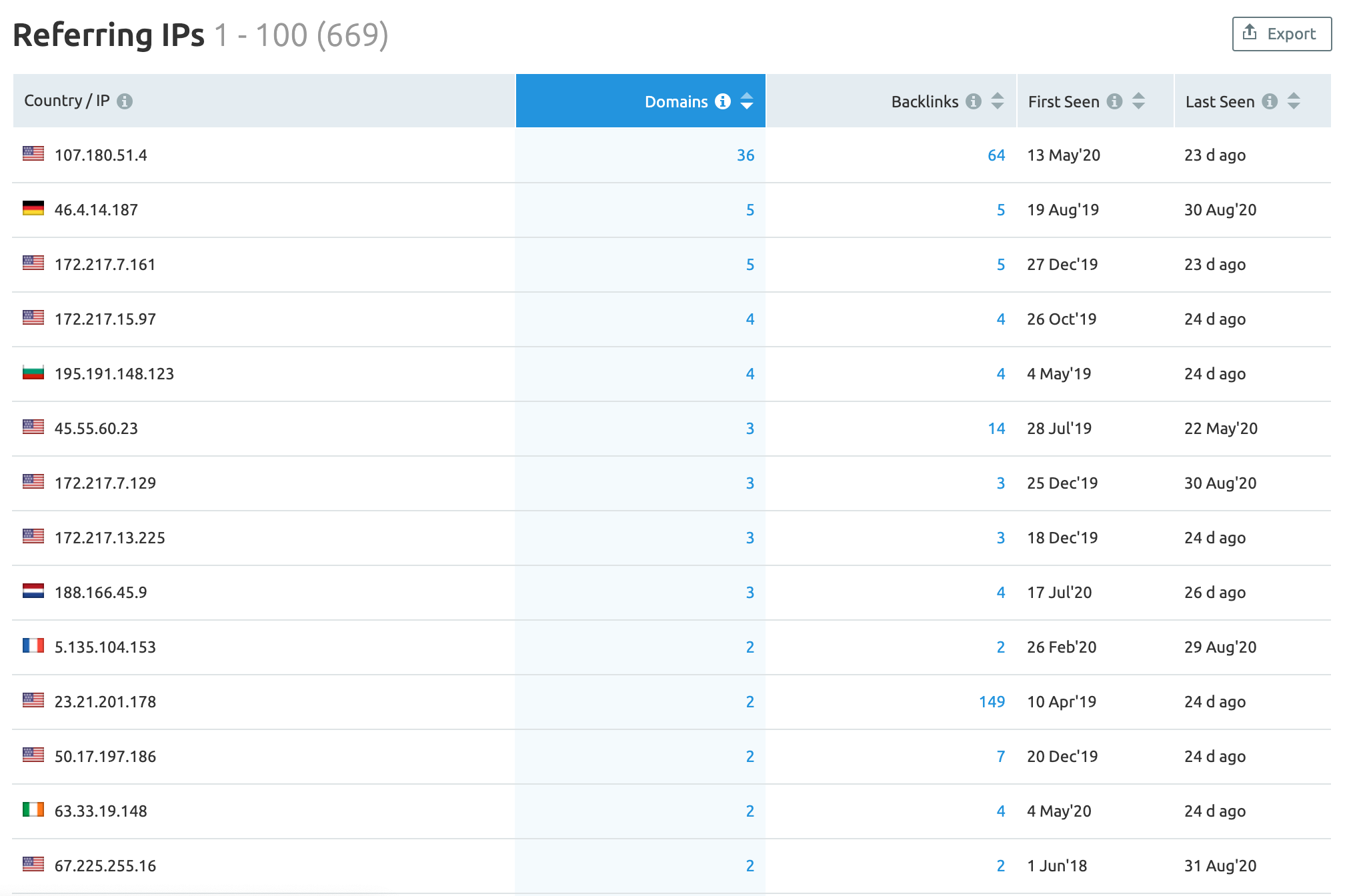 Speaking about Majestic, so far, it wins in terms of visualization. All the numbers appear to be next to the key domain metrics and are supported by some historical data. However, the only issue with Majestic's data visualization is that it doesn't allow you to see any description or details. What you see is just a bunch of numbers:

As for LinkResearchTools, there you can find some data about Referring IPs. But you still need to export this data and do some magic in Excel to see how many sites have the same IP.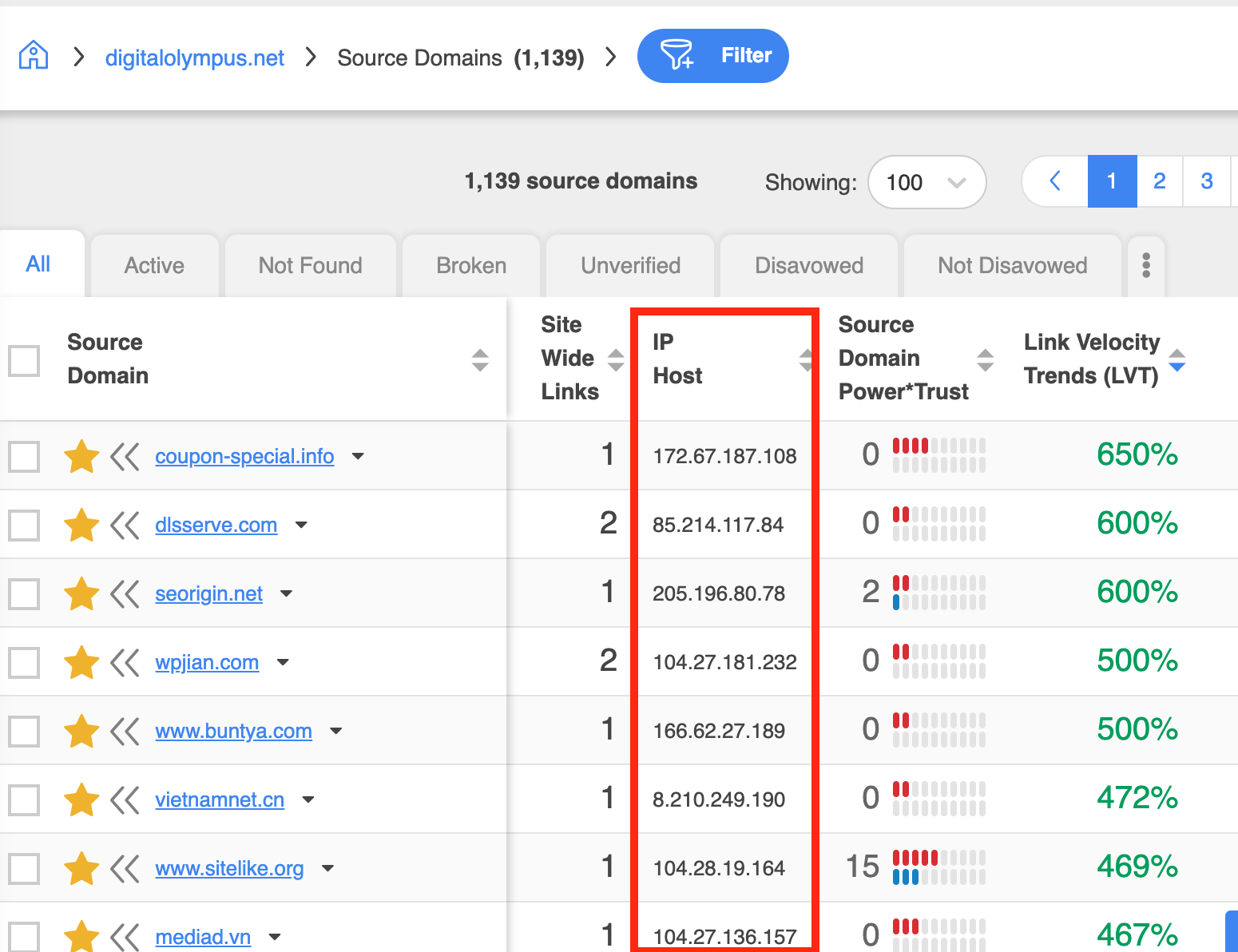 Finally, Moz and CognitiveSEO don't provide any information about these metrics.
The Ratio of Referring Domains vs Backlinks
The following two numbers are mandatory. When I evaluate the quality of a site's backlink profile, I always look at the ratio of domains and the total number of backlinks it has. This metric shows if the backlink profile is organic, or, in other words, isn't comprised of spammy links.
For example, a domain has 1,000 referring domains with 100,000 backlinks. These numbers look very suspicious, so you need to stay alert to such red flags.
All tools will show the number of referring domains and backlinks on their main site's overview dashboard. Below are a few screenshots that will give you an idea.
Ahrefs' main dashboard offers a lot of helpful of metrics: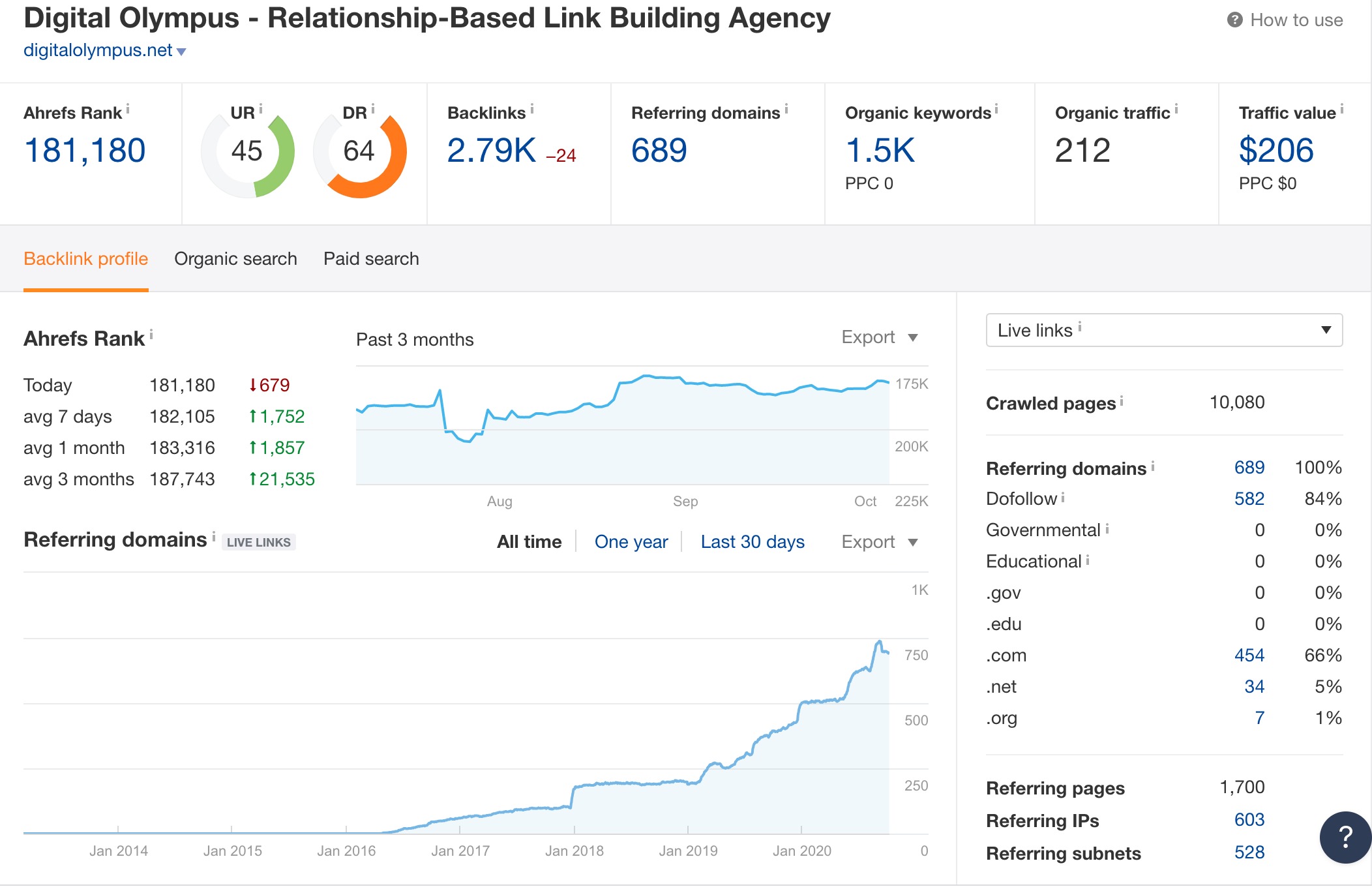 Additionally, if you open a report with all referring domains, Ahrefs will let you filter out domains that have the largest number of backlinks. You can then export them into a file and manually check if any of them are toxic.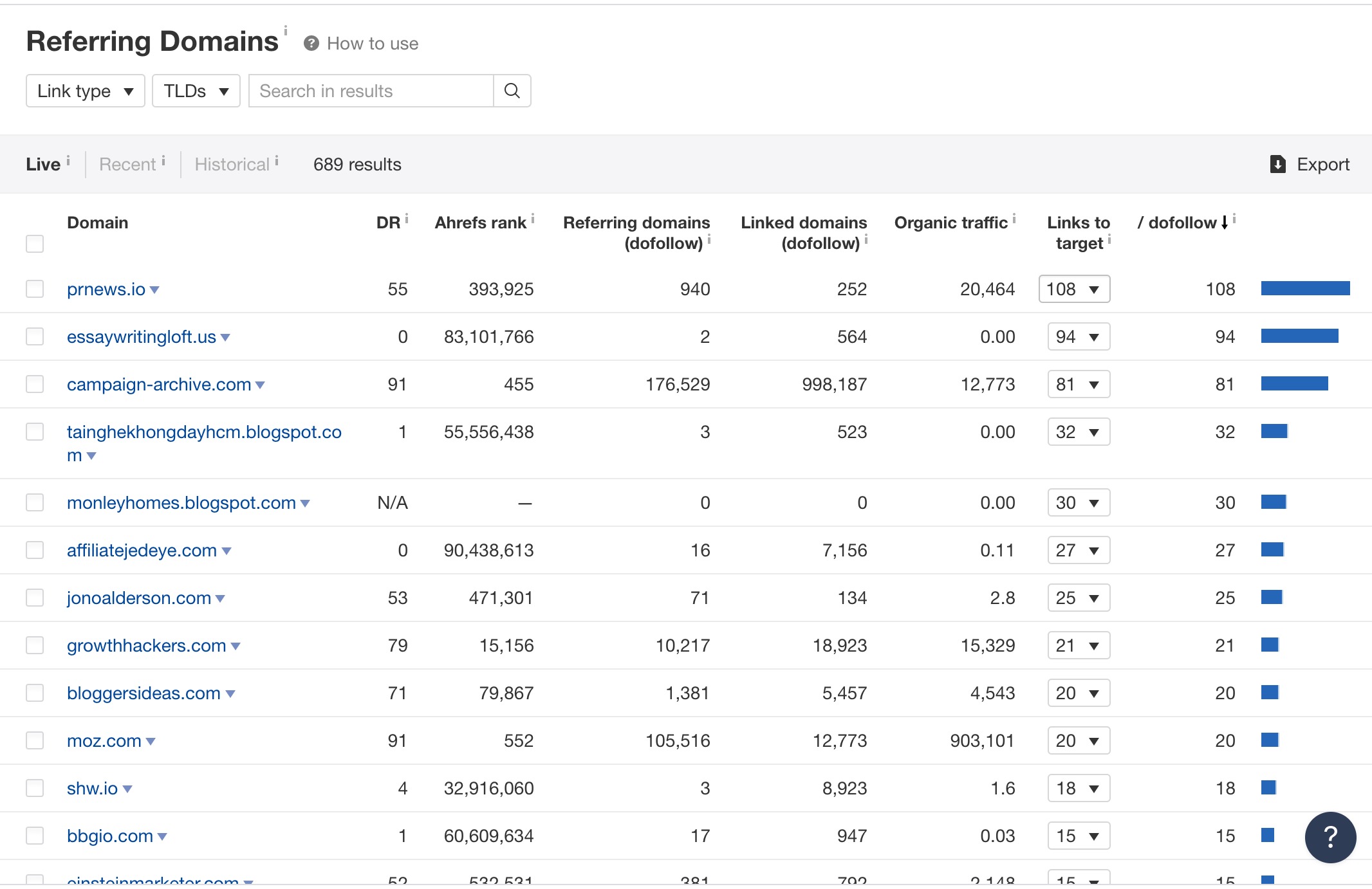 Unlike Ahrefs, SEMrush offers a different kind of visualization: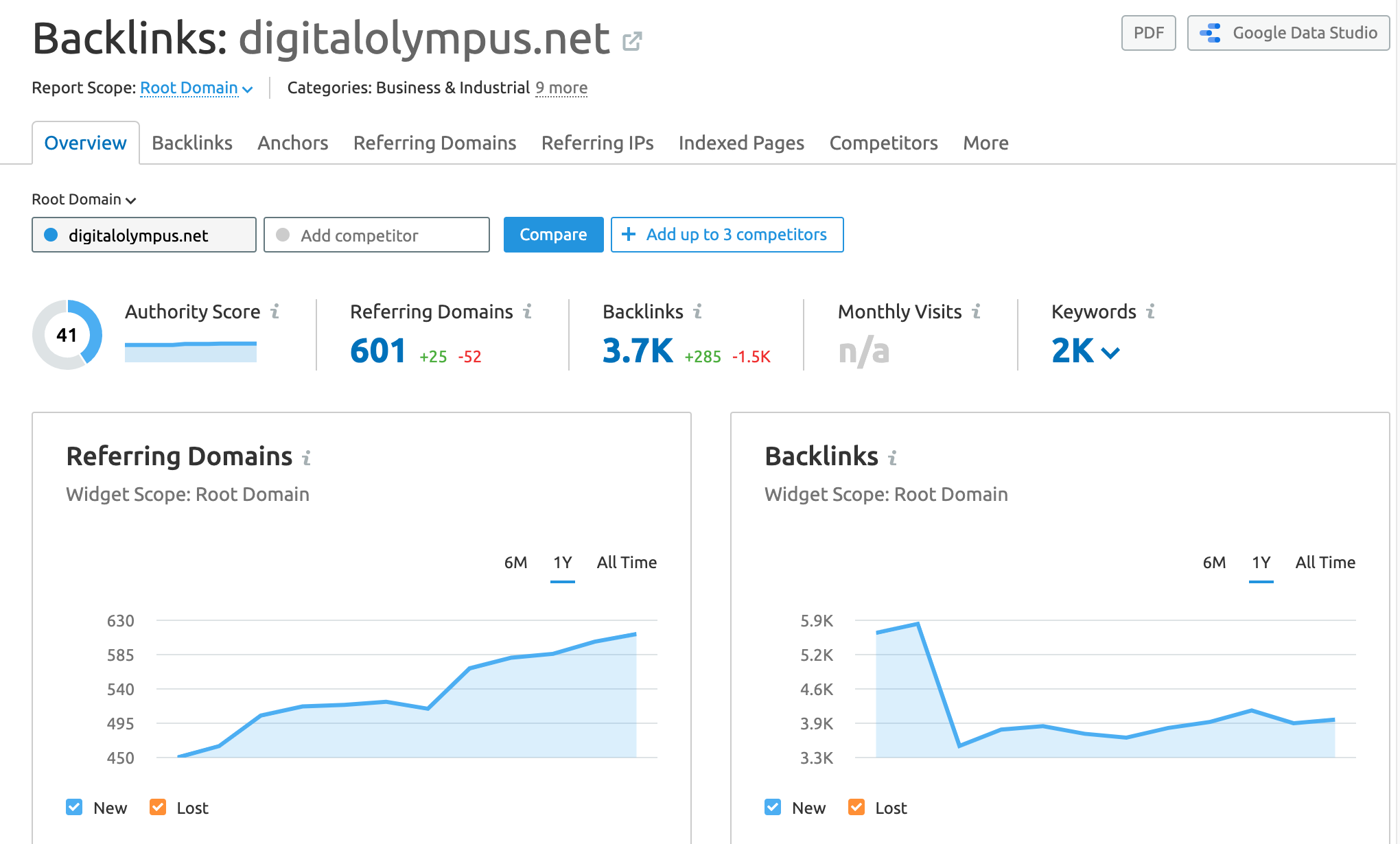 Despite its contrasting look, SEMrush's functionality, akin to the other tools, allows users to see which referring domains have the highest number of backlinks: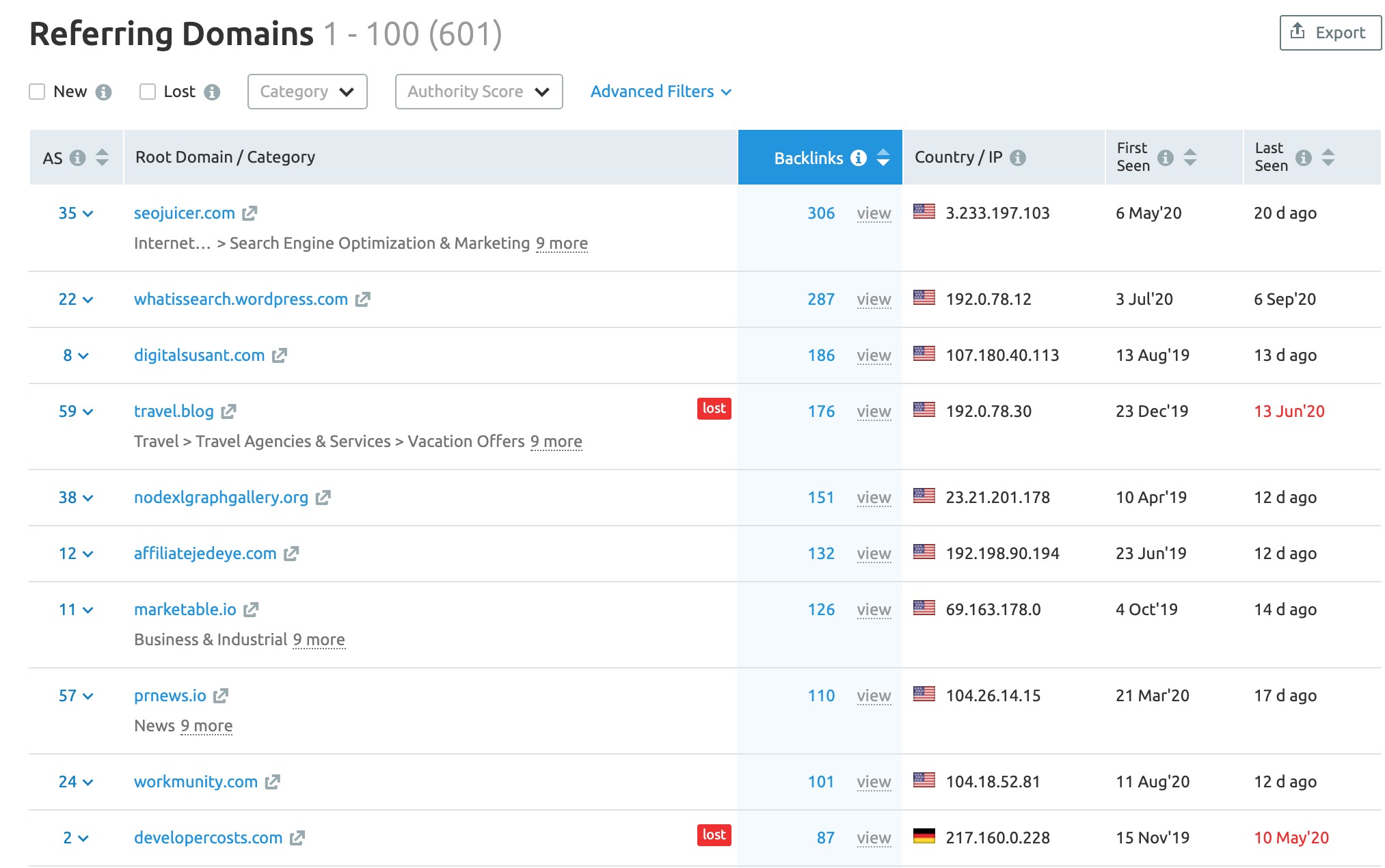 Majestic, on the other hand, loses to its opponents in data visualization, making its dashboard hard to read. The biggest disadvantage I find is that you can't simply take a screenshot and incorporate it into your client's presentation because of how the data appears on the dashboard: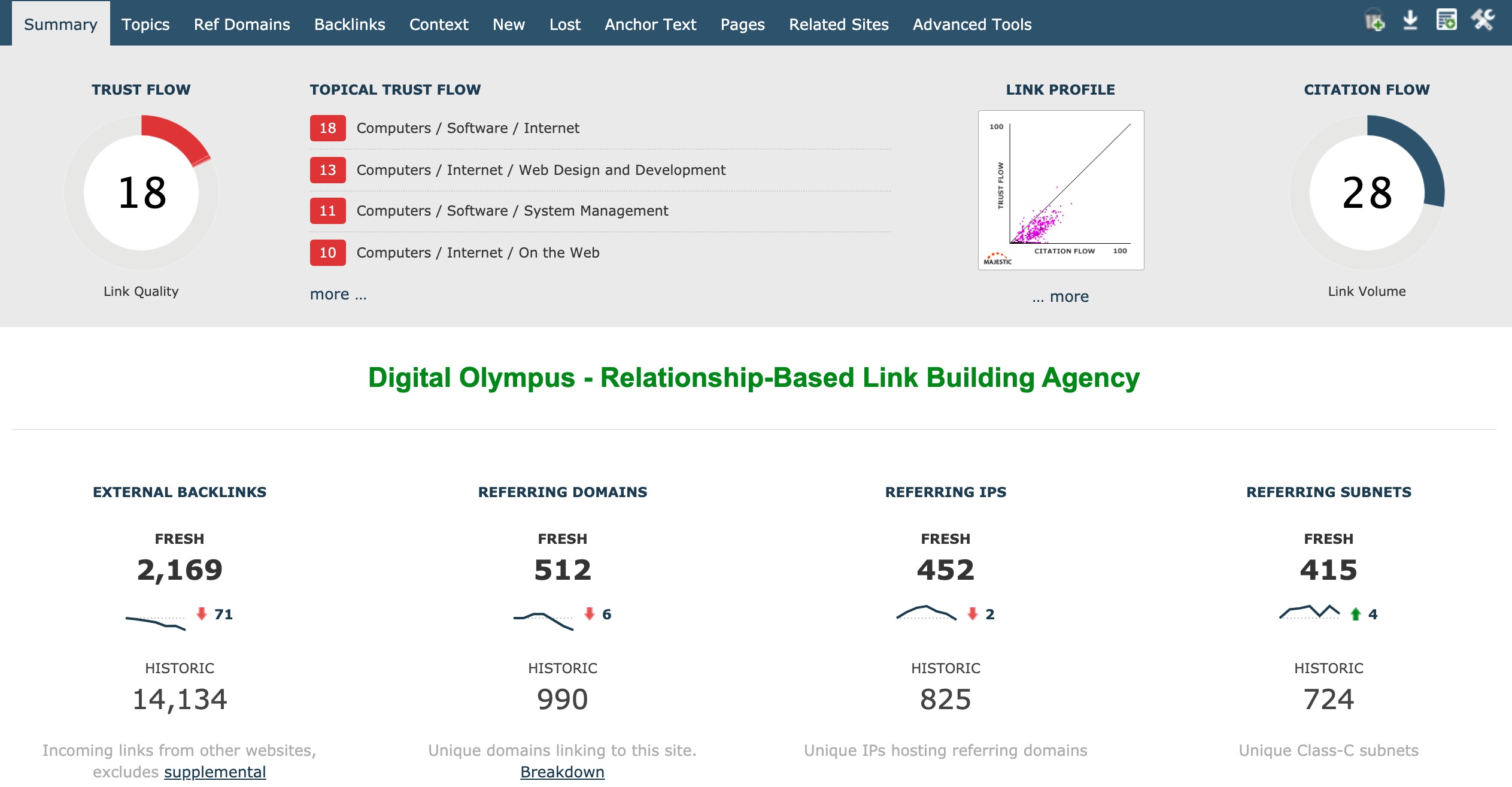 In Moz, you'll also find more information such as inbound links and ranking keywords to help with your link-building strategy on their site's overview dashboard: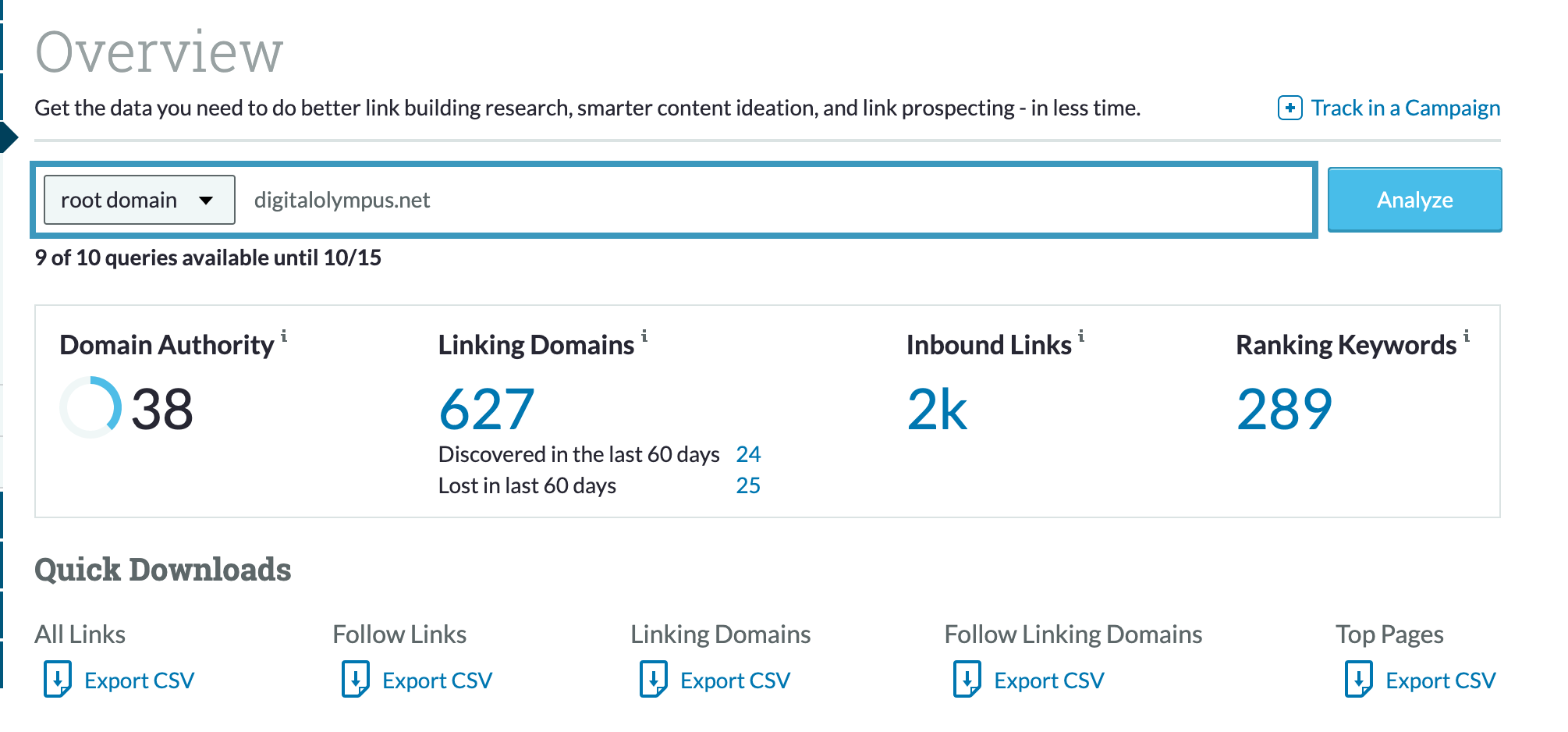 CognitiveSEO's main dashboard also provides quite a solid overview of a site's backlink profile to a user. It allows you to review the number of referring domains and backlinks that a particular site has: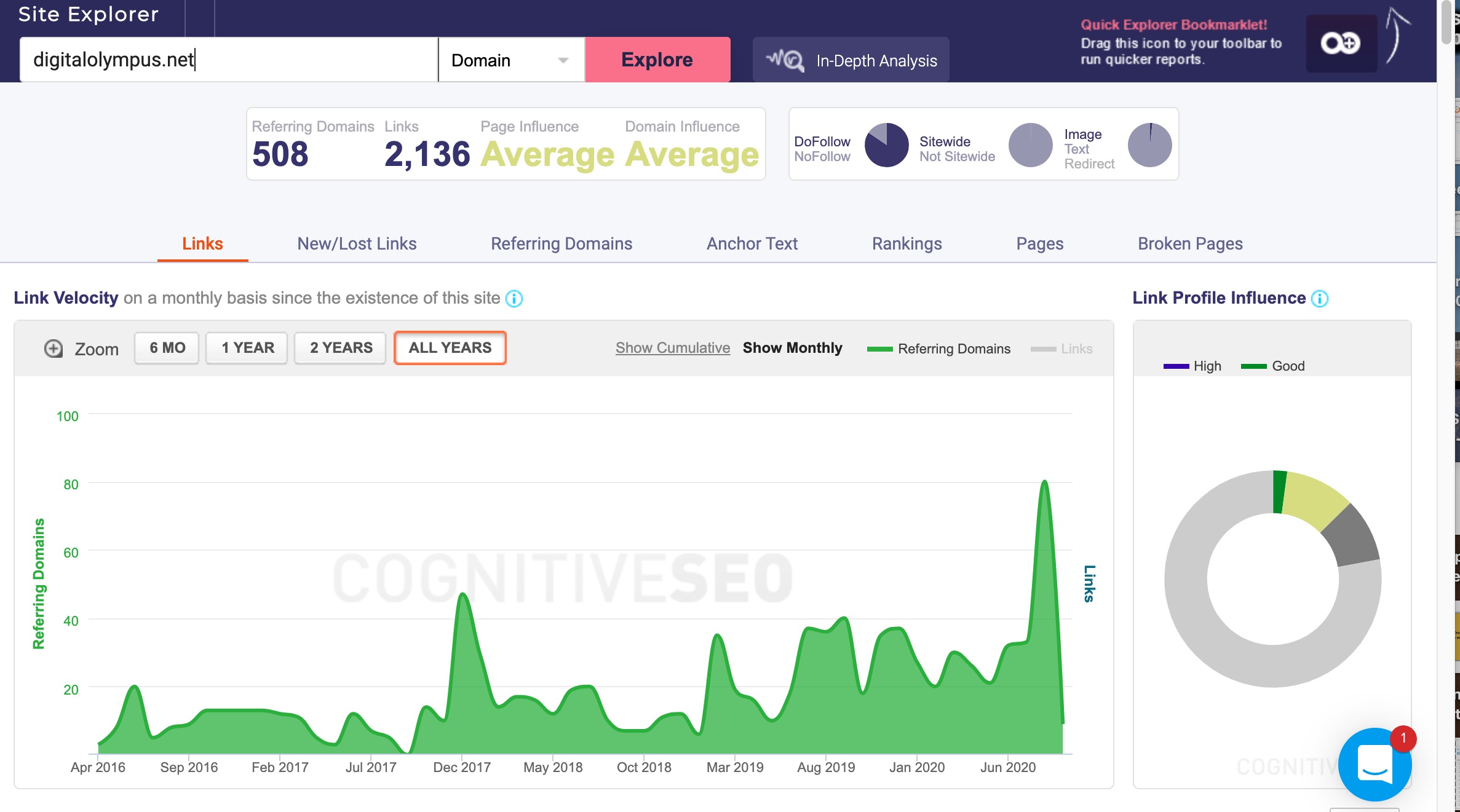 The only thing is that some of these graphs are missing important data descriptions, like the graph that shows a pie chart with link profile influence. And I'm not sure what the different colors mean besides the purple and green ones that you can see in the legend of a graph.
As for LinkResearchTools, it also shows the number of referring domains as well as the website backlinks that you want to analyze: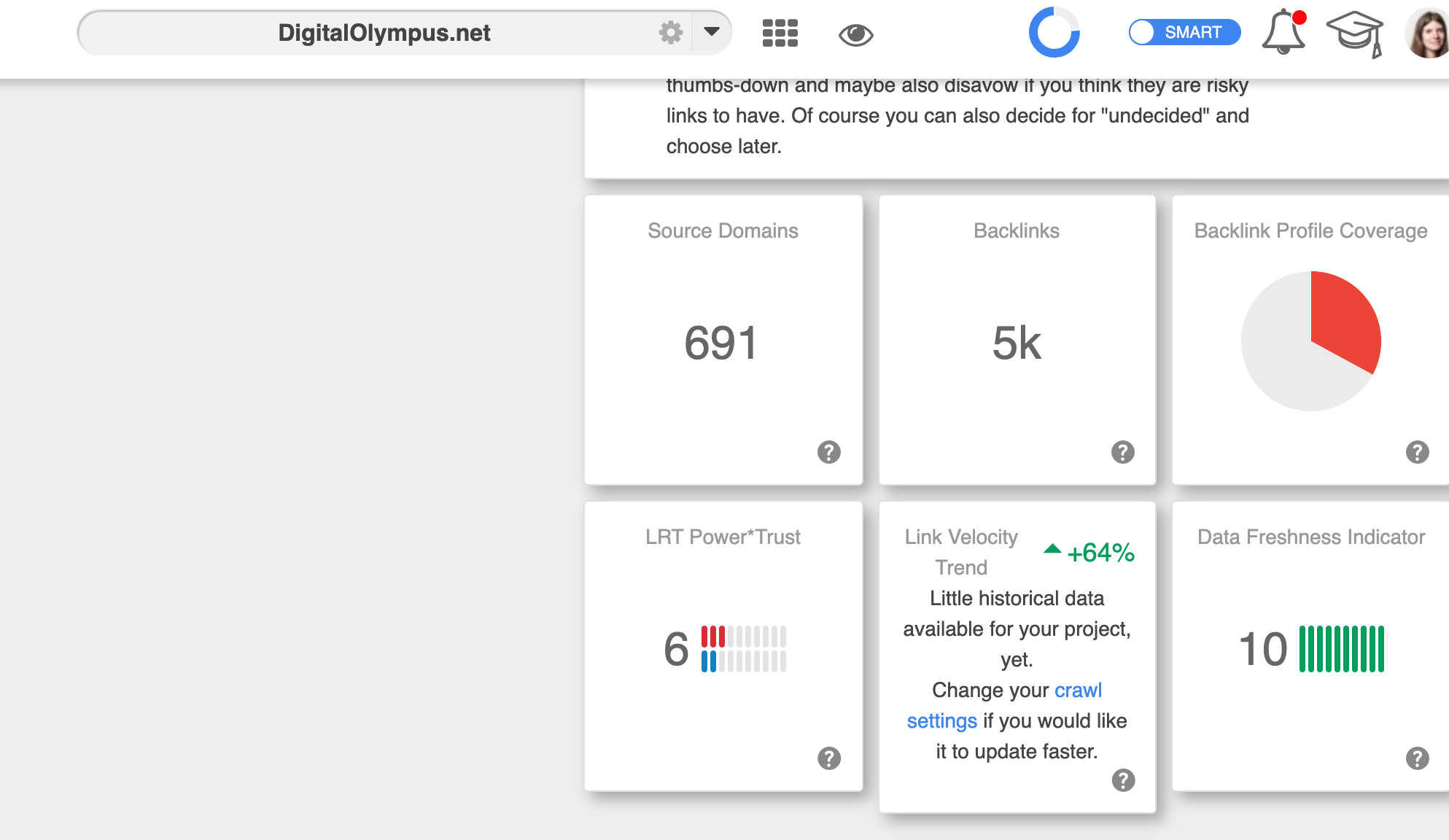 To sum up — all the tools provide the data on the ratio of referring domains vs. backlinks. So, regardless of the solution you choose, you will have this data at hand to check this ratio for any website. It will help you filter out spam sites and make sure that your link building strategy only focuses on acquiring links on meaningful sites.
Graphs with Historical Growth of Links
Tracking the historical growth of links is another metric I always keep in mind when auditing backlink profiles. Backlink history shows how many links crawlers have found to a given web page in the past. The chart indicates backlink growth associated with a specific domain, and it shouldn't go up or down, which might be a sign that a site is using manipulative strategies to get backlinks.
Below, you can see the graphs from Ahrefs that show the historical growth of the number of referring domains and pages to help you monitor the process of acquiring links:

In its turn, Majestic offers data for the current year only, but you can still take advantage of it. To get the most relevant and accurate information about the historical growth, you need to select the cumulative mode from the drop-down menu:
As for SEMrush, it will show you only the historical data about your backlinks growth on their main dashboard. Also, you can select whether you want to see only new backlinks or also the lost ones:
When it comes to historical data, Moz lets you choose between the number of linked domains and changes that happened to the authority level over time for the domain or page you're analyzing. The only downside is that the graph shows data for a very limited timeframe: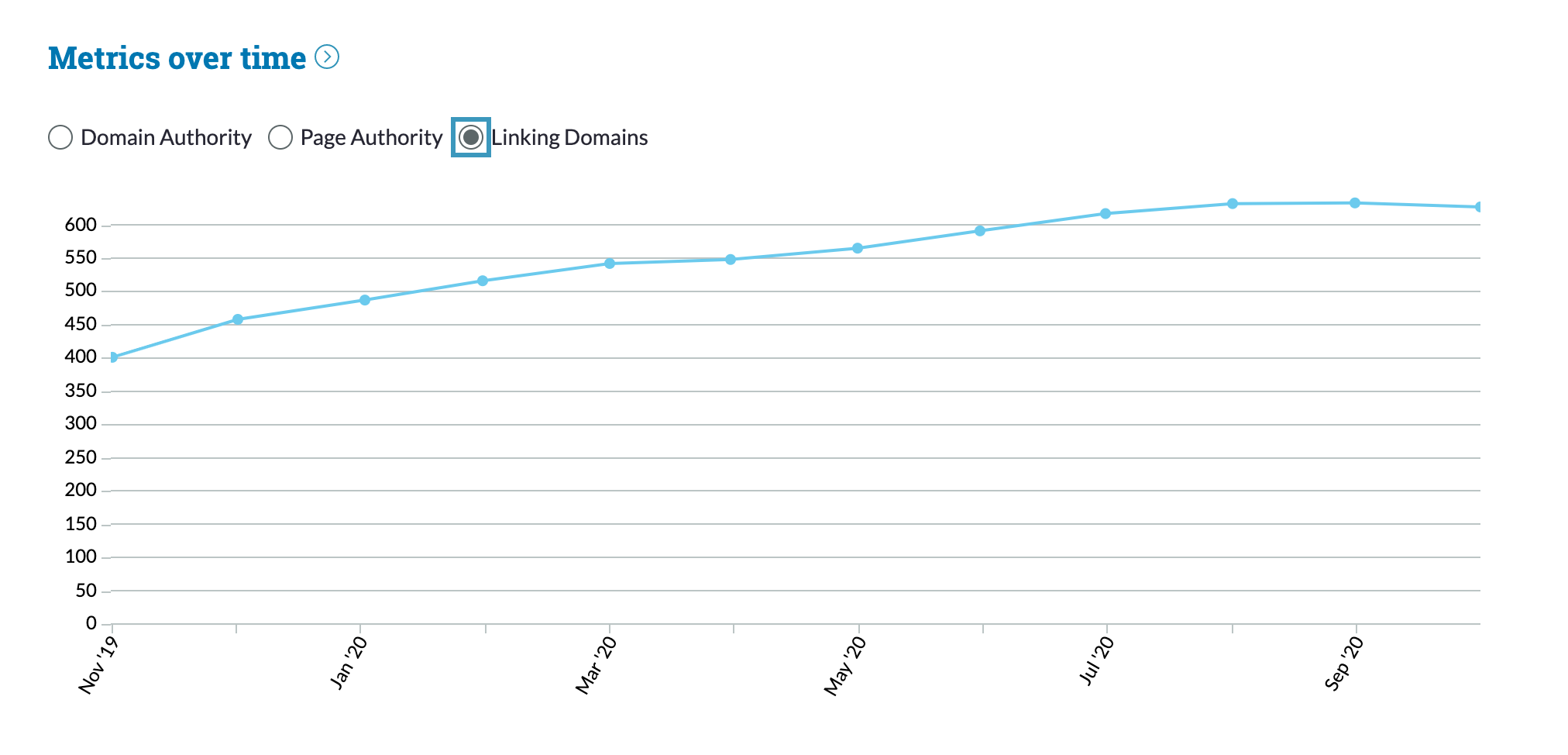 On the CognitiveSEO's dashboard, you can find a chart with the historical growth of backlinks that allow you to choose between cumulative and monthly view mode, as well as between backlinks and referring domains: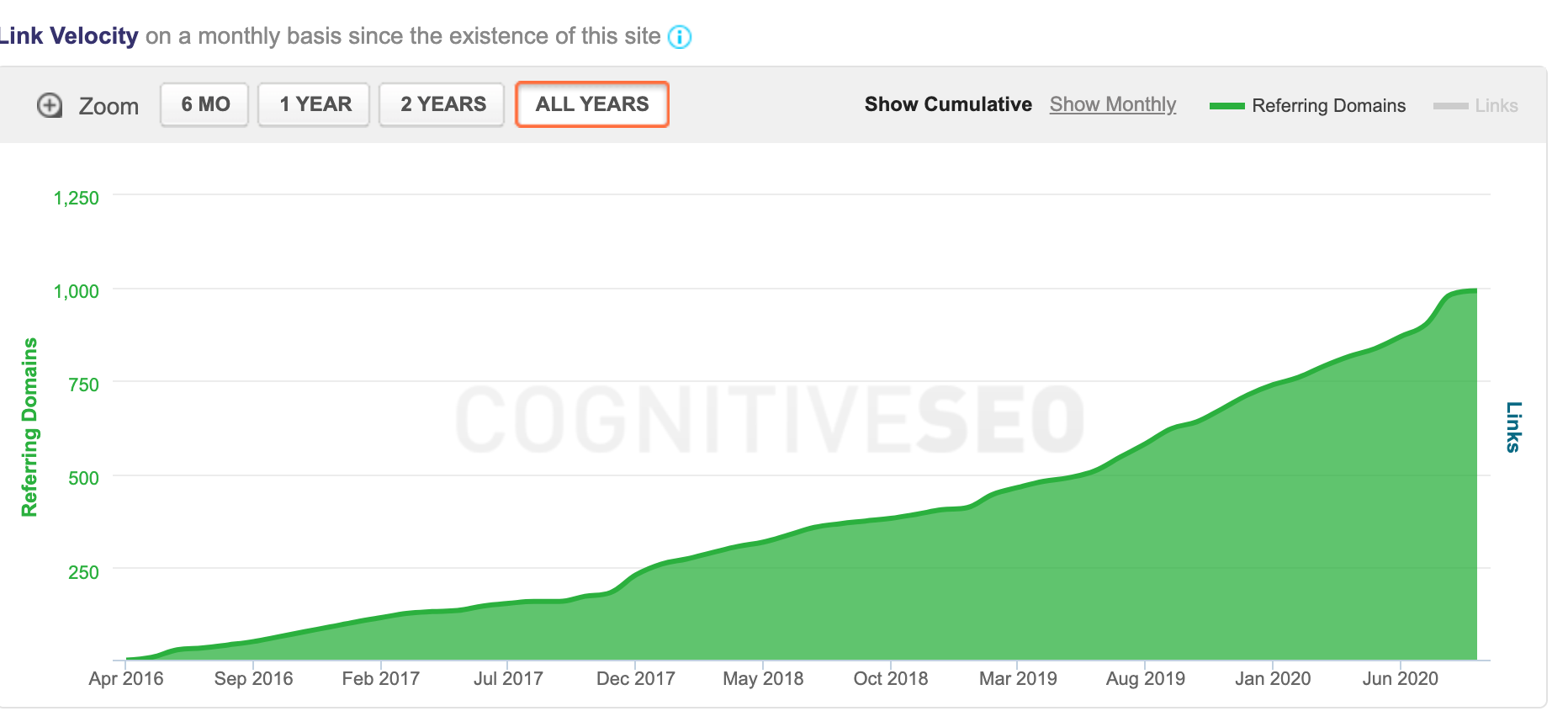 Finally, LinkResearchTools doesn't provide any data that will visualize the historical changes of the backlink profile.
2.1
Understanding the General Quality Score of a Backlink Profile
Now, let's take a look at the table below. On it, you can see the metrics that will assist you in finding the general quality score of any domain or link. Ideally, you need to gather information about all of these metrics to ensure that you're not making any headstrong conclusions:
CTLDs Distribution
.gov Referring Domains
.edu Referring Domains
Type of Links

(

image, frame, redirect)
Distribution of Anchor Texts
CTLDs distribution
Most tools that we're reviewing in this post show CTLDs distribution visualized as a map on the main dashboard. This data is based on country code top-level domain (ccTLD), which is an Internet top-level domain generally used or reserved for a country, a sovereign state, or a dependent territory.
We'll start with Ahrefs. Here's how its dashboard displays this data: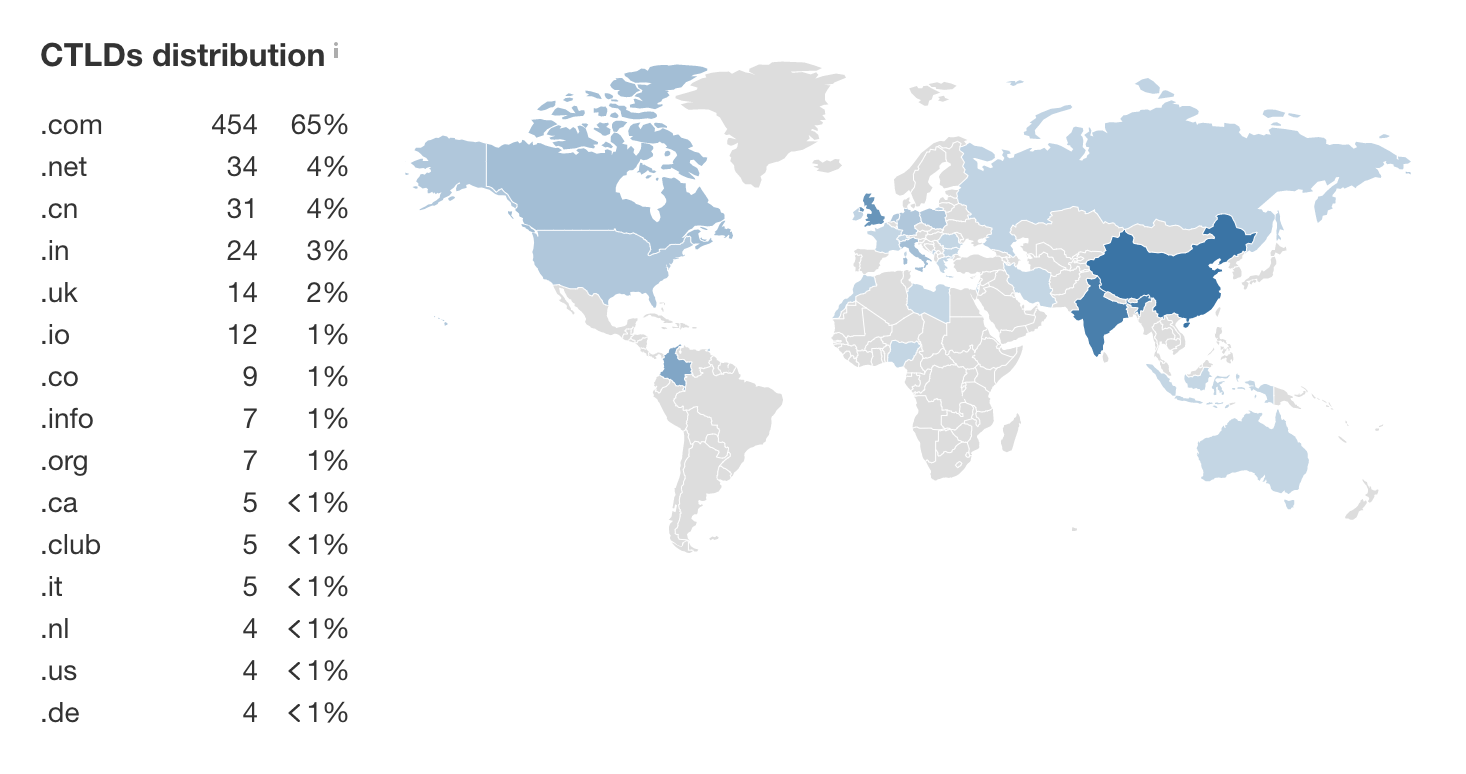 And this is what the looks like in SEMrush: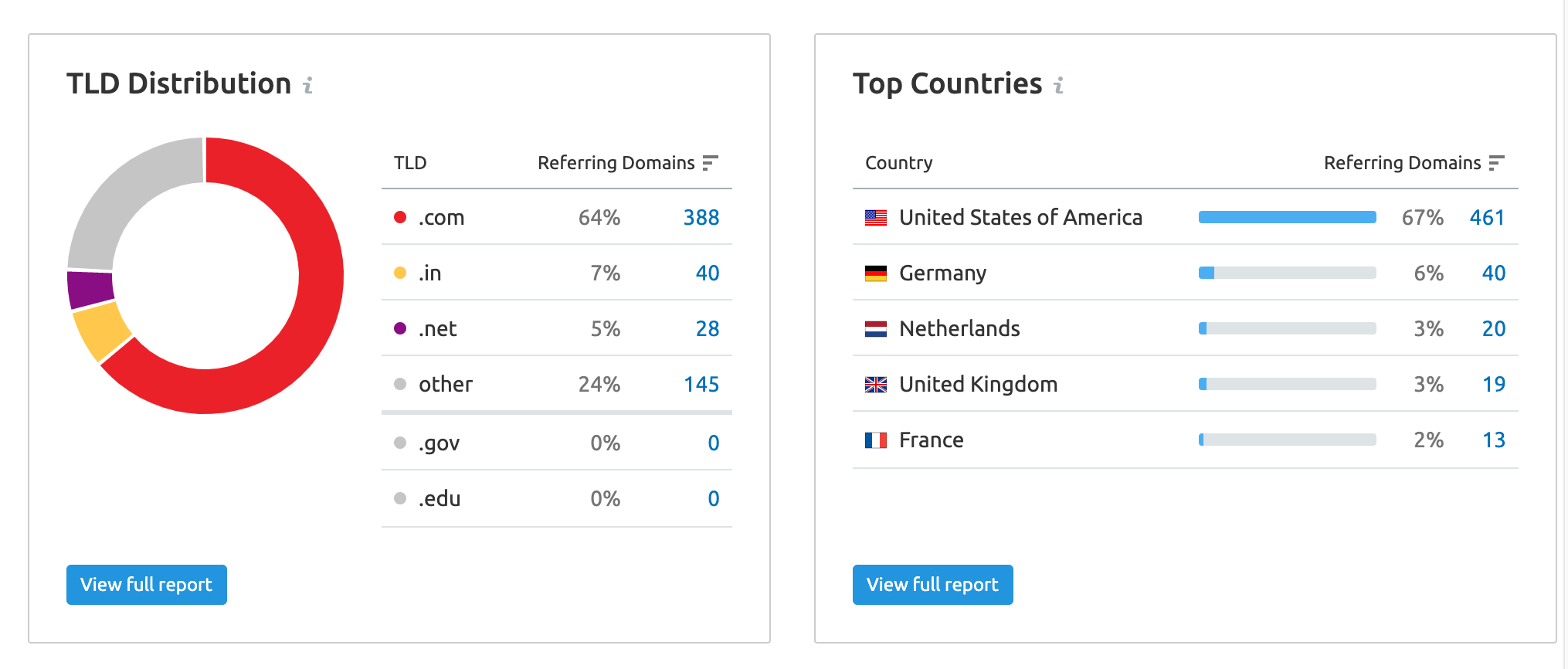 In CognitiveSEO, you need to click on the tab «Referring domains» do get access to the CTLD distribution graph: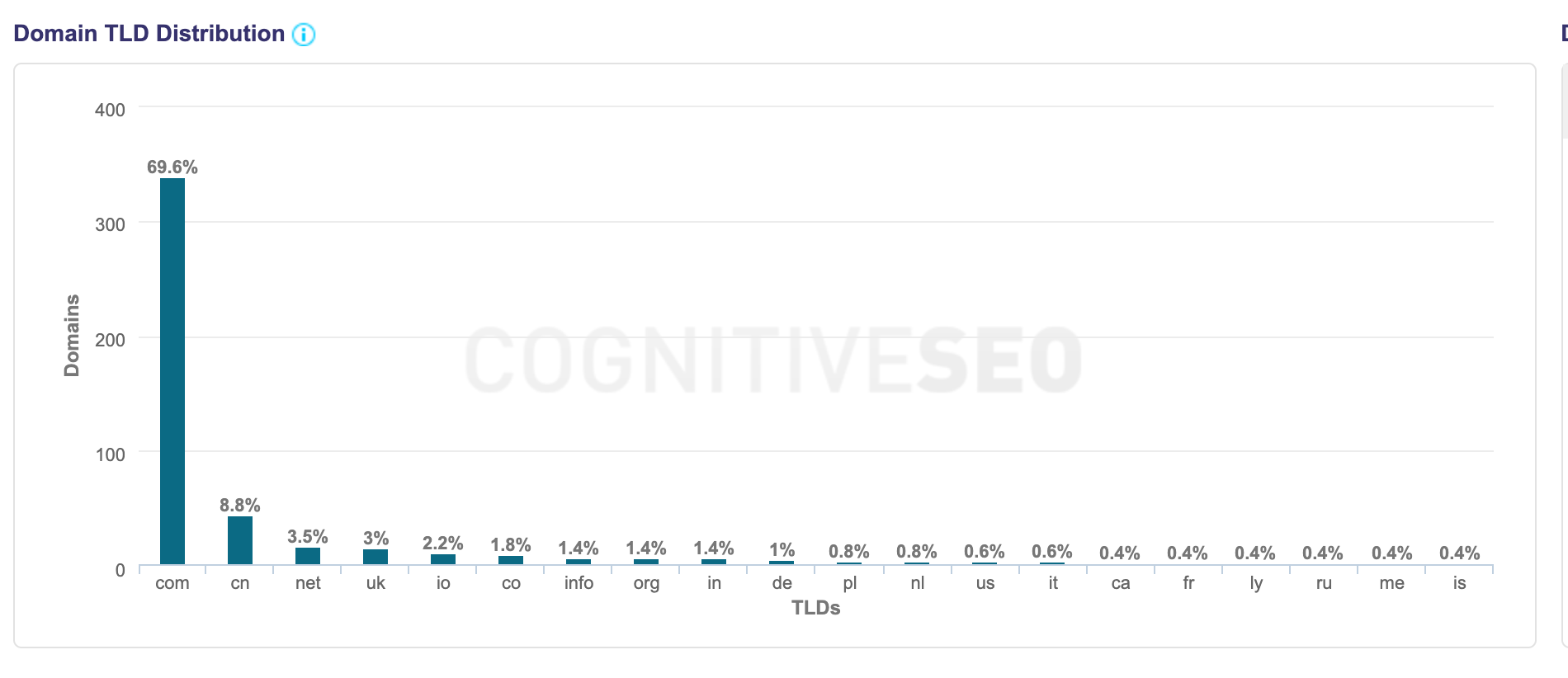 As for LinkResearchTools, it provides a very in-depth report that allows selecting between tabs to check different groups of links: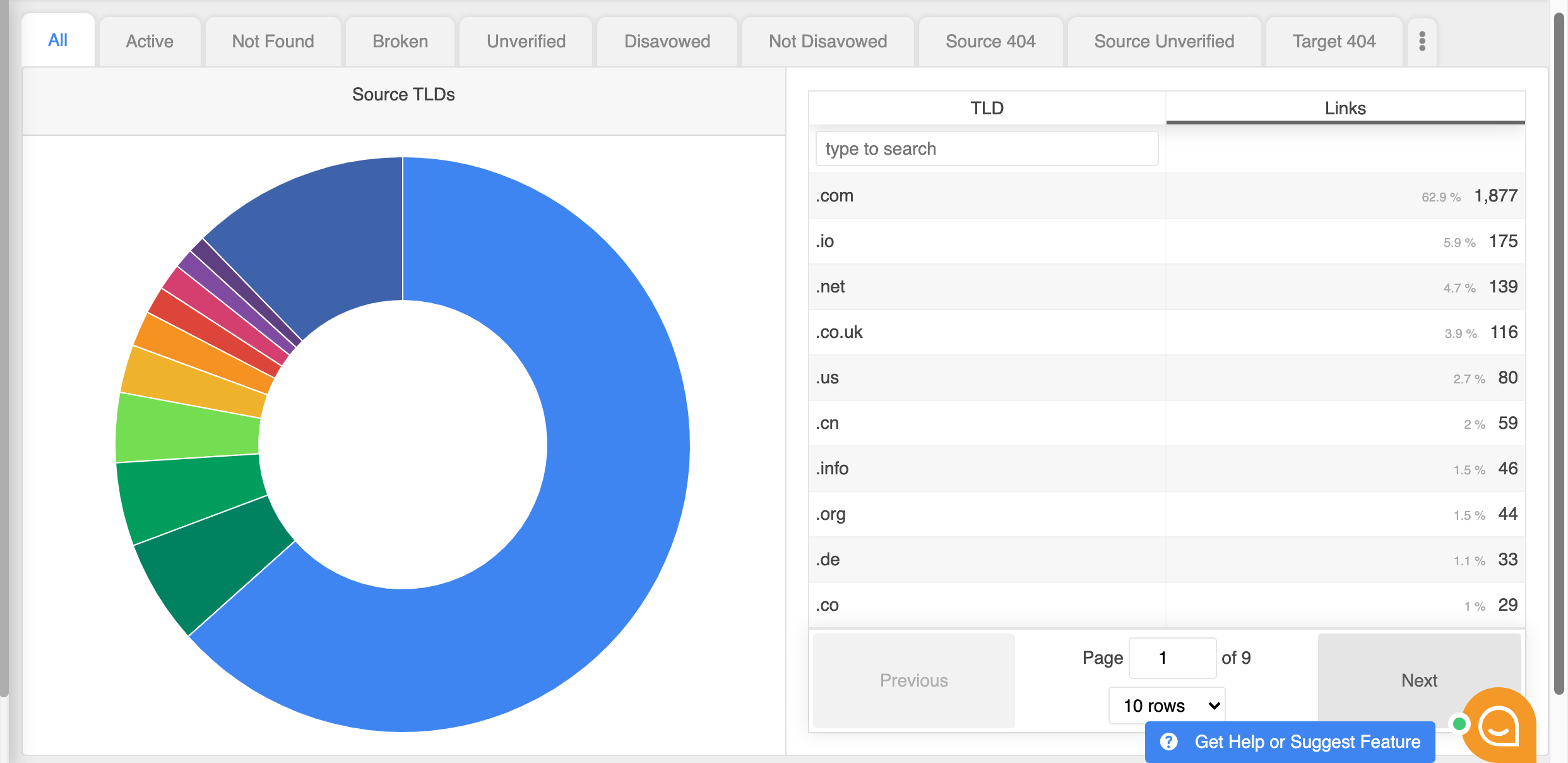 Unfortunately, Majestic and Moz don't have any data for the internet domain extension.
Number of .gov and .edu Referring Domains
Another important metric is the number of .gov and .edu referring domains. This metric adds to the domain's trustworthiness and credibility level. Such sites will never refer to a spammy website in the first place unless they are hacked, but that's the whole other story.
I'm not going to add any screenshots here because Ahrefs, SEMrush, CognitiveSEO, and Majestic all have these domains in their main site's overview dashboards. All of them also support more detailed reports on that matter. The only tool that doesn't show the number of .gov and .edu referring sites is LinkResearchTools.
Types of backlinks
Some people say that there's not much difference between the link that's coming from an image and the one that's inserted within a text.
For the most part, it's true. But the links that are allocated in the text are much more powerful since they have more chances to pass more link equity to your page.
Regardless of your belief, the tool that you're using should show you the domain's distribution links by their type, which can be especially handy when you are analyzing competitors' backlinks.
So, let's take a look at how each of the tools under consideration presents the breakdown of the backlink types.
Ahrefs shows this metric on its main dashboard. However, you can only see the number of links that come from images, and you can't see the list of pages these links are coming from. When it comes to links that are coming from redirects, you can get this data from the Backlink report: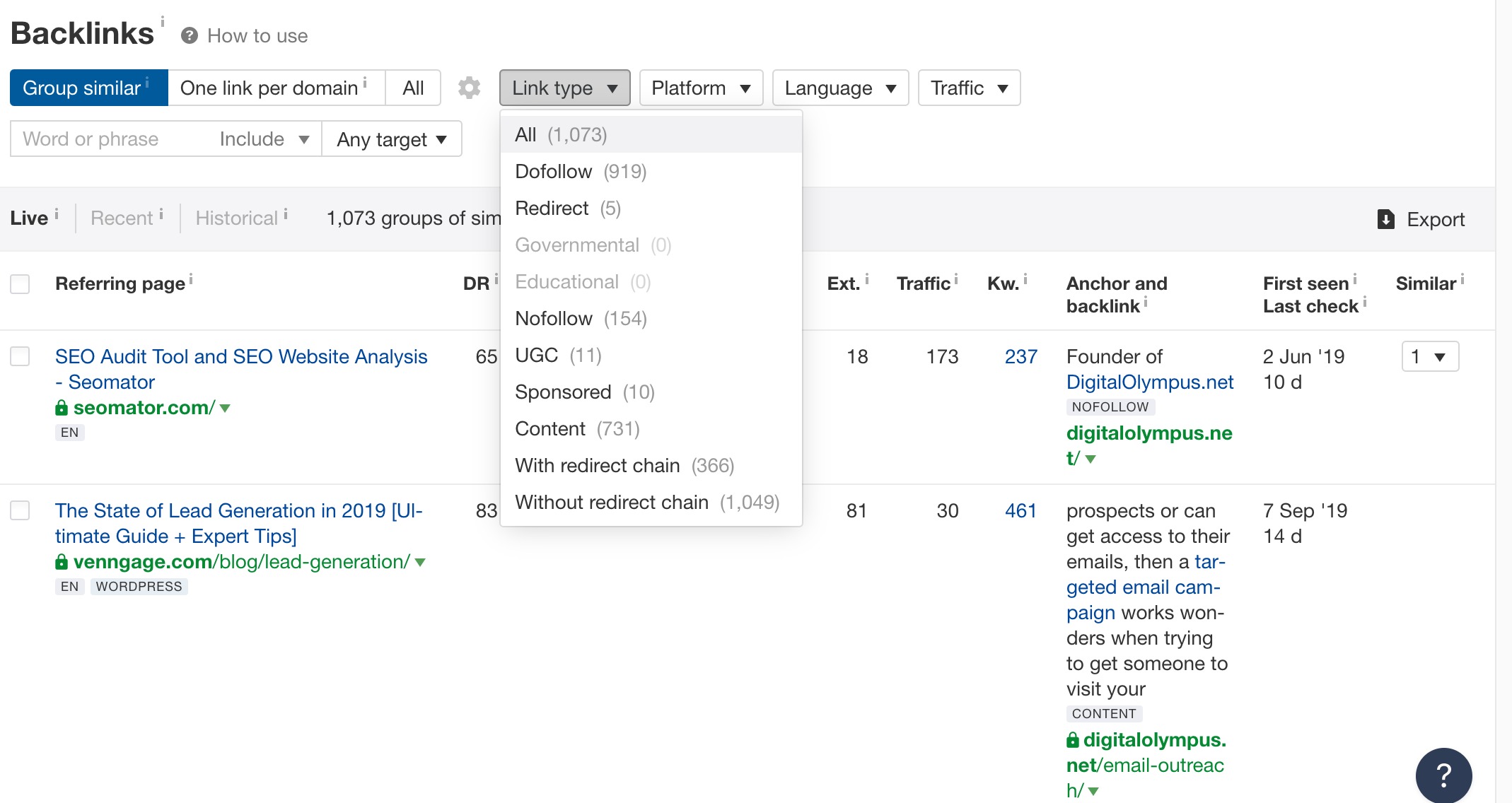 In its turn, Majestic not only represents a graph with the types of links but also allows a user to browse through pages that are linking to your images:

SEMrush, thanks to its diverse functionality, offers you to check every type of backlinks: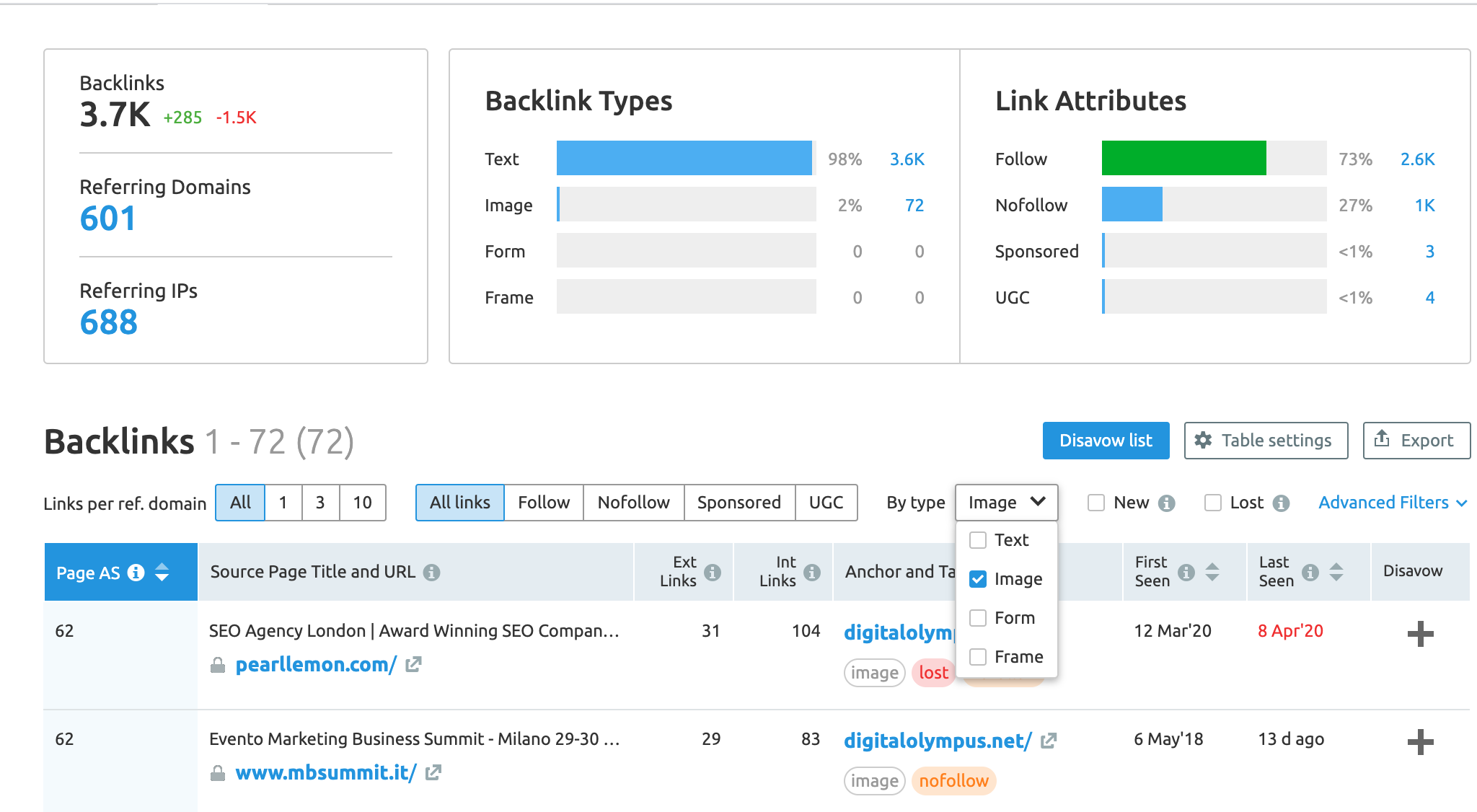 As for LinkResearchTools, it has a nice dashboard that allows you to see different types of links and check out which links belong to each type: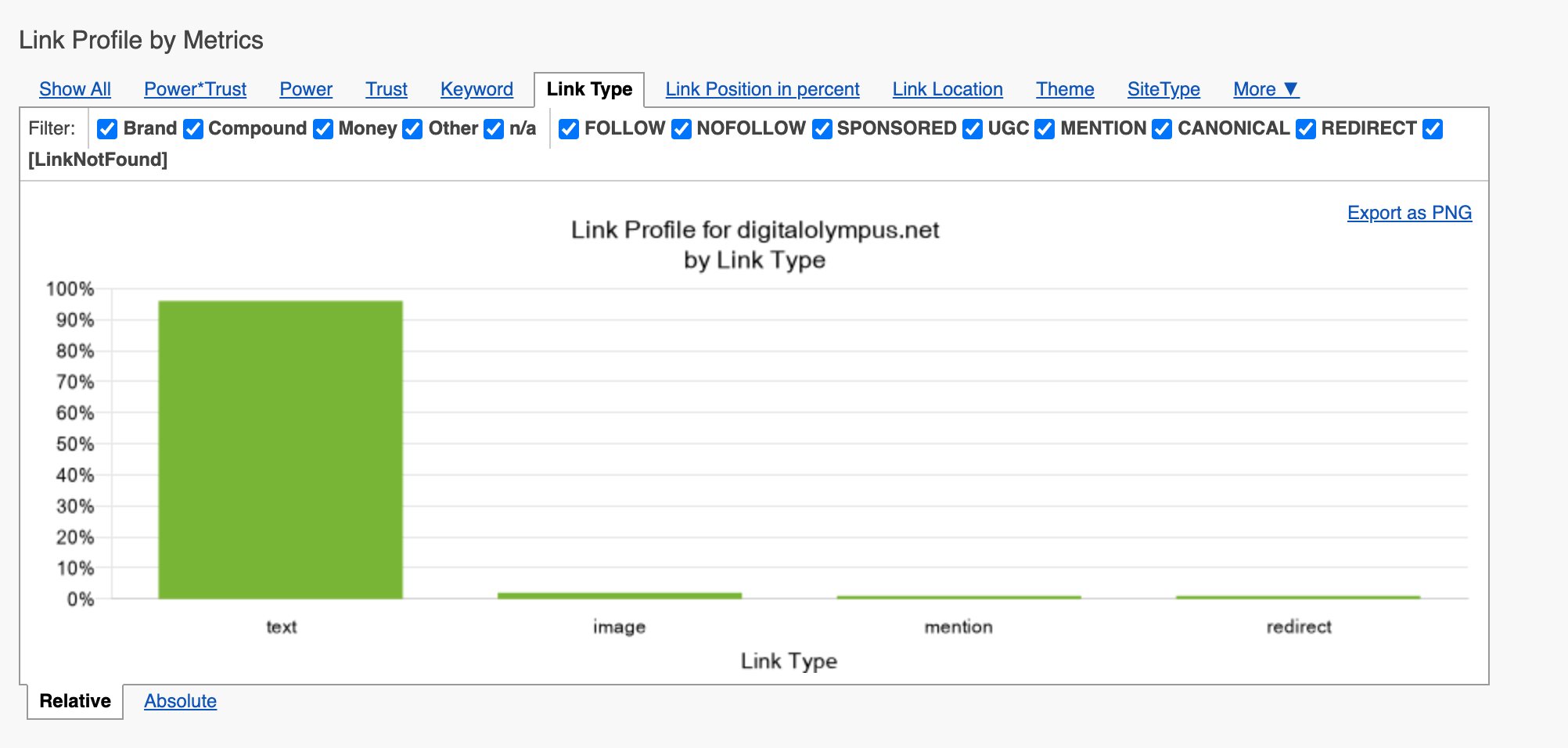 Finally, Moz and CognitiveSEO don't provide any information about the types of links.
Distribution of Anchor Texts
In my opinion, anchor text distribution is one of the most important features that gives you an idea about how natural the backlink profile of any site is. Sometimes, by looking at what kind of anchor texts a domain or a page has, you can easily track down suspicious activities related to a site's link acquisition strategy.
So far, Ahrefs has been my favorite in terms of visualization of an anchor cloud: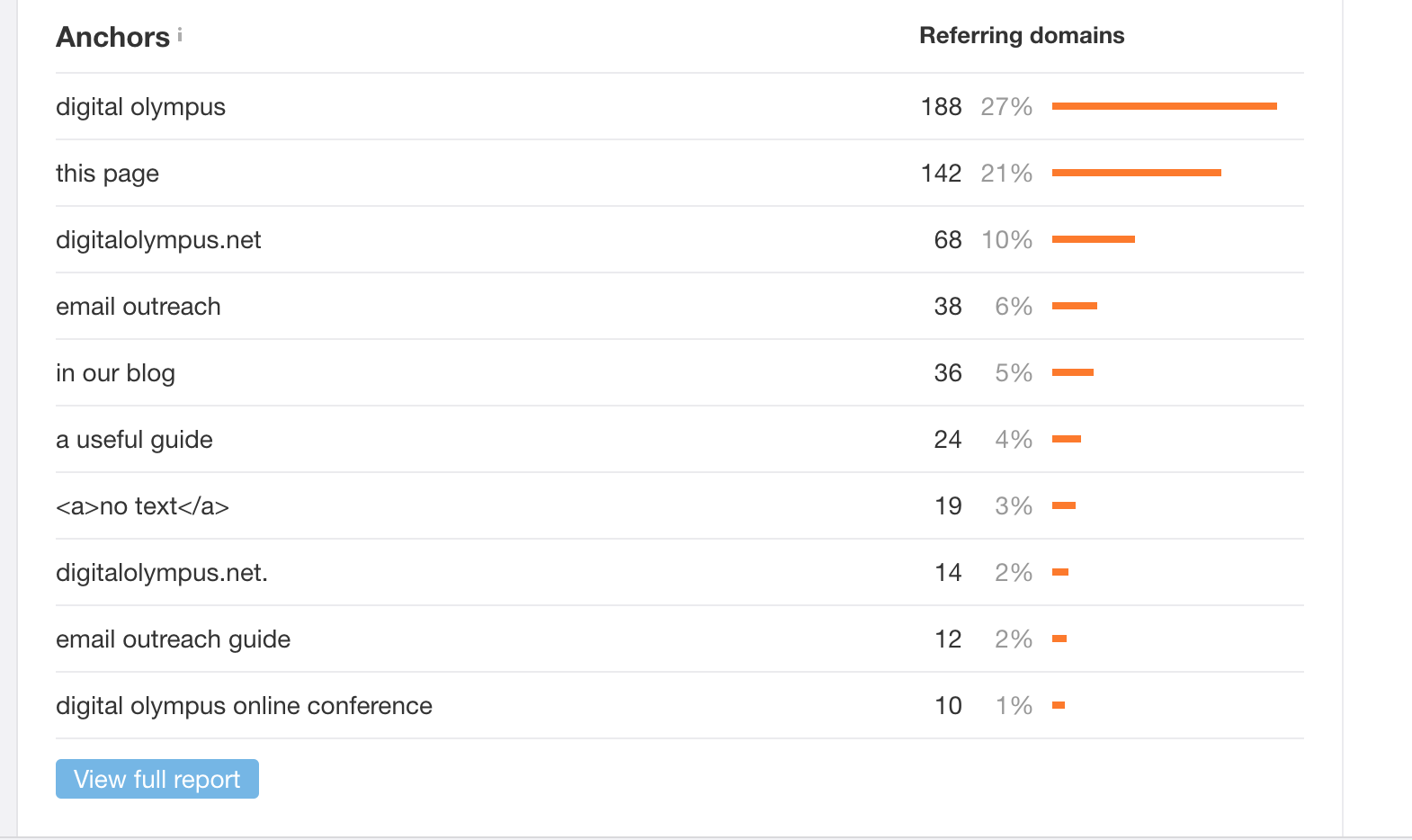 SEMrush's graph looks similar to Ahrefs' table, and it also includes anchor terms: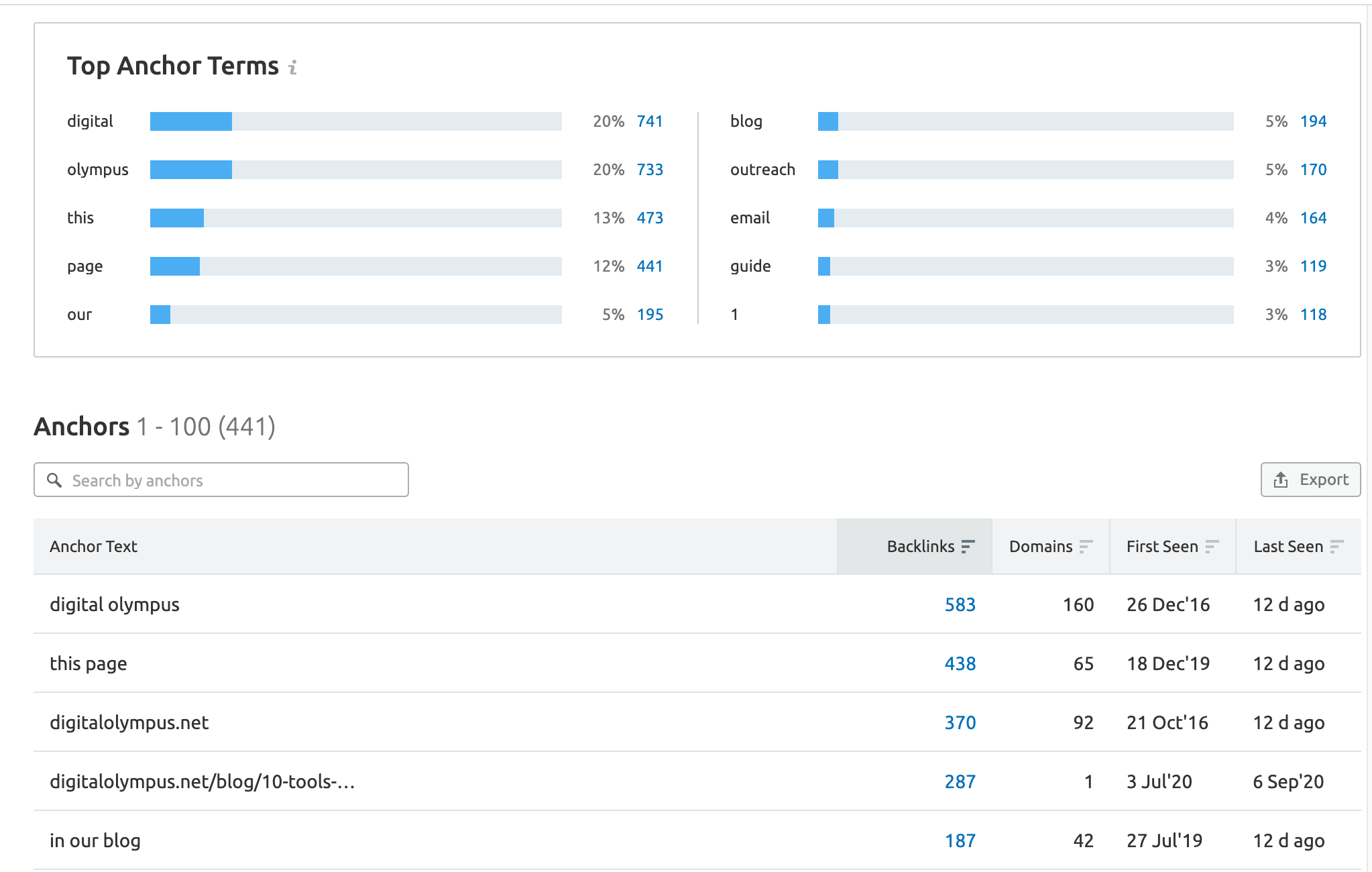 Majestic decided to go a different way and added a chart to make this information more visually appealing: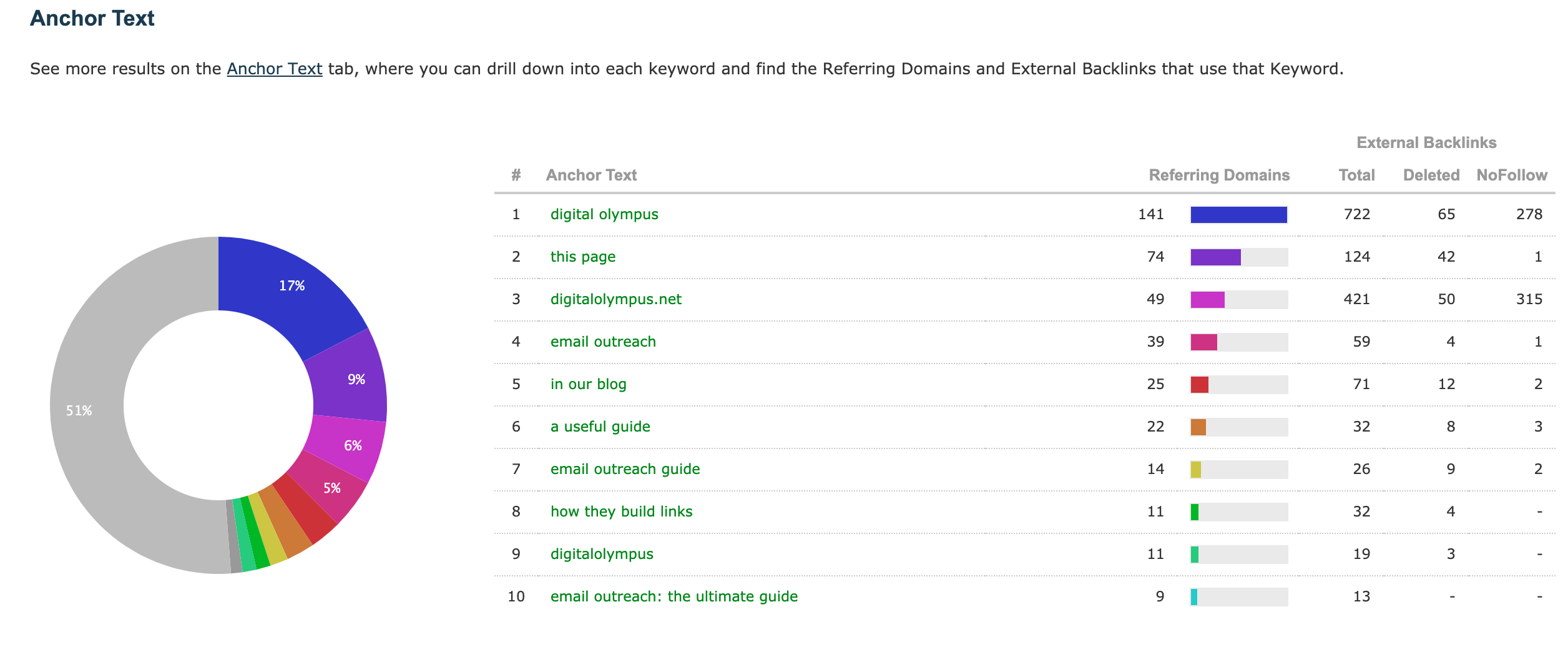 As for Moz, it offers some insights into the anchor cloud in the following table: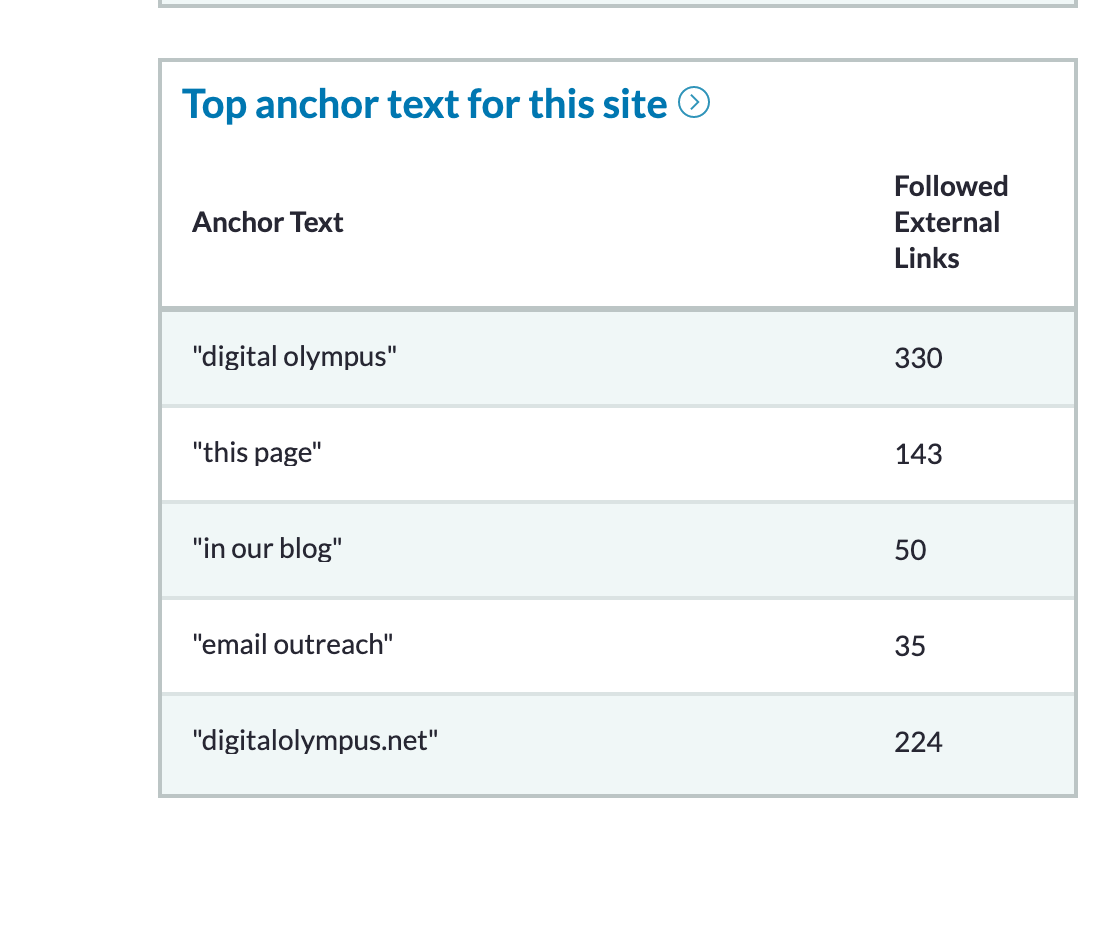 On an image below, you can find how CognitiveSEO showcases the distribution of anchors: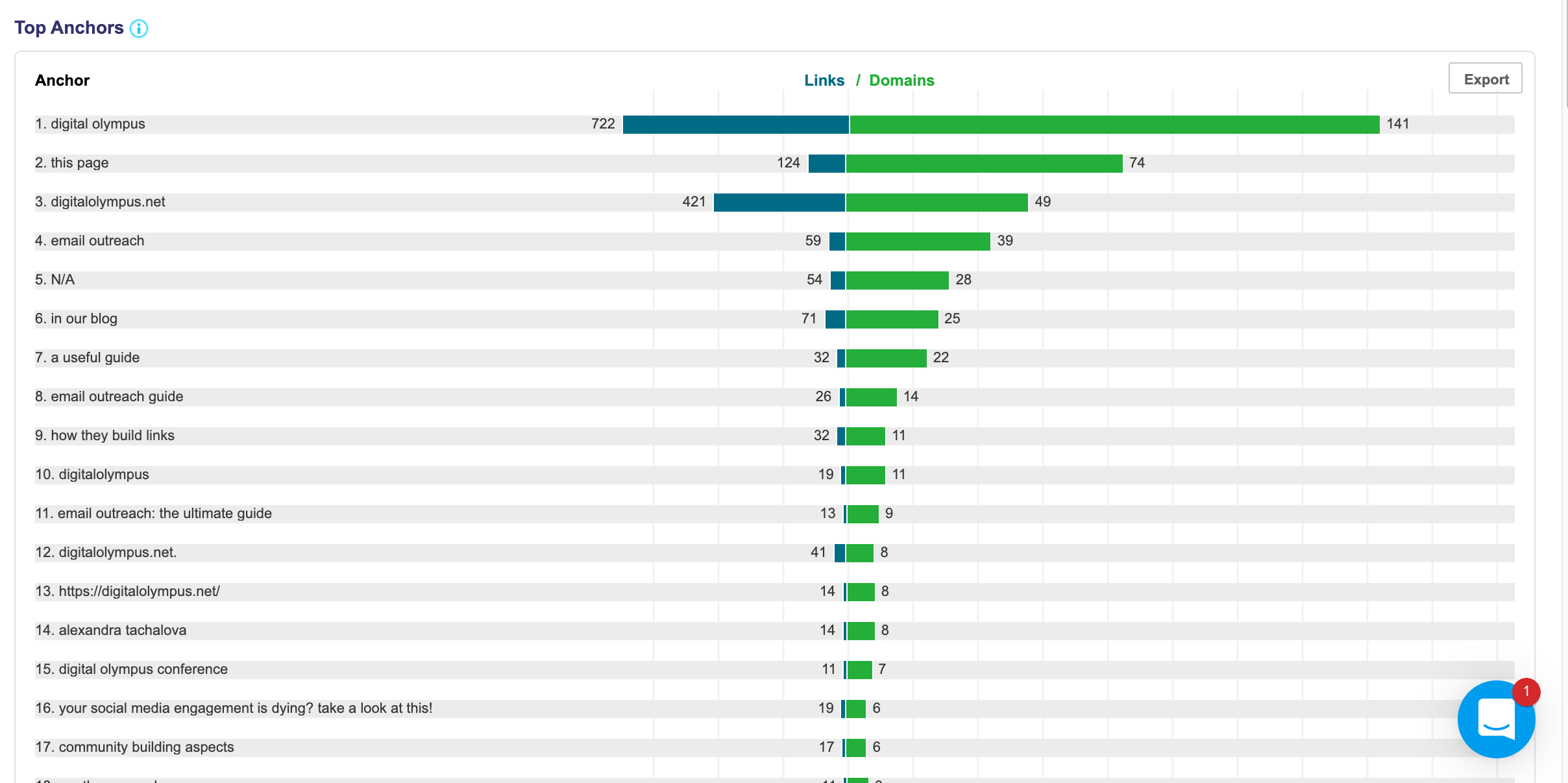 Finally, here's the graph where you can see the most commonly used anchor texts from LinkResearchTools. Probably, this is the most in-depth report about anchor text that I've ever seen in my life as it allows you to select a particular type of links and analyze anchor text across the predefined group: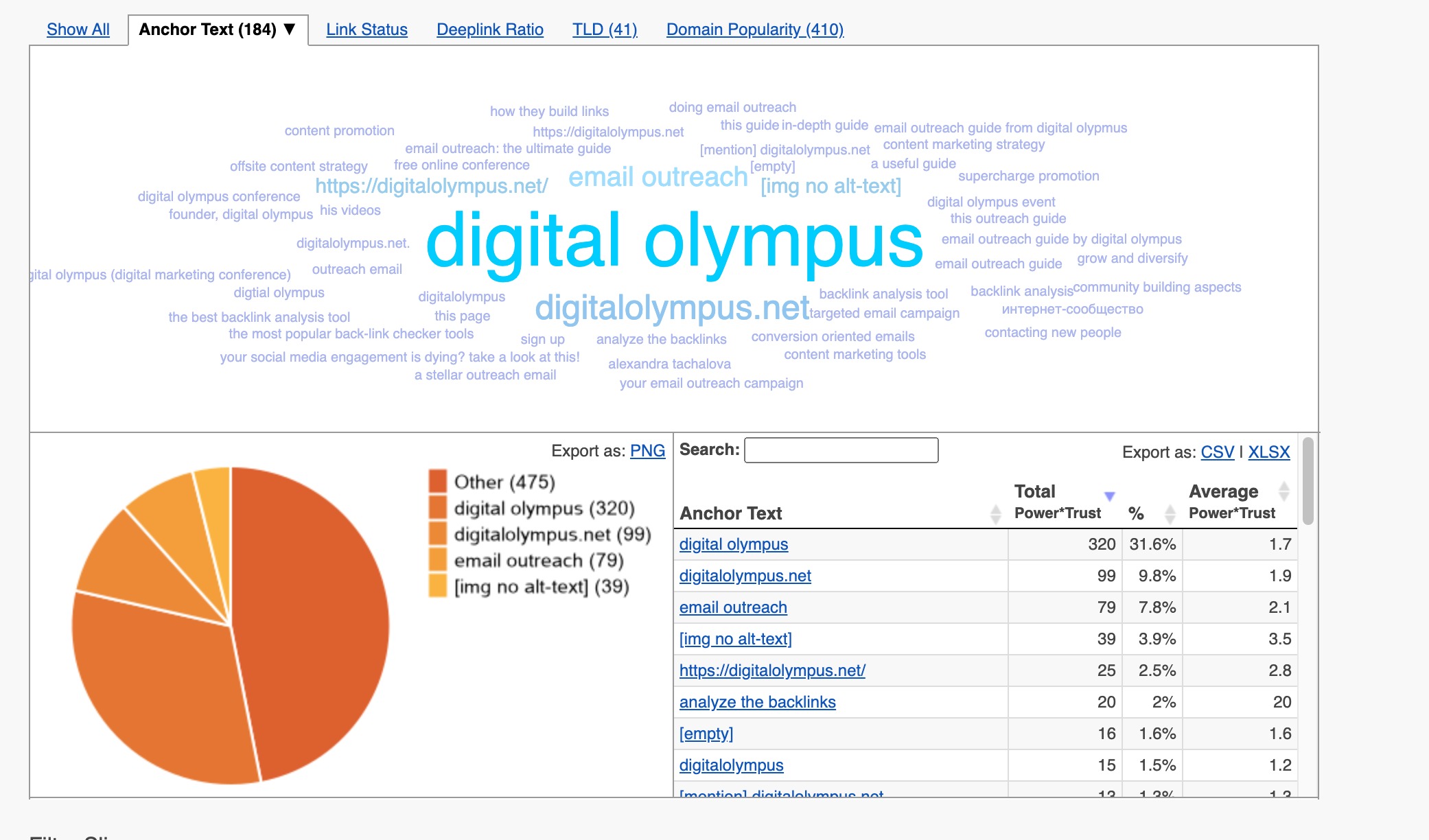 2
Metrics beyond categorization
In this section, I would like to list some metrics and features that are not so easily labeled under a particular category. Each of the tools that I analyzed has something unique to offer its users, and that's one of the main reasons why I decided to add it to my comparison guide.
Starting with Ahrefs, its report «Pages Best By Links Growth» allows you to view the top pages that have been getting the biggest portion of links in the recent weeks.
This feature reveals the current link building strategies of a particular site. You can dig deeper and see what kind of link acquisition approaches this site has been using to land those links. Normally, if you see a good growth of links to very specific pages, this means that this site is really into link building.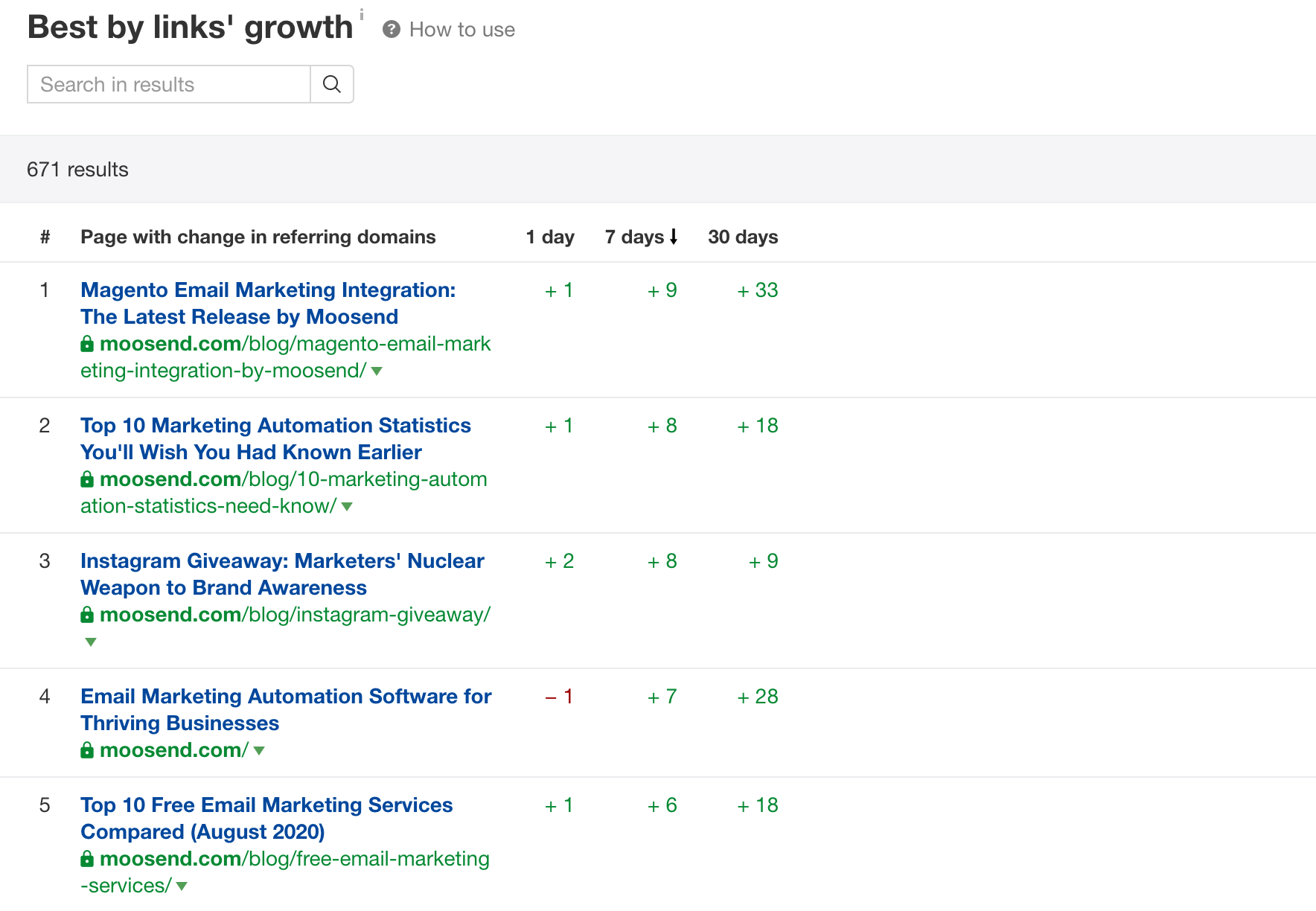 Talking about Moz, it includes the column called 'Spam Score' into their Link Explorer tool.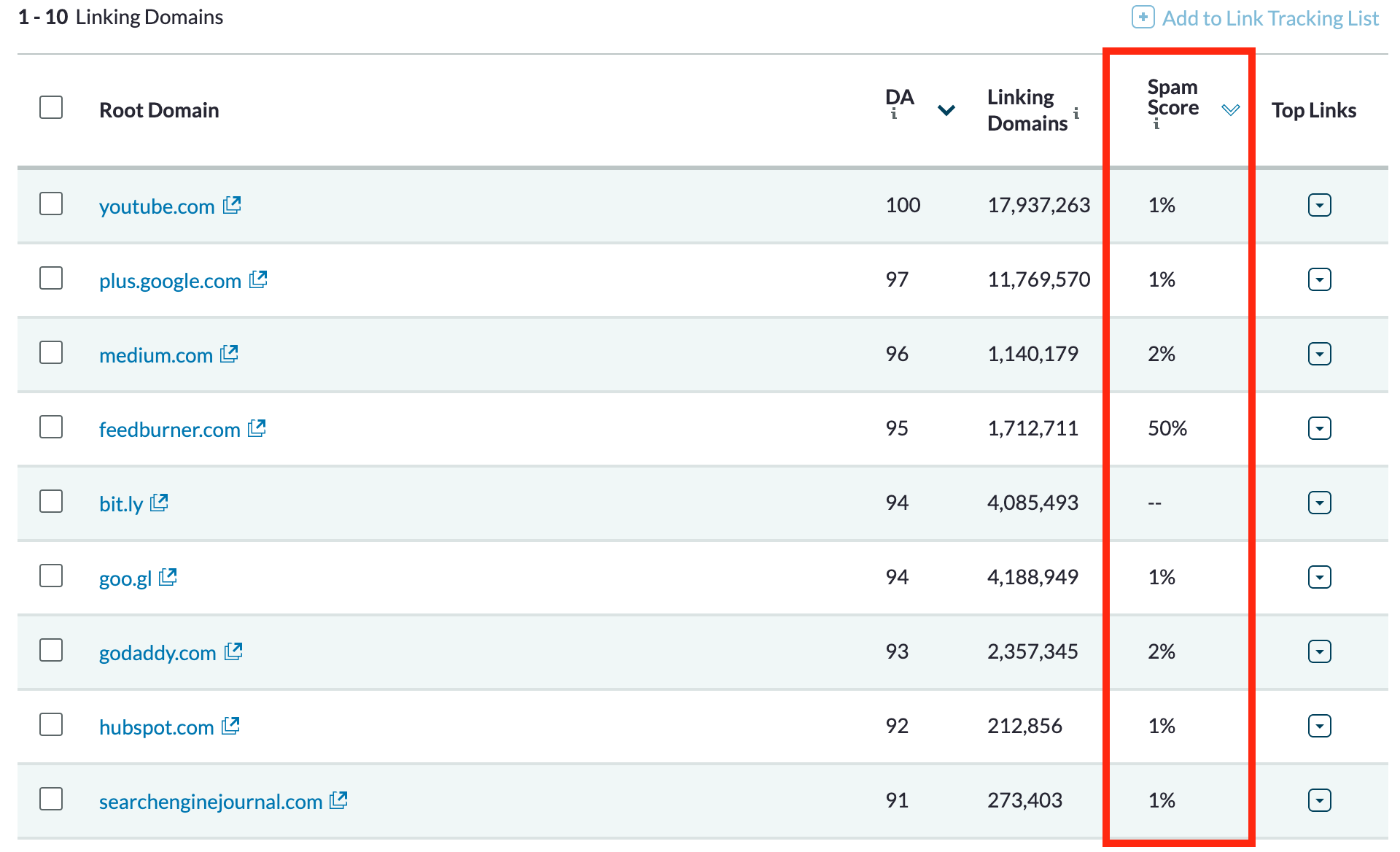 This metric is applied to all incoming links based on the percentage of sites that have similar issues and that were penalized by Google. Personally, I think this metric is very useful for digital marketers that aren't very well versed in link building but want to keep an eye on the quality of external links they currently have.
Another feature that I'd like to cover is Majestic's Topical Trust Flow.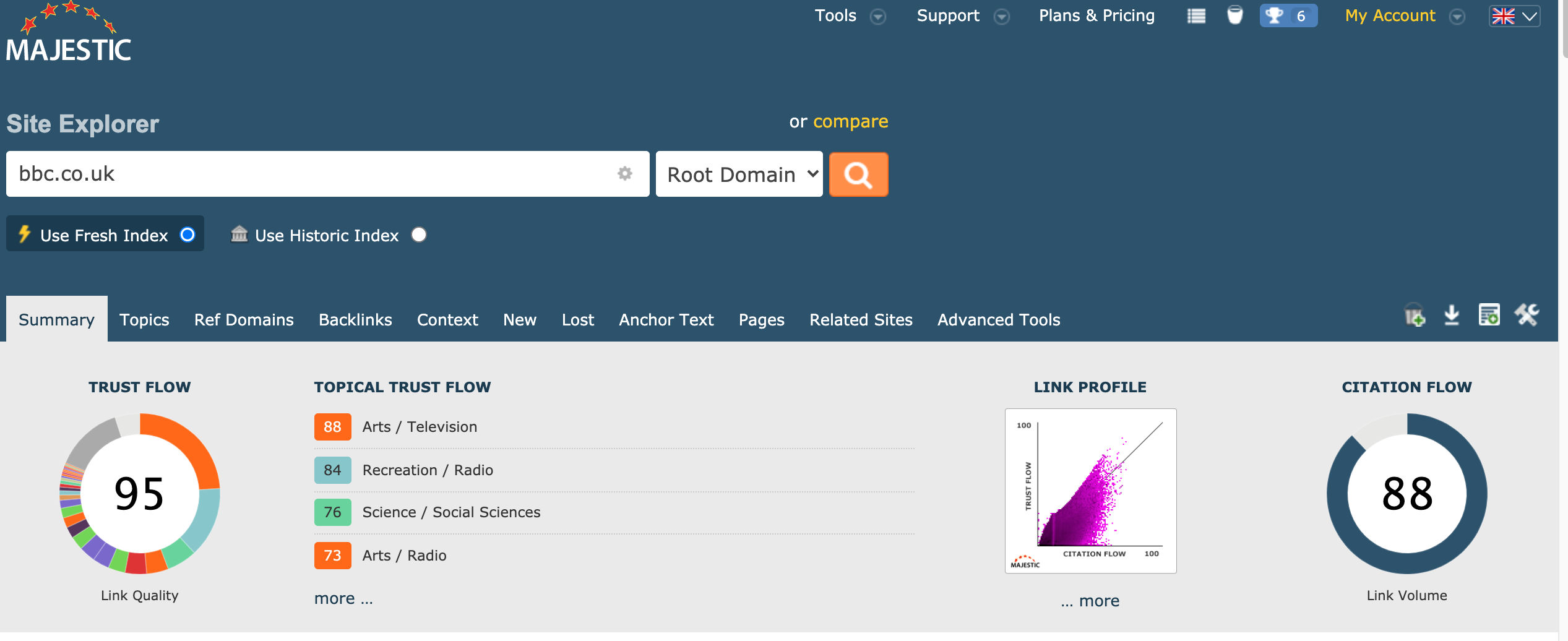 The Topical Trust Flow feature identifies which niche the link belongs to. Majestic's team has also categorized the subdomain and the root domain levels. The screenshot above shows the root domain categories for the BBC.co.uk. On the domain level, this site falls under the Arts and Television niches and has high authority.
So, if you are suspicious of some of the referring domains your site has, then you don't need to waste your time checking this information manually. You can get busy with many other fun activities instead, like delivering link prospecting in the right way. Not sure how? Check out my email outreach guide.
Speaking about SEMrush's unique features, its Link Building tool will assist you in setting up solid email templates that will hopefully lead to a solid number of links. This tool will help you deal with all the necessary stages of a traditional email outreach activity, starting from providing you with a list of potential sites and ending up with setting up your email outreach templates.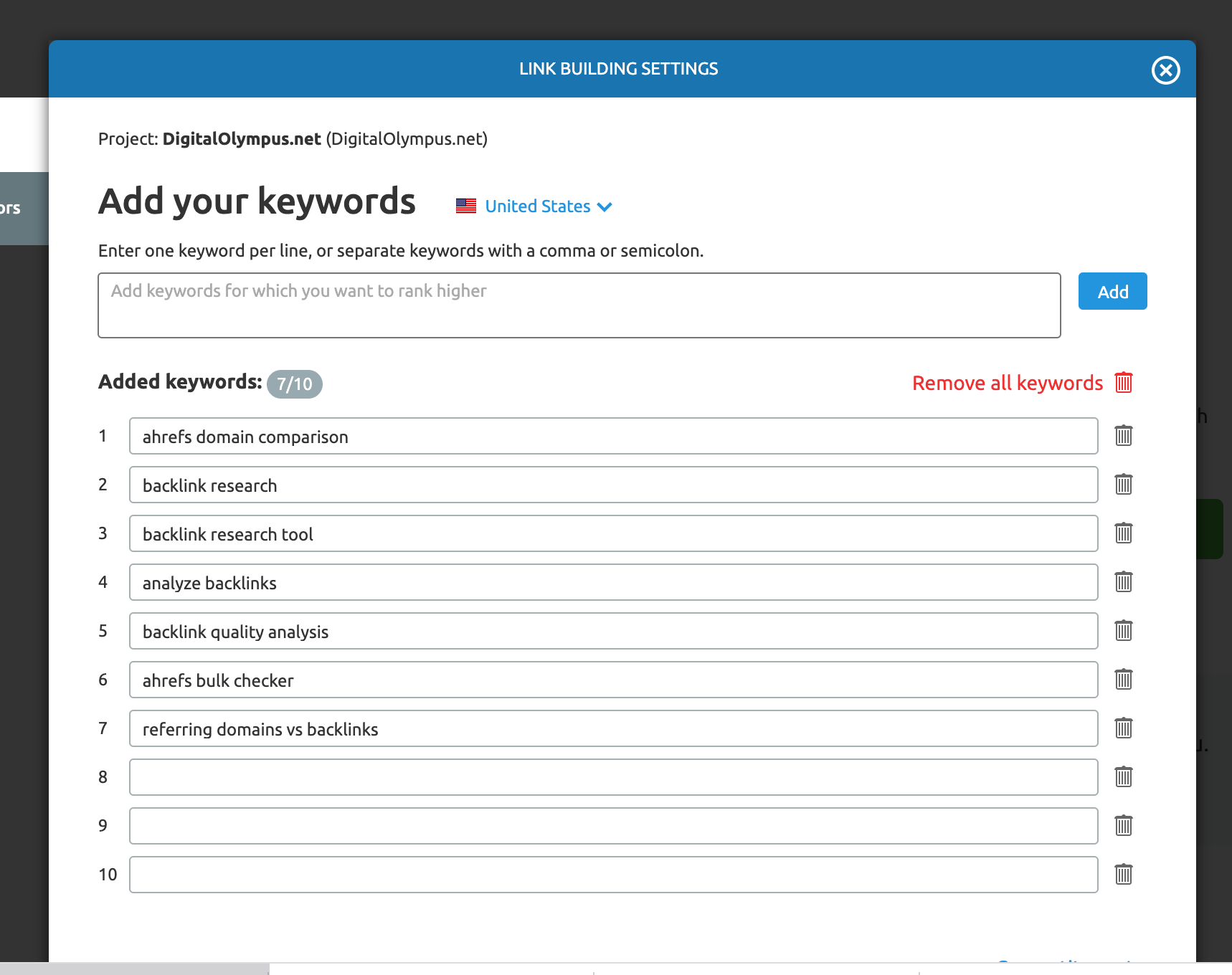 One more report that's worth mentioning here is CognitiveSEO Broken Pages. This feature allows you to browse all pages that are broken (e.g., showing a 404 error and similar ones) and have some links. To cut a long story short, if you want to ensure that you're not losing any link juice, then you need to add redirects to all pages that have links and are currently broken.

Finally, LinkResearchTools has one of the most powerful sets of reports that help you spot toxic links. As you can see on a graph below, all links are classified by the level of risk that they bring: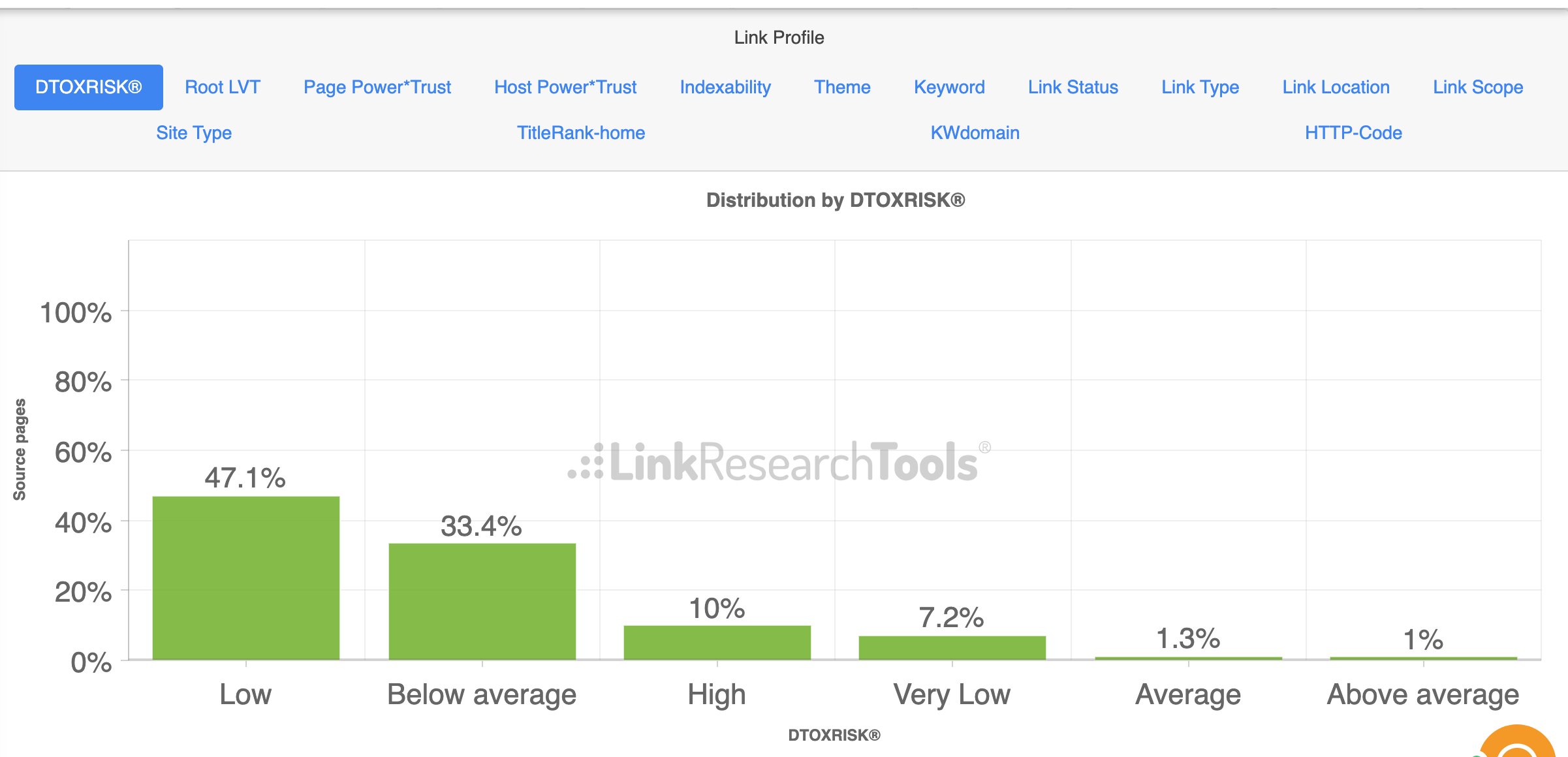 While some marketers would say that there's nothing bad in having spammy links in your backlink profile, I would highly recommend to keep an eye on toxic links and disavow them asap.
What is the Best Backlink Checker Tool?
After a thorough comparison, I can say that Majestic is a winner if we take into consideration the volume of the backlink database and overall functionality.
For sure, a lot of reports and features across all tools are quite the same, like Batch analysis, distribution of nofollow/dofollow links, IPs and Subnets, and so on. That's why it is important to take into account those features that make these tools stand out.
I can say with confidence that all solutions reviewed in this article offer a wide range of capabilities and help digital marketers with their link building efforts. LinkResearchTools, CognitiveSEO, and Majestic have promising potential and are improving their reports and features day by day. Yet, most of them are still breathing down Ahrefs' neck in terms of functionality.
Nevertheless, even though Ahrefs might have what it takes to get a good backlink analysis, I find some of the features that other tools have more appealing than the ones in Ahrefs and SEMrush, and try to take advantage of them. That's why, in my practice, I always use the combination of different tools to get more precise results.
As for you, consider your needs before picking the right solution. For example, if you are managing a relatively small project, then Moz or CognitiveSEO will be your best bet. But on the other hand, I also recommend you to check out what other reports and features, apart from links, may bring you benefits.