Link building for eCommerce isn't a piece of cake. To acquire powerful links to product categories, you've got to be creative and come up with ways to approach influencers, media outlets, and personal blogs. But who will be willingly linking to your eCommerce?
Yeah, we feel your pain.
And we at Digital Olympus have built thousands of high-authority backlinks for eCommerce within the last two years.
How do we do it? How do backlinks impact search rankings and sales afterwards?
Keep reading for the answers and 7 proven eCommerce link building techniques.
Table of Contents
Why do eCommerce Websites Need Link Building?

7 Link Building Tactics for eCommerce Websites

What to Pay Attention to in eCommerce Link Building

Example of a Successful Link Building Campaign for an eCommerce Business
Why do eCommerce Websites Need Link Building?
1. You want to get a bigger market share.
Ecommerce sales worldwide are projected to hit a staggering $ 8.1 trillion by 2026, a dramatic leap from $ 3.53 trillion in 2019. This exponential growth indicates a fiercely competitive environment. Hence, the need for a robust eCommerce SEO strategy, as 43% of eCommerce traffic comes from organic Google search results.
Likewise, improving from the #2 to #1 position will double your organic traffic. And the #1 position alone is worth #2, #3, #4, and #5 combined.
How does link building fit here? It's one of the top 5 ranking factors for Google.
No high-quality backlinks — no high rankings.
2. Link building boosts organic search rankings.
To bolster the idea that backlinks improve search engine visibility, let's examine Backlino's research on the correlation between quality links and positions in the SERPs.
The key findings:
Pages with the highest number of referring domains

(

and the page rank

(

PR) respectively) tend to rank best in Google.

Pages ranking in the #1 results have an average of

3.8x more backlinks

than the results rankings #2-#10.

Domains with higher DRs

(

domain authority) secure more real estate in #1-#10.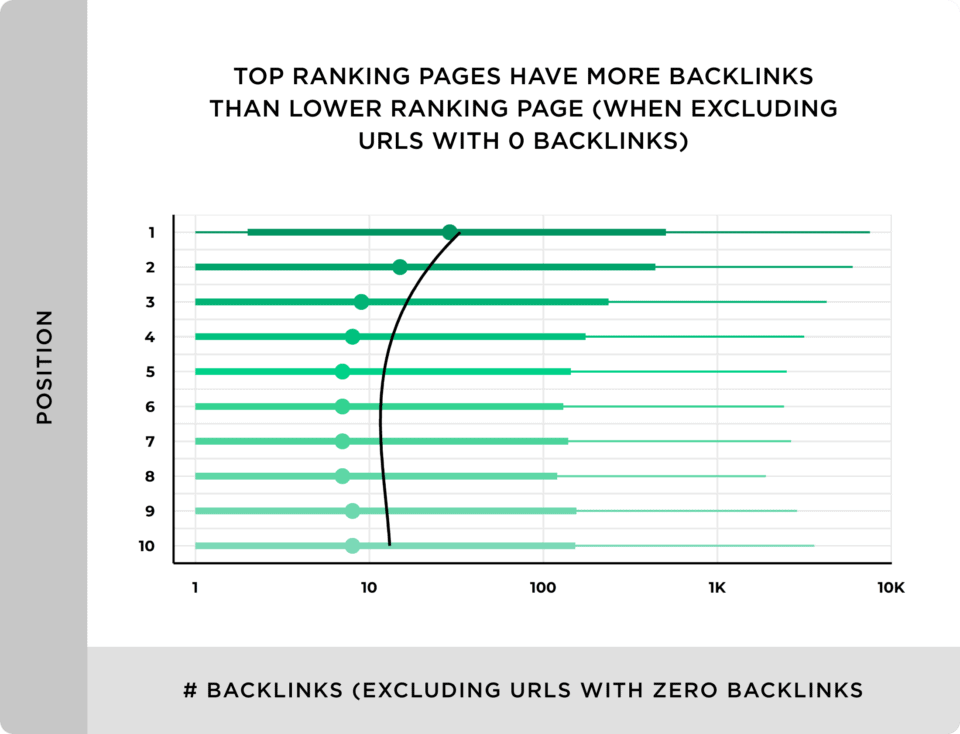 3. Link building contributes to high-quality traffic and revenue.
Backlinks by themselves are pointless. Much like pumping up your homepage in the hope of improved overall rankings of the site. What you need out of link building is to get your products in front of your target audience.
At Digital Olympus, we analyze revenue-generating categories and blog posts to devise a link building strategy that leads to improved ROIs. This way, our clients get not only first-page positions in organic search but also relevant traffic that converts.
«Product and category pages are the hardest to build links to since they provide little to no value to readers. We've learned that the best way to obtain links to product pages is by creating pillar pages that include content and facts about the products.
For example, one of our clients, Bateel, created a set of pages discussing nutrition facts and health benefits (https://bateel.com/en/nutritional-facts). Although this page is not purely focused on promoting individual products, it showcases a wide range of their offerings. The links we acquired for this page also contribute to better rankings for the rest of the product pages in SERPs." — Alex Tachalova, Founder of Digital Olympus
So, how to build links to eCommerce websites?
7 Link Building Tactics for eCommerce Websites
Find real-life examples and expert tips to develop a robust eCommerce link building strategy.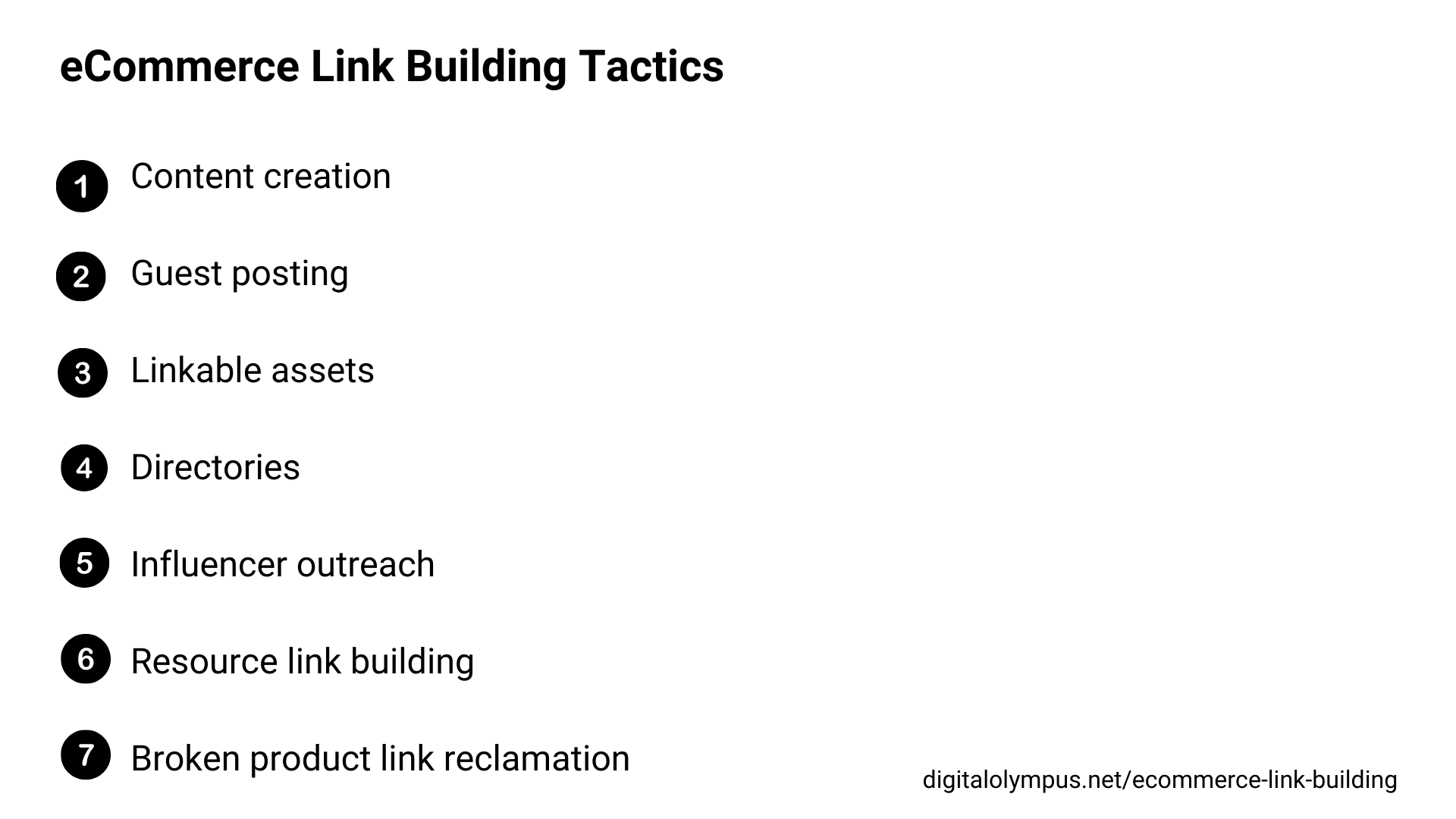 Tactic #1: Create advanced content.
Shareable and link-worthy content for eCommerce may take any shape, from industry surveys and internal data analysis (aka linkable assets) to smart product listicles.
For example, you can pitch or collaborate with a Forbes contributor to get listed in product overviews or ratings.

And apparently, you can employ this content marketing tactic over and over to acquire high-quality links from DR80+ domains. See the screenshot below; the Myprotein website places links to its best linked-to pages (product categories) just with this method.

Moving forward, Myprotein also creates classic linkable assets in the form of data-backed articles. To be featured on authority sites with DR90+, Myprotein conducted a survey on how much Americans spend on fitness and health habits.

💡Tip: Simple product listicles won't guarantee you a top-media mention. To get journalists' attention, make your copy super trustworthy and fresh. For example, collaborate with experienced nutrition specialists for robust, high-quality content.
Tactic #2: Start smart guest posting.
Here, you'll likely be working with niche bloggers and influencers. Be ready to pay for a guest post, as this is one way they monetize their outlets.
Want to build effective links from guest posts for free?
Here"s how we do it for our clients at DigitalOlympus:
Interview socially active experts and enrich articles with their advice. Bloggers will gladly accept such content to reach experts' audiences.

Look for non-competing companies from your niche, like apps and SaaS, to build relevant links from.

Offer high-quality, exclusive content with your own experience.

Incentivize with feature opportunities: content distribution, content syndication, or joint content projects.
💡Tip: Let bloggers know you SEO-optimize your pieces by using X software (Clearscope, SurferSEO), and you'll push that article with some backlinks afterwards. Make your guest posting offers more enticing and beneficial for website owners.
«Don't build loads of links direct to product or category pages. These look spammy. Build them to relevant blogs and then link them to the product page.» — Suganthan Mohanadasan, Co-founder and Product Lead at Keyword Insights

Tactic #3: Claim unlinked brand mentions.
Product and category pages often get mentioned in product reviews on blogs, forums, YouTube, and social media. But more often than not, content writers don't bother to link back to your website. Thus, it's a low-hanging fruit in the link building world.
Your steps to claim the backlink:
Type in your brand name or product name in the search bar.

In the results, filter out pages that already link to your website by clicking on the

«Highlight unlinked domains»

button and then enter your domain.

The Content Explorer will now show all the pages mentioning your brand but not linking back.
Look at the image. What a great opportunity in the #1 place! A DR92 website mentioned your brand several times without a link back. Seize the moment to secure the juicy backlink.
💡Tip: For well-established eCommerce brands, we recommend installing social media listening products to get notified about brand mentions in bulk. Tools to do that: Brand24, BrandWatch, Mention.
«Turning unlinked brand mentions into links is often one of the easiest and most overlooked link building strategies. In an ideal world, all mentions would be linked; however, this is simply not the case.
On a weekly basis, you should be looking for mentions of your brand and, when relevant, approaching the journalist or site owner for a link. This technique is great for building high authority links and also for building links to deeper pages across your site." - David White, Founder and Director of Content Marketing at connective3

Tactic #4: Register in directories.
While often overlooked, directories can be a valuable source of backlinks and potential referral traffic for eCommerce websites. Directories are listings that categorize businesses by niche or location, making it easy for potential customers to find your site and a local store.
Get picky with directories. Place your business in non-spammy, relevant directories to avoid any potential issues with Google's guidelines on link schemes. Usually, quality directories manually vet new businesses before listing them.
More signs of quality directories:
You can Google reviews on them and find directories in listicles.

Media outlets and blogs mention them in their content. A quick check is to look over referring domains.

High domain rating

(

DR 70+).

A well-written piece of content on the site and a smooth user experience.
Not sure whether a directory is worth the trouble? Check it on Reddit. If so, you'll find it there.
These directories are still popular in 2023:
BOTW

(

Best of the Web)

AboutUs

Spoke.com

Blogarama

Google My Business

Bing Places

Yahoo! Local

Yelp

Foursquare

Yellow Pages
Of course, you can't scale this tactic. But a handful of quality backlinks never hurts your SEO performance.
And remember to add your business to local, relevant listings to drive more traffic home.
Tactic #5: Govern influencer outreach.
Collaborate with influencers in your industry to tap into their loyal follower base and potentially generate a large volume of referral traffic, sales, and backlinks.
1. Sponsored Content
This typically involves an influencer reviewing your product. The content can take different forms — blog posts, social media posts, YouTube videos, etc., and always contains a link to your eCommerce site.
For example, Gymshark, a fitness apparel & accessories brand, has heavily invested in sponsored content. They often collaborate with fitness influencers who create workout videos wearing Gymshark clothing and share them on their social media profiles, linking back to Gymshark's eCommerce store. This not only helps in brand awareness but also generates valuable backlinks from media outlets who piggyback on those promo posts.
See how Gymshark was linked back by Glamour (DR86) thanks to a sponsored post on Instagram.

2. Content Amplification
Influencers have large and engaged followings. When they share your content on their channels, it leads to a significant boost in your content's reach and engagement. Like an avalanche, the influencer's followers might follow suit and share stories about your brand on their own platforms, thereby creating additional backlinks.
Take the case of the fashion eCommerce store ASOS.
They created a campaign called «As Seen On Me,» where customers were encouraged to share their outfits on social media and on ASOS' website. Influencers joined the campaign and shared it with their followers, amplifying the reach and generating multiple backlinks to ASOS' website.
Just like the Gymshark campaign, this strategy generated a lot of buzz. Loads of media outlets and marketing blogs couldn't stop chatting about it, leading to a multitude of backlinks to ASOS and link equity flowing.
3. User-Generated Content

(

UGC)
While the consensus among SEO pros used to be that social media (UGC) links didn't significantly impact SEO because they're typically «nofollow» links (meaning search engine crawlers don't follow them to influence ranking), the perspective is more nuanced today.
UGC is similar to the content amplification tactic. The idea is to inspire your consumers to feature products on their outlets — blogs, social media, YouTube. The more talks about your brand, the more backlinks you potentially receive.
Furthermore, you reach a wider audience with UGC, resulting in additional traffic to your site. And search engines do consider traffic and user engagement signals as ranking factors.
Deuter, an outdoor brand known for its mountaineering and backpacking equipment, invites buyers to use a branded hashtag to be featured on Deuter's official accounts.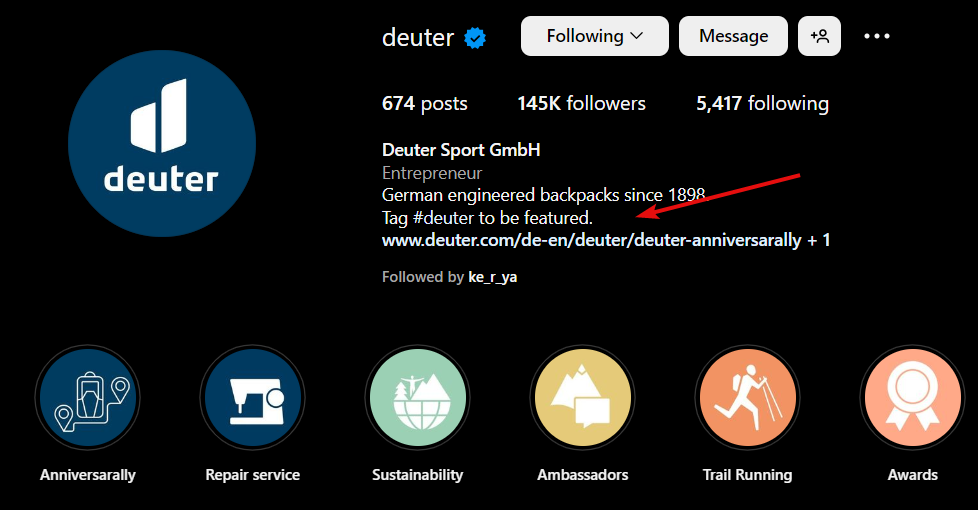 ⚡For more inspiration: Top User Generated Content Campaigns By Brands + How It Can Help You
Tactic #6: Resource link building
Have you ever stumbled upon a website page that's jam-packed with helpful links, tools, or resources relevant to a particular topic? Well, that"s a resource page, and it"s gold for your eCommerce site.
Curate the resource page.
One way to receive passive backlinks is to curate the resource page. In the beginning, you're going to reach out to relevant partners and offer a placement for a backlink.
Once this library starts picking up organic traffic and featuring more partners, you'll begin to receive cold emails asking you to place their products. Your move? In exchange for the backlink.
Here's an idea of the resource page for an online iPhone store. Create and feature free templates for designers, SMM specialists, video editing, etc. Not only can your consumers benefit from it, but also relevant blogs can organically link back to your page.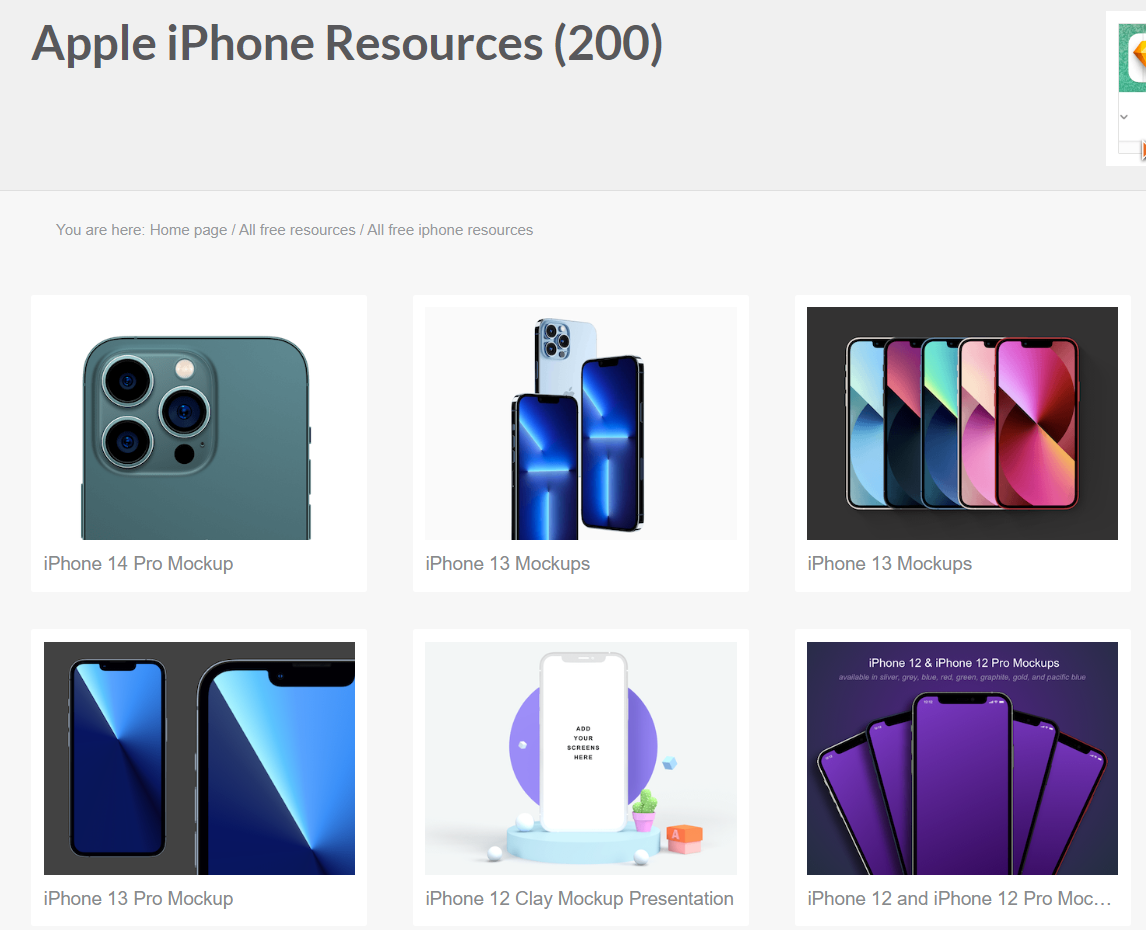 Get listed on other resource pages.
Work it backwards. Compile a list of resource pages relevant to your niche and develop an offer for inclusion. Use search operators in Google like «keyword + inurl: resources», «keyword + helpful links», or «keyword + useful websites». This will give you a list of potential resource pages in your niche.
Some examples for your search: «eco-friendly skincare + inurl: resources», «sustainable beauty products + helpful links», or «green living + useful websites.»
Remember, this isn't a one-and-done deal. Resource link building requires time and effort, but it's an effective way to earn quality backlinks for eCommerce.
Tactic #7: Broken Product Link Reclamation
Broken product link reclamation (or broken link building) is the process of finding external links that once pointed to your products/categories but are now broken — due to a product being discontinued or the product URL changing.

Find broken links with Ahrefs and reach out to the webmasters and ask them to link to a new page.
Navigate to «Site Explorer» and enter your domain in the search bar.

Select «Broken» under «Backlinks» from the dashboard menu on the left. This will show you all the broken backlinks pointing to your website.


As you see, ASOS can reclaim dozens of high-DR referring domains.
«This is one of the most popular link building techniques. If you don't want to link from your own website. It is always possible to find blogs that would allow you to include links in their content. So you can do ABC type of exchange. As a result, you can generate links for your website without giving a link back.» — Justas Markus, Co-founder & CEO at GetFound XL

What to Pay Attention to in eCommerce Link Building
1. Diversify Your Anchor Text.
As much as you want to use exact anchor text for product categories or specific products, don't. If all your backlinks have the same anchor text, it looks suspicious to search engines. Google's Guidelines are direct about keyword-rich anchors. It's link spam.

Try to mix it up with a variety of brand, generic, and keyword-rich anchors for a natural-looking backlink profile.
2. Build Links to Your Images.
If you sell unique products or create original infographics for blogs, you might find that people use your images on their own sites. Make sure they're linking back to you. Resort to a reverse image search with tools like Google Images or TinEye and spot unauthorized image usage.
Contact websites to place a backlink to your product page or infographic.
3. Use HARO and HaB2BW to Your Advantage.
Help A Reporter Out (HARO) and Help a B2B Writer are platforms that connect journalists with industry experts. Respond to relevant queries and provide valuable insights to earn high-quality backlinks from reputable news outlets and blogs.
For example, we recently received a request from a DR91 website.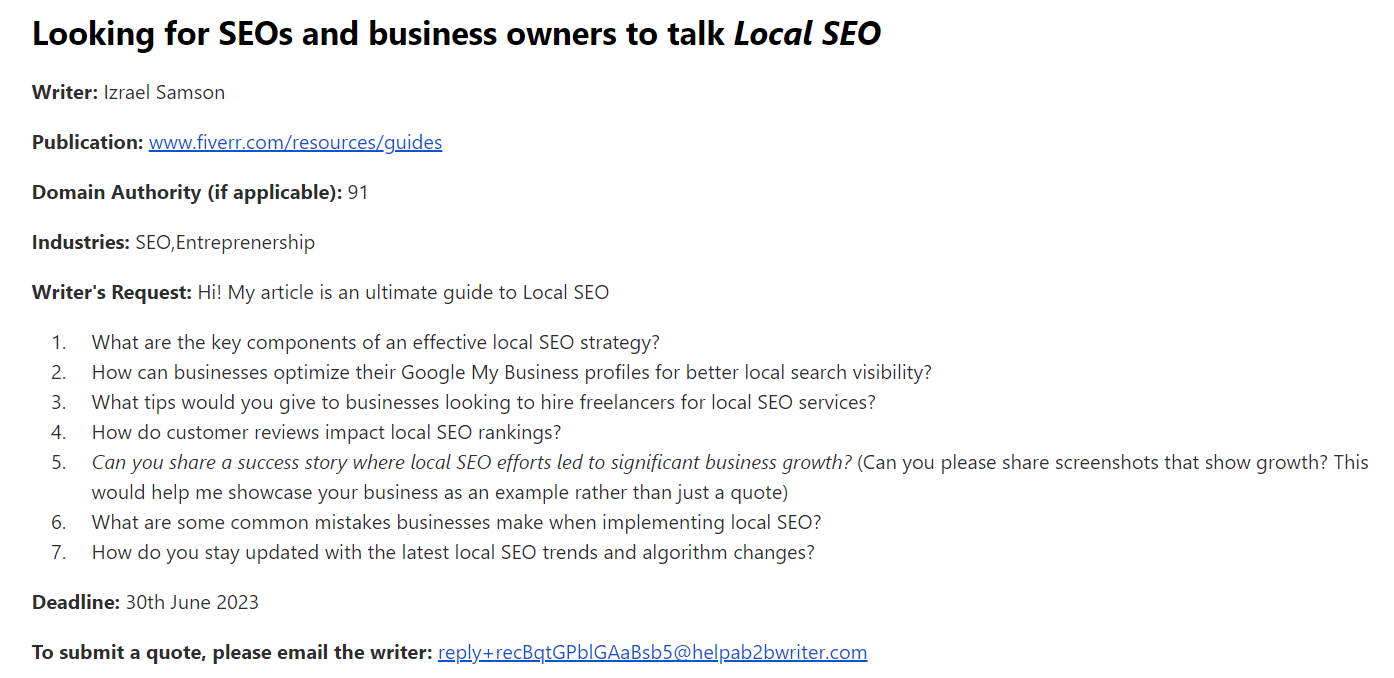 💡Tip: Boost your chances of getting featured by including analytics screenshots, numbers, unique findings, etc. Avoid being generic and offer banal advice.
«By aligning your brand with relevant, trusted media outlets via HARO, not only are you earning high-quality links but also establishing yourself as a thought leader in your local landscape. Building relationships and trust, increasing online visibility and contributing meaningfully to community initiatives — it's about more than just SEO; HARO serves as an indispensable ally in driving local engagement!» — Joseph S. Kahn, President of Hum JAM

4. Embrace Internal Linking for eCommerce.
Internal links distribute page authority throughout your site. This means that a high-authority page (like your homepage) can help to boost the authority of lower-level pages (category pages) through internal linking.
Here are some actionable internal linking strategies for eCommerce:
Breadcrumb navigation:

Breadcrumbs enhance the user experience by providing users with a navigation system and are a natural opportunity for inbound links.

Related products:

Display related or complementary products on each product page. This not only helps to increase the average order value but also builds internal links between similar product pages.

Product categories

: Ensure all product pages link back to their respective product category pages. This will help distribute link juice from individual product pages back to the main category pages.

Link from blog posts

: Make sure to link from your blog posts to relevant product or category pages within every piece of content to pump up revenue-driven pages.

Site footer:

The footer can be a great place to include internal links to important pages such as top product categories or popular products.
Digital Olympus case study: How we grew organic traffic up to 42,500 with backlinks for SwagDrop.
SwagDrop is a swag pack service operating in the United States and Canada. About a year ago, the client reached out to us for backlinks to supercharge their SEO performance and ROI. The starting point was zero backlinks and organic traffic under 600 sessions per month.
To date, SwagDrop hit 42,500+ of organic traffic, and the number is growing.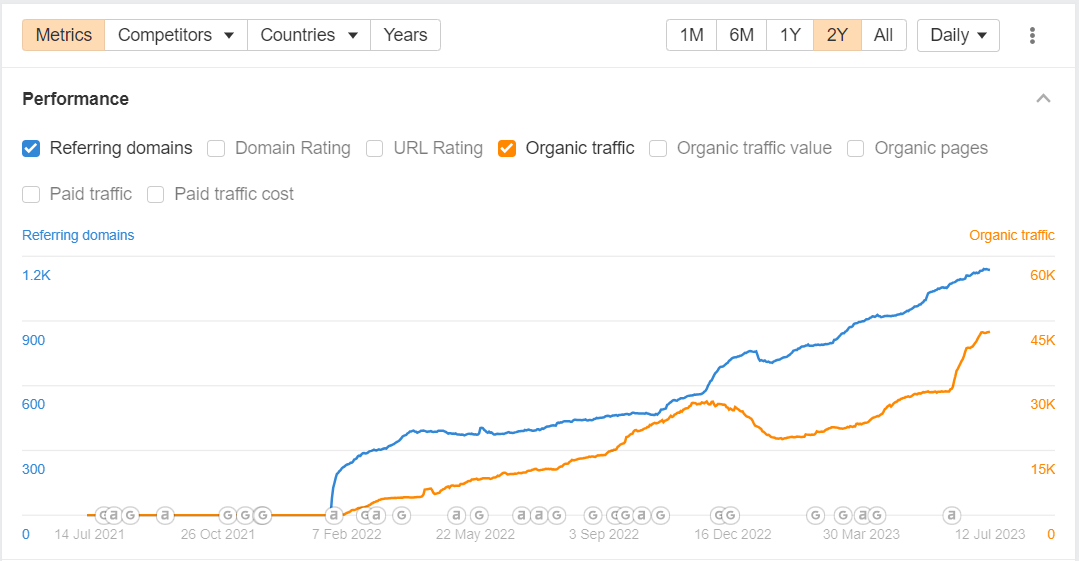 Challenges:
Weak brand awareness

drastically complicated and slowed down the link building process. A few folks could agree on placing links to an unknown brand of swag services.

Evergreen content no longer ranks

. Towards the end of 2022, we observed a significant decline in visibility for some pages that had been written some time ago. Despite a consistent flow of links month after month, these pages showed a negative trend.
Solutions:
Exceptional content.

We had to ensure SwagDrop's content is truly powerful to build links to, as it's a breaking point for new brands. To do so, the client resorted to Minuttia's team, a content marketing agency.

Content updates.

Evergreen content needs ongoing updates to compete in the SERPs. Backlinks alone won't be much help. So, we collaborated with Minuttia to rewrite evergreen pages, and this proved to be a game-changer, resulting in a noticeable improvement in the organic traffic trend.

Link building.

We created 99% of the backlink profile with the majority of links pointing to blog content. Then, the client intrelinked internal pages to pass link equity to the targeted URLs.
The takeaway:
This campaign highlights the crucial role of on-page SEO in conjunction with high-quality backlinks for eCommerce. If content is removed or not optimized effectively, even the most outstanding links may not yield the desired results.
Now Over to You
Inspired by SwagDrop? Let's talk about your project. Contact us to receive a thorough analysis of your link building strategy and what we can do for you.
Recommended reading: