So you heard the phrase «referring domains» thrown around in the world of SEO but feel unsure of what it actually means?
Fear not, as we've got your back!
In this guide, we'll delve into everything you need to know about referring domains — from defining the term to providing actionable tactics on how to get them.
Keep reading for the good stuff!
What are Referring Domains?
Referring domains are the websites that link to your website. They are essentially the source of your backlinks.
For example, imagine that your website sells organic dog food. If a popular pet blog links to your website in one of its articles, that blog would be considered a referring domain for your website.
The more high-quality referring domains you have, the more likely Google will see your website as an authority in the organic dog food niche, which can improve your search engine rankings.
See this graph below. The target website is your organic dog food site. And there are four referring domains pointing to your site. Meaning those referring domains have linked back to your site.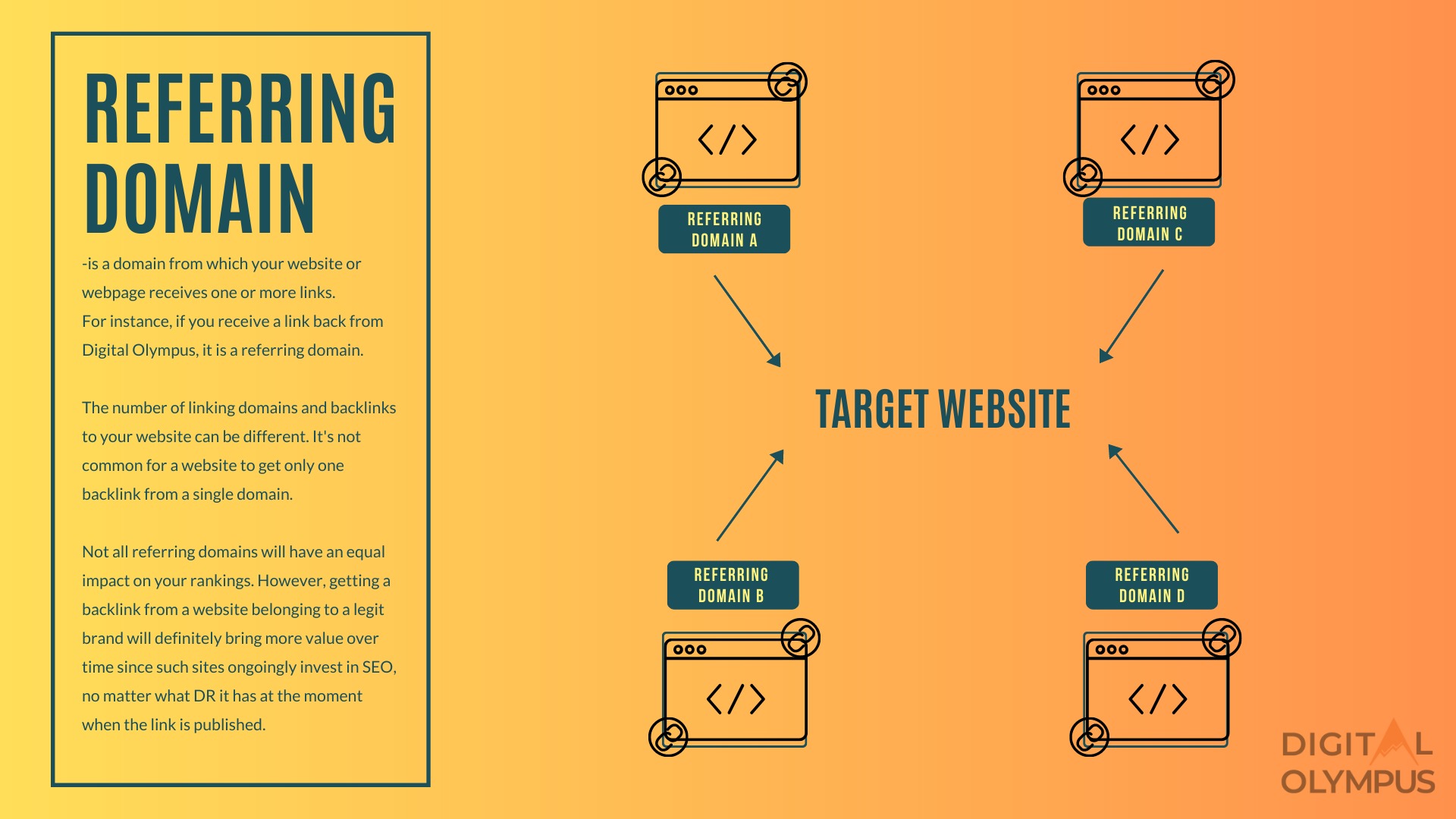 What is a referring domain?
It's important to note that not all referring domains bring equal value and impact your rankings. A link from a well-established, high-authority website like Forbes, HubSpot, or Huffington Post will carry much more weight (link equity) than a link from a small blog with little authority.
But how exactly do referring domains help the site grow in the search engine results pages (SERPs)?
Do Referring Domains Impact SEO?
In short, when a website earns backlinks from high-quality referring domains with a high domain rating (DR), it signals to search engines that the website is a trusted and authoritative source of information in its niche. This, in turn, can lead to increased visibility in organic search, more search traffic, and, ultimately, more revenue.
But why do backlinks influence a site's rankings?
The role of backlinks in the search engine algorithm
Backlinks are a crucial part of the search engine algorithm. In fact, Google has stated that backlinks are one of the top three ranking factors. Referring domains are the source of those backlinks, which means they play a significant role in a website's SEO performance.
For example, a study by Backlinko found that the number of unique referring domains to a webpage was strongly correlated with higher Google search rankings. Websites with more referring domains tended to rank higher than those with fewer referring domains.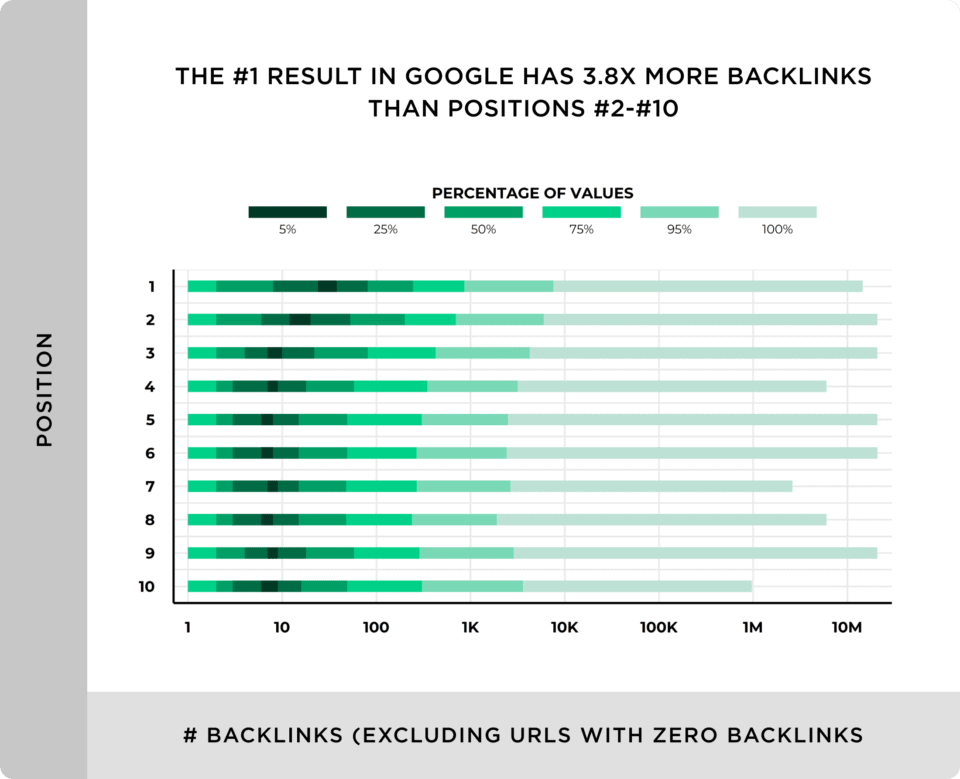 How the number of referring domains correlates with the #1 result in Google.
The importance of high-quality referring domains
Only high-quality backlinks acquired from high-quality websites have a positive impact on search engine optimization.
So let's break down what properties are intrinsic to a quality backlink and referring domain alike.
1) Relevance: A backlink should come from a website relevant to your website's content or industry. For example, if your website sells running shoes, a backlink from a website that focuses on fitness or sports would be more relevant and valuable than a backlink from a website about cooking.
2) Authority: Backlinks from high-authority sites share more link juice (or link equity) and, therefore, have a greater impact on securing higher positions in the SERPs.

As such, Ahrefs discovered that websites with more relevant referring domains get more organic traffic and rank for more keywords. This suggests that earning links from high-DR referring domains (DR of 40+) is a key strategy for improving a website's SEO performance.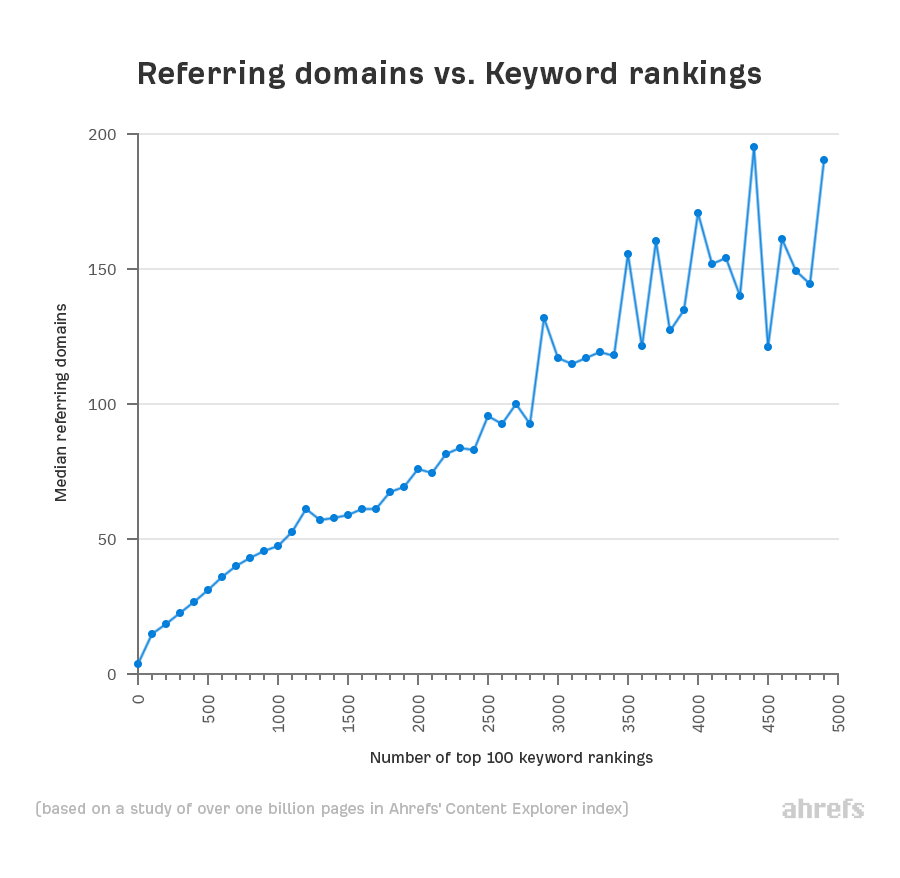 Image Source
The correlation of referring domains and keyword rankings in the top 100.
3) Traffic: Organic traffic is also a great indicator of a quality backlink, as websites with high traffic tend to have more authority and credibility.
Pro Tip: We recommend selecting sites from 1,000+ monthly organic traffic if you build links to corporate blogs (e.g., new SaaS products on the market). These sites grow over time and send more link equity, respectively.
3) Anchor text: The anchor text of a backlink can also impact its quality. The anchor text should be descriptive and relevant to the linked content, as the Google Penguin algorithm watches for content relevance.
So, the answer is yes. Referring domains do impact SEO. But it can be too easy to fall down the rabbit hole of building links purely for the purpose of search engine manipulation and traffic, when, in reality, your strategic business goals should be the ones that define your link building strategy.
«As SEOs, we often fall into the technicalities of a link, while the business goals should be driving every activity we carry on.

Oftentimes driving traffic is only one of the goals, conversions — whatever it means to the business — should be always put on the plate.

At the end of the day a business needs to achieve certain goals, page views, lead gen, sales, etc." - Francesco Baldini, SEO consultant. [website]
With this clear, let's discuss the differences between linking domains and backlinks.
Referring Domains vs. Backlinks: What's the Difference?
The main difference between referring domains and backlinks is that referring domains represent the number of unique websites that link to your site, while backlinks refer to the total number of links that point to your site.
In other words, if one website links to your site ten times, it will count as ten backlinks but only one referring domain. Similarly, if ten websites each link to your site once, it will count as ten referring domains and ten backlinks.
The difference is important because search engines like Google prioritize the quality and diversity of referring domains over the total number of backlinks. Having many backlinks from a few websites is unlikely to improve your SEO performance, whereas having more referring domains is what moves the needle.
That's why many seasoned SEOs and link builders apply the rule of one backlink from a single referring domain.
«Generally I do apply this rule because, when measuring against competitors, I use a gap analysis which identifies how many referring domains my client site needs in order to compete.

This rule also ensures that your link profile is balanced and not full of links from one site, which looks unnatural. Whilst you can obtain multiple links from one site (which is common if you do a lot of PR), I would focus on obtaining links from a variety of referring domains to support growth and ensure balance." - Tilly Haines, SEO Executive at Infinity Nation.
That said, the next question crops up, «How do I exactly know how many domains refer to my site?»
How to Monitor Your Website's Referring Domains
Here we'll show you how to find out and monitor the number of referring domains. Knowing this will help you compare your backlink profile against competitors and evaluate how many backlinks you need to secure to achieve top-3 in the SERPs.
Monitoring backlinks is also important for timely locating and disavowing malicious backlinks.
There are two ways to track your referring domains — with SEO tools like Ahrefs and with Google Search Console (GSC).
Method #1: SEO Tool

(

Ahrefs)
Unlike Google Search Console, SEO tools give you a complete overview of your and competitors' backlink profiles. Ahrefs shows all the necessary SEO metrics for informed decisions for developing a solid link building and SEO strategy alike:
The number of backlinks and referring domains acquired since the launch date of a site

The monthly increase in referring domains

Anchor text

Domain rating

Page rank

Organic traffic of a referring domain

Links to target

Inbound links

And more
Here's a quick tutorial on how to check referring domains with Ahrefs.
Step #1. Open up Ahrehs' Site Explorer and enter your domain in the search box. You'll be automatically redirected to the Overview 2.0 report.

Analyze backlink profile with Ahrefs Site Explorer.
Scroll down to discover the distribution of linking domains over the selected time period. For instance, below is the graph that shows referring domains' progress for Prowly for the last 2 years. Moreover, you can display other metrics, like organic traffic, organic pages, and more, in the same graph and look for correlations.
On top of that, you can compare your link building profile against competing domains.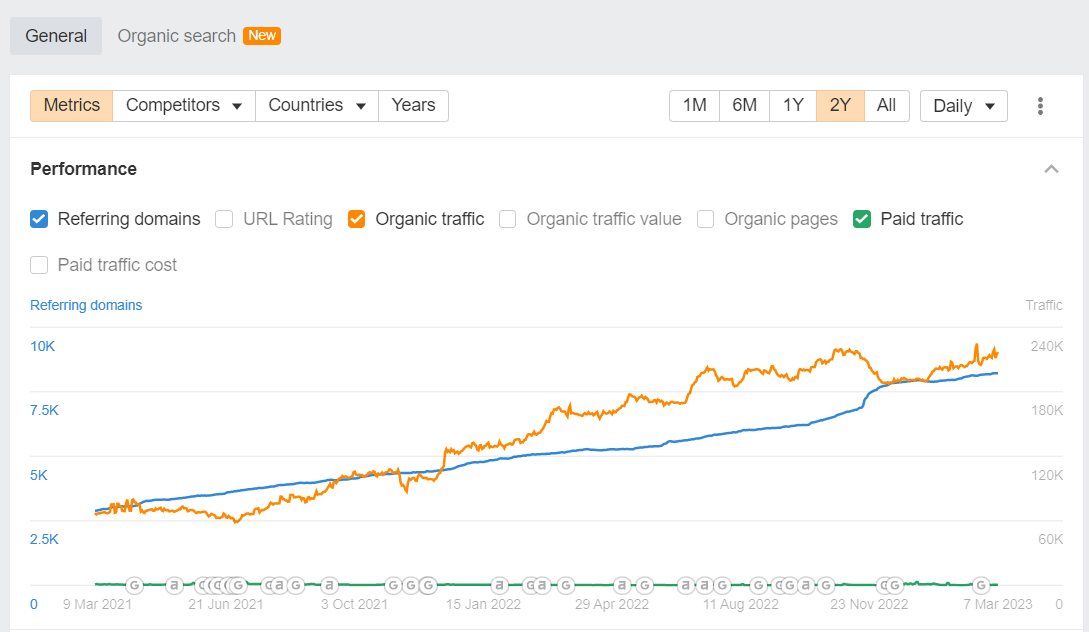 The graph that shows referring domains' progress.
Step #2. If you want to deep dive and find out what websites link back to yours or competing sites, navigate to the Referring domains report.
Pro Tip: Find out the context in which a domain has secured a link by clicking Links to target. Thus, you'll see a referring page, anchor text, and target URL. This will help you finetune your link building strategy and create link-worthy content.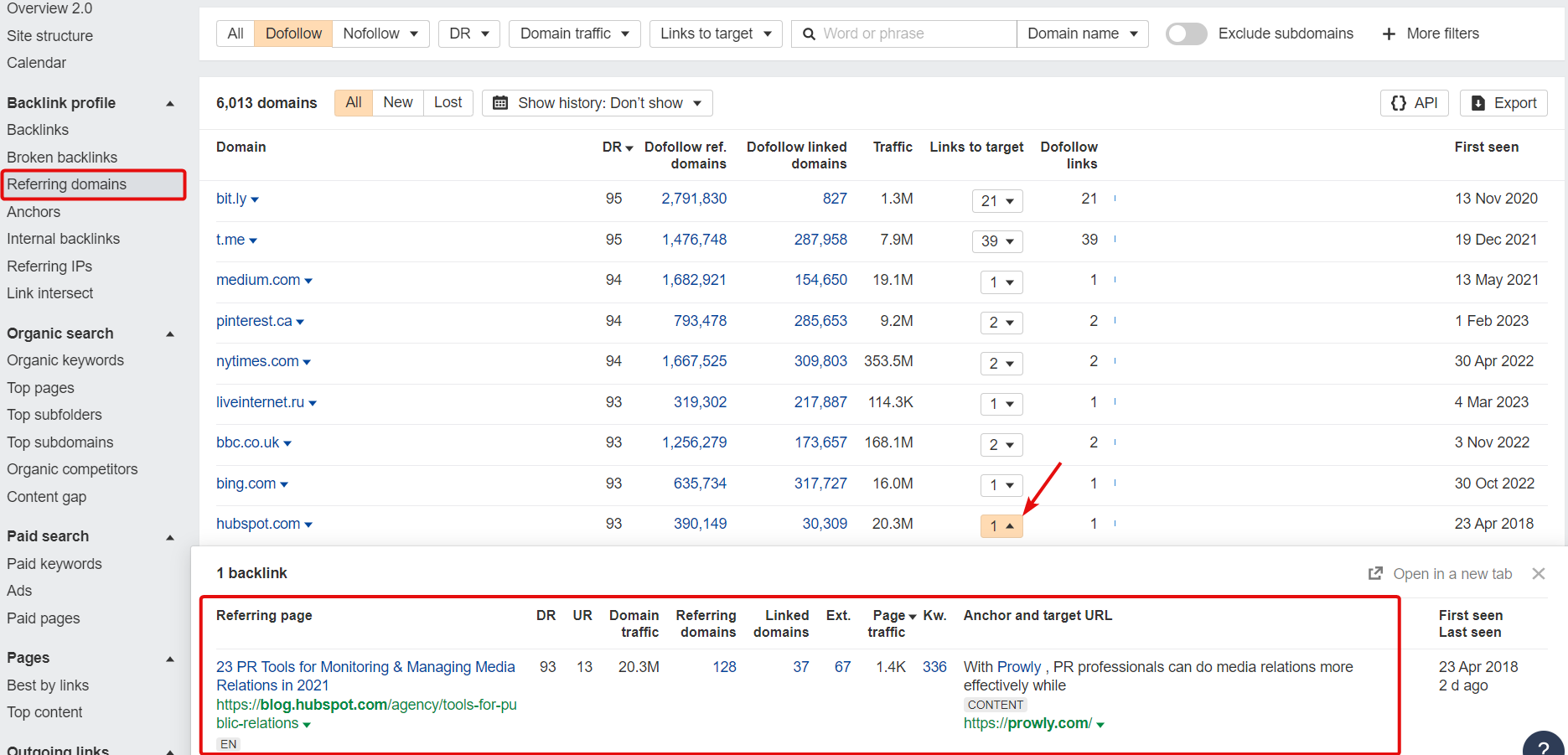 Discover the websites referring to your site.
We at Digital Olympus highly recommend using Ahrefs as a link building and SEO tool. It comes with a suite of indispensable features and reports, without which it's hard to imagine (or likely impossible) SEO as a whole. However, you can also try out Semrush, Serpstat, or Majestic SEO before making the final decision.
One more thing: all of the tools we mentioned require payment. If you're looking for a free option to check your backlinks, you can use Google Search Console.
Method #2: Google Search Console
Select «Links» under «Legacy tools and reports,» and you'll get an overview of the external and internal links. Under «Top linking sites,» you can find your website's referring domains.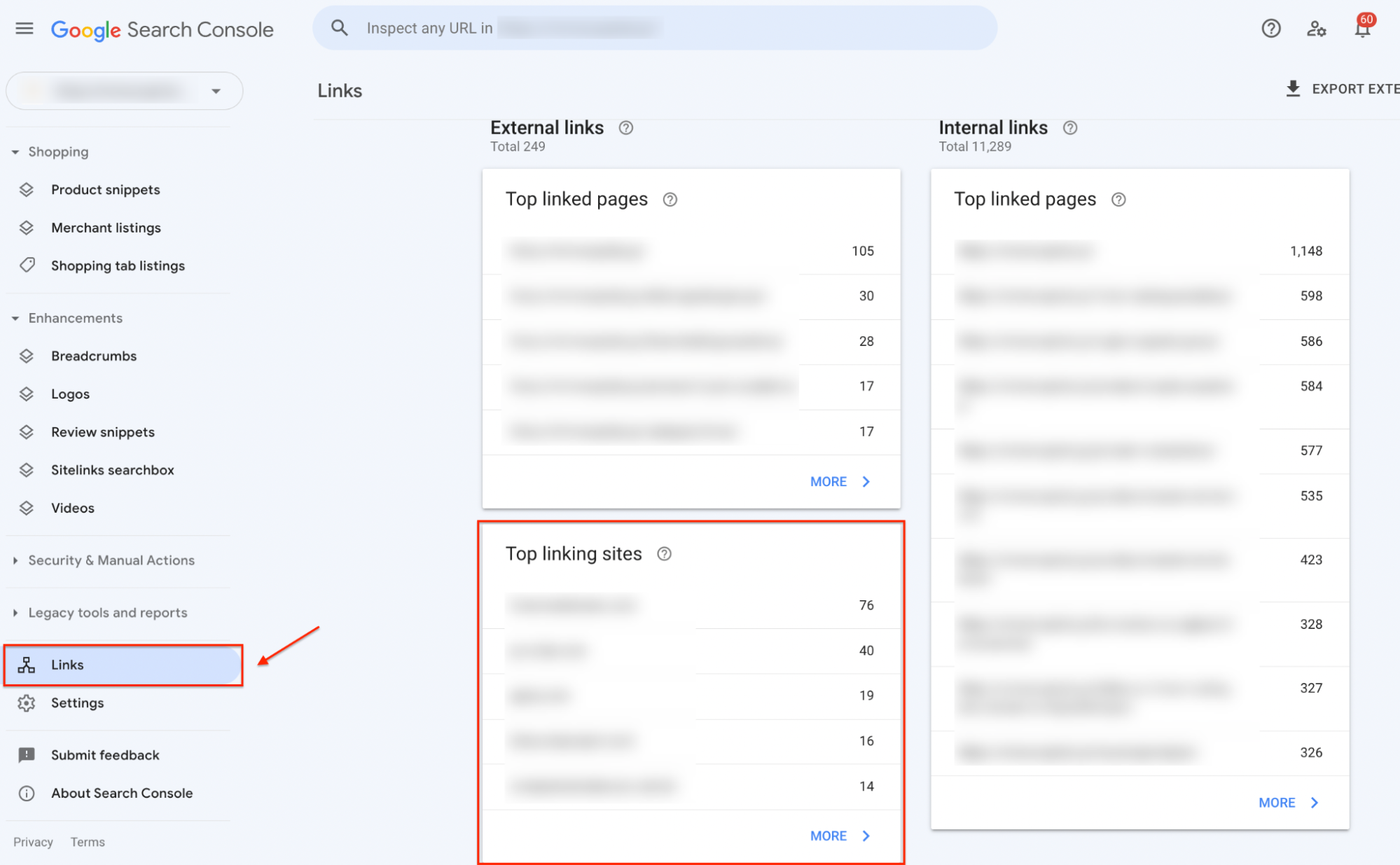 Access linking domains with Google Search Console.
While GSC shows some information about referring sites, this report comes with substantial limitations:
1) No link quality metrics: GSC doesn't allow you to filter or sort referring domains and backlinks by different criteria, such as domain authority, traffic, language, or link type.
2) Limited data: GSC only shows a sample of your website's backlinks and referring domains, so you may not get a complete picture of your link profile.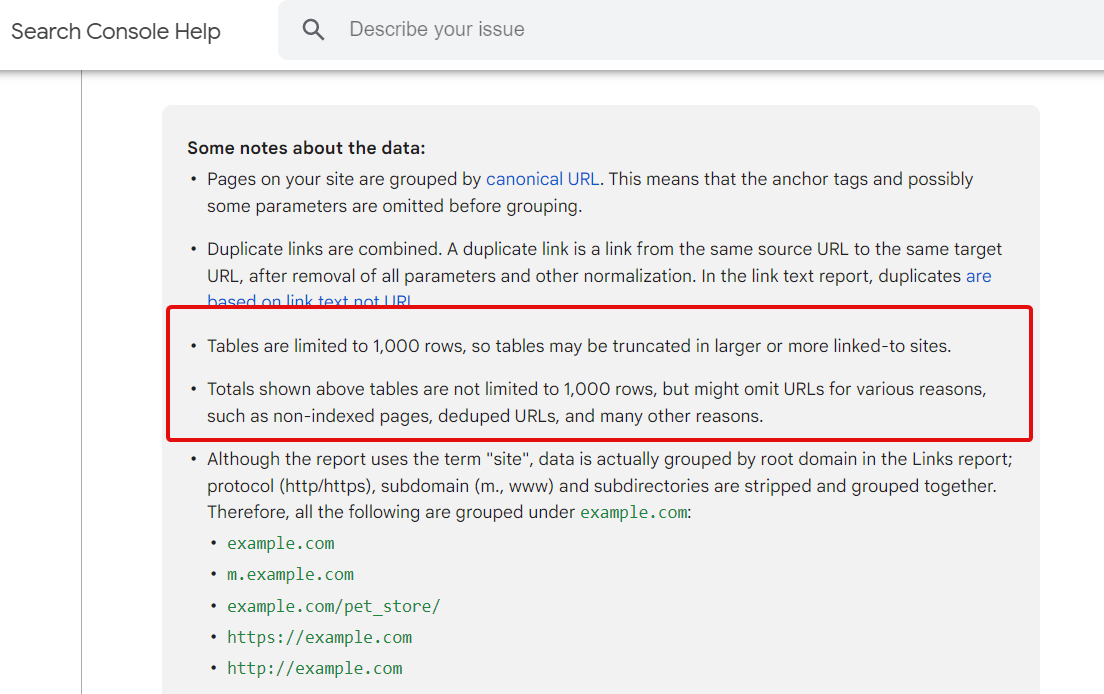 GSC limitations.
3) No competitor analysis: GSC doesn't offer any competitor analysis tools, so you can analyze only the linking domains to your site.
The verdict: GSC isn't a sufficient tool for monitoring referring domains at a pro level.
Now, we'll take you to the juiciest part. Get ready to learn some actionable and newbie-friendly link building tactics. At Digital Olympus, we use all of them to land hundreds of high-quality backlinks for our clients.
5 Ways to Attract Referring Domains to Your Website
Let's learn five prominent tactics to secure your first backlinks, guaranteed. We'll explain each method in the nitty-gritty.
Way #1: Linkable assets
Linkable assets are usually pieces of unique, data-driven content or engaging/helpful resources explicitly created to improve your brand's visibility and attract links from other websites. One of the biggest advantages of linkable assets is that they offer a surefire way to land big, fat links, even from Forbes, TechCrunch, etc. With one caveat — when the content promotion is done right.
Here are some examples of linkable assets that you can create:
Infographics

Research and data-driven studies

Whitepapers and eBooks

Interactive tools and calculators

Expert roundups and interviews

Extremely detailed and value-packed «how-to» guides and tutorials

Templates and checklists

Content libraries

Video content

Surveys

Glossary

Coined terms

And more
Why are all these working? Because people are inherently curious about new data revealed, unique angles, or super-powerful and helpful resources. They speak about it, share it, and build their own assumptions or bolster their points of view.
For example, journalists and content creators always seek credible information, facts, and statistics to back up their stories.
Let's go over some linkable assets to inspire you and paint a real picture of how many backlinks you may get from a single piece.
1. Interactive infographics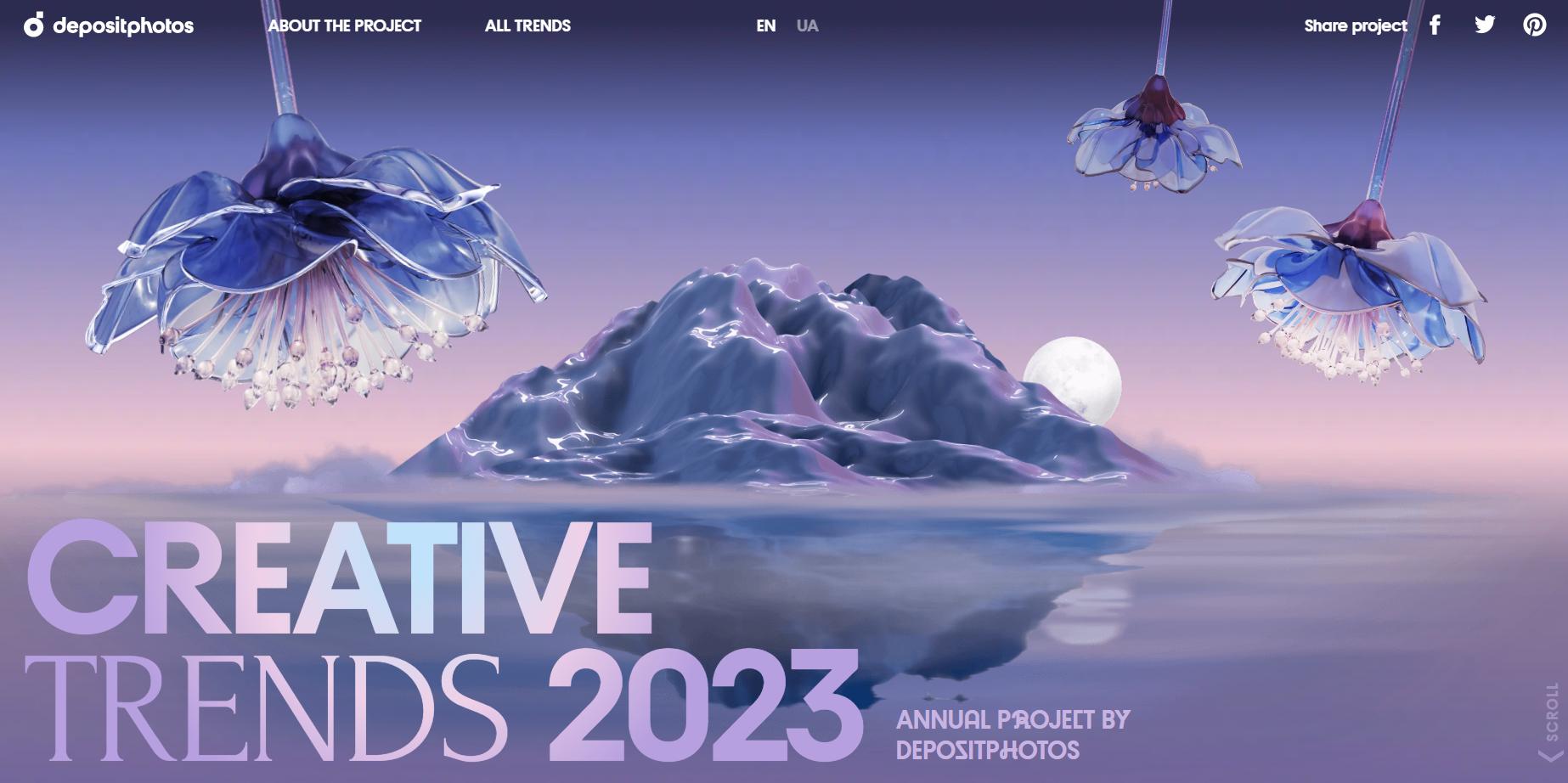 Infographics — linkable assets.
Launched in mid-December 2022, Creative Trends, the annual project by Depositphotos, has already secured 97+ links within 2 months, according to Ahrefs Site Explorer.

2. Research and data-driven studies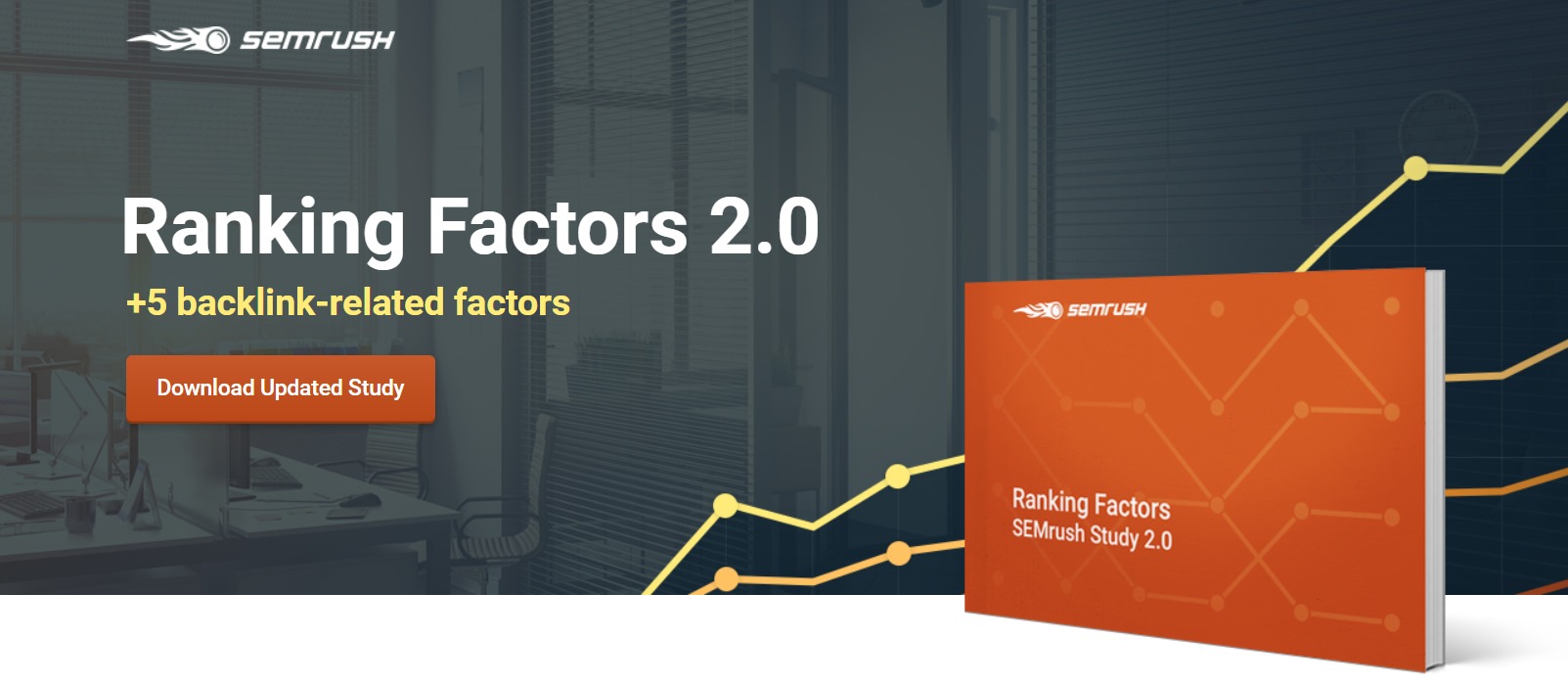 Data-driven studies — linkable assets.
Semrush's ranking factors study is a great example of how original research can become a powerful tool for attracting tons of referring domains over time. By «tons,» we mean more than 3,500 referring domains to a single study!

3. Templates and checklists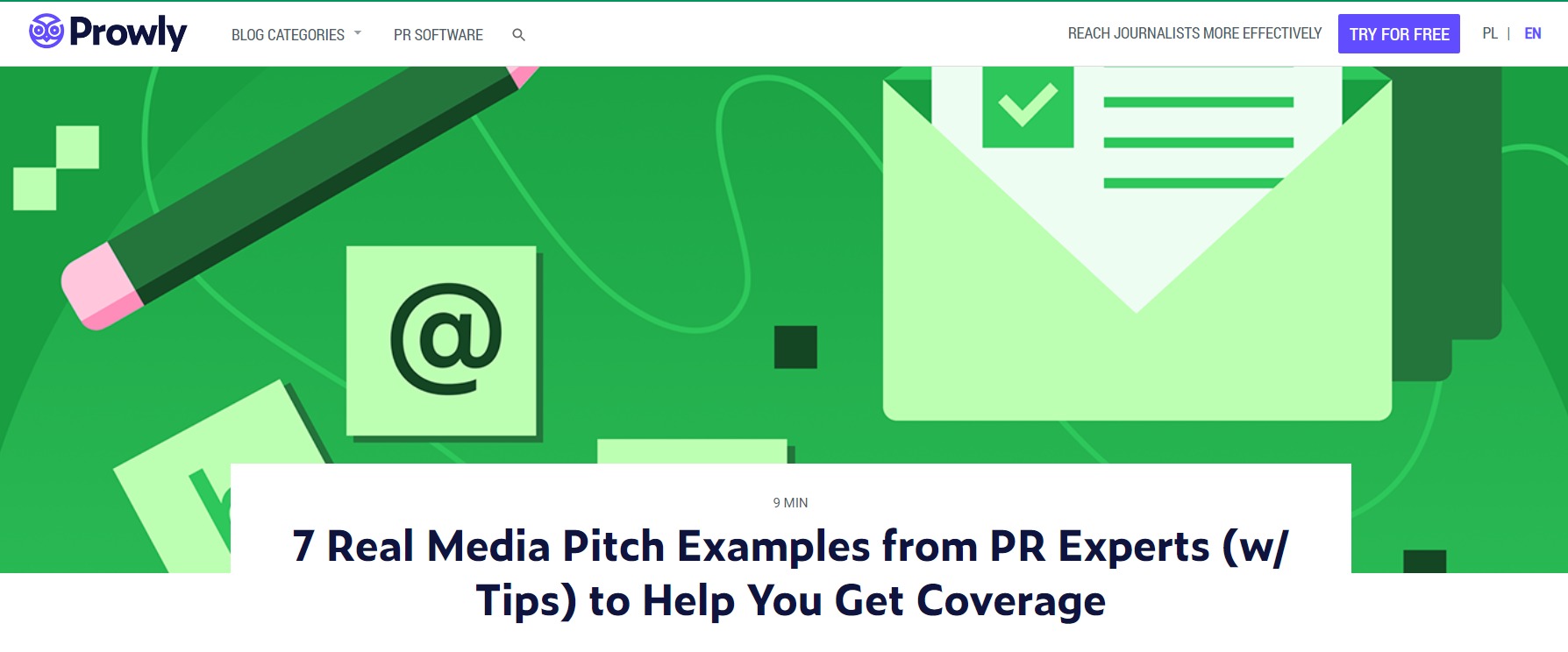 Templates — linkable assets.
Create super useful content for your industry peers with templates, advance it with PR and through social media, and amass hundreds of backlinks. Check it out for inspiration.

The result is pretty impressive for a content piece that doesn't require lots of effort compared to developing an original data study. 345+ unique referring domains!
4. Content libraries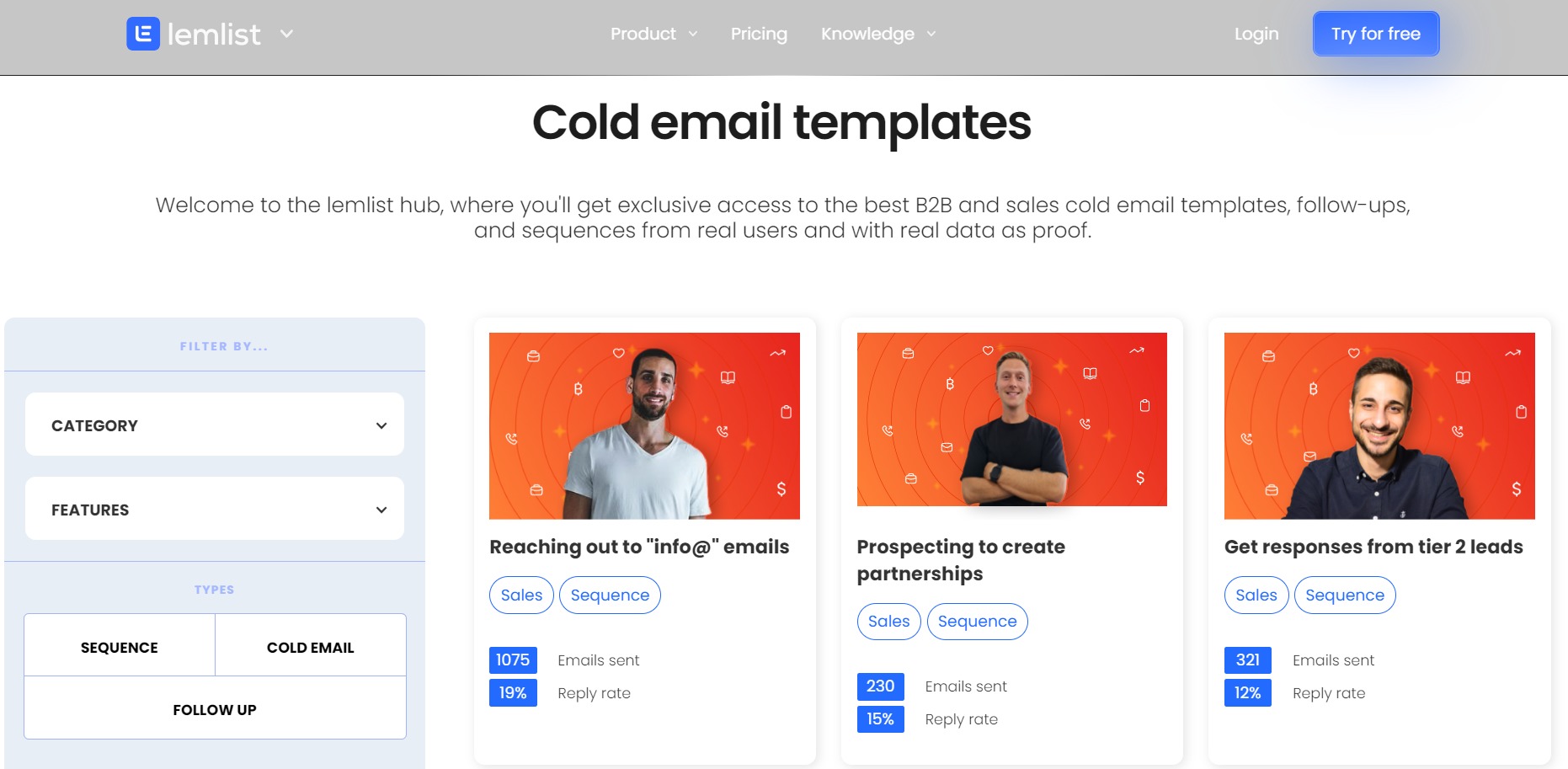 Content libraries — linkable assets.
Lemlist, a tool for cold email outreach automation, gathers backlinks to its library of winning outreach templates. Why do people refer to it organically? Because the library features real and diverse examples of outreach emails written by salespeople and marketers from different companies. Each example comes with its open and reply rates for credibility.

318+ referring domains is a solid result!
With that, let's move to the next tactic for acquiring backlinks.
Way #2: Broken link building
Broken link building is a practice of finding and replacing links to «dead» or non-existing pages (404 errors) in your niche. A simple example:
You read an article and click on the link inside it.

The link appears to be broken

(

404 errors, etc.).

As a reader, you're frustrated because you want to read the piece of content.
So, the trick is to examine niche-relevant sites and find pages that include broken links. Next, write your content and reach out to webmasters to offer them a replacement.
The question is how to find those broken pages?
1) Select up to 10 relevant sites for your niche — competitors, industry-related blogs, or tools.
2) Head over to Ahrefs' Best by links report
3) Type a website you want to analyze on broken pages
4) Apply a «404 not found» filter to get the list of broken pages on the analyzed site.
5) Click on Referring domains, and see what sites are pointing to the broken pages. (Look at number 2 on the screenshot below).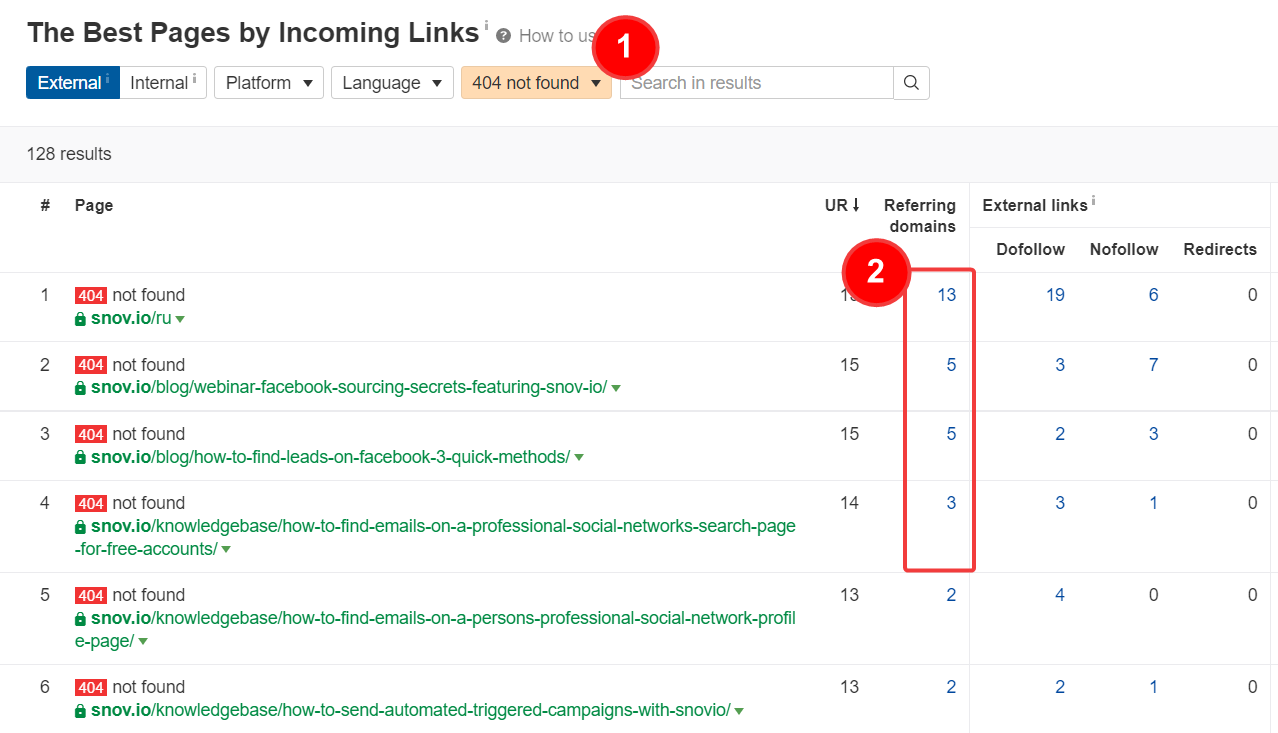 How to find broken links with Ahrefs.
6) Analyze each referring domain to pick those you want to get a backlink from.
7) Examine the content of the dead pages with the Wayback machine to realize what dead pages were about. It's crucial to follow this step since your task is to write similar but better content to get webmasters to link back to you.
All that's left is to create captivating and relevant content and reach out to webmasters regarding broken pages you've come across. Offer your content as a replacement and see if they're interested in featuring it on their site.
Way #3: Link intersect
Link intersect is a simple but effective tactic of finding websites that link to your competitors or industry-relevant sites but not (yet) to you. This way, you can find a number of websites that are likely interested in linking to the type of content you create.
Imagine you have three competitors — Ahrefs, Semrush, and Backlinko. So you want to know which websites link to that trio but don't link to you. The easiest way to do so is to use Ahrefs' Link Intersect tool.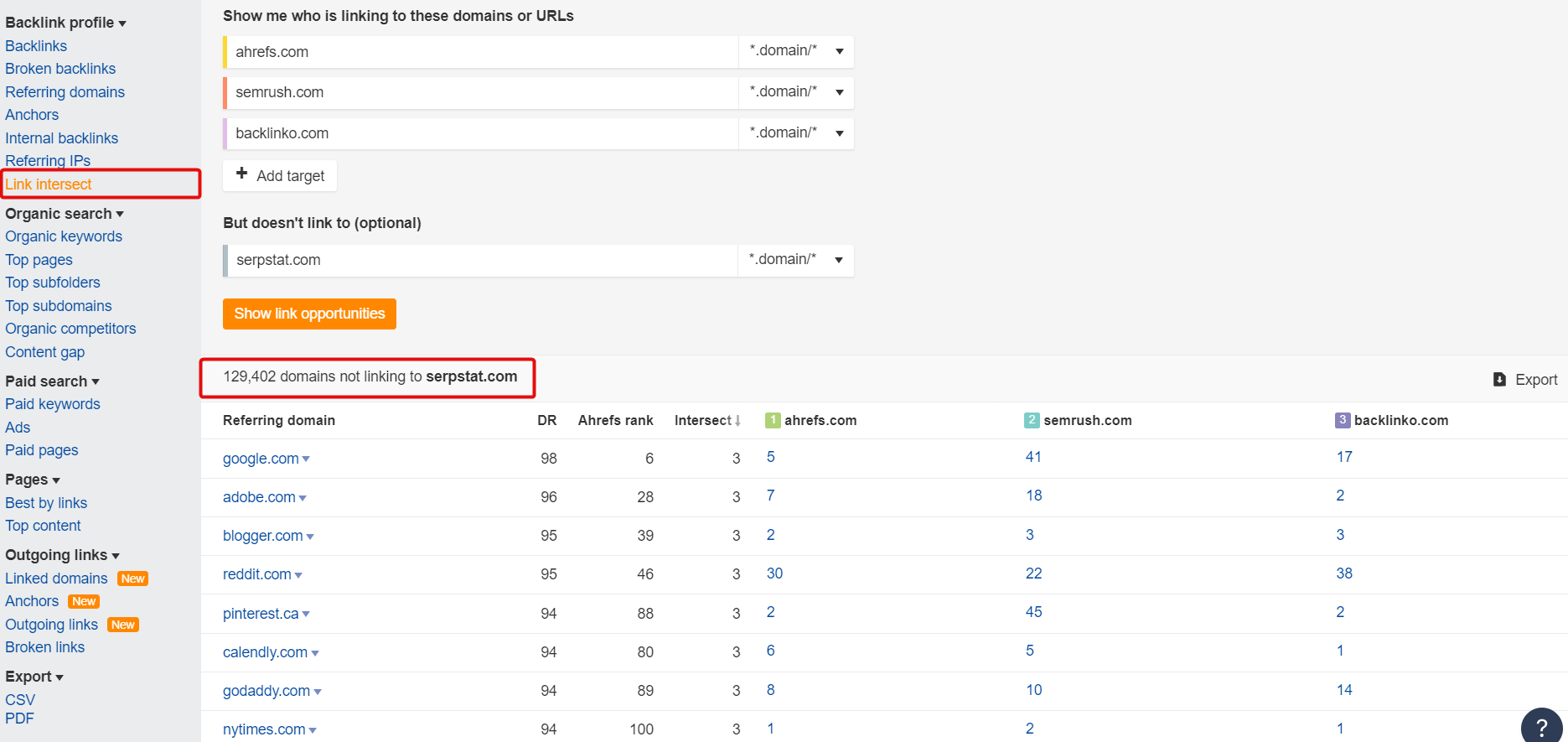 Unlock backlink opportunities with link intersect.
What's great about this tactic is the possibility of finding tons of backlink opportunities. As long as two sites have something in common, you can always use link intersect to find more prospects and build strong relationships with them.
Way #4: Guest posting
Old but gold, guest posting (also guest blogging) is still an effective way to acquire backlinks. The idea behind it is simple: create content for other websites in your niche and, in return, get a link to your resource.
Here, the trick is to write high-quality content that meets the needs of the prospect's target audience and cut through the noise of low-quality cold email pitches in editors' inboxes.
?Tip: We recommend building links to only corporate websites — ideally to SaaS companies and those who heavily invest in content marketing. This way, you ensure high-quality backlinks as they come from the domains that also work on their domain rating.
Start by creating a list of websites in your niche. Reach out to them with the article idea and pitch your content. Make sure you offer something valuable and fresh — something that would be useful to the readers.
However, it's not that simple. In reality, only 8,5% of outreach emails receive responses. To boost your conversions, you must be creative with your subject line, pitch, and offered topics.
At Digital Olympus, we reached as high as ~96% of the guest post acceptance rate. Here's how:
We A/B test our subjecting lines to improve open rates.

We offer highly relevant topics with unique angles, like thought leadership content, examples-packed, first-hand experience, etc.

Our pitches are highly personalized — every email is tailored to a concrete person and a company.

We build long-lasting partnerships so we can reach out to an editor at any time and receive a response in the affirmative.
Way #5: Unlinked mentions
This tactic is pretty straightforward — all you need to do is find unlinked mentions of your brand with the help of brand monitoring tools and contact webmasters, asking them to link back. By unlinked mentions, we mean websites that mention your brand in their pieces without linking to it.
There are several methods to locate unlinked brand mentions. You can use Google Alerts (free and cumbersome), social media monitoring tools, or Ahrefs' Content Explorer.
Our choice is Ahrefs since it provides you not only with URLs that contain unlinked mentions but also with all the information to vet the prospect — DR, PR, organic traffic, etc.
Navigate to Ahrefs Content Explorer and type your brand name; choose

«In content.»

Set up filters: Published

(

e.g., Last 30 days), Language, Only live.

Select «

Highlight unlinked

» and enter your domain name.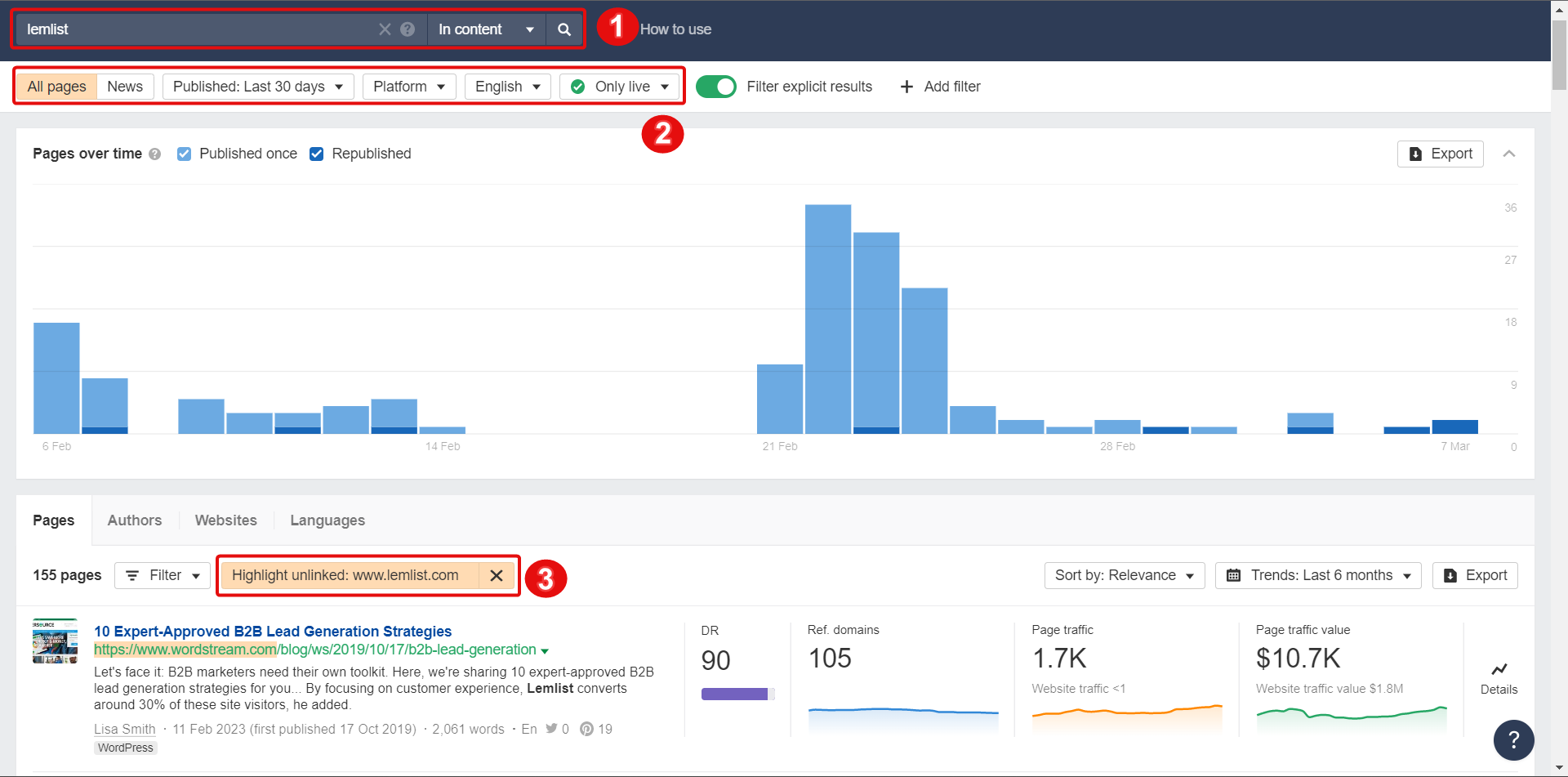 How to find unlinked brand mentions with Ahrefs.
These five tactics are a surefire way to attract referring domains and boost your rankings.
Now Over to You
So now you're sure your site needs backlinks to grow in the SERPs. You can hire an in-house specialist to design and manage the link building strategy or opt for a link building agency like Digital Olympus. The latter allows you to gain high-quality links from the first months and see ROI faster.
Read on the following to make an informed decision: