Search Marketing's ever-changing and dynamic nature forces the webmasters and marketers to immerse themselves with every single new update. To grasp new search patterns, a user needs to adapt quickly. Many companies rely on search engines for business nowadays, and the fact that new algorithms and updates are unpredictable is scary especially for a company's SERPs livelihood.
First and foremost, Google wants to give the best search results for their end users. To attain quality results they have a spam teams and different algorithms which filter out the bad results. Google has no problem de-ranking or blacklisting websites involved in SEO scams that violate their guidelines.
Many webmasters measure Search Engine algorithm updates all the time; Moz, Search Engine Land, Dr. Pete, Marie Haynes, Barry Schwartz are a few examples. They measure and post their personal views and information on their blog. In 2016 we saw many changes in Local Update, Penguin 4.0 and a few recent spikes in Mozcast data.
Based on all the current data and trends what are 2017 search marketing trends?
Let's dig into each point.
1) Featured Snippets Will Gain Prevalence
Google is an ever evolving platform. They test different search result page algorithm and depending if you diligently do searches, you seen a particular snippet block located above the ten organic listings. This snippet block is called Featured results, and they provide specific answers or information relating to the user's search query.
This featured result comes up with a useful snippet of text and the relevant links in the SERPs.
Let's share some live examples.
Search query: height of Mt Everest
You can see that the results have a separate block with a few links and answers to the end users queries. The updated and enhanced appearance results in a user-friendly experience.
Conclusion — Different uses of this snippet can end into featured results.
2) Citation Listings will become less efficient in Local SEO
Google's local search algorithm is complex and continually evolving. The local algorithm relies on business prominence and associated information available with that business. Google can now tell the difference between the coffee shops near NYC vs. pizza shops near Florida.
Let's talk about this situation, let's say a person has an entry in Yelp and another person has a lot reviews with citation links and so on. It is possible that considering the former situation with NYC coffee shops, Google would be mining the data, find few other quality citations references and as a result, rank them better. This dataset varies not only on the industry level but also its effectiveness over the time. Location Prominence and Local Authority will play a crucial role in the local SEO.
Conclusion — Local SEO may rely more on quality citations and not the quantity. It may be possible that even with few good reviews on high-quality sites; you can dominate the local search. The citation does work, but in such cases, Google local algorithm evaluates other signals and patterns to rank them in local search.
3) Google Assistant will start to play a crucial role
Think of Google Assistant. This computer program is based on the Google Search Engine algorithm and it works wonders on assisting you in any question. Google Assistant uses the SERPs and featured snippets algorithm as a part of its experience.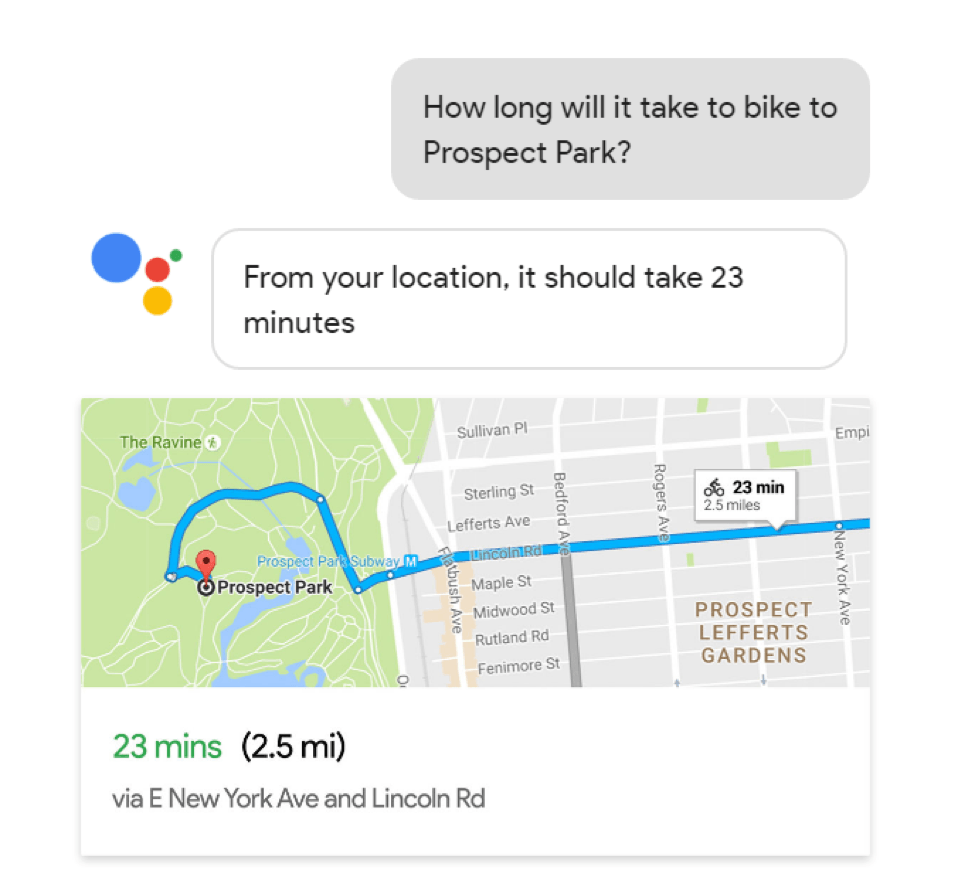 It is a more accurate and personalized tool in assisting you with answers and information without needing to perform a Google Search. It has not officially rolled out yet, but you can see a fully functional version on Google's mobile phone, Pixel. Google Assistant will give the results through the integration of Google's apps.
Conclusion — Google Assistant will soon serve many mobile devices, and it will certainly scale in the search marketing world.
4) Voice Searches will continue to grow
Voice searches are like a buzzword in the year of 2016, and many experts talk about this regularly in conferences and different events. PurnaVirji gives much insight about voice search and how it will affect the future search marketing world.
Voice based search queries increase day by day, and it is crucial to understand how it impacts the future of search marketing. Voice search queries are mostly coming from long tail terms with local intent. As you know, usage of Cortana or Siri is becoming increasing massive with mobile devices, so you will see a percentage of the audience coming from voice search to your website. You should have to think about how to optimize your website for voice search in the future; else you risk losing voice-based search traffic.
Conclusion — We will surely see a spike in voice-based searches and its impact on search marketing world. It may be possible that webmasters start to implement different strategies to perform well in voice search.
5) New PPC Extensions getting revealed
Google is always adding new stuff into the AdWords platform to make it perform better for the users. There are many metrics in Google Adwords, but Ad Extensions are playing a huge role in the clicks and conversions.
Google offers seven types of conversions which are helpful to advertisers to test and gain more visibility for their ads. Recently Google added price extension, see the full post here.
Conclusion — We may be seeing some new extensions in the upcoming year as Google wants to provide best functionalities for their end users.
Closing thoughts
We will see some different trends in the coming year. The above article only states the major ones but there would a few minor ones accompanying it.
Many industry experts have shared their predicted trends with regards to Search marketing. If you have anything you think may be possible in 2017 then drop it here. I would love to see your interesting ideas and predictions below!
---
Hiren Vaghela is a Digital Marketing Consultant and Blogger for Digital Marketing Room. He helps creative digital strategists produce innovative and unique data-driven campaigns. He is also a contributor of Search Engine Journal and Mention. He loves the startup life. When he is not learning everything he can about digital marketing, you can find him at the gym working out. Follow him on Twitter.