A simple picture brought CoSchedule 672 referring domains alone! (You'll see this image in the blog post.) And we at Digital Olympus have witnessed this runaway level of success umpteen times with image link building.
Want to replicate such incredible results? Read on this guide to uncover:
Types of images that lead to hundreds of backlinks from high-authority websites.

How to track and receive links from images at scale.

Advanced tips and hacks on image link building.
A Brief Overview of Image Link Building
Image link building revolves around creating and distributing high-quality, unique images to earn backlinks. Ranging from infographics to custom illustrations, content marketers and SEO pros embed and promote these images so other sites pick them up with a link back to your site.
While webpages using images earn 555% more quality backlinks compared to those with no images, this tactic is often underused. So you can take advantage here and ride the wave.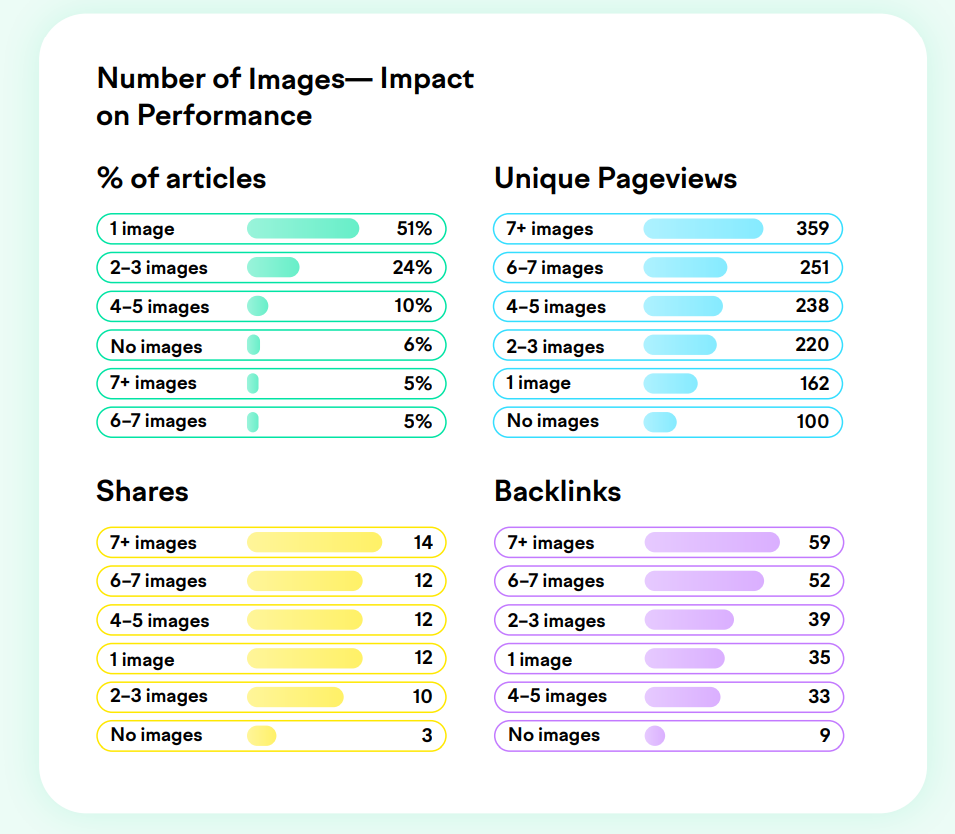 The impact images have on backlinks. Image Source
Images tend to attract links due to their utility and value addition. They serve as visual aids, helping readers understand complex ideas and making content more engaging. That's why imagery naturally encourages backlinks.

What I like about creating images specifically for the purpose of gaining usage and therefore link opportunities, is that it's so versatile. It can be applied in any sector. And if you do it right, then you're actually creating something inherently useful to people — images where there's demand for said imagery and you're filling it. And when you claim the links, it's not a cold pitch. You've already done that blogger/writer a favour. So rather than cold email pitching people to ask for links (Which is my least favourite SEO task to be honest) you're contacting someone who's already used something of yours and it's a totally different, much warmer, dialogue most of the time.

As bit of a tip, if you're only looking to claim links where people have used one or two of your images, then a Google Reverse Image search is absolutely fine. If you're looking to do this for more images, then it's a laborious process to manually check. Picmatch. io is an affordable usage checking solution. — Stacey MacNaught, SEO & Content Marketing Specialist at MacNaught Digital
As you delve deeper into image link building, the key is to remember this dual function. Each image you create isn't just a potential link magnet — it's also a traffic driver from Google Images, as it makes up 20% of all searches.
With this understanding, let's explore how you can choose the right imagery for link building.
5 Image Types that Attract Links
Type #1: Infographics
It's 2023, and infographics are still an effective means of earning backlinks. However, the game has changed significantly. Rather than generic, broad-spectrum infographics, focus on highly specific, data-rich infographics that demonstrate complex concepts easily.
The more unique your infographic data, the higher the chances of attracting authority backlinks.
For instance, the infographic below has gathered 49 referring domains. Business Insider with a DR of 92 is among them.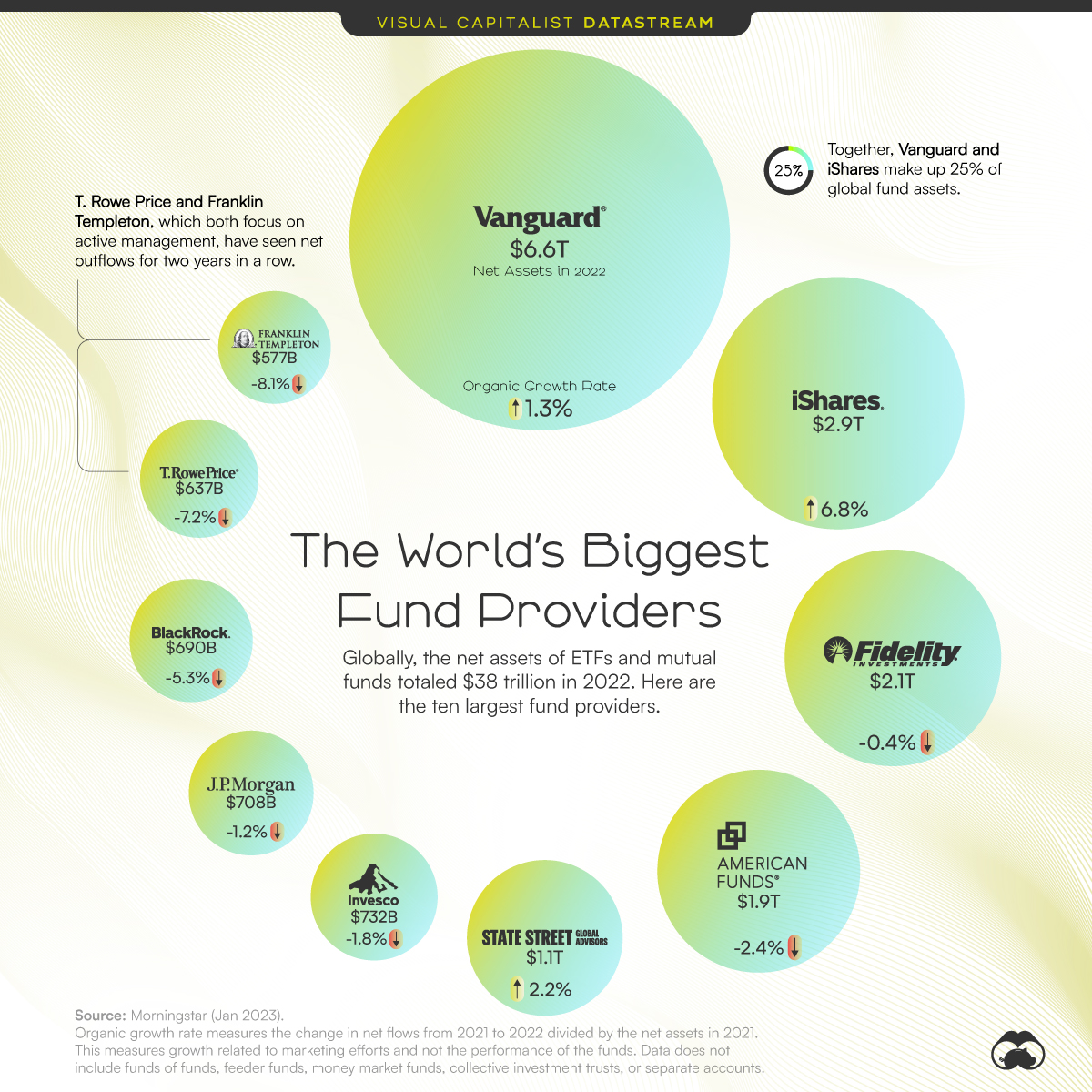 Design data-rich and airy infographics. Image Source
Likewise, CoSchedule's infographic has amassed 672 unique backlinks to the picture URL.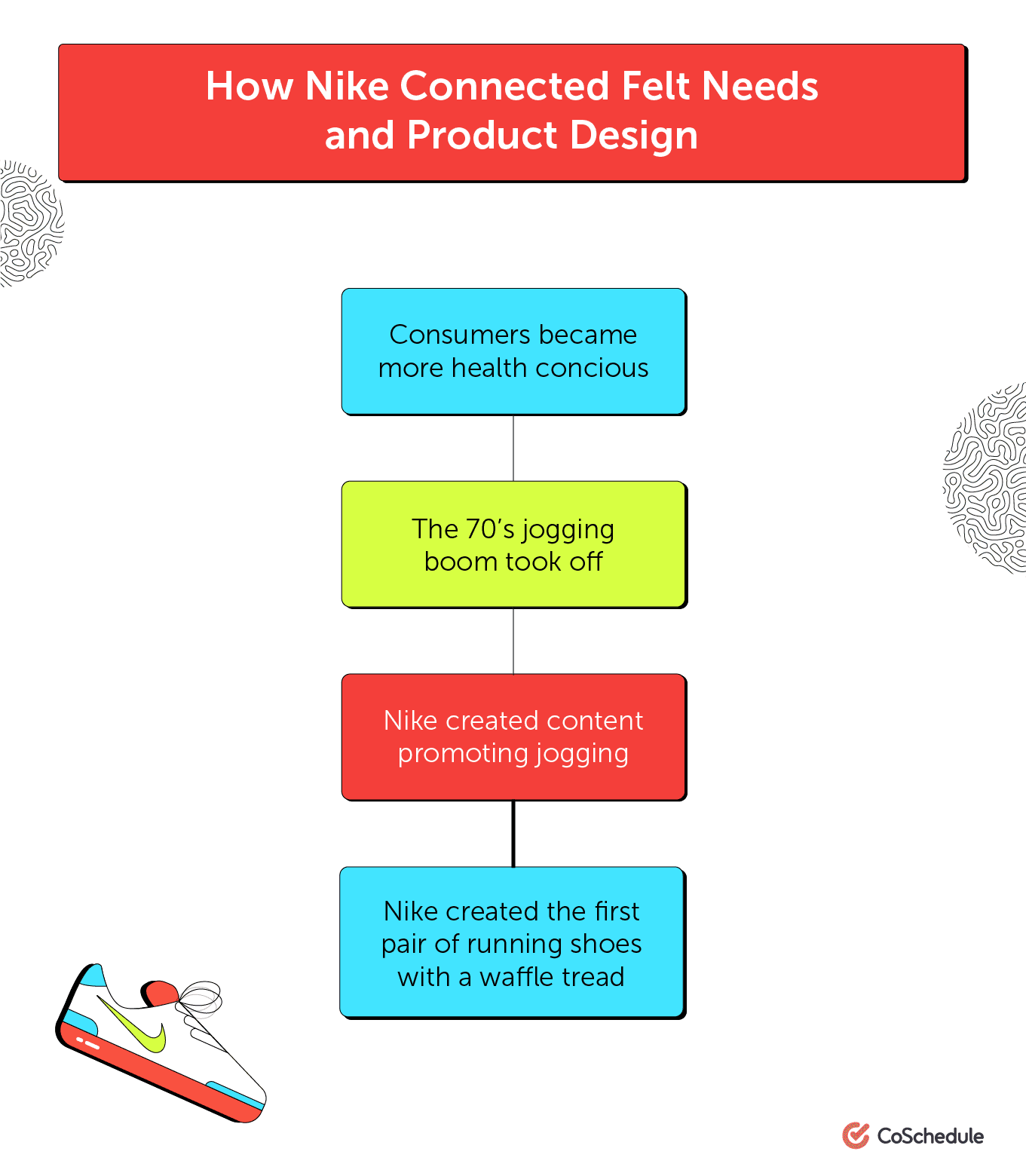 Use white space to focus your readers' attention on key information and incorporate vivid colors to stand out. Image Source
?Tip: Invest your time in fact-checking and delivering the most recent statements and numbers. With the rise of generative AI, ensuring data freshness is vital. Don't create clunky and big infographics. Stick to a data-rich and compact design.
Type #2: Product photos
Product photos are essential for e-commerce websites link building, retailers, and businesses selling physical goods. That's not just you presenting your products. Product photos also attract bloggers and digital marketers.
Here's how:
Uniqueness. If your product images are distinct and visually appealing, other websites, blogs, or review sites may choose to use your images

(

with a link back to your site) instead of generic stock photos.
Detalization.

Tech blogs easily pick up product photos that clearly highlight the features of a product. They use this information in product comparison articles, how-tos, or review pieces, providing you with valuable backlinks.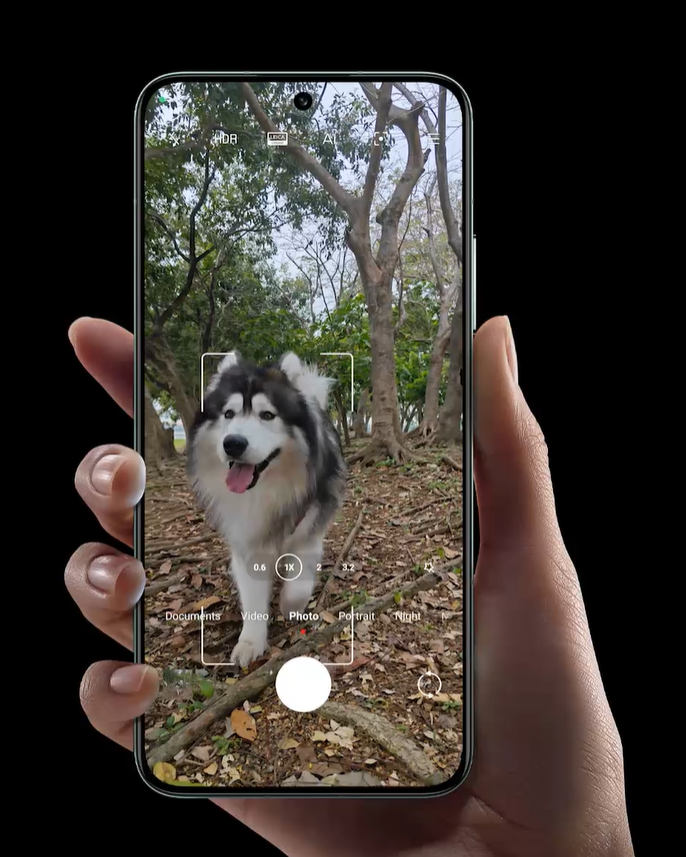 Xiaomi showcases its unique feature. Image Source
«A type of image that works really well is lifestyle imagery of products in use. These are hugely in demand by journalists/bloggers and can extend beyond those writing about specific products increasing your chances of your images getting used.

Distribution of images is one of the hardest parts of the link building process — but using tools like Unsplash to distribute your images can vastly extend the reach you can get." - Freddie Chatt, Ecommerce SEO Consultant.
Visual reviews.

Customers who have had a positive experience with your product may decide to use your product photos in their reviews or social media posts, linking back to your site.
?Tip: A neutral dark or white background also attracts tons of high-quality links, as it's easy to adjust for any look and feel of a website.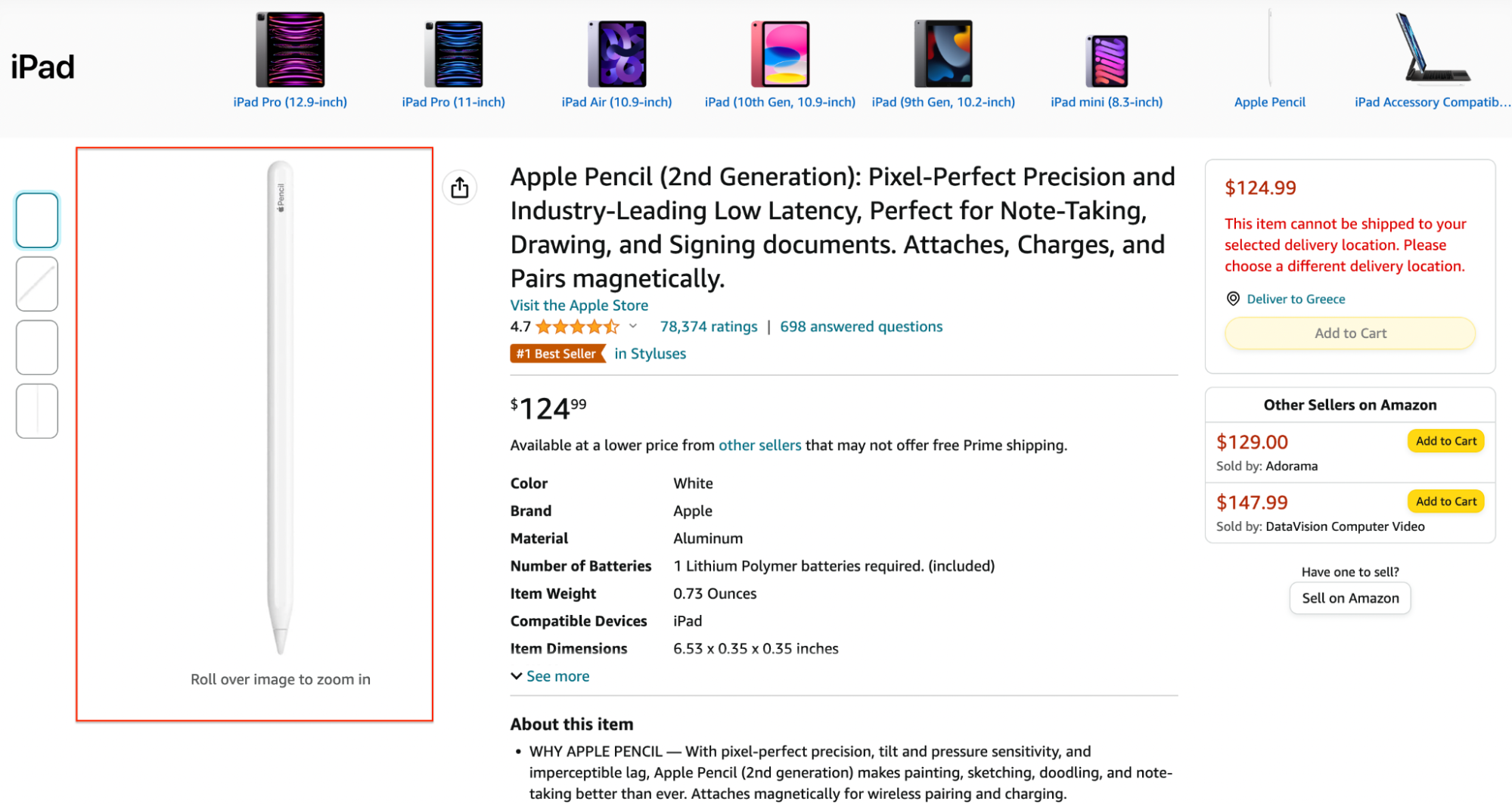 Amazon encourages white backdrops to present products. Image Source
Type #3: Charts and graphs
Journalists and content creators are particularly fond of charts and graphs. When they source statistics and research to support their claims, it's easier for them to cite a standalone image than a full-scale infographic.
Brian Dean also suggests creating as many charts as possible for data points in his course on Digital PR for SEO, as this tactic brought them thousands of referring domains from reputable media outlets and blogs.
?Tip: There's no dependency between well-designed, brand-colored charts and clean and neat on white backgrounds. Both drive backlinks. So, start small and reinvest your time in content distribution.
Here's an example of a simple chart by OrbitMedia from the article with over 3,328 referring domains.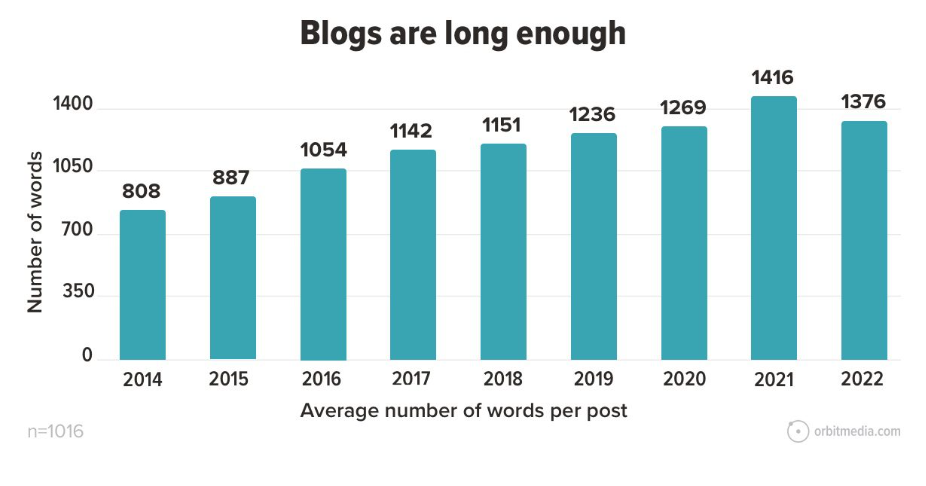 Concise data visualization is key to user experience. Image Source
Type #4: Photos
Sites crave unique content. Custom illustrations, diagrams, or original images are one-of-a-kind content for blogs, influencers, SMM specialists, and media outlets.
To earn a photo backlink naturally, upload your photos for free use in image stocks — Unsplash, Shutterstock, Flickr, and Depositphotos. Specify in the photo description that one must credit your website as a source. Of course, not every content creator will do that, but we'll show you how to claim a backlink in the following chapters.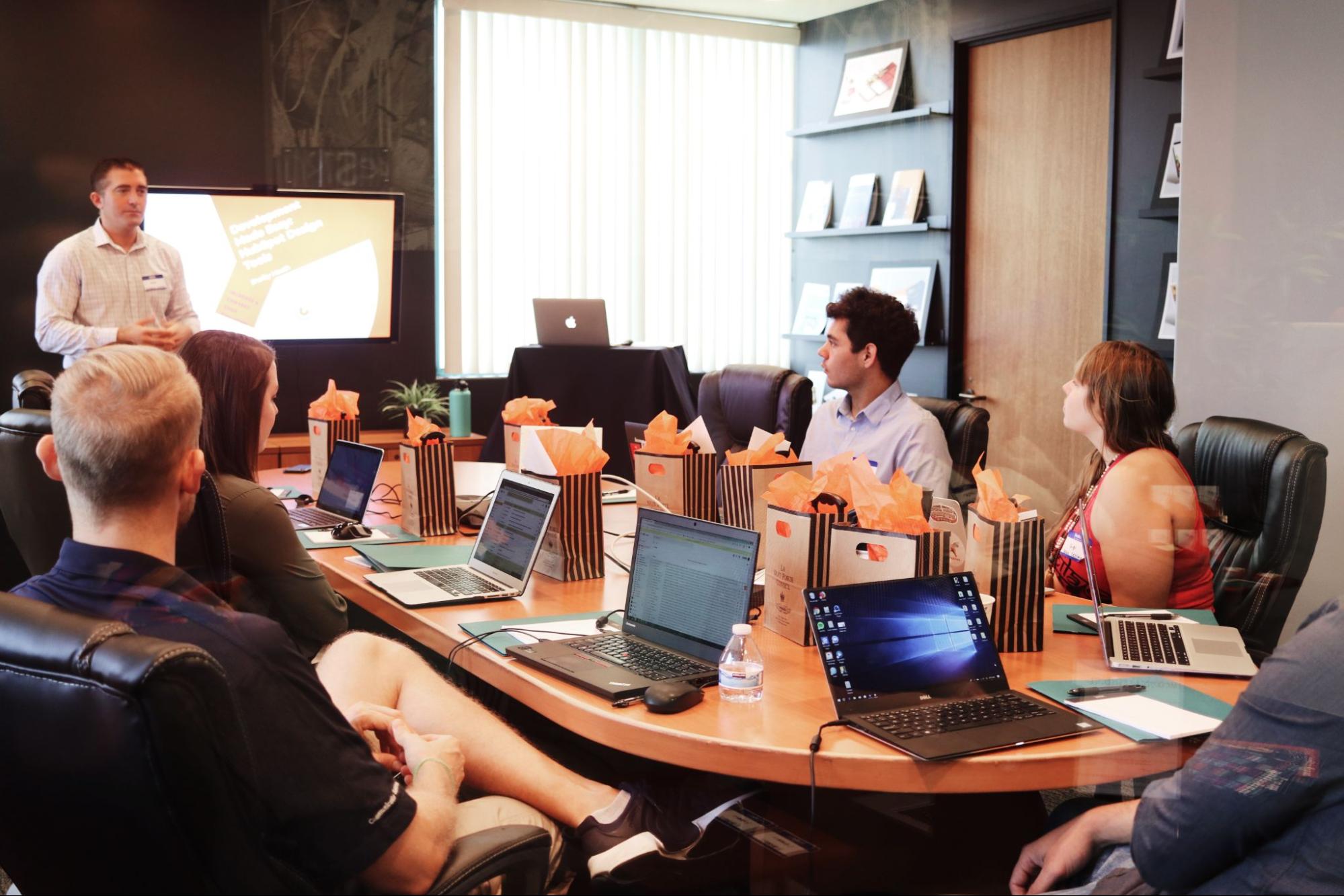 A picture from Unsplash. Image Source
Type #5: Maps
Design attention-grabbing map charts with trendy data to trigger an avalanche of backlinks. For B2B brands, you can create a survey-based linkable asset and present demographics in a map chart. For B2C, you can put together fascinating geo statistics about your industry — just like with the volume of Coca-Cola plastic pollution worldwide.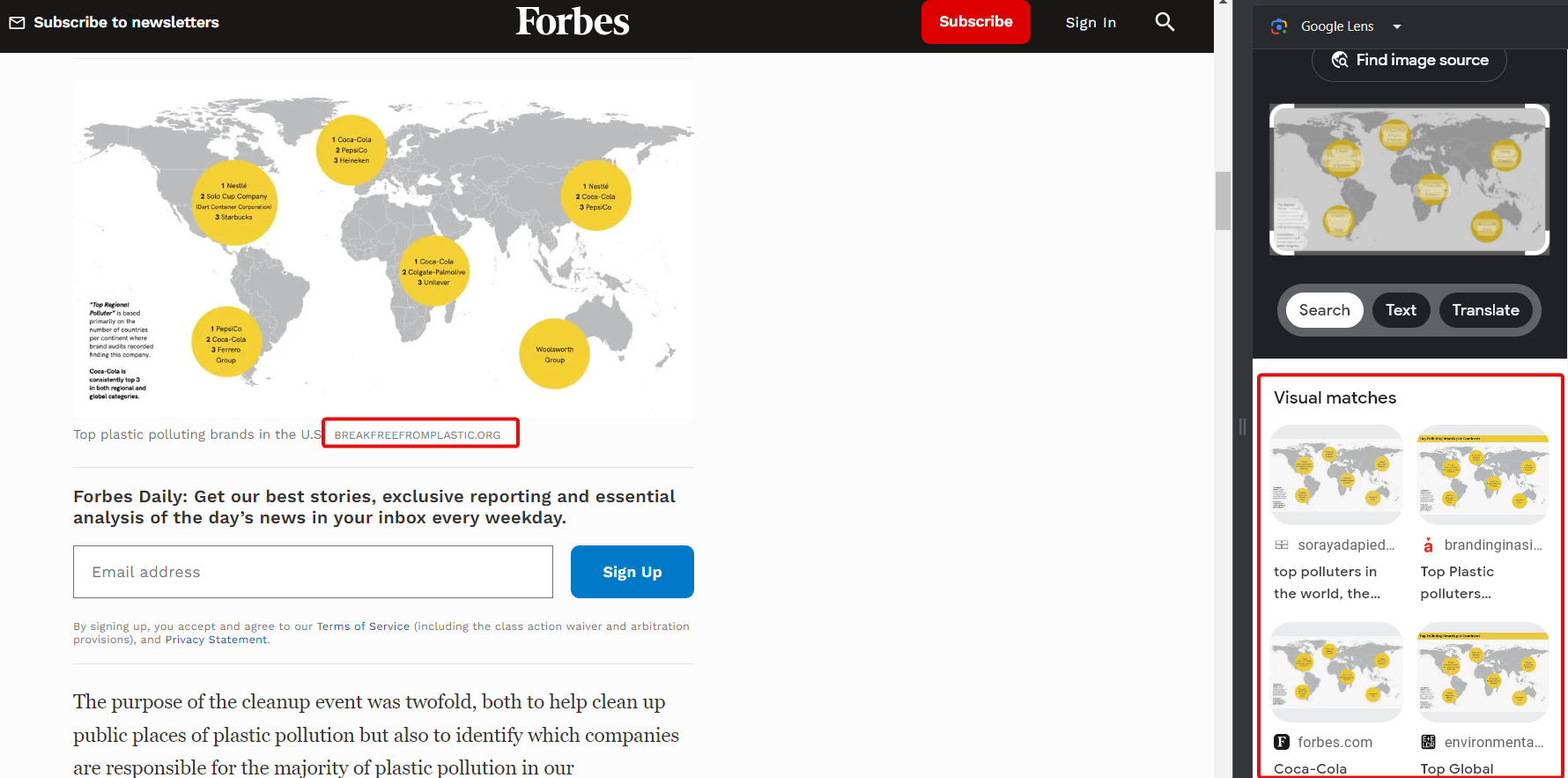 This map has received hundreds of media mentions from famous media outlets.
?Bonus link building technique: Embed memes into your blog posts to drive engagement and, hence, increase chances for a backlink.
How to Find the Right Images for Link Building
Not all images are created equal and link-worthy. Apart from the obvious that imagery must be relevant to your site content and audience, tap into trending topics.
Explore Google Images, ExplodingTopics, and Shutterstock in doing so. Type in your ideas (keywords) and see what pictures get the most views and downloads.
For example, a bit rusty picture of loan rejection was used dozens of times by different websites.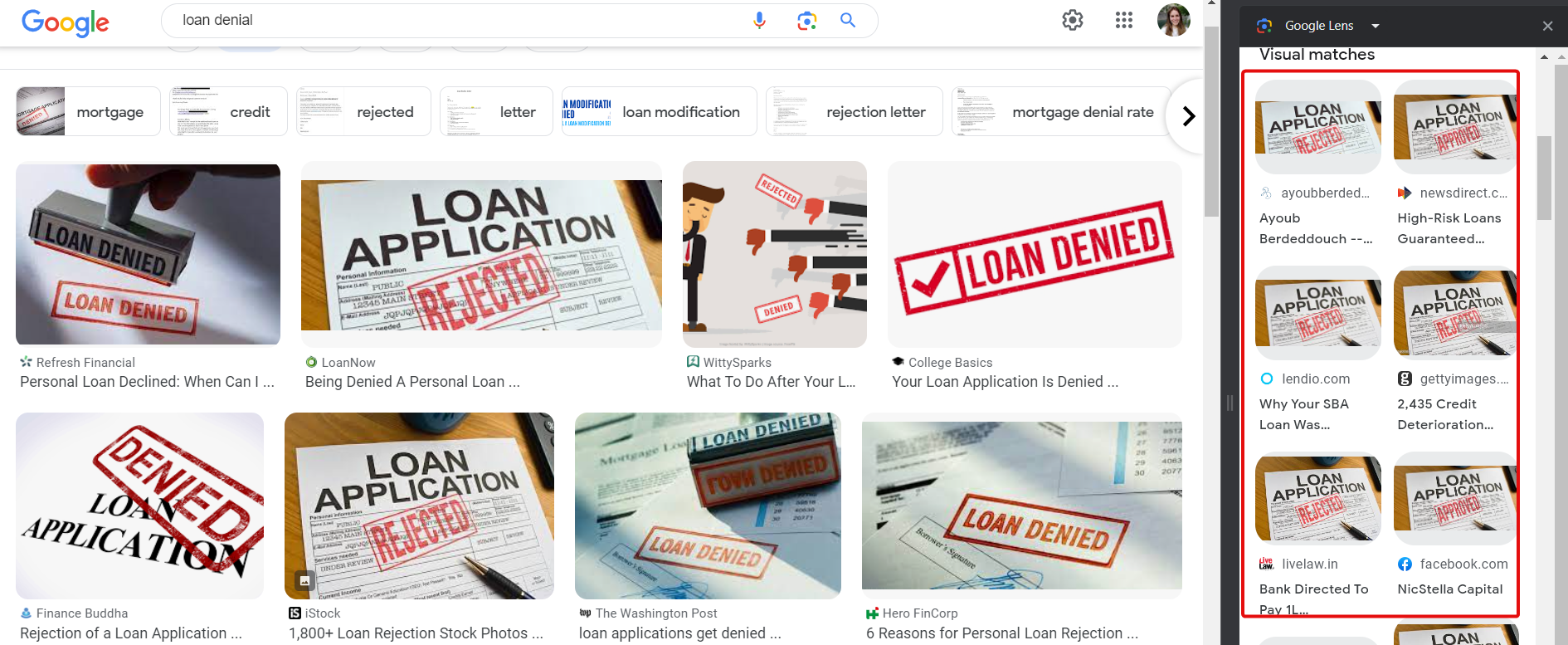 Knowing that, get your team to take relevant photos and publish them on photo stocks for free.
Below, we sorted popular vegan images on Shutterstock.
And then analyzed the first one with Google Lens to find media outlets that utilized this picture. It's thousands of them.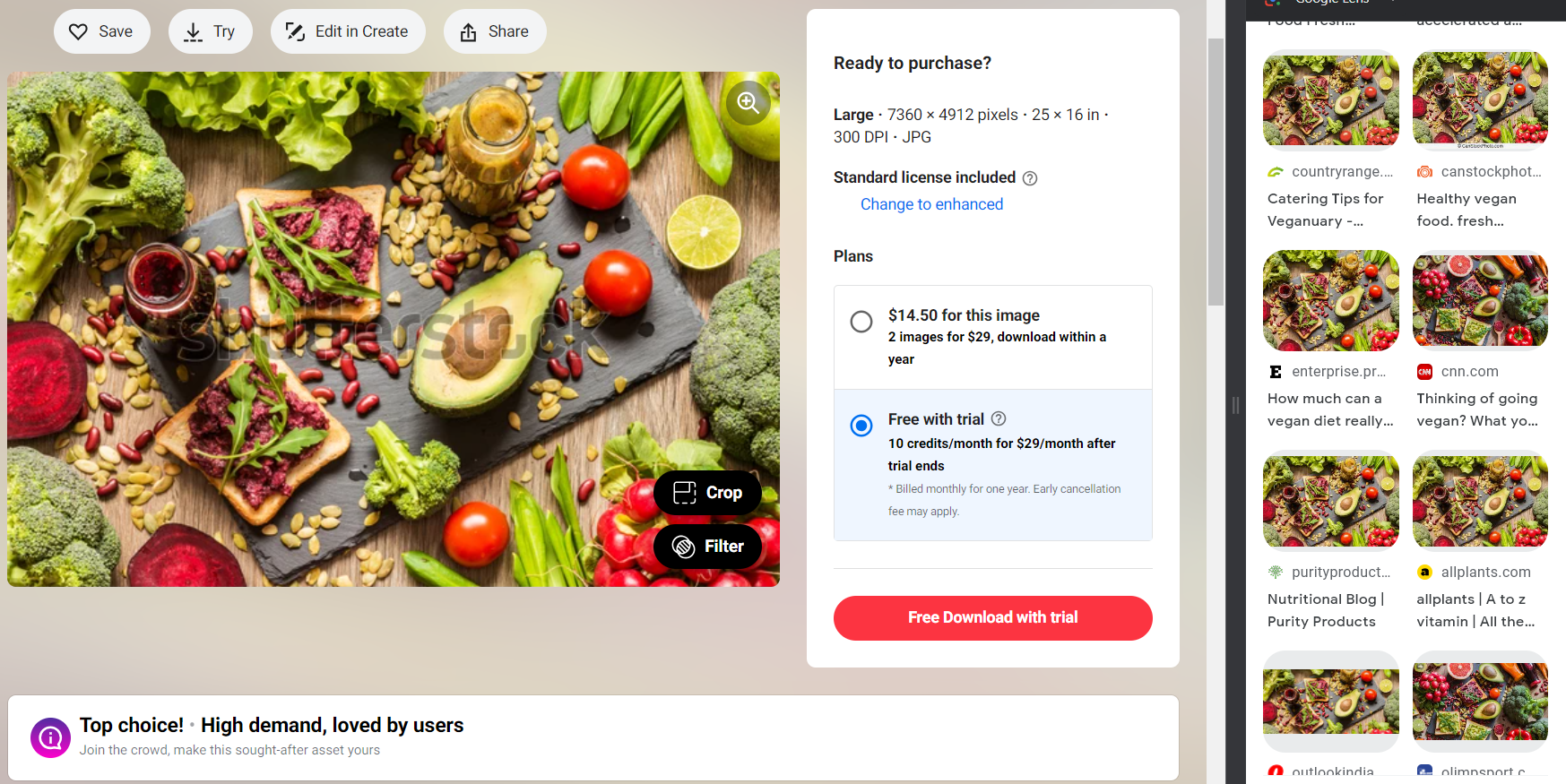 If we were to sell vegan goods, we'd create dozens of similar but original images to drive backlinks to the vegan category page or a concrete product.
4 Image Link Building Tips to Keep in Mind
Nice-looking images don't generate backlinks by themselves. You've got to deliver them to your target audience and monitor unauthorized use. How to do that?
Tip #1: Claim your unlinked images.
Tools like Google's Reverse Image Search allow you to see when someone used your image. Run a quick check every month as a recurring task for your link builders. Find unlinked images and reach out to webmasters so they credit them with links.
While this process is tiresome, you can automate the finding of unauthorized image use with Image Raider or TinEye. Upload images you want to monitor and get reported for new occurrences of every image.

Use TinEye to get a list of websites using your images.
?Tip: Monitor your high-performing articles, research, reports, and other data-rich imagery to spot more unauthorized image use.
In addition, we use Ahrefs to find improper attributions. Here's a quick tutorial:
Navigate to

«Site Explorer»

and paste your domain name. Open up the

«Backlinks»

report and search for

.png, .webp, or .jpg

in the URLs of backlinks. Do this with filters like in the screenshot below.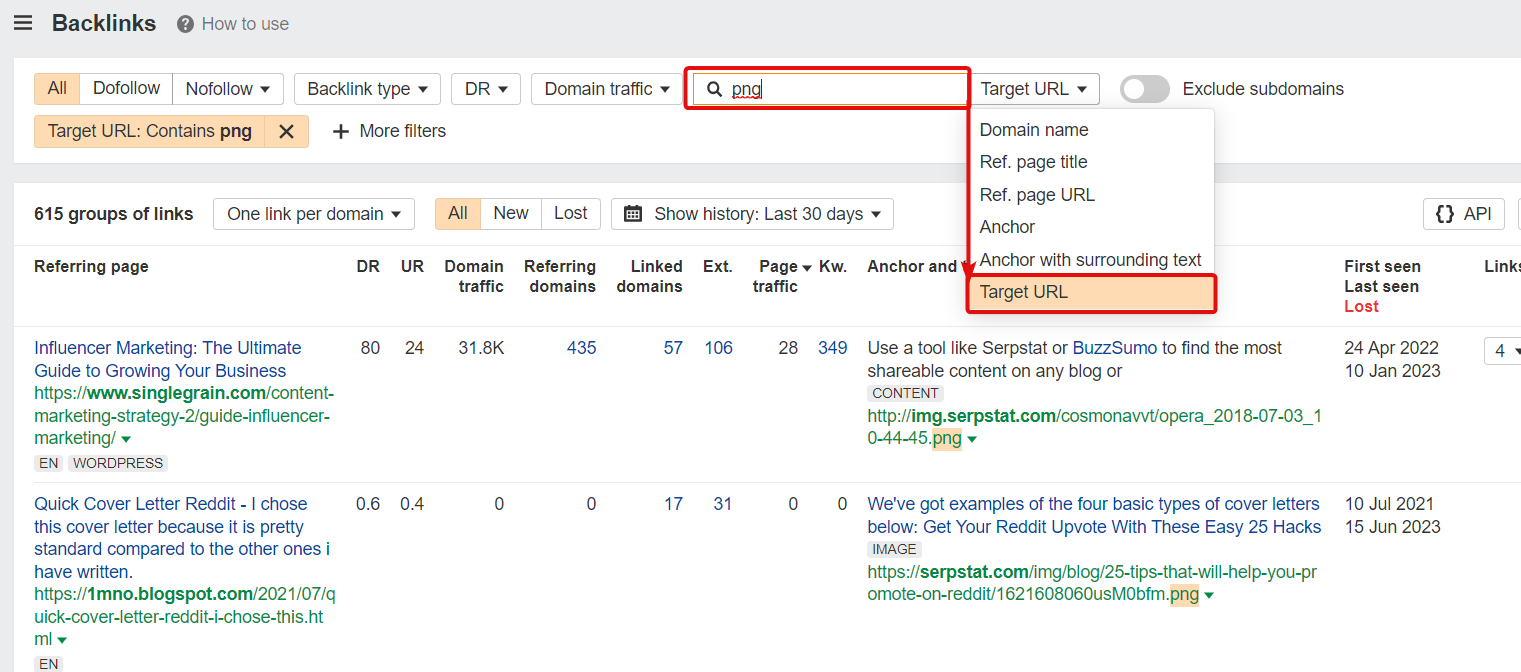 Filter only dofollow backlinks.

Export the report and check manually every backlink to your image — whether it's credited.
Or automate Ahrefs workflow by setting up new image backlink alerts. Go to Ahrefs Alerts and apply the settings:
Domain or URL (where your images live): yourwebsite.com/wp-content/uploads/
Mode: Prefix
Score: New backlinks
Domain rating: From 40
Traffic: Skip or set from 1,000
Interval: Weekly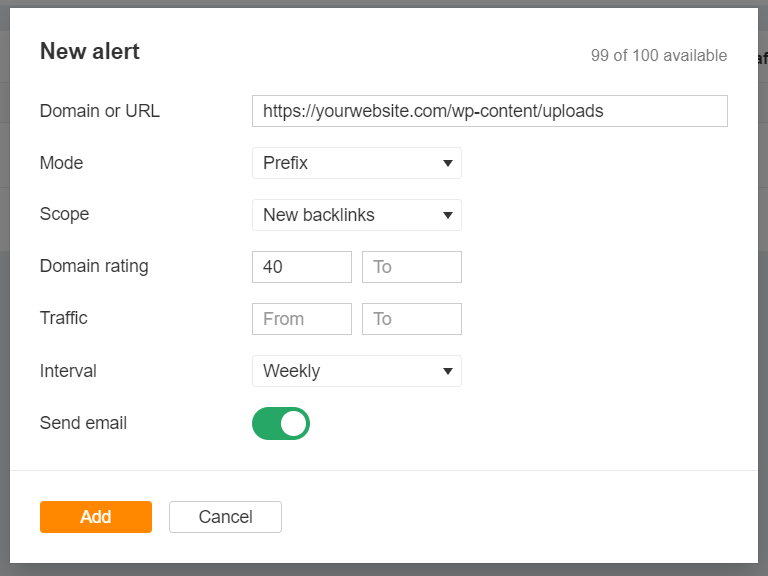 From now on, you'll receive weekly reporting on new image backlinks.
Tip #2: Optimize your images for SEO.
Drive organic traffic and backlinks by making your images rank on Google Images and in rich snippets. Discover 4 tactics to do just that.
Use descriptive alt texts and titles.

Place primary and secondary keywords within the alt text to optimize your image for search engines. Include your brand name at the end to make it easier for other sites to correctly attribute the image back to you.

Use structured data for rich results

—

ImageObject Schema Markup

. This way, you will also be competing for the Image Pack results.
Optimize image file names

. Make them descriptive as alt texts. Add keywords and your brand name. That's crucial because Google uses the URL path as well as the filename to understand your images.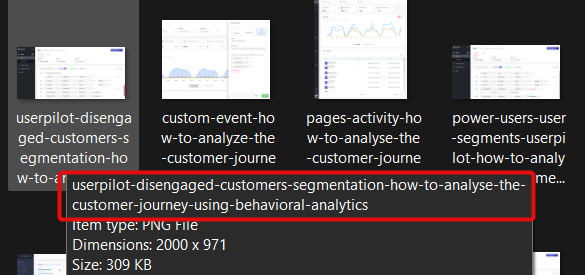 An example of a great filename matching Google Image Best Practice.
Add the image to a sitemap

to speed up image indexing. To include images in your sitemap, you'll need to add specific

<image:image>

and

<image:loc>

tags for each image in your XML sitemap. Google's guidelines on

image sitemaps

provide detailed instructions on how to do this.
Image sitemap example.
Tip #3: Stay aligned with Google Image SEO best practices.
Here's what you need to know about Google's Image Guidelines:
Google discourages your site pages where neither the images nor the text are original content.

Place important images near the top of the page.

Include structured data so Google Images display your pictures as rich results, including a

prominent badge

. For example, a fork with a knife recipe.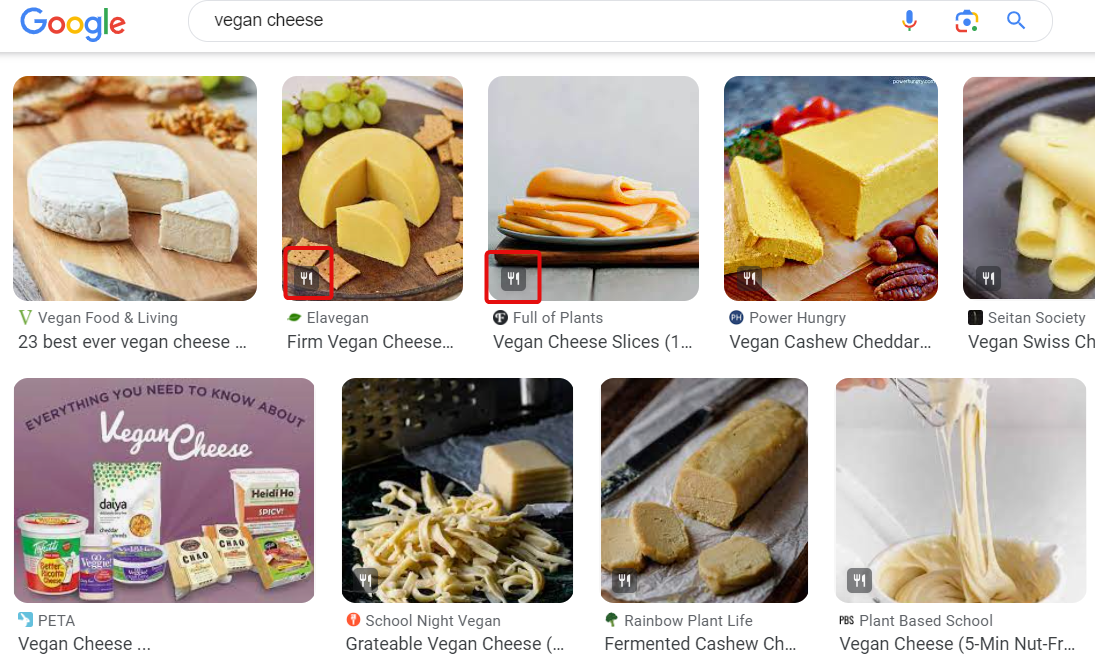 Optimize images for speed. Compress them up to 100−150 Kb.

Use

responsive images

so users from different devices see them in the best quality.
Tip #4: Update and refresh content.
Just like a blog post, images can benefit from periodic updates, particularly data-driven content like infographics, charts, and graphs. Regular updates make your image a reliable resource, attracting more backlinks over time.
Worry not; your backlinks will be in place when you substitute old images because people link back to the URL with a piece of content (i.e., blog posts, certain pages).
Also, use this opportunity to establish relationships with webmasters. Outreach and point out that they are linking to the outdated image and offer a replacement.
Now Over to You
Whenever you add visual content to your site, think of turning it into a link magnet. Optimize every image for search to boost your SEO performance. Deliberately create link-worthy charts and maps. Try to benefit from photo stocks.
If you need a helping hand with your link building campaign, contact Digital Olympus. We'll examine your site and advise a link building strategy to push more revenue-driven pages to the SERPs.