Remarketing is a key component of any digital marketing campaign. There are many ways to approach remarketing. You can enhance and customize your website's conversion rate with remarketing campaigns, which can quickly improve your website's performance. In particular, Google AdWords has a range of useful features that you can implement in your remarketing campaign. Here are a few creative ways to improve your Google remarketing campaign. Let's examine each of them.
1) Segment your audience
Your audience is the most important part of your Google remarketing campaign. It is necessary to target the right audience, as many of your competitors will target a general audience without really segmenting their data correctly.
Google Analytics allows you to create custom segments so you can better target your users. This is a very useful feature, which you can then use in your remarketing campaign.
Target Affinity Audiences:
Affinity Audiences show your ads to unique users based on their lifestyles, buying habits, and long-term interests. Affinity Audiences are more tailored. If anyone browses a specific topic relevant to your niche on any device (mobile, desktop, video, etc.), you can segment this audience by the device they use. Affinity audiences consist of aggregated users who have established a qualified interest in a particular topic.
How to add Affinity Audiences to your campaign:
Click on your ad group and then select «Interest and Remarketing.»
In the drop down menu, select «Affinity Audience»
Target In-Market Audiences:
When setting up a campaign, In-Market Audiences can help you improve your remarketing performance and reach consumers that are close to completing a purchase. In-Market Audiences are those users who are on the market for a product/service similar to yours. By adding In-Market Audiences to your retargeting campaign, you can get more customers by converting users who are browsing for the right product and considering their options, hence they are also those who are most likely to make a purchase.
How to add an In-Market Audience to your campaign:
Click on your ad group and select «Interest and Remarketing.»
In drop down menu select «In-Market Audience.»
2) Create a set of Creatives for each campaign
This may sound simple but can be very effective for your Google remarketing campaigns. Creatives are banners that you use for your display ads in your remarketing campaign. Every Creative sends a unique message to your targeted visitors, and based on that, they will take further action. They may complete a purchase or just visit your website and do some other conversion action.
Let's say you are launching a new product and want to run a remarketing campaign. I suggest setting your first campaign to run for a few months using only a simple creative banner that shows a straight-forward message about the product. That way, you will attract an audience that is interested in your product or service and will respond to your campaign.
After you've reached the right audience with the help of your first campaign, create a second campaign using different banners with some useful product offers. This will give you a better chance of getting more conversions.
3) Retarget users who are on your email list
This is an awesome feature to implement in your Google remarketing campaign. It allows you to retarget users based on the email data you have.
How can you use your email list in your retargeting campaign?
You need to upload your email database in the .csv or .xls format to a shared folder with all the details you need to know about the owners of those email addresses. Using this data, you would need to setup Ad Groups and add them to your Display Campaign. When those existing users are signed into their Google account, they will see your ads when they use services like Google Search, YouTube, Gmail, etc.
4) GSP (Gmail Sponsored Promotions)
Gmail Sponsored Promotions is not new, but you can do many new things with it. GSP has a lot of features that can benefit your remarketing campaign instantly, since they allow to target users based on their email account activity (you can target age, gender, language, device and geography). In GSP you can choose to display any type of an ad: a text, a video or even a click-to-call button, if you want to receive calls from your targeted users' phones right after they saw your ad in their inbox.
It's important to try different types of ads to find the one that works best for your business goals. There are two main types of ads that you are able to find in GSP: expanded ads and collapsed ads.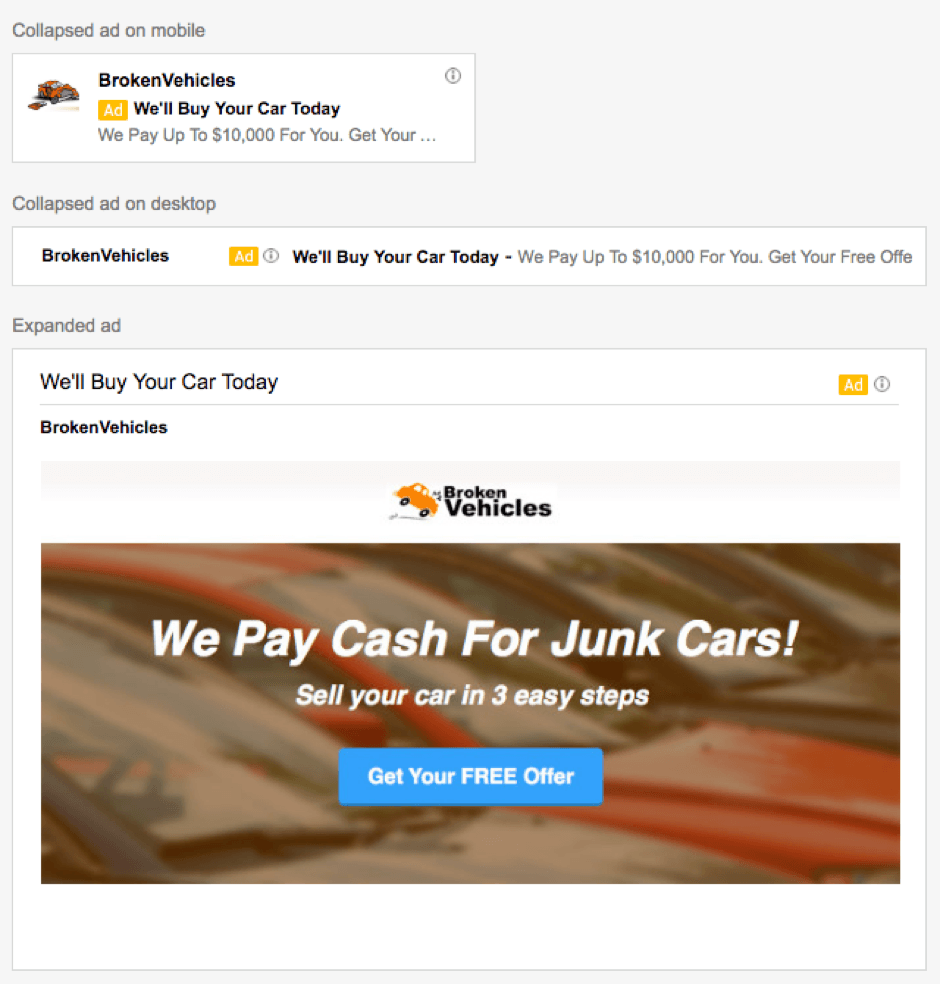 How to create a GSP campaign:
Target the placement of mail.google.com
Create a GSP-specific ad creative
You can target GSP ads by Keywords, Geography, Demographic, Topics, Interest and Customer Match. As you see, there are a lot of options how you can optimize your GSP campaign, so that it will serve your active goals. To discover more ways to better target GSP, click here.
5) Create custom rules
This is a very interesting way to create a remarketing list for your campaign.
You can do create custom rules via your Google Analytics account, which is linked to your Adwords campaign. Under the Audience Tab you can find the advanced operators, with the help of which you can create custom audiences based on different sets of rules.
Let's say you want to create an audience list that will include users who visit particular pages of your website. You can create custom rules to gather those users in one group by using the «And» and «Or» functions in Google Analytics.
To perform this trick, use the following formula:
URL1 AND + URL2 AND + URL3 =
Likewise, you can create audiences based on Bounce Rate, Demographics and many more advance filters.
Closing thoughts:
Google remarketing campaigns are great to include in your marketing strategy. Using the above-mentioned steps will help you take your remarketing campaigns to a new level
---
Hiren Vaghela is a Digital Marketing Consultant and Blogger for Digital Marketing Room. He helps creative digital strategists produce innovative and unique data-driven campaigns. He is also a contributor of Search Engine Journal and Mention. He loves the startup life. When he is not learning everything he can about digital marketing, you can find him at the gym working out. Follow him on Twitter.