Disclaimer:
In this guide, there are no silver bullets, magical how-tos, or secret strategies that will bring you thousands of links. The main idea behind this guide is to share how you can start getting links faster and easier, however, not effortlessly! Most likely, the first month of email outreach won't result in any links whatsoever, but that shouldn't discourage you. It's similar to the sales process that doesn't bring the results starting from the very first minute. But if you do everything right, each month you'll be getting more links than in the previous month.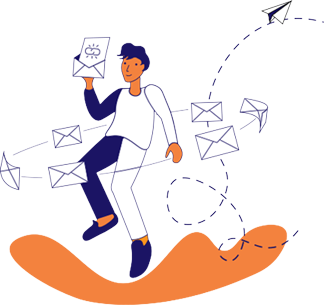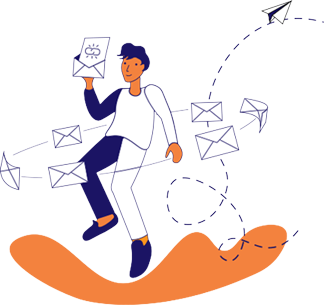 My first experience with blogger outreach was a complete failure. It was around 4 years ago, and the client was looking to acquire links. The project's niche was Edutech, and we've created a super-valuable content for it — a huge comprehensive study. We spent around 2 months on production, and were expecting not less than a flood of links once we start pitching our research to blogs.
The reality couldn't be further from this. We sent a gazillion of outreach emails and built only 2 links. Long story short, the campaign was a huge waste of time. By the way, one of the main lessons that I learned from that time was to stop working for free. Our initial agreement with the client implied that they were paying us post factum for the number of acquired links. And in this case, it was a big business mistake, but that's not the point.
If you've never built links via email outreach before, you need to get ready for it by all means possible and learn as much as you can to avoid the most typical mistakes.
First of all, you need to toughen up and get ready for rejection, because there will be a lot of it, especially in the beginning.
I want to be 100% honest with you: email outreach is a hard, very time-consuming process. It can't be stressed enough: when people preach this technique they forget to mention how much time, effort, and emotional investment it demands. But the outcome is totally worth it. The relationships that you build pay off in the long run and the quality of links acquired through email outreach is the highest.
Link prospecting is the art of finding opportunities for link building. It is the first and foremost skill of a link builder with all the future success of a campaign relying on it.
I don't think that traditional methods of link prospecting are very effective but they surely are widely popular. The number of outreach emails that hit my mailbox on a daily basis only confirms that. I'm assuming that they deliver somewhat satisfactory results otherwise people wouldn't appeal to them so often. Even we sometimes circle back to these strategies to find new link building opportunities for clients that have already built thousands of links.
Plus, I highly recommend giving traditional methods a try and then compare them to «the smart link prospecting methods» to feel the difference: the latter allows you to acquire links faster and easier.
Traditional methods
Once, I received an outreach email copy that was inviting me to join a round-up of wedding planners. Even though not that long ago before that I'd been organizing my own wedding, this email was immediately marked as spam. So, to avoid being labeled as a spammer, you need to send emails ONLY to the relevant sites that publish content similar to what you're about to pitch.
The methods that are listed below are not the only ones that exist because, honestly, «catch 'em all» wasn't on my radar. I simply want to give you an overview of the most popular strategies and, what's even more important, how exactly you can take advantage of them.
Traditional method № 1. Scraping the SERPs
(

with the help of free and paid tools)

Google SERPs is a huge library of various resources where, knowing the right combination of search terms, you can find basically anything. Even gated content that websites only allow you to download by leaving your email can be found if you know the right search operator.

Here's how it works. On this page, users can download a study by filling in a pretty elaborate contact form. But if you use this search operator, the link to the .pdf file will be in the top search result.

Link building means getting a link from one piece of content to another one, so your first task is to find all content pages that you could get a link from. The fastest way to find it is by scraping the SERPs. Additionally, when you do so, you won't accidentally capture deindexed pages. For example, penalized sites can still be featured in round-ups and listings, but pitching to them makes no sense. Not only they receive no organic traffic but they're also toxic to your backlink portfolio, so it's better not to have a link there at all.
Step 1. Putting together the list of search operators
Scraping the SERPs starts from pulling together a list of search operators. A search operator is a line of text with your target search terms that works as a command to the search engine to show you only the pages with specific parameters.
Let's say your target search term is «email outreach». Then, the search operators to use should be:
Inurl:email-outreach. If you use this operator, Google will show you the pages that contain the phrase «email-outreach» in their URL address.
Intitle:email outreach. By using this operator, you'll see the pages that contain «email outreach» in their title.
To find your niche guest blogging opportunities, you can use the following type of operator:
«[your keyword]» (intitle «[write for us]» OR intitle: «write for me» OR intitle: «guest contributor»).
Here's an example. Let's say you're looking for guest blogging opportunities on websites that write about SEO:
«SEO» (intitle:"write for us" OR intitle: «write for me» OR intitle: «become a contributor»)
By typing it into the search line, you'll get the list of pages that have the word «SEO» in their title and that a mention of providing a guest blogging opportunity in any form.
You can also try the following phrases in page titles:
guest post guidelines
guest post
blogging guidelines
guest post guidelines
guest column
submit a guest post
accepting guest posts
contribute to this site
Another way to find websites that accept guest blogging is it to see where other industry experts contribute. Here's a search operator to use:
«[your keyword]» (intitle: «[expert name]» OR intitle: «[expert name]» OR intitle: «[expert name]»)
Let's say, you're looking for the websites that have published the posts by Ann Smarty, Julia McCoy, Andrew Dennis or myself:
«SEO» (intitle:"ann smarty" OR intitle:"julia mccoy" OR intitle:"alexandra tachalova" OR intitle:"andrew dennis")
These are just a few examples, so feel free to try your own combinations. And if you don't want to rack your brain over what operators to use, check out this study: its authors put together a list of 10 000 possible search queries for any link building campaign.
Step 2 Collecting the data
After you've built a list of phrases and search operators, it's time to scrape the SERPs. Here's where things get tricky. Technically, you can copy and paste each resulting URL into a spreadsheet, but that doesn't sound like fun, does it? Here are your options.
Scraping by using FREE tools
Free tools, however appealing they were, have one major flaw: quite often, they simply don't work. Let's leave it to the discretion of the software provider, but that's the reality that we have to work in.
All the tools that I'm listing here have been manually checked by myself, so I can guarantee that they are reliable and actually 100% free.
SERPs Scaper from URL Profiler
As any free tool, it comes with a good number of downsides. Among them is mandatory desktop installation. If, like me, you prefer to use cloud solutions, this option might not be your best choice.
After you install this software, you can start scraping the SERPs. The tool's main limitation is that it displays only 100 URLs for each search request. The SERPs Scraper tool supports several countries including Canada, Australia, UK, and a few others, so you can get country-specific results.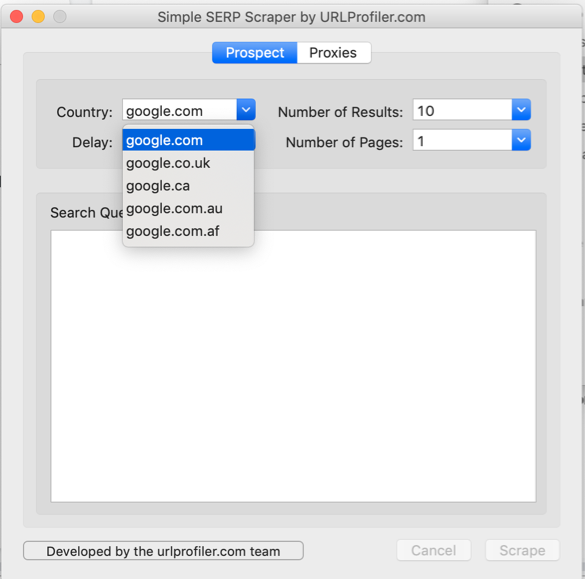 All the data that the tool scrapes from Google will be served to you in a .csv file.
This one is my personal choice. Besides providing the URLs, it also shows several other page parameters such as the number of backlinks and the amount of organic traffic for each scraped page. Both metrics are taken from SEMrush.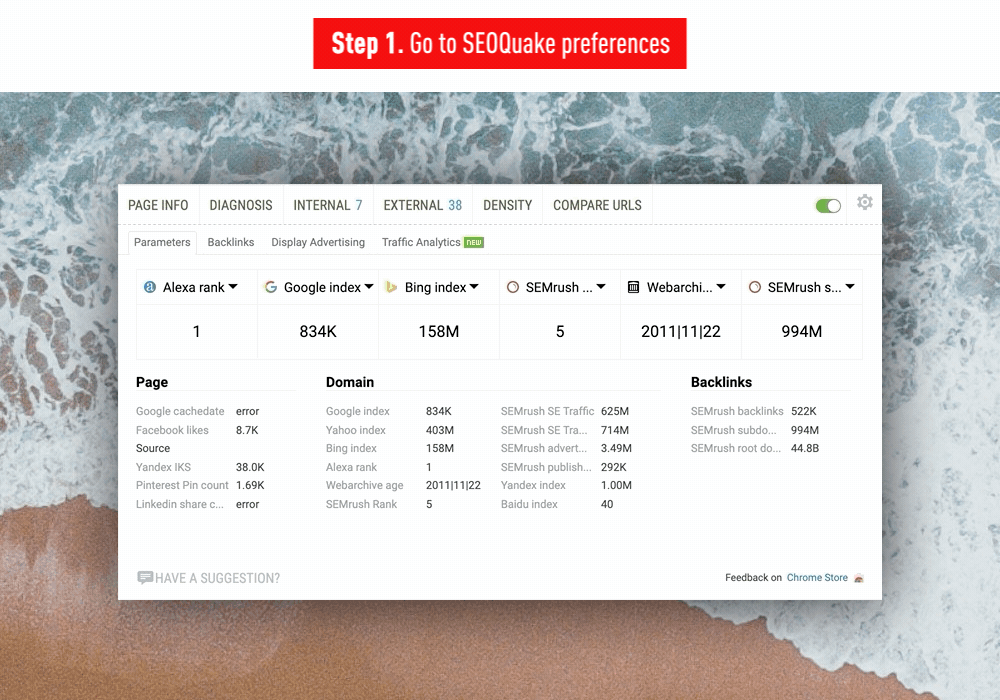 The only thing you need to do before starting the process is to set up your browser to serve 100 search results per page. To do this, click on Settings and then go to Search Settings.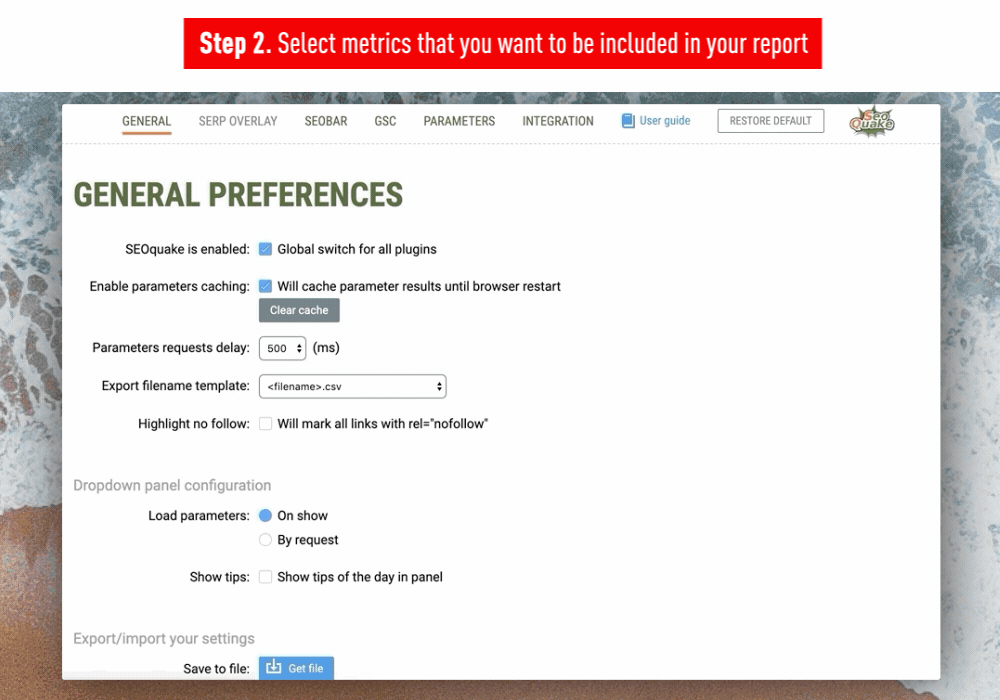 After this, tap the selector «Results per page» and set it to 100.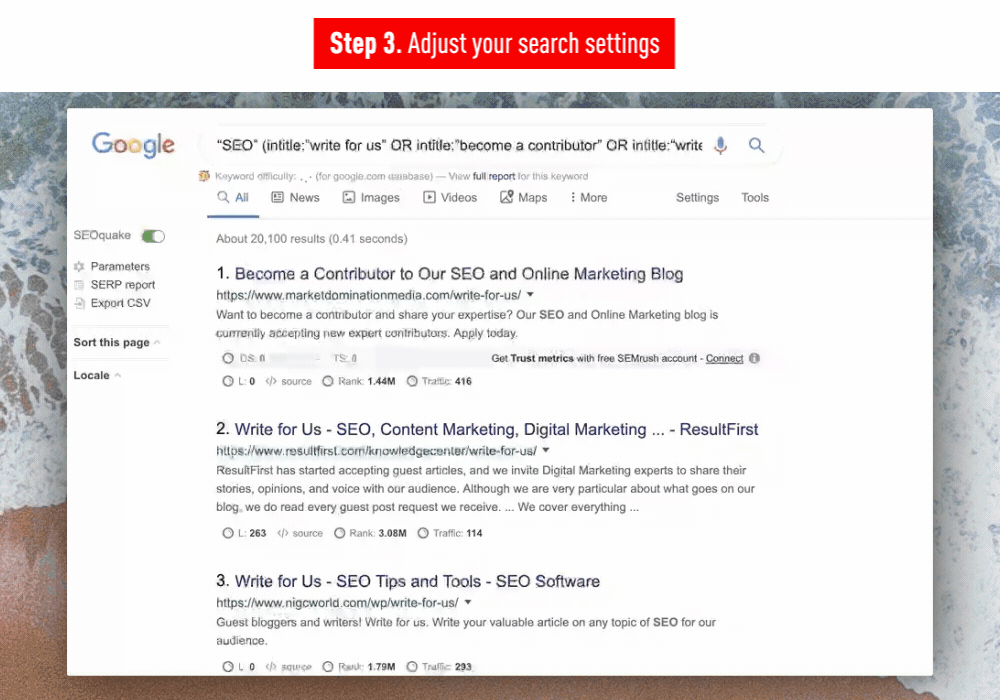 Finally, you can click on Export CSV in the tool and check out what kind of pages it serves you:
Hint: you can select the page creation time range to only see the pages that were created within the last 24 hours, week, month, etc. This way, you can choose to analyze only the fresh content.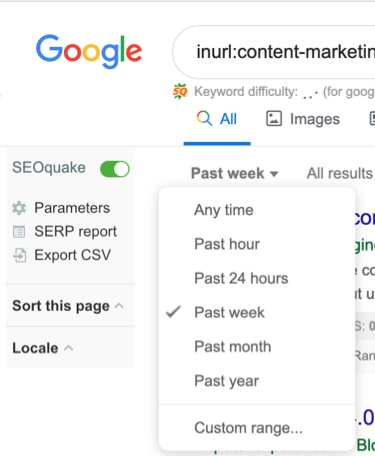 Scraping by using PAID tools
Paid tools have one major benefit: they are maintained by the developer and are generally more reliable. Here are a few tools that I tried and found quite handy and can personally recommend in this guide:
This is also a desktop installable tool, which I am not a huge fan of but it's very affordable and has a powerful functionality. This could be a perfect match for people who used to be in love with DOS and like the command line interface.
In it, you can basically create as many requests as you want, and this is how it should look:
https://www.google.com/search?q=inurl:content-marketing
Feel free to use this formula to create a list of your own search requests with your target keywords:
="https://www.google.co.uk/search?q="&SUBSTITUTE (your keyword," «,"+»)
And `here's a template that you can use to automatically turn your keywords into a search query with parameters.
If you need more info on how to set up this process, there's a good post that explains everything in detail.
This option works well for those who know how to code or have a developer that's ready to help. The tool provider gives you access to the SERPs through API, so you can collect literally any data from the SERP with it.
It's worth mentioning that compared to other tools, this one is extremely affordable as they only charge you $ 1 USD per Google request, so for a $ 100 USD you can analyze 100 keywords.
This tool is a good alternative to Screaming Frog and is even cheaper. You can get lifetime access for only $ 67 USD which is a great deal. Besides scraping the SERPs, you can also use this tool to scrape websites to find specific content pages on the industry blogs.
Pitchbox is an email outreach software of the full cycle. Besides scraping the SERPs, it also finds all the contact information, including email addresses, on the associated content pages. Moreover, it allows you to sort the resulting pages, set up outreach templates and schedule follow-up email, and manage your whole outreach campaign in one place.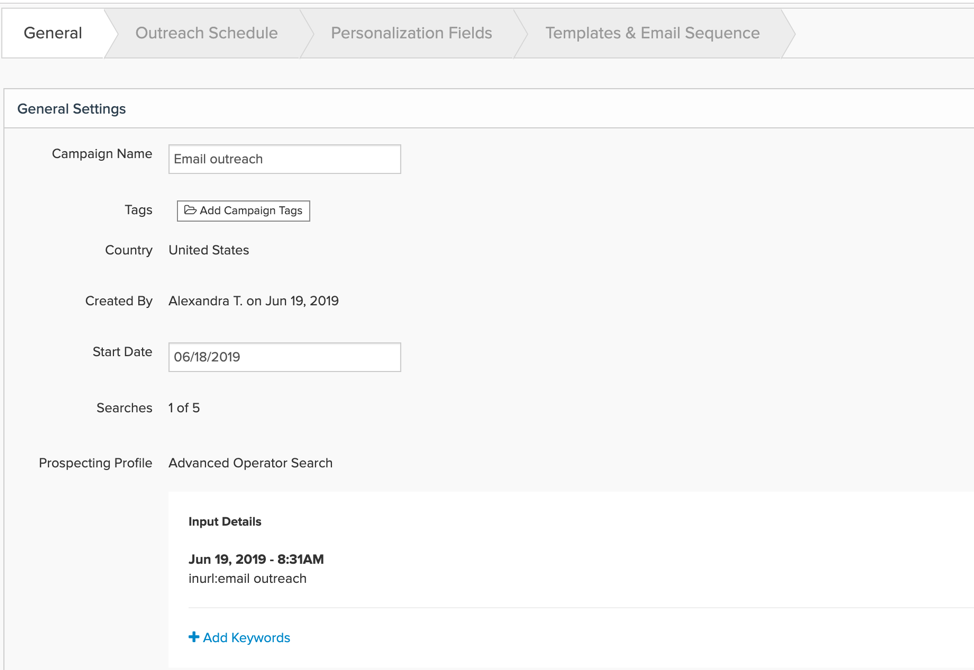 The only downside to Pitchbox is that it's quite pricey, so it will hardly be a match for a beginner. Big agencies, on the other hand, would benefit from it tremendously.
Traditional method № 2. Searching for broken links
Another widely popular link building strategy relies on finding broken links on the websites with the content that's relevant to your pitch.
A broken link is the link that, plainly speaking, «doesn't work». It either returns a 404 page or doesn't open.
Frankly speaking, I don't believe that this strategy can bring you tons of links, because in online marketing, links are some sort of a digital currency. People don't randomly link to other websites, they only do it on purpose. So, if a link is broken and you alert the website owner, it doesn't give them much reason to link back to your site. Plus, your content should really deserve their consideration, because, trust me, the majority of online content is not even worth to be checked out.
Finally, always double-check what kind of content was on the «broken» page. To do this, use the Wayback machine to see what content it featured. Only then you can add the page that linked to it to the list of your prospects.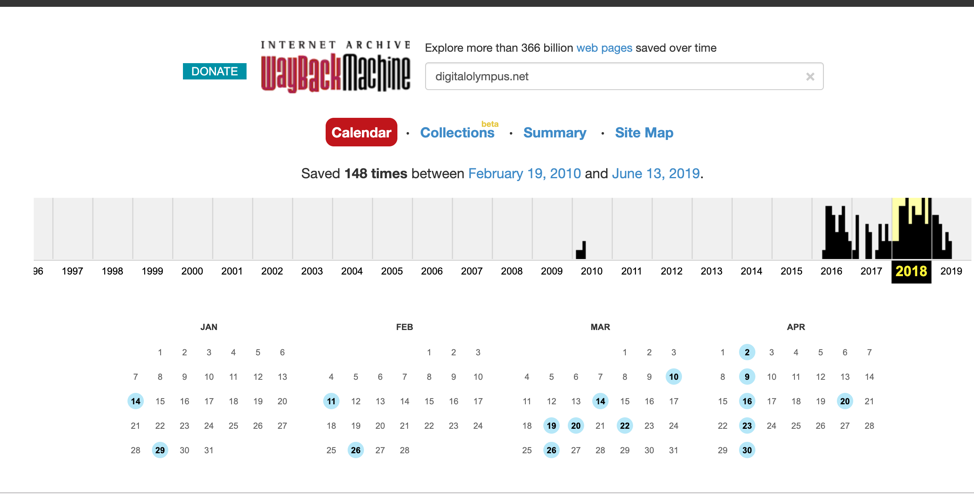 If you're not a fan of manual work, tools like Ahrefs or Majestic can help you effortlessly collect all the broken pages for any selected domain. The biggest downside to this tactic is that you need to have to prepare a list of sites that you're going to analyze as these tools don't allow you to find broken links just by searching through your niche SERPs.
There's however one tool that can help. Broken Link Builder allows you to select the keywords that should be present on the pages that include a broken link. This logic makes much more sense as you don't need to check each domain manually and can pull the list of pages that are relevant to your pitch.
Hint: Always double-check that a link is really broken. I personally caught tons of links that Ahrefs and other tools reported as broken even though, in fact, they were functioning just fine.
The last option is to go with a free Chrome extension, Broken Link Checker that analyzes an active page for broken links. This process is quite time-consuming as any other «brute force» method. It could be useful, though, if you're investigating a page with a lot of outbound links: a roundup, a resource page, a listing, etc.
Traditional method № 3. Analyzing competitors links
Sites that are linking to your rivals are very likely to be a good link building target. Backlink analysis tools like Ahrefs, Majestic, Moz, SEMrush, CognitiveSEO, and LinkResearchTools allow you to analyze any domain backlink profile and collect a list of prospects.
But here's a tricky part. Some domains have huge backlink profiles with thousands of backlinks and it's just impossible to analyze all of them. Here's a workaround to this issue:
Use the Ahrefs report «Best by links» to uncover the best pages by the number of referring domains. Moving further, you can search for relevant pages directly in this report or use the export feature.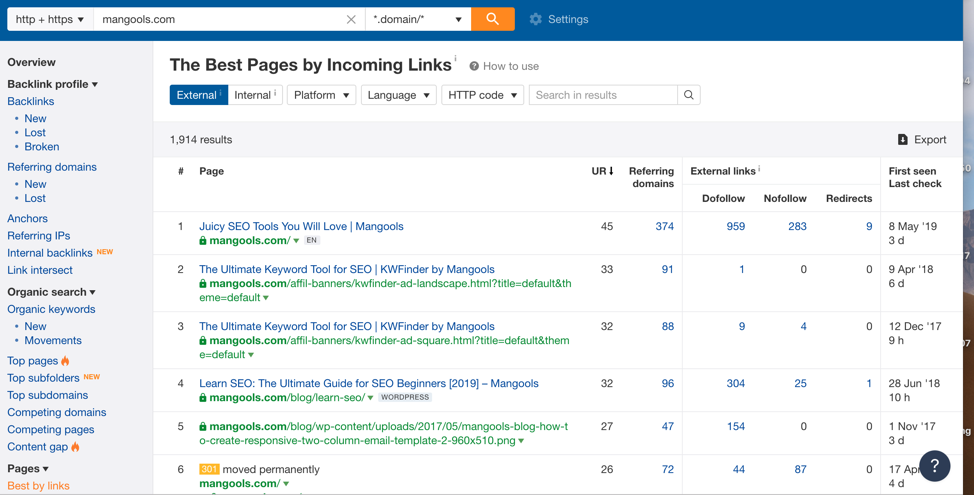 Next, you need to apply filters to select the websites that are relevant to your pitch topic and among them choose the pages that link back to your competitors' sites. In this example, I looked up all the pages that link back to a particular page at mangools.com: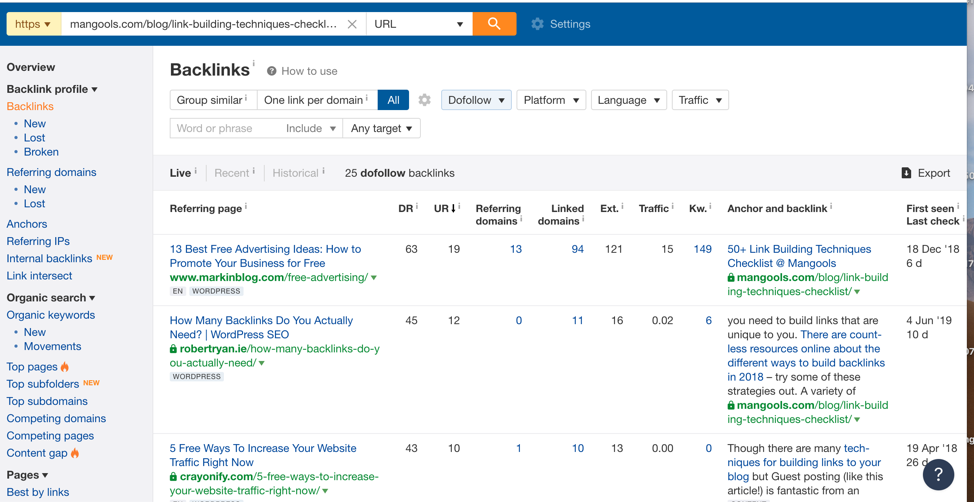 The pros and cons of traditional link prospecting methods
These are the most popular traditional link prospecting methods. I'll leave the decision about their efficiency to you: after all, the devil is in the detail, and what didn't work for another company, can bring great results to your site due to your own efforts and your niche specifics.
Let's just sum up all their pros and cons.
On the bright side, traditional link prospecting methods have been long in use by thousands of marketers, so their outcomes can be well predicted. If you have unlimited time resources and are ready to invest it in your campaign, chances are you'll acquire a few quality links.
However, that's not always the case, especially for solo practitioners and small agencies. Traditional link prospecting lands you with «cold» contacts, i.e. you'll be reaching out to people who have never heard about you or your site, so you're very likely to be rejected in the majority of cases.
Smart link prospecting methods
Now, let's look at what else is out there. As I've already mentioned, I don't think that traditional link prospecting is very effective: it takes a great deal of time and has little chances to land you a link.
Broken link building, SERP scraping, etc. have one major flaw: they are very impersonal. These strategies focus on finding relevant sites, but don't secure the communication line. Even if you find the greatest fit for your pitch, the site owner might think otherwise. If they have never heard about you, why should they engage in communication or, what's even more, link back to you?
In his recent study, Brian Dean uncovered that an average response rate of an outreach email is only 8,8%. Considering that not every response results in a link, can you estimate how many of those emails you'll need to send in order to build just a handful of links? My guess is thousands. So, what's the workaround?
The answer is simple (but not easy). Your link prospecting strategy should focus on two factors:
Relevancy. Your content should be laser-targeted at your link prospects, it should fit their blog as if it was a part of their editorial calendar to begin with.
Trust. People who have heard about your brand are more likely to respond; if they follow you on socials — even more so. And if they worked with your company and had a positive experience — that's a jackpot.
Once these two factors meet, people become super responsive and are happy to team up with you on a link building side. Just as an example: with prospects like this, we manage to build links within an hour, completely hustle-free.
So, are you curious to know how to pull together a list of such prospects? Worry no more, here they are.
Check your circles
Thanks to your marketing and sales efforts, your brand must have a network of partners and customers, so why not look for link prospects among them? Your social media following is another place to look for opportunities.
Review your subscribers, clients, and partners
First of all, you need to assemble a list of prospects. If you have a CRM system, just export your client's contacts from there. If you don't collect their website's names, a good number of emails are corporate so you can check the domain there.
Getting the domain name from the email address is quite simple in MS Excel. Select the column with email addresses and choose Split to columns from the menu. To separate the part that comes after @, choose the option Other: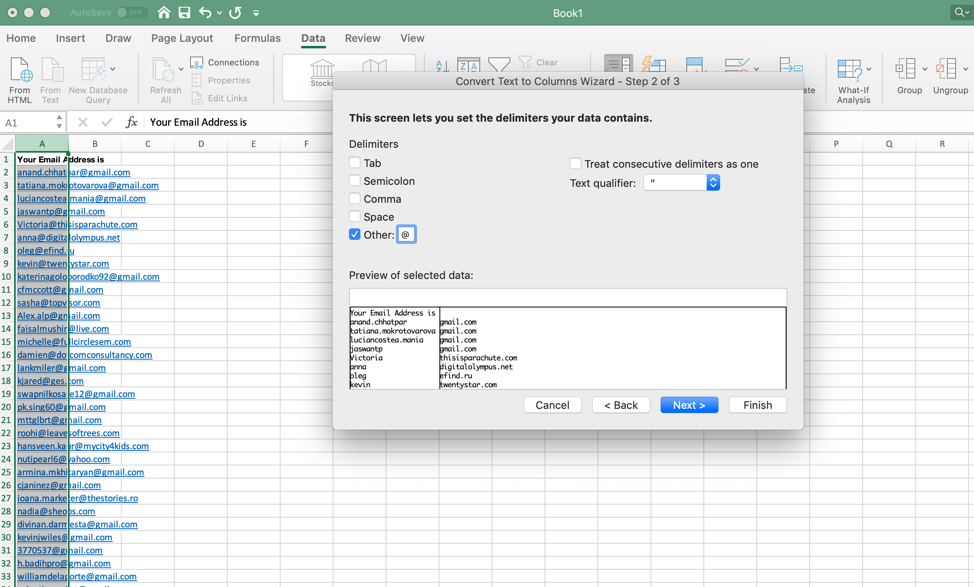 When your column is split in two, you need to clean up the domains' list. First, get rid of the doubles and free email domains like Gmail, Yahoo etc.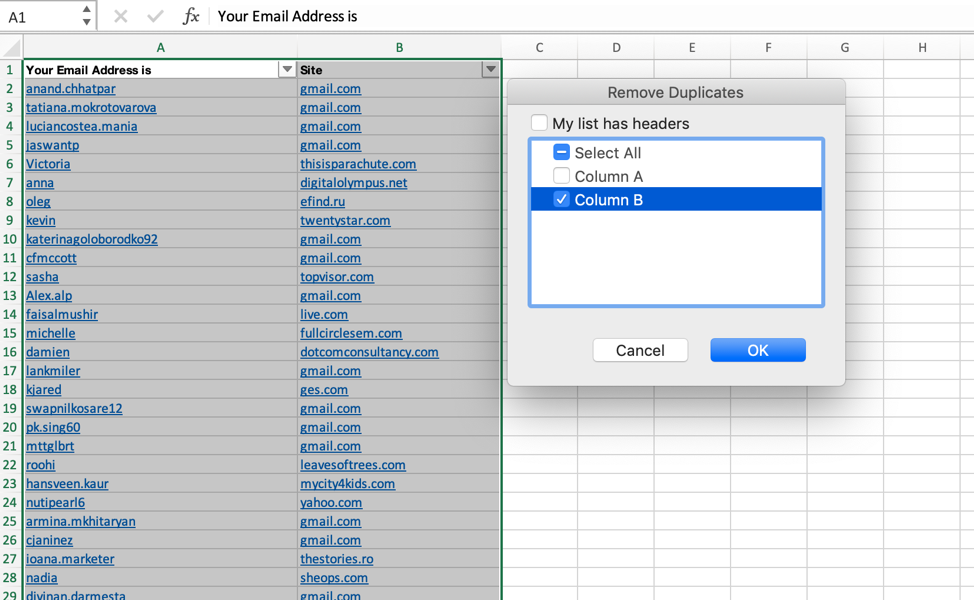 Take the list of free email domains and use the Vlookup formula:
=VLOOKUP (B2;Sheet2!A:A;1;FALSE)
In this formula:
B2 — the cell containing the domain taken from the email address
Sheet2!A:A — the list of free email providers that I added to a separate sheet
1 — the number of a column from the Sheet2
False — the parameter allowing to delete the address once it matches the one from the Sheet2.
Next, select all the resulting cells, apply the Vlookup formula and paste them as Values as specified in the screenshot below. All you need now is to filter the column and delete all the found lines.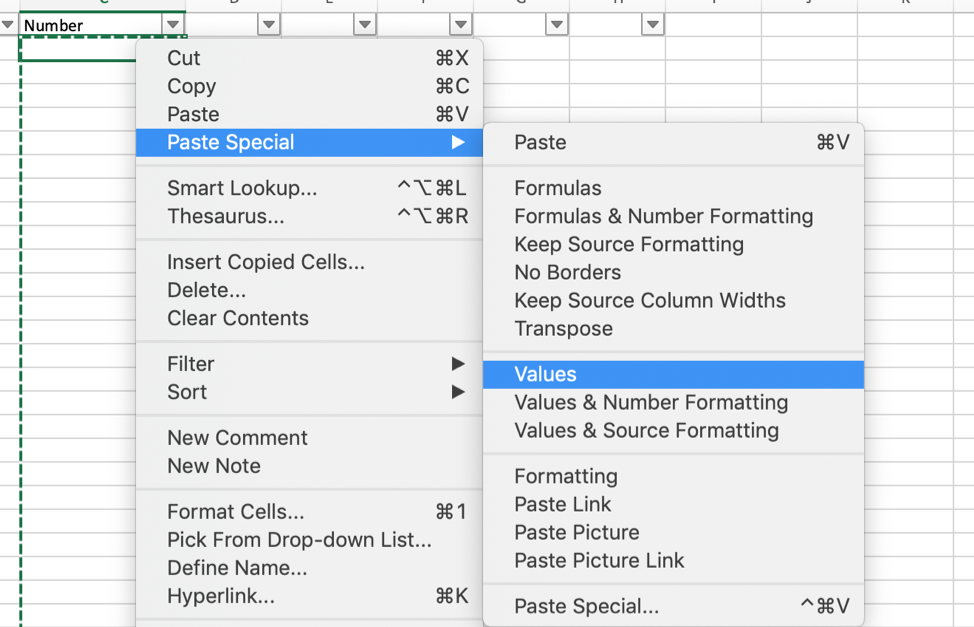 Now that you have a list of addresses, export it to Majestic Bulk, which allows you to categorize the websites by niche.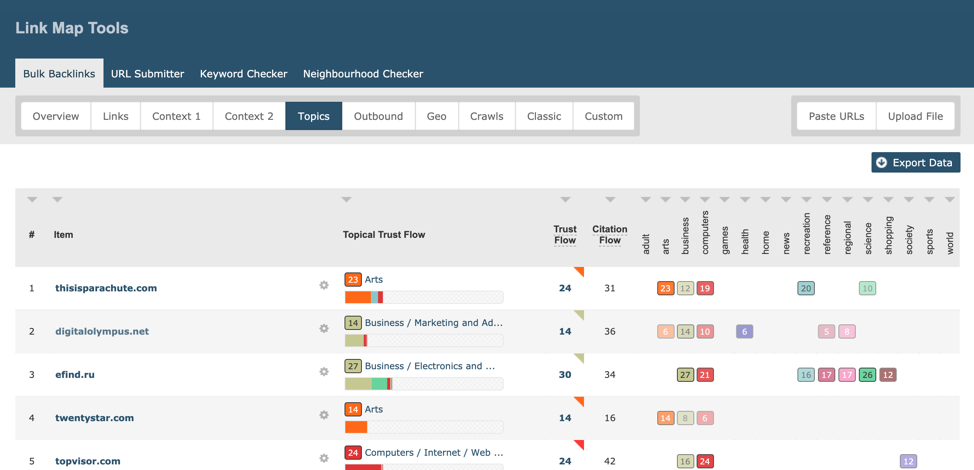 Hint: Double check the website category as sometimes Majestic shows it wrong. For example, here Accuranker.com fell under the Arts/Music category.

Ahrefs has a similar tool in their kit. It doesn't provide website categories but can show you their organic traffic. I usually take advantage of it after I sort the websites by relevancy and the number of backlinks.
Social media followers
The followers of your social media channels are usually much more responsive than strangers. Obviously, if they follow you, they have some sort of interest in your brand so there's no need for lengthy explanations should you decide to reach out.
However, as it always happens in online marketing, there are a few tricky moments. Facebook and LinkedIn don't fully disclose the list of people who have liked your page. Officially, that's due to their privacy policy, which is logical. However, rumour has it, that's just to masquerade the fact that the majority of pages, even quite popular ones, have an army of bots among their followers.
There's still a workaround for Facebook: here, you can see who has liked your page during a certain period of time. To see it, go to your brand's page and open the Notifications tab. Then, click the «X liked your page» notification.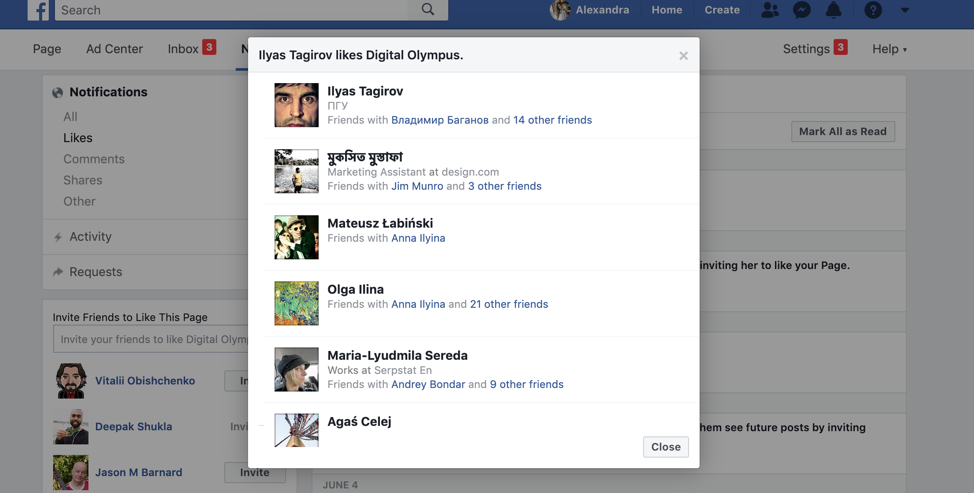 Finally, both social media platforms show you who has liked or shared your posts. It does require some manual work, but the result is absolutely worth it as people who engage your content are one of the most responsive groups.
On LinkedIn, it's also quite convenient to connect with people once you see that their company or position title are relevant to your pitch. Here's how I found out that Laura from the Verve Search liked our LinkedIn post, so here I am, sending her a connection request.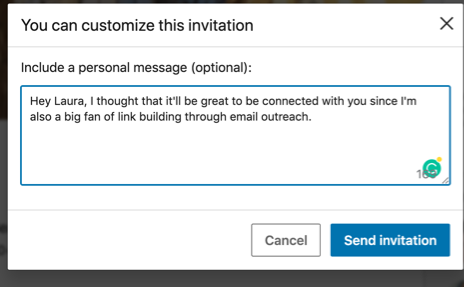 Learn more about people who have ever mentioned your brand before
People that have ever mentioned your brand in their guest post combine another interesting audience category. To find them, you need to start tracking your brand mentions on a regular basis. The easiest and cheapest way is to use Google Alerts. However, you can also utilize paid tools like Mention, Brand24, SEMrush or Ahrefs. Once you spot that a mention is made by a guest contributor, you need to act on it.
Go to BuzzSumo and search via the author's name: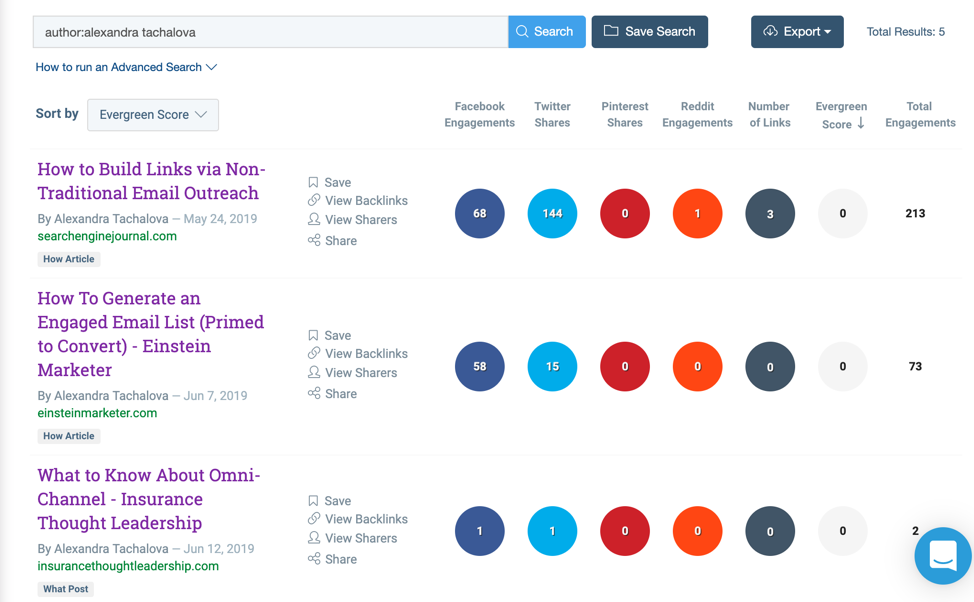 If they mentioned you once without any additional effort from your side, there's a high chance they will be willing to do it again if you ask them to. Very often, people contribute to multiple blogs, so if you manage to establish a relationship with 10−20 od such writers, you'll be showering in links in no time.
(Not really 🙂 have I ever mentioned that getting links is hard?)
Industry groups and communities
Another source of link prospects are the industry groups that you're a part of. I especially love Facebook closed groups because of their expanded functionality. There, you can see a list of group members as well as join an engaging conversation and then reach out to the people who were also a part of this discussion. I'm a member of several closed Facebook groups and some of them are really engaging. Your goal is to find a group with a lot of lively discussions — that's the kind of environment where you can establish a connection with link prospects.
Hint: Besides Facebook groups, each industry has a number of private (and sometimes paid) communities that are focused on sharing experience and education. In digital marketing, it's Zest.is and Traffic Think Tank. Members of such groups are super responsive and eager to partner up when it comes to building links.
What's next?
When starting an outreach campaign, marketers often underestimate the power of connections. Looking for outreach targets, they completely disregard their already built network like partners, customers, and social media followers. But that's in fact one of the richest resources for link building.
Yet, it's not to be forgotten: for an outreach campaign to result in links, the targets should be properly evaluated and filtered to only leave the opportunities with the highest success potential.
Filter out irrelevant sites
Not every site is worth including into your prospects' list. When you do link prospecting, you surely don't expect your targets to get banned by Google the next day. But the sad truth is that many websites use doubtful promotion tactics, and it would be a waste of time to be trying to get links from them.
Plus, it's not always about the toxicity of their methods. Some websites simply don't allow the possibility to get a link there due to the nature of content that they publish or the arrangements that they have with their authors.
Let's explore the main types of websites that are not worth your attention in terms of outreach.
1. Domains with DA lower than XX
The actual number depends on the analytics tool since the metrics and calculation algorithms that each tool uses are different. For instance, digitalolympus.net has a different domain authority in the four most popular tools:
Moz — 37
Ahrefs — 49
Majestic — 38
SEMrush — 40
Personally, I prefer to use Ahrefs and I usually disqualify all domains with the domain authority (in Ahrefs it's Domain Rating) lower than 30.
2. Domains that have zero organic traffic and keywords
If you're working with domains with DA higher than 30 by Ahrefs, they will most probably already have some organic traffic or at least appearing in the top 20 search results by a good number of keywords.
But in case you want to expand your margins, make sure that the website that you target gets at least some organic views. You can check it with the help of Ahrefs, Majestic or SEMrush bulk checker up to 200 URLs at once.
3. Domains with spammy link profiles
Normally, to run a quick check on a website, I open the list of all its referring domains and sort them by domain authority. After that, I can easily figure out whether its backlink profile is relevant to my niche or not.
We've witnessed a few times how white-label businesses purchased domains within their niche and redirected all those sites back to their pages. Generally, I don't consider this a safe tactic, so websites with not 100% exactly matching backlink profiles should also be excluded from the list of your prospects.
4. Guest posts (since their authors rarely have any control over the content after the publication)
From time to time, I receive emails where people ask me to add a link to my already published guest post. Guys, this is just stupid. An author has no control over the publication after it's been made — we simply can't edit the writing even if we wanted to. What's even more ridiculous, some of the outreach rock-stars try to pitch me their guest posts sometimes.
There's a small exception here that is worth being mentioned. If you decide to go with a smart link prospecting approach, you shouldn't exclude guest authors completely. These people are a real gem because most of them write for many sites. It makes sense to check the websites to which they contribute with the help of BuzzSumo and label them as your top-tier prospects.
5. Competitor websites
Don't be surprised when I tell you that this happens all the time: websites are trying to get a link from their competitors. We have a link building partner that once received an email from their direct competitor with a similar request. The company that sent that outreach email was Mailchimp. So, a Mailchimp employee asked whether their rivals could allocate a link back to them in one of our partner's pieces. By the way, in exchange of a link they were offering their branded socks. This could have been not a bad deal, even though the average price of a link on a high-quality site costs around $ 200−300 USD. Should I mention that the socks are worth like 5 bucks?
6. Websites that have already linked to you before
This might not be as obvious for many marketers as other no-nos, but that's true. Once a website has allocated a link to your site, they are very unlikely to get into trouble to do it again.
To exclude those sites from the list of your prospects, just export all of your referring domains from Google Search Console and using the VLOOKUP formula compare it to your prospecting list.
That's not the end, that's the very beginning
Link prospecting is one of the most important stages of email outreach. The quality of the resources that you select for your campaign directly impacts your future course of work and your chances for success.
Make sure to invest enough time on checking the website's relevance, quality and all the other factors that I've mentioned in this chapter. Your goal is not just to get as many links as possible. It is to enrich your website's backlink profile with high-quality links that will help you get more traffic.
One of our clients recently reported an increase of traffic to his commercial pages after we've helped him make as little as 20 new links.

Now that I've unveiled a few link prospecting tips, get ready for the next chapters. This is only the beginning of your email outreach campaign, and we have lots of work ahead of us!
A lot of people ask me «Alex, which aspect of link building takes you the most time?» and my answer often revolves around link prospecting. I find it among the toughest and most time-consuming exercises of literally any email outreach campaign.
If you've ever done it, you know very well that it takes an astronomical number of hours, not to mention that it's quite a repetitive and boring task. And once you've finalized the link prospecting stage and have a list of sites — you can't wait to start sending emails and building links. What happens next is that you don't want to spend a single minute to personalize your messages and ensure that your pitch will hit the right inbox — what you want are your eagerly awaited links and you want them now.
And this is one of the worst things you can do. Just because you've spent loads of time on link prospecting, it doesn't mean that you shouldn't invest the same amount of time and effort in finding the right contact and personalizing your pitch. Sending non-personalized emails to the wrong people will lead straight to zero links. From my own experience, sending generic emails to what might not be the right person is among the top reasons why your email outreach campaign will fail badly.
To make it easier to understand, let me give you a quick analogy. Have you ever faced a situation when you've been messaging or calling to the wrong person by mistake? Was this person really eager to help you? My guess is that this person wasn't really keen to communicate with you.
Long story short, the same goes for email outreach. Think about it — you're trying to ask someone who isn't responsible for this area of expertise to invest their time into making a random stranger's life better. It's not rocket science that most people won't really be excited about the extra work and will pretend that they've never received your message.
To increase your chances of getting a response, after all, I will teach you how to ensure that your email hits the right inbox and what kind of prequalification you need to complete to ensure high chances that your email won't be left unnoticed.
3 tried-and-tested ways to find the right contacts to connect with
If you do a simple Google search, you're likely to find those ridiculously long lists of ways to search for contacts. Instead of listing every possible way (many of which don't work anymore), I'm going to share only the ones I've personally tried, tested, and used on a daily basis to do my own outreach and link building. Here are the top 3 ways to ensure your outreach email doesn't get blatantly ignored by the wrong person. By applying the tactics below, you will ensure reaching out to people who actually can help you with your link building efforts.
1. Use the company's LinkedIn profile to see all the employees

Another approach that I take when I'm not completely sure whether a person I'm trying to connect with is 100% relevant to my campaign is simply asking who will be the right person to chat about link building. Unlike many other similar situations when you're asking a complete stranger for a random favor, this works pretty well, simply because you're asking just for a name. Also, in many cases, people will help you as this gives them a sense of contributing to their own company in a way.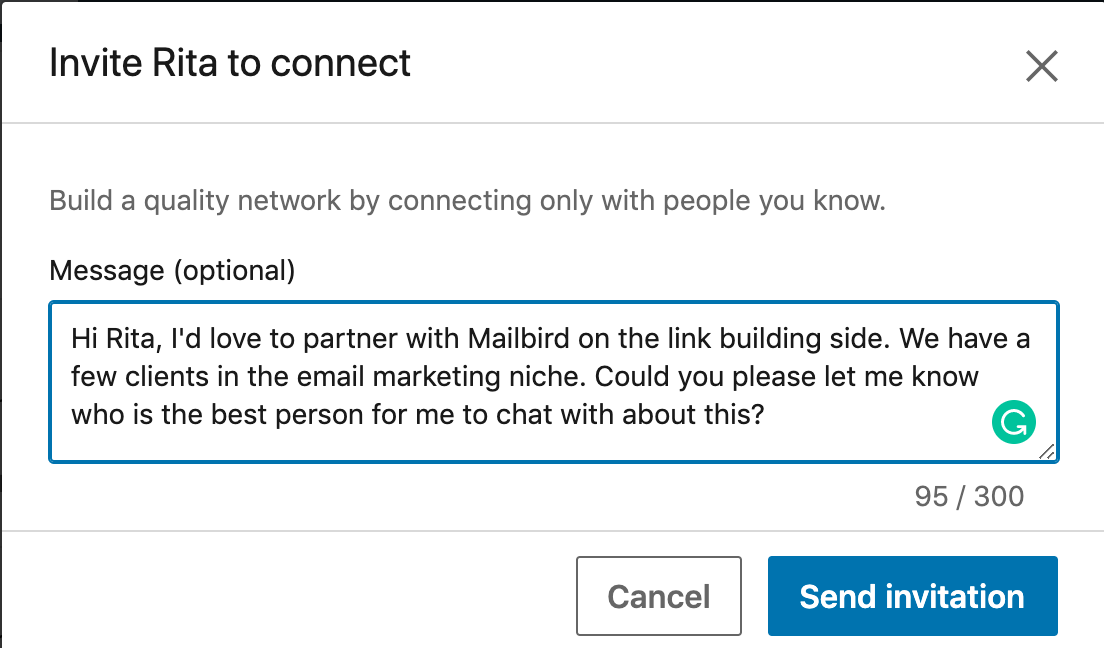 As you can see in the screenshot above, Rita knows exactly who I am and what I need, right from the very start. If she accepts the invitation, the chances are high that she will respond as well. By now, you probably got it that I just love using LinkedIn to connect with people of interest! But after LinkedIn, my second favorite source of contact information are blogs. Keep on reading to find out how you can easily scout them for contacts.
2. Review blog contributors
LinkedIn is a great way to find and connect with your email outreach contacts, but like everything else, it comes with a good number of downsides. One of the biggest disadvantages is that you need to have quite a large number of connections within your niche to see all contacts. Another limitation is that once you start doing too many searches per day, LinkedIn automatically puts a limit on your actions. This is why you need to combine LinkedIn with other contact sources, including reviewing company blogs for contributor information. The good thing about this strategy is that while you're browsing a blog you're also learning about the type of content they're interested in. Also, I've noticed that referring to a particular post in your initial outreach email works like a great trigger and helps you get more replies. However, keep in mind that among post authors you need to find those that are somehow related to content promotion and SEO. Also, what you need to avoid at all costs is reaching out to a guest contributor that has no control over the content. I've seen it happen more often than you'd think — link builders trying to engage with guest contributors only to fail miserably. There's a small hack that I rarely see marketers taking advantage of — you can connect with guest contributors to ask about the name of a blog editor. Obviously, they've been in touch with this person as their post was published so they are the best person to point you in the right direction. In case you don't manage to get directions from others, after all, it's time to rely on tools built specifically to help you search for contact information.
3. Use email finder tools
The thing I like best about email finder tools is that they are very straightforward — you feed them what you already know (domain, first and last name, etc.) and they do the magic to return the information you need (email address).
There are tons of tools out there that can show you a list of email addresses of employees associated with a particular domain name. Honestly, I don't have time to review each and every one as I'd rather spend this time writing some useful content to share HOW exactly you can start building links. But if you're on a mission of finding your perfect email finder tool, here's a solid post from Robbie Richards where he asked 80+ experts to share their fav tools to find contact information.
Currently, my number one go-to tool is Hunter.io as it shows job titles as well as the most common pattern based on which emails are created in a particular company. For example, as you can see below, people behind Hunter. io assign email addresses to their employees by their first name.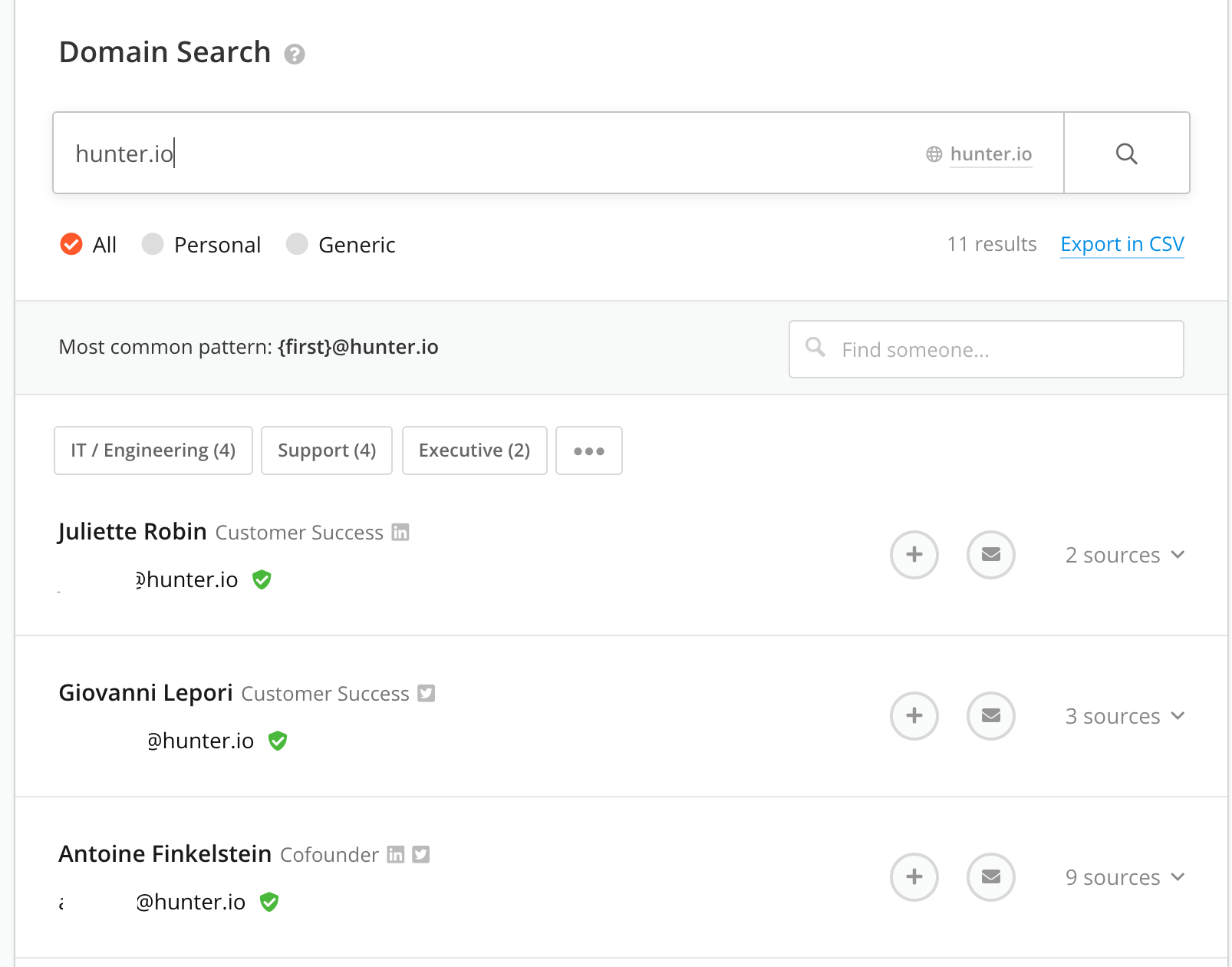 Besides Hunter. io, there's another tool, called Pitchbox, that gives you a list of emails that are associated with a particular site. This tool is a perfect solution for those who are serious about cold email outreach. Besides helping you find emails, it streamlines the whole process of email outreach, including managing your campaigns, tracking results, and reporting about the progress to your clients. Let me share a brief example. We've recently done a gigantic campaign to distribute our client's survey among bloggers in travel, mom, food & cooking, and similar niches. Thanks to Pitchbox, we spent 10X fewer hours searching for those bloggers' emails, as in the majority of cases the system was showing them to us and automatically sending out the email sequences.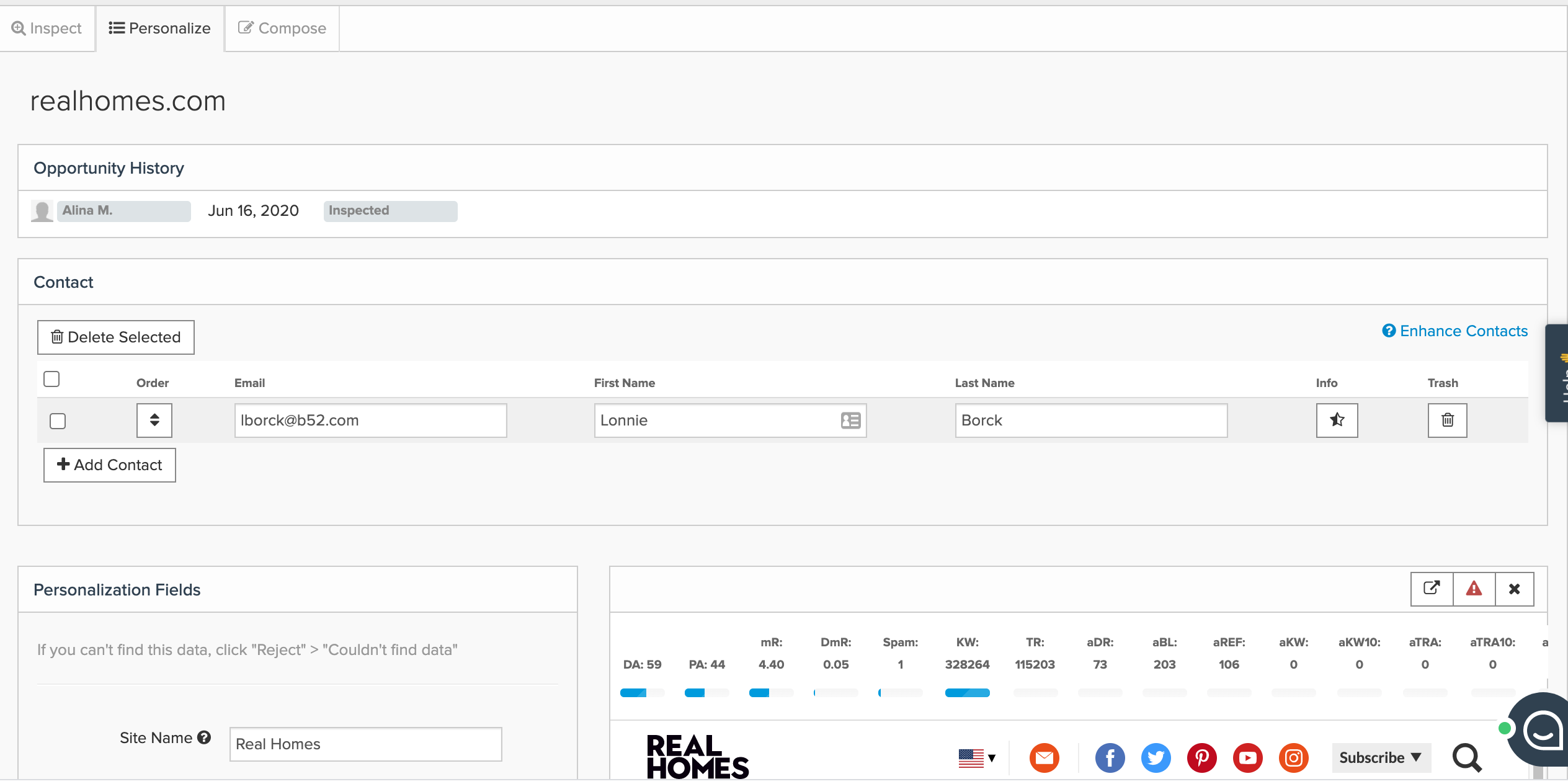 Summing this chapter up
Imagine finding a great link building opportunity but failing to reach out to the right person that can help you with your link placement. You've invested weeks in sending follow up emails, thinking that the person is just not eager to reply, but the real truth is that you've been trying to get in touch with the wrong contact all the time. Sounds like a link builder's worst nightmare, doesn't it? That's why I have shared the top techniques for finding the right contacts to pitch to that I've personally tested and am using on a daily basis. So, if you use the company's LinkedIn profile to find relevant people, review blog contributors, and use email finder tools (while applying some of the tips that I've shared), you can be much more confident that you will be sending your pitch to someone that can actually help you with your link request.
Everybody knows how uncomfortable and sometimes frustrating unexpected calls might be. But it's also true about emails — even though they are not as disruptive and annoying as unwanted calls, they end up without replies and get deleted more frequently. However, email is a primary medium between you and your prospects, so you have to be creative with it. At Digital Olympus, we did some experiments, which brought us some interesting insights into what brings tangible results in email outreach. In this chapter you'll learn:
how to find prospects you share interests with
why emails aren't always the best way to start outreach
how to nail your email outreach personalization game

How to get the prospects to reply to your pitch
Let's dive in.
Shared interests bring more replies from the prospects
First of all, when you send a pitch to a person that knows who you are and you have something in common to talk about, the chances of getting a reply go through the roof.
Years of experience at Digital Olympus have shown that the more interests you find in common with your prospects, the more chances you get to build a meaningful connection. Here, we're mainly talking about social media profiles. To give you an example, by browsing a person's LinkedIn account, you can get a clear idea of whether you have shared professional interests. For instance, if a person works in a company from the same industry as you, it's a sign that this person can be a good prospect for outreach. By the way, this is the reason why agencies create fake profiles — to create an illusion that the person who reaches out to the prospect comes from the same professional field.
Starting outreach via social media boosts the chances of getting a reply
Even though we are talking about email outreach, our experiments have proven that emails aren't the best medium to start talking to prospects. Emails are more of private territory, and if you invade it all of a sudden, your message will most likely be left unnoticed or deleted.
Instead, we recommend initiating the outreach process from social media. Our experiments have shown that this approach brings more replies. Besides, through LinkedIn, you can visit any company's profile, find people responsible for link building, digital marketing, or SEO, and connect with them.
If you decide to start the outreach from social media, don't forget to mention the reason why you are connecting with the person when writing your message. It will increase the chances of this prospect adding you to their connections. In case you don't find anyone from a company who would fit your profile and requirements, try connecting with someone who's doing social media marketing. When you reach out to them, ask for the contacts of a person who does content promotion.
Of course, LinkedIn is not a solution to every situation. If your profile doesn't fit the niche of a prospect you're reaching out to, the response rates will be quite low. That's why it's better to view this social platform as a way to identify the right contact. In addition to LinkedIn, you can also use Twitter as your outreach helper. Twitter users are usually more active, and chances are higher that your message won't be left without a reply.
Personalization is king
A personal approach is not just important; it directly impacts the response rate and the number of links you'll ultimately get. Recently we ran an interesting experiment with email templates and personalized mail-outs.
In the case of template mail-outs, where the only personalized feature was the name of each addressee, we only got two replies and one link out of a hundred emails we sent. But in an outreach campaign with personalization according to the city/state of an addressee, we got twice as many replies and links.
Here's an example of a personalized email we sent with a mention of the prospect's home city. We briefly talked about how we enjoyed visiting London to create the connection right from the start, and then went straight to discussing a possible link building opportunity: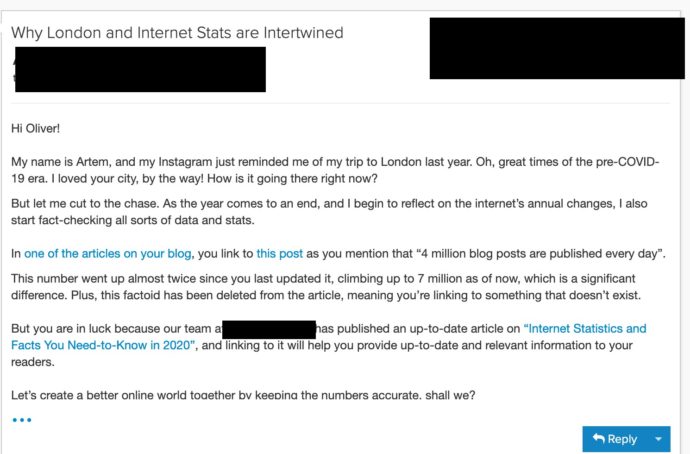 Besides adding a solid amount of personalization, you need to ensure that your subject line is always short and on point. Your best bet will be brainstorming a few different subject lines and running a good number of tests to see which option works best.
The lesson here is don't disregard personalization by any means. Besides, mentioning the name of a person is not enough for personalization as well. You can always add that you've read their latest post and mention the exact part you liked. Don't generalize your message — it will give away that your message is a standard outreach template.
Give prospects a reason WHY they need to reply to your pitch
Have you ever tried to approach a person and start asking them for something right away? Of course not — it's weird and inappropriate. Besides, there are almost zero chances that you'll get what you're requesting.
The same is with links — if you ask for them in your first pitch, you most likely won't get a positive reply. Unless you offer something in return.
What can you promise a prospect in exchange for a link? The most obvious answer is offering a link back. Here, I'm not talking about link exchange — this is a recipe for getting penalized on Google. Instead, think about a more organic way, such as writing a guest post and linking back to your prospect's website or page.
In the example below, we're making a link exchange offer either through a new guest post or via existing articles that are already published on a blog: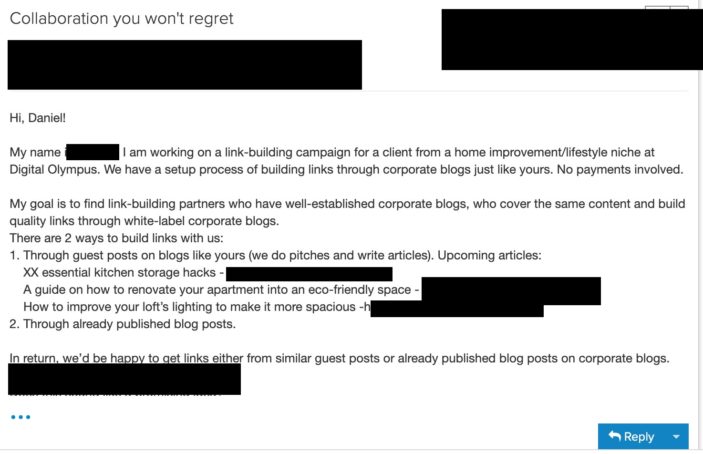 If you want the prospect to actually reply to your email, emphasize that the links will come from corporate blogs. Such links have more weight and matter a lot for your position in SERPs. It's also a good idea to offer the prospect a mention in your newsletter. And, if you have a lot of followers on your social media, you could make a post about the prospect's company or website on your profile.
A unique and unconventional way to pay back for a link is sending the prospect your merch. If you have some exclusive swags to offer that otherwise would be hard to get, offer them to the prospect as a thank you for the partnership. In general, it's better to focus on something that would bring a prospect real value. For example, they might have a broken link that needs fixing. So, study the prospect's company's profile thoroughly to determine any gaps and offer a solution to tackle them.
Connecting with Prospects: Chapter Round-Up
Even though emails are the obvious medium for contacting prospects in email outreach, it's not the most effective way. Remember — emails are a more private domain, and you cannot intrude without a word of warning.
Instead, start out subtle by reaching out through social media such as LinkedIn and Twitter. There you can check a prospect's profile and find the right person in a company for the outreach.
But it doesn't matter where you connect with a prospect if your message is not personalized. Ideally, it should mention a person's interests, touch upon their latest post and what you liked most about it, and also give a reason for them to reply. And remember — mentioning a person's name is not personalization. You should find common ground, a shared interest that would not only help you connect with a person but build a relationship with them.