No matter what some people say, links are still the most important ranking factor for search engines today and link building is essential to any web property.
This is a post that's going to help you create a better outreach. If you are interested in the long game, keep reading.

When I first started doing SEO, I remember using templates to create my initial outreach. What a lousy idea it was. The emails I used to send looked very similar to the one Tim Soulo got.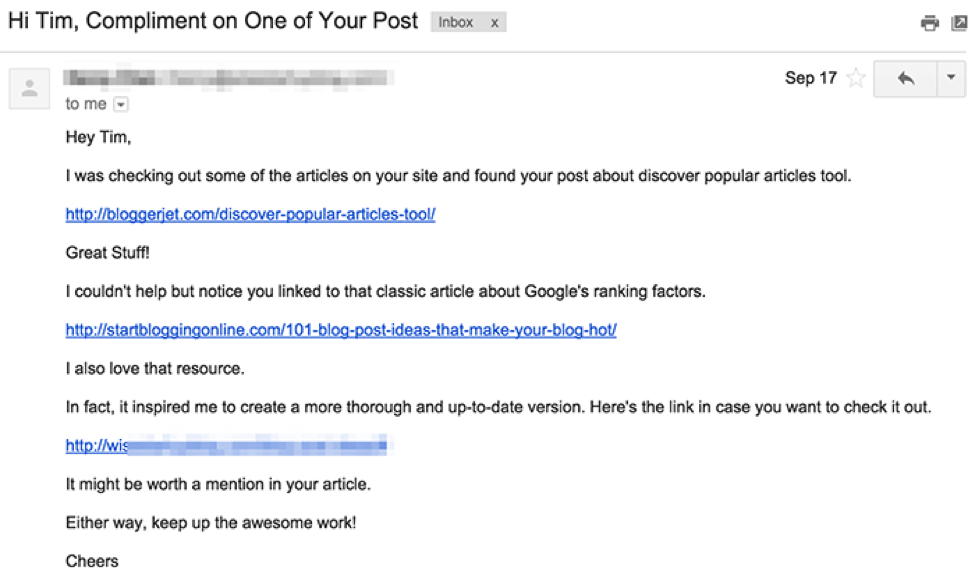 I had horrible results and got 1 link for every 100 emails sent. If you've done link building in the past, you'll know this successful placement rate is abysmal.
After a while, I received a reply to one of them that said:
«And what? Am I supposed to link to you?»
I felt horrible and completely stopped my outreach. Now that I look back, it was a blessing in disguise.
If I had continued to send emails like that I wouldn't be in the position I am today. SEO is all about people, not websites.
There's a quote I love that says:
If you don't understand people, you don't understand business. — Simon Sinek
It's completely spot on and I'll make sure by the time you finish reading this post, you are capable of creating amazing outreach campaigns.
Before I get to the heart of the post, let me share with you some stats.
Campaign Monitor's study says that email is 40x more effective at acquiring new customers than Facebook or Twitter. And is the best way to contact someone and have them pay attention to whatever it is you are sending.
Take a look at how it compares to other methods.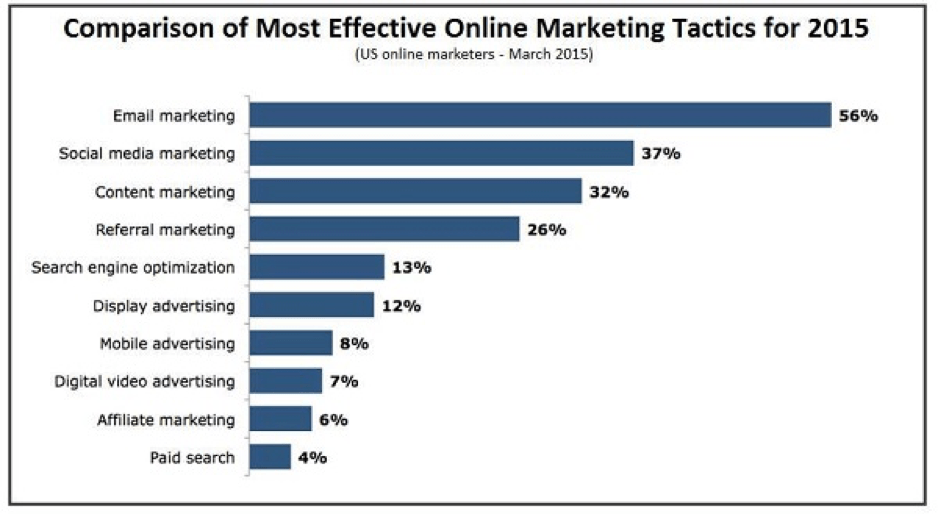 Also, you are six times more likely to get a click-through from an email campaign than you are from a tweet.
And best of all, it's easier compared to other methods.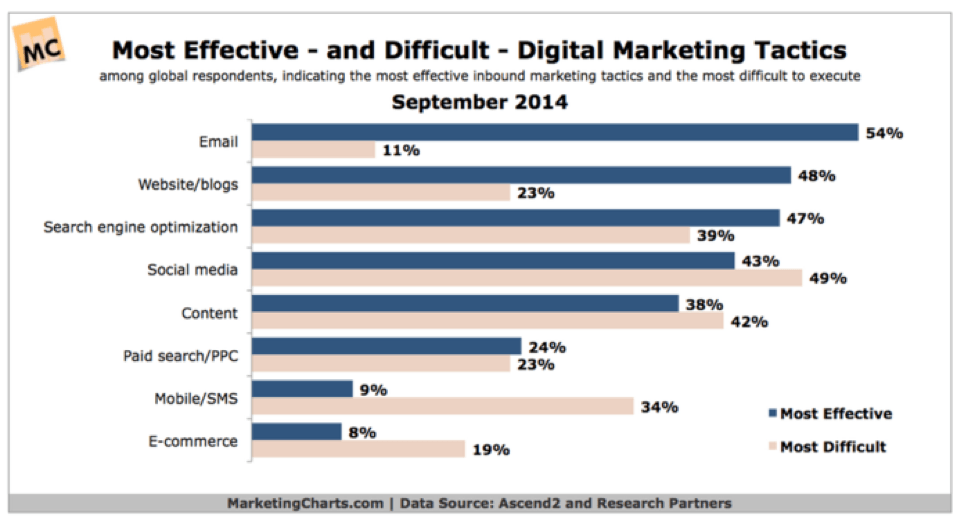 Now that we got that out of the way, let's get started.
How to create an email that converts
I won't give you the usual crappy advice. Instead, I will tell you how you can craft the best outreach possible and build awesome relationships with the help of science and psychology.
Use their name
This should be a given, I don't know why people still send emails addressed to «dear webmaster» or «hey there». I know how it feels to want to scale your outreach, but please understand one thing.
Outreach is unscalable.
An outreach is supposed to be personal, engaging and get the recipient hooked on what you are saying. According to the study by Campaign Monitor (which I mentioned earlier in this post), personalization increases open rates by 26%, and sure you can personalize your emails when you've got the right information but that never happens when you are sending cold emails.
Start with why
Let's be completely honest, nobody sends an email just because they want to say thanks. If that's what you want, you could do it through Twitter or Facebook. If you've been around for a while, then you've most likely received an email similar to the one Simon Sinek got.

What is wrong with this email?
The compliment is completely fake and if you were to receive that email, you would most likely ignore it.
But what would happen if you were to receive the same email and went like this:

It's completely different. When we know why you are emailing and it comes first, it has an amazing impact.
We all know that all the pleasantries are just to make us more receptive to what they want. But if you make the pleasantries second, we'll actually be very grateful to receive them.
Know them better
This is the most important part of the email outreach, make sure to check the about page and social networking profiles to get a better feeling about them and find things you have in common.
Use those things as part of your compliment. We all love people that genuinely get interested in us.
Honesty is extremely important, it'll be the foundation of your future relationship. I prefer to have a nice relationship with people instead of just asking for a favor and forgetting.
Relationships create opportunities.
How to make sure people read your email
Unfortunately, attention is a bitter mistress. Everyone seeks it, not many find it.
A couple months ago, I came across a big problem.
My emails were amazing, but they were not getting opened. It represented something I needed to overcome if I wanted to continue growing my business.
After a lot of research about biology and human interaction, I found my answer.
Video Tweets
I tested video tweets with 100 emails sent, and managed to get a 100% open rate.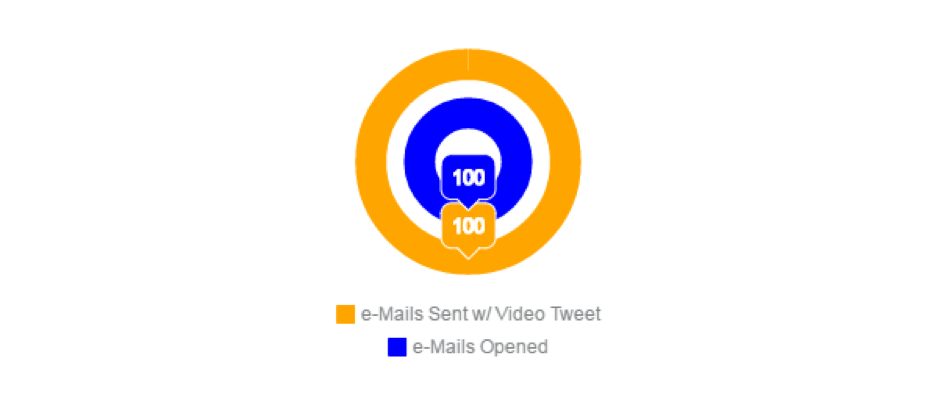 It's very simple and very powerful. All you have to do is send a 9-second video tweet letting people know you've sent them an email and are looking forward to their reply 🙂
To make your email more powerful, use their name on the subject line, for example, «Alex, I thought you might like this :)».
Conclusion
Link building is an art in which we humanize a web property, it doesn't have to be difficult, yet most people make it so. Understanding how people interact will help you create the perfect outreach.
Try these tips and let me know your results.
Also, what has been your biggest struggle with link building? Let me know in the comment section below.
Happy link building! 🙂
---
Jonathan Nuñez is an entrepreneur, SEO professional, and Inbound Marketer. Founder of John's IMSecrets where he teaches SEO, Inbound Marketing, and how to use social media marketing for link building.
You may also connect with him on Twitter, Facebook, Instagram, Google+, LinkedIn, or Pinterest.