Running your own business is one of the most exciting choices anyone can make. It's not rocket science that starting your own company requires a lot of work, determination and patience. The entrepreneurial life may give you the chance to devote all your energy to your real dream, but this career path also requires a lot of tough decisions that will often cause you ask yourself if everything you've achieved thus far is really worth it.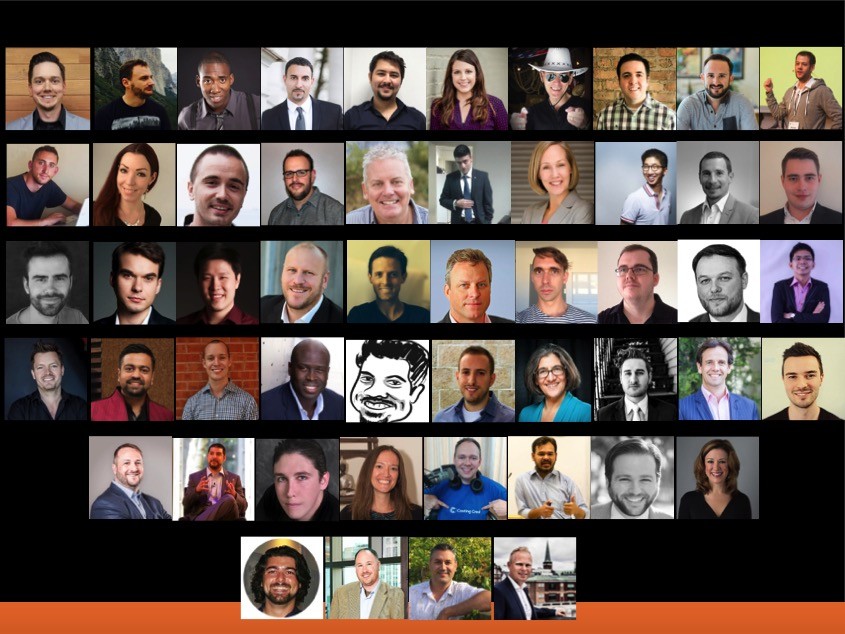 That's why it's essential to know exactly how to significantly boost your sales, which will pay off in the short term. By maintaining a balance between short-term and long-term goals, you have a better chance of ensuring that your business succeeds. We've asked more than 50 well-known entrepreneurs and growth-hacking experts one simple, but tricky question:
What is your number one piece of advice for generating short-term revenue growth?
We've saved you the effort of navigating through the sea of data that we collected by organizing the answers we received into well-structured list, so that you can easily find ready-to-use strategies. So, without further ado, simply click on any section below and see what tips our experts shared with us.
Analyze your website-traffic data to increase conversion
Safe and sustainable business growth usually occurs at a slower pace when compared with rapid quick burst business growth. When needing fast revenue growth, you have to be careful not to do things that could impact your overall brand strategy and put the long-term goals of the business at risk. However, having said that, there are various methods that can work very well if you are in need of a growth spurt. My personal favourite is to spend a couple of days analysing your website and how it tries to get visitors to convert. On day one, install some A/B testing software and build a couple of different landing pages. Let the data roll in and pick the best performing page. You can do this on multiple landing pages, and the results can be very worthwhile. Obviously, the longer you leave to test the pages, the better data you will get. How long you test the pages for depends on how quickly you need your revenue to grow. The beauty about this tip is that it doesn't require you to increase traffic to your website, you are simply optimising the conversion rate of existing visitors.
Concentrate on Improving your conversion funnel
Generating target traffic (online or offline) is often the primarily goal of most businesses, but beyond that stage most will not dedicate the same level of resources to improve the customer on boarding process. Improving the conversion process from visitor to customer is a gold mine waiting to be harvested. It will not just lead to increase of revenue but will also help improve profits since it can be achieved with little to no additional costs.
Stay ahead of the competition
I want to share a story, based on our experience with business consulting:
Use referral marketing
Referrals: If you have found some kind of initial product/market fit, chances are you already have a few really happy existing customers. These should be your first and primary source of new customers/leads! Don't be afraid to ask them straightly: «Who else in your network, among your friends, colleagues could be a happy customer of our app/service/brand?». I guarantee, if they are in fact happy customers, they WILL come up with a referral. Naturally, these referrals are the easiest to convert. I really can't stress that enough 🙂
Reviews: If asking for direct referrals for some reason doesn't work, ask your happy customers to leave a public review for your app/service/brand. Facebook reviews are probably the easiest choice, since they are visible on public. Don't give in to the temptation to pre-write the reviews to make it easier for your customers — authentic reviews work best!
Find the right balance between your activities and the ROI
At the end of the day I think the boost in revenue comes down to three things. First, find the right balance between your activities and the ROI. You can measure the return on investment through time or actual dollar value return. We know putting effort in further developing Algoroo will go a long way in our ability to be the leader in our niche. Re-deploying Phrase Research to make it more useful for generating business gives us better return. So this is the one we put our efforts into.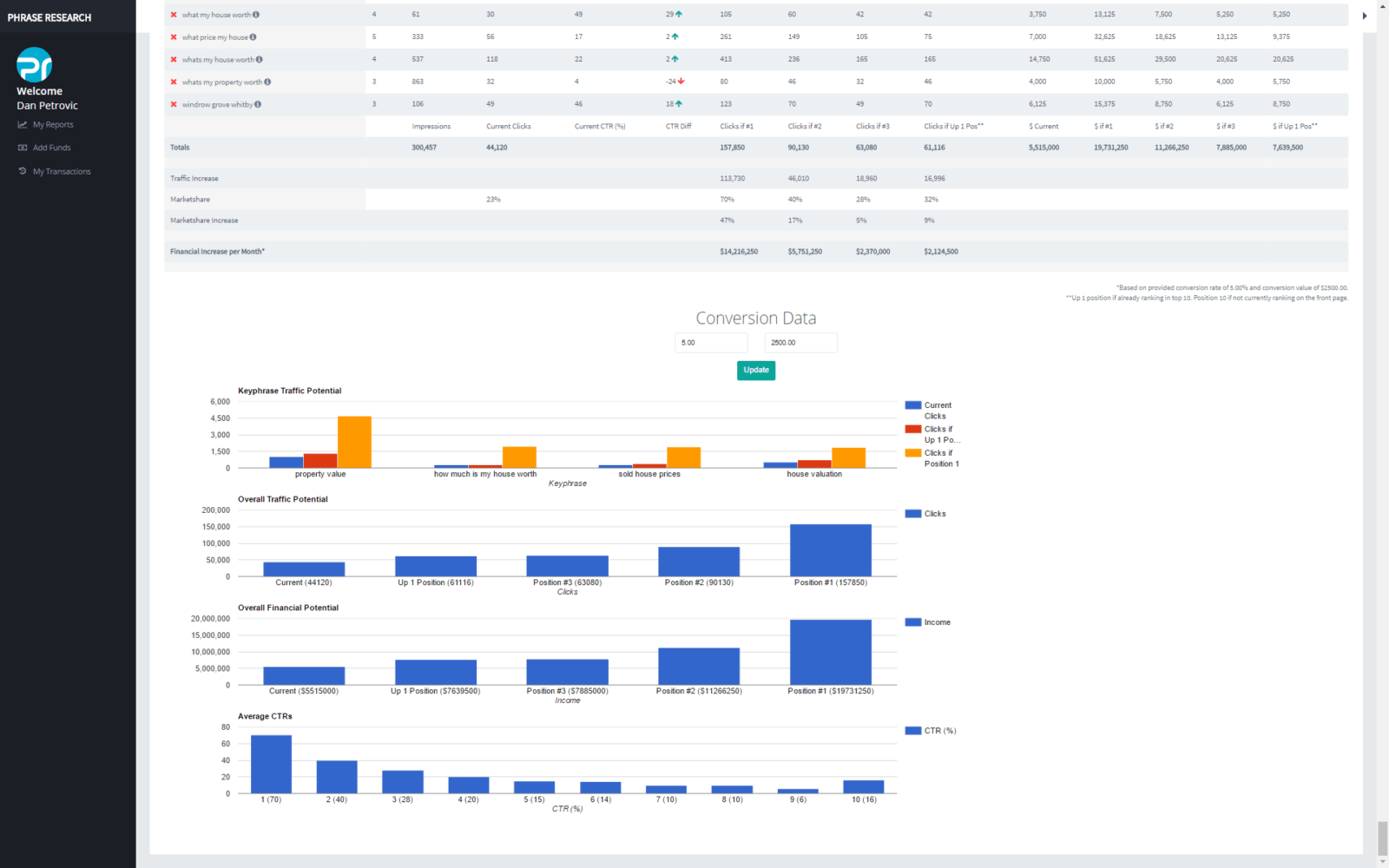 Second, stay focused on the activity. Say you decided to build a content based funnel via paid channel to generate that sweet spot lead. Then stick to building this model until you're satisfied that it's working 100%. In other words, don't spray your time, your resources or your marketing dollars.
Finally, do the work, every day. Do something every hour that makes a difference to your pipeline. Yes, the best leaders know how to delegate, the good manager doesn't micro-manage. And then there are things that must be actually done. If you are selling (and most of us are), then the sales is something you do every day. Make the calls, follow up with emails. If you're managing a campaign then make and test the changes. If you're managing people, then schedule and follow up with them. In other words, making it happen doesn't just happen by itself.
Do these three things well and the revenue will come. Be it in a boost, short period or a more sustainable way — the revenue comes from the right set of your actions.
Run a flashsale
One of the quickest ways to boost revenue is by running a flashsale.
Sure, it's not the most creative strategy, but a well-timed offer that leverages the power of scarcity can do wonders for conversions. Providing that you have the audience in place already.
You may just want to run the flashsale as an exclusive offer for your subscribers to heighten exclusivity, or add site-wide CTA's as well.
But, it's not a good idea to rely too much on these types of offers if you can help it. They have the potential to devalue your product/service offering.
Remember: short term gains, aren't always best over the long term.
Focus on one product or service
Focus on one product that you know will properly exemplify what your entire suite of products could provide, but is easy for the customer to buy. Buyability is critical — something almost «trial"-like — so that they get into the habit of spending money with you.
Review your pricing model
Review your rates and increase them accordingly — especially if your rates have stayed the same for a long period of time.
Raise your prices
Most companies charge too little for their services or product. If you raise your price, then you instantly make more from your customers. Obviously you cannot do this all at once, especially in a services industry, as you may stand to lose all your clients, but by raising prices for new ones starting out and then giving existing clients a heads up that prices are increasing in a period of time, you make more money.
SEO tip: find and optimize low hanging fruit
A simple SEO tip to boost revenue is to find and optimize low hanging fruit.
Step 1: Identify keywords that you rank on pages 2 and 3 of Google for, that also have search volume. Use tools like Ahrefs, Moz, and SEMrush for this.
Step 2: Tweak the title tag, headline tags, and on-page copy to target those keywords and related phrases. Also, update the descriptions to be more click friendly.
Step 3: For high value keywords I would suggest updating the copy to add a lot more content.
Step 4: Identify pages on your site that mention those keywords internally. Have some of those pages link back to the content you are trying to improve rankings for.
Step 5: Rinse & Repeat — Moving keywords from page 2 and 3 to page 1 is a quick SEO win that will boost revenue.
Unleash the power of Social Media
This is one of the advices our clients find it helps them most: Social media is a fantastic way to improve your business revenue in the short time and very quickly, but its important to know how each platform works to make social media increase the business. Often DIY (Do It Yourself) Know — How approach when in reality lacking skills and knowledge can be more counterproductive, so unless one knows or have necessary resources within the organisation with skills and knowledge required its advisable to contract third party as every cent spent on this will result in excellent ROI.
Inspire and motivate your employees
If you have a company with 5+ people, you need to start employee recognition system supported by entire team. We use Bonusly at Zeo and really love idea of sending bonus points for each bright idea & great execution. Our team can use these bonuses to plan their SEO education by attending conferences in Europe or chilling at a great holiday place with their loved ones or just buying a new smartphone. We like to spread love in entire company and it pays back us with full of performance, which affects business streamline and revenues for sure.
Focus on activities that help you accomplish your goals
Only work on things that actually help you accomplish your goals. For instance, if 2x more brand exposure amongst millennials isn't one of your goals, you shouldn't be on Snapchat. Focus on what actually drives traffic and revenue from your target audience, not on the «next big thing.»
Unleash the power of PPC
The easiest channel to boost revenue quickly in the digital space is through PPC
(

Pay-Per-Click). You can easily build campaigns through Google AdWords and test keywords and funnels quickly with a minimal budget. You can also monitor conversion rate and profitability all in one spot with Google Analytics. You also have the option to monitor phone calls through call tracking services as well. PPC is by far the easiest testing tool out there for an online business. You can take a business from zero to hero in just a few weeks!
Use special offers
The ability to boost revenue in a short period of time is any entrepreneur's dream — it can help with a number of things: bolstering sales, improving cash flow, and helping to hit those quarterly targets to ensure healthy growth. While there is no single blanket statement I can make about how to boost revenues in a short period of time, I can say that strategies and tactics to do so vary greatly by industry and business model. For instance, in a software-as-a-service (SaaS) model, you may offer a month or two of free service for early renewal contracts or an incentive to «sign now» by offering added premiums to an otherwise base package. In an environment where you're selling through a channel, such as a distribution network of third party dealers, you could offer special discounts if they sell/push your highest margin items or for bulk orders in specific times of the year.
What I am getting at is that while there are different strategies we can use to boost sales, it largely depends on the types of business and sales model you're employing. So don't read these tips and think they'll all work, because they won't. Consider your target audience, consider what they need (first) and want (second), and how you can put together the right incentive that will draw them past that area of pre-purchase dissonance where cost outweighs the benefit.
Offer an add-on service or upsell
Appeal to your existing fan base and loyal customers as they are your best and most reliable source of revenue—after all, they already LOVE you and are using one of your services. Offer an add-on service or upsell to a product they may already be investing in. Something that they can answer «Yes» or «No» to quickly (hopefully yes) over the phone or via email so that you can take action on it right away instead of having to deal with a lengthy sales call or having to schedule a time to discuss the service.
Analyze your sales database
It's a very broad question — But low hanging fruit is the contextual phrase. And you attack it like this — You MUST fish where the fish are. Do they have budget, and do they need my services RIGHT NOW. It's all very simple in execution — Slice your sales database (buy one if you don't have one) into best fit clients PLUS (and more importantly you could argue) find distribution channels and energise them with the right incentives — cash/reciprocity/service. Then try multiple channels until you find those that work — Analyse everything — Moving on super quickly at failure, tweaking your channels and content you go. Keep it super simple — Then Rinse / Repeat.
Announce a price increase to your customers
One thing that has worked for us, twice, is increasing our prices, and then making an announcement. When you make the decision to increase prices, put a banner on the pricing page, something like «prices are going up on July 1st», and announce it to your email list. You will see an uptick in signups, as people are motivated to get going. Make sure, of course, to follow through and actually increase prices
Upsell complementing services
If you are in the service business, upsell complementing services within your service portfolio to your existing clients.
Get employee feedback and improve customer satisfaction
Go to your employees- specifically those on the front lines: receptionists, cashiers, sales associates, waiters, clerks. These workers interact directly with your customers and clients and create strong relationships. Find out exactly what is needed to improve customer satisfaction. Then elicit support from workers to put plans into action. This not only increases revenue- also builds employee trust and loyalty- long term way to increase revenue.
Focus more on bootstrapping
Rather than focus on additional revenue, focus more on bootstrapping. What can you do without and budget to get more out of the revenue you do have?
Get your product reviewed by bloggers and journalists
To be honest, this is a general question, and the answer can be different for each industry. I mean if you are an agency that offers services on retention basis, a viral blog post or one good speaking gig at a known conference can give you enough leads to lifting your revenue up to 35−40%, but if you are in fashion retail, things will be very different.
One thing we did for a client to increase their income to a real extent was 'product review'. We find the top journalists and bloggers and contact them for product reviews (we also used HARO for this) and once we get the reply we give them a choice to pick their favourite products and review them accordingly.
We aren't ideally looking for links but the quick buzz that result in a significant improvement in revenue. We managed to get mentions in magazines like Huffington Post and Buzz Feed, which lead to a huge bump in traffic and sales. But, these authority links significantly improve rankings as well, which help us get most targeted traffic and revenue against our core terms on a regular basis.
Eliminate non-revenue streams mercilessly
The most actionable advice I can give on streamlining revenue is to eliminate non-revenue streams mercilessly. Finding new revenue streams that work for your business is very important but eliminating time-wasters that are costing you productivity is a necessity. If you thought Pinterest was a great idea but it's not generating any sales or any momentum, stop doing Pinterest as soon as possible. If you jumped on the Snapchat train but you still haven't left the station, get out and push your money-makers. Spend your time on revenue-generating activities rather than fun but non-RGA channels.
Go back to your old revenue streams
To boost revenue streams, go back to your old revenue streams -- past customers and clients. New customers and clients are expensive to acquire, so focus on reconnecting with previous connections. They are already familiar with you and therefore are more likely to do more business with you again. Reconnect with them in an authentic way by offering them discounts or freebies (such as a valuable guide or tool) that will lead them into their next purchase.
Automate your marketing processes
One of the most effective methods of streamlining a revenue source in a short amount of time is through automation. The key is to create self-sustaining systems and processes that have the ability scale. For example, an email list is a very effective method of creating a systematic approach to creating revenue through automation. When you create an automated email responder, every opt-in runs through a sequence that may help you establish rapport and ultimately drive a conversion in the future. An email list is self-reliant once produced. You can leverage your list to meet a variety of goals and objectives. Email is personal, private and targeted. This is one form of automation.
Automation can be utilized through social media as well. For example, you can schedule out social media messages more than once through tools like BufferApp, Scoop.it, Hootsuite, etc. With this approach you can reach more consumers who may not have seen your first message to your respective social community.
Think about the long-term and how you can use your time most effectively to have the greatest impact. Automation when used wisely can help you achieve revenue streams in a short amount of time.
Leverage the latest conversion rate optimization tactics and strategies
One of the best ways a business can streamline revenue is to make sure they are leveraging the latest conversion rate optimization tactics and strategies to focus on their best performing products or services. Specifically, if they're using any form of paid media to send people to their website, they should ensure that the traffic is being sent to an optimized landing page that is built for conversions, rather than just a normal (distracting) page on their website. If you're not using conversion-optimized landing pages as part of your marketing strategy in 2016, you're missing out on potential leads and customers.
Develop a keyword-targeted content asset
Find a content idea
There are hundreds of platforms to find content ideas, but some of the best include forums, SEMrush, and Quora. To find forums in your niche use this search query in Google: «KEYWORD + forum». Example: «fitness + forum». The next tactic is to go to SEMrush and enter the URL of a top competitor. Within seconds, you can see keywords they are ranking for in Google and potential content ideas. Last, go to Quora and enter a relevant keyword in the search. There you will find questions

(

content ideas) people have in your industry.
See what content has performed best for that idea
After you have found a solid content idea, you need to see how well that idea as performed. Go to Buzzsumo, enter your idea, and examine the top content pieces. Create a content asset that's 10x better or completely different Now you need to create a content asset superior to what you found in Buzzsumo. Ideally, the content asset and angle should be different than what you found. For example, if all the top performing content are articles, then you may want to create an infographic or a video to differentiate.
Identify sharers and linkers
Buzzsumo allows you to export lists of people or websites that have shared or linked to top performing content. Export these prospects because you will need them later. Reach out After your content is published, you will then reach out to your prospects and let them know about your awesome content piece.
Create and automate scalable and repeatable processes
Creating a process and automating that process is one of the most overlooked yet important actions for streamlining revenue streams. That way your revenue process is scalable and repeatable.
Increase the average price per unit and retention (or repeat purchases)
When most people think of bringing in more revenue, they only think about increasing sales. However, there's two other (often easier) ways to increase revenue and that's to increase the average price per unit and to increase retention (or repeat purchases). In our case, we implemented a lot of features and bug fixes that were causing customers to cancel their subscription to our software. By lowering our churn, we were able to significantly boost our revenue in a short period of time while keeping the same rate of signups.
Look at how to help your closest friends and allies achieve their goals
To increase revenue quickly, and from direct experience, look at how to help your closest friends and allies achieve their goals. Don't go out to sell, simply reconnect and make suggestions as to what they could be doing. You will probably find they will ask for your help to implement what you suggest — they trust you to deliver. I've done this myself over the past month and have landing super contracts, and had to expand the team by 10 people to deliver.
Learn more about your ideal client
My number one growth hack to streamline revenue in a short period is to focus on knowing your customer. Knowing more about your ideal customer will help you control where you put your time and money (Facebook ads, AdWords, SEO, Social Media, Offline, etc), and it will make you focus your message to speak to those customers better which will increase your conversion rate.
Try the Marketing Mentor "Double D" Strategy
Whether you're selling products or services, if you need to generate revenue quickly, try the Marketing Mentor «Double D» Strategy: give a deadline and a discount on your offer.
Tell them what they'll save if they purchase by a deadline, and make that date not too far in the future. Even if they want what you're selling, they need an incentive to take action now. Otherwise, it will get buried in their To Do list or in an avalanche of email.
Use a combination of paid channels
Depending upon the company, we generally recommend a combination of ensuring proper tracking with analytics so you can attribute success where appropriate, and then immediately begin advertising in paid search networks like AdWords, Facebook, Twitter, etc. This gets you immediate traffic/revenue that you can optimize for conversions and profitability.
Concentrate on content topics where your business is already strong
Identify the pages on your site that generate the highest KPIs for your business and execute a content strategy that supports those pages. Whether you do so by appealing to more user intent profiles, by exhibiting a higher level of subject matter expertise, or by publishing a collection of pages that fill a gap in your customer's journey, focusing on topics where your business is already strong will yield fruit quickly.
Improve Net Promoter Score
Focus on Net Promoter Score. The best kind of growth, is the stuff that's free. When you customers recommend your product purely post using it. Net Promoter Score helps you measure you recommendation rate, and understanding its drivers, and helping teams understand how and where they can move NPS drives long term sustainable growth.
Answer relevant discussions on Quora
If you're not familiar with it, Quora is a top community site visited by hundreds of thousands or even millions of users online.
Participating in this top notch content site is one of the underutilized techniques by marketers today. If you do it properly, you'll see some amazing results.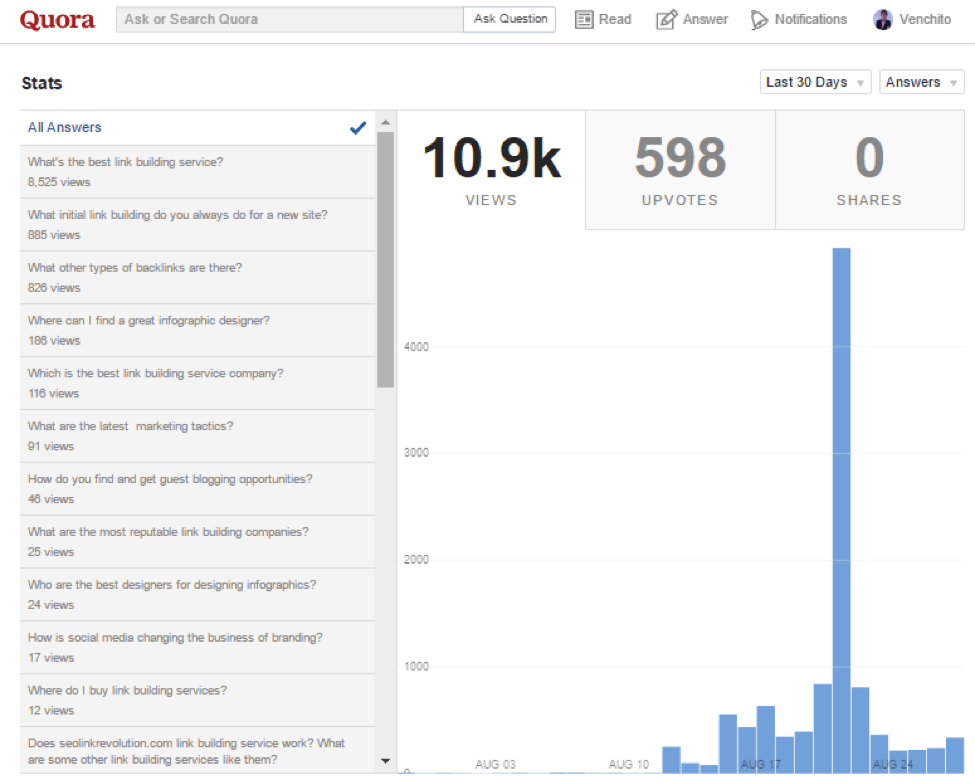 Here's how you can do it.
Find relevant quora threads by doing a Quora search for your target keywords/topics. You can also find people who are actively answering questions on the site and see which threads they have participated in. Like in the SEO industry, you'll find Ian Lurie to be one of top notch community user, so simply looking at his profile and his recent answers, it'd gave you tons of Quora threads you can initially start engaging in.
Create a list of Quora threads you'll find worth investing your time in. Add columns for range of views, rank in search

(

see if they rank in search by simply doing Google searches), answered

(

yes/no) and your target pages

(

which pages/content you'd like to promote in threads).
Make sure to provide the best answer as much as possible so you can acquire organic views over time.
Target highly converting Quora threads to generate leads for your business, not just referral traffic.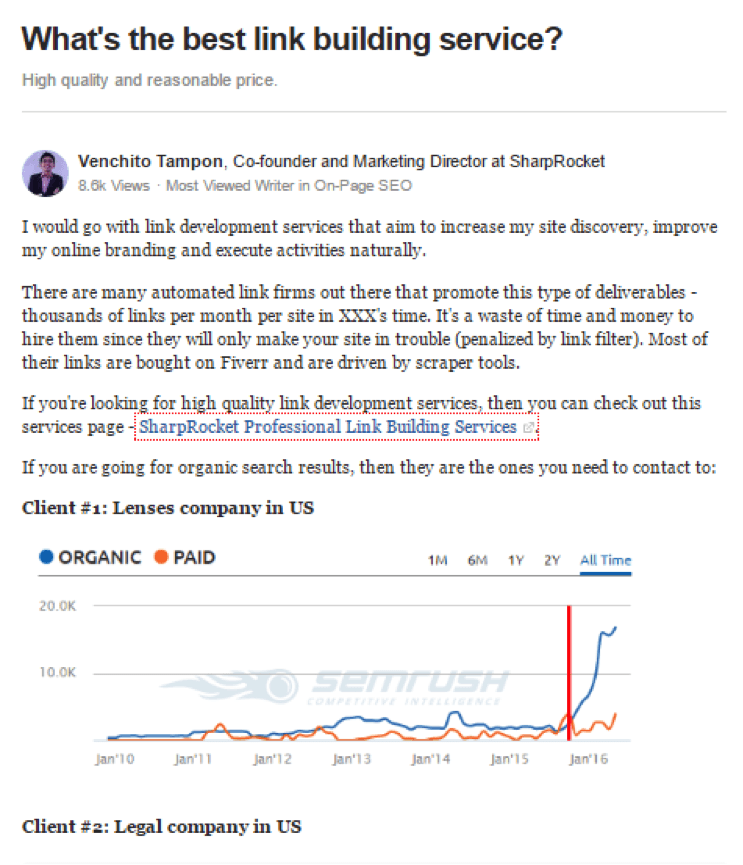 This strategy only takes 5 minutes every day — answer at least one relevant question a day and increase your business leads without much effort.
Serve both new prospects AND existing customers to maximize the "easy money"
The Pareto Principle is often quoted, stating that 20% of your customers will deliver 80% of your revenues. While seeking new customers is a necessity, you should be converting from your «gold list» of engaged customers. It's like «shooting fish in a barrel»! Publicis Groupe Customer Engagement Survey 21 014 found that
Highly Engaged Customers are:
— three times more valuable than other customers over the course of a year. This is because they…
— buy 90% more frequently and
— spend 60% more in each transaction.
So? Serve both new prospects AND existing customers to maximize the «easy money»!
Get those Facebook and Google tracking pixels on your contact, pricing, conversion-oriented landing pages. Generate an audience list of hot new prospects to solicit and shine a little brand awareness on, as they make their way about the web. Target the particular product or category to test specific offers intended to 'close the deal', such as free shipping, BOGO or suitable accessory. Sweeten the deal to win the business.
Pixel your Purchase Success page separately, to initiate different advertising at intervals timed to exhaustion of supplies, new seasons, or real customer purchase periodicity data. Bring your best customers back, to buy more.
Find out the #1 reason why clients pay for your product
Talking to your customers to find out the #1 reason why they pay for your product is table stakes. Whether is be a physical good, digital good, or SasS, it doesn't matter, you must be able to answer that question. Then, everything you provide your potential and current customers in advance -- blog posts, emails, webinars, consulting, demos -- needs to add value directly or indirectly to that reason. They are on their customer journey. Your job is to guide them down that path.
Send a proposal only after verbal agreement on pricing has been reached
Never send a proposal without having had verbal agreement on pricing and terms. Clients should never be surprised whether their fault or yours.
Experiment with pricing and bundling for in-app purchases in a product
Experiment with pricing and bundling for in-app purchases in your product to optimize profits for your key markets. Bundling can be a great way to leverage classic retail pricing theory to increase profitability by offering several different combinations of IAPs at different price points. Finally, it's always worth including a really expensive IAP: it will make the rest seem more affordable and some consumers will buy it despite the steep price tag
Use influence marketing
People love stories. Firstly, you should build a campfire. Telling cases, sharing know-how will make you an authority in industry (in short time). You -must- be active on related communities. An example if you're selling and online marketing product, you -must- be active on inbound.org, growthhackers.com, reddit.com, quora.com, reddit.com, etc. Also with this way you will increase your lifetime revenue. Win-win!
Partner up with other SaaS tools and companies
We didn't really add another stream of revenue per se but we were able to get more value out of our SEO Hacker blog by partnering up with other SEO SaaS tools. They give us free lifetime use of their SaaS on a premium level, and in exchange we review their tool, put them in our toolbox and mention them in guest posts and interview requests that we receive.
These partnerships are a key part of our increase in efficiency. Right now we operate very lean but are able to serve numerous clients because of these partnerships that we have.
In essence, we have increased revenue significantly by taking advantage of an aspect of our blog that may be easily overlooked otherwise.
Сonstruct an offer for your existing customers and email it to them
If you want an immediate revenue boost, the best place to look is your existing customers. It takes time to build a relationship with 'cold' prospects, but your existing customers already know and trust you, and hopefully are delighted by what you have done for them already, so they are predisposed to buy more from you.
The most immediate way to reach them is by email, and of course this has the additional benefit of being free!
So you simply need to construct an offer for your existing customers, and email it to them.
What should you offer them?
Well obviously it depends on the nature of your business, and what they have already bought from you, but essentially you need to offer them something that is related to what they have already bought. This could be a new product, a sister product, a complementary product, or perhaps a high-end version of what they already bought.
To increase the uptake on your offer, use a money saving offer (e.g. '30% discount for existing customers only'), ideally combined with a scarcity motivator (e.g. 'for the first 50 people only'), or a time-limit (e.g. next 3 days only). These are all proven conversion-boosters.
And remember, that any discounts or special offers you give, are all on sales that you wouldn't otherwise have got, so they aren't costing you anything!
But take care to only offer something that is relevant and beneficial to your customers. Preservation of your relationship is paramount, and sending them an irrelevant offer that they aren't interested in, or doesn't apply to them, will only damage it. If necessary you can segment your list to target only buyers of a particular product, to make sure that your offer is relevant to them. One size does not necessarily fit all!
A well-constructed offer, sent to the right people, using proven conversion-boosting tactics, can give you an immediate boost in revenue, and it's risk-free!
Do social selling
In my opinion, the easiest way to boost your revenue in a short period of time is social selling. You can pick up people's conversations on any subject relevant to your business — in our case it's people looking for a SaaS tool, recommending one, or complaining about one. We track keywords and phrases people typically use to talk about SaaS tools. This allows us to know our customer personas inside out, as well as invite people to share their views on SaasGenius. I personally use a tool called Brand24 to do that.
You can use social selling no matter what it is you're selling — you can find people looking for recommendations of pretty much any product on the Web, especially on Twitter. Talking to these people is much easier than trying to sell to other audiences because they are already expressing interest in a product you're offering. All you need to do is find them at the right time and give them what they are looking for.
Identify your exact demographic
The key to quick ROI is to first identify your exact demographic. That sounds basic but so many marketers I speak to can't nail down who their exact audience is. One you know your demographic you need to identify where they are spending every minute of the day. What blogs do they read? Where do they hangout online? What are they doing when they aren't on the web? Once you know where their attention is being spent, that is where you go. For some it's spending 80% of their time engaging on social, for others it's all about SEO. That totally depends on your audience and the industry you are in.
Focus on ROI driving by long-tail search queries
Don't forget to use content marketing and SEO. Focus on ROI driving by long-tail queries. If you choose right long-tail keywords, you'll get an advantage for rank on Google easily and short-time. You can use Google suggested queries for free. Make your research, analyze all top ranked posts and read comments, reviews on social media. Find the unwritten parts on top ranked posts and create a rockstar content!
Find and use friends that have similar products or services
You need to find and use friends that have similar products or services that would be an awesome supplement to your business. To offer a mutually profitable cooperation. Add their product/services as bonuses for those who order your product. The same can be done for your friends. When someone buys your product or service, he/she will get the bonuses from your friends for free. Be sure to add the element of urgency. The offer should last for a short period.
Try Paid Acquisition and launch a few experiments
One of the fastest way to generate revenue is to try Paid Acquisition. It's one of the very few channels that can yield results in hours.
Turn on Retargeting and start showing ads to people who didn't convert.
Get on AdWords and start showing ads on keywords related to your products and services.
Customer Acquisition Cost (CAC) will vary from product to product but you should be able to generate revenue in a few days.
Although you can start with much lower, I generally recommend starting with a budget of $ 5,000. This will enable you to launch a few experiments and see if Paid Acquisition will work for your business.
Finally, if Paid Acquisition can seem like a short-term game, you'll only be able to reduce your CAC and improve results over several months.
Increase your organic and paid traffic from Google
Most businesses I consulted in the past had one thing in common. Not enough traffic. In order to increase your revenue, you need more target traffic. The most cost effective way is to increase your organic traffic from Google or paid advertising.
After you start getting real traffic you can optimize your sales funnel with A/B tests. Keep in mind that no matter what is your business model you need to gain people's trust before you ask them to pull their wallet.
The best way to do so is to educate them with in debt content you publish on your blog.
Proceed changes in BPTA (business process technology alignment)
Invest time in your current or past customers
Every business is different but one of the best ways for any business to drive additional revenue in a short time is to invest time in their current or past customers. It's easy to get caught up trying to find new customers when in reality, it's our current customers who can offer is the most ROI. Create a list of your customers or clients and reach out to them with a promotion, up sells, new product, special rate or simply ask for a referral. Leverage the people who already trust and know you to increase your revenue.
Put SEO efforts into the keywords that you're currently ranking for positions 5 to 10
Put all of your SEO efforts into the keyword terms that you're currently ranking for between positions 5 to 10. Google already wants to rank your pages for these terms, and with a little extra effort you can quickly pull-in a lot more traffic. If you improve your on-page optimization, enhance your internal linking and build just a few quality links, you can improve your rankings for these keywords in a matter of days. And if you improve a ranking from position 10 to position 1, it's not uncommon to see a 20-fold increase in traffic.
Attend and speak at an industry event
At Relevance, we see a quick bump in revenue after attending and speaking at an industry event. Speaking helps drive quality leads, quickly. Their sales cycles tend to be shorter than the average lead, too.
Find a way to proof the value of your product
Find a way to proof the value of your product in a very short time period to your customers. Even though it might require bigger investments, it will pay off. Just make absolutely sure by having the right people in your team, that the proof of value process really works!