Why link building is important in a RankBrain, AI driven world?
Why link building is important? Link building has changed a lot since the days of article syndication, social bookmarking and web directories. In a modern world of RankBrain, AI, Machine Learning and Voice search, what does link building look like?
All of these things are really cool technology but it presents us with tricky issues to solve. SERPS are becoming harder to reverse engineer, with some of the search results not having SERPS at all. And we've gotten to a point where Googlers will often struggle to know why a site ranks in a certain spot. We're used to the idea of there being a set of «signals» that Google use. And a group of them have always revolved around links. But the thing is, these signals aren't quite as clear cut as they used to be. For example, at one point, keyword usage on a page was a strong signal. Now, you can rank for a keyword without having that exact keyword on a page. And Google worked out other signals to help them figure out a relevance.
So, could they do the same with links?
Whether they were actively built or not isn't the point… you still need links. They're still strong — but Google has way more signals than ever before.
Speaking of RankBrain and AI, they are ultimately driven by a user behaviour. Users unconsciously tell Google what they like and what they want. Google understand and learn from this and refine future results. It's what Panda was originally built on. Would you feel comfortable giving your credit card details to this site? Would you trust this information from this site?
Now, Google use more signals from users than ever before. This leads to a problem when it comes to links. They don't have Majestic or Moz installed like we do! But links are clearly an implicit signal and are still valuable. And Paddy believes, they will be for quite a while. He also believes that if Google could turn the dial down on them, they would. Just like they have with other signals. So link building isn't dead at all. Consistent, quality links caused these increases in organic traffic. You didn't need to deserve links at one time, you just needed a few more than your competitors.
At one point, you didn't need a great website either, it didn't have to be fast and responsive, the content didn't have to be yours, the design could be average, customer service could suck. You just had to know the signals. This is much harder to pull off now. Just worrying about links won't be enough. We've built hundreds of links into sites and seen little difference in traffic. Why? They didn't have the fundamentals working well.
The best link building in the world won't save you from issues like bad site architecture, or terrible user experience. But it still matters a lot.
So what do we do?
Everything from link building to technical content. All pieces of the puzzle need to be worked on with user experience in the middle of it all.

Conclusion
Paddy concluded that being perfect at one but terrible at the rest won't cut it in the future. Nailing all of the things you need to take care of makes you link worthy. Link building in an AI/RankBrain driven world looks the same as digital marketing as a discipline should. Not treated as a separate activity and part of the overall digital marketing puzzle.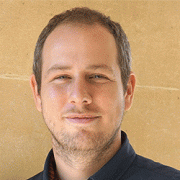 Paddy Moogan
Paddy Moogan is the co-founder of Aira, a digital marketing agency based in Milton Keynes in the UK. He has worked in digital marketing since 2004 when he got bored studying for a Law degree at University and decided to earn money online. He moved to London a few years later and worked for Distilled, ending his career there as VP Operations of their London office before starting Aira in 2015.