B2B Lead Generation with Content
Sometimes lead generation is disappointing. Sometimes people visit your website or blog, but nobody wants to click on your calls-to-action, click on your sign-up buttons or fill in your forms. As a result, a lot of digital marketers do not regard content as a good means of lead generation.
To generate leads, you need to do more than just publish great content. You need to elaborate on a working strategy that will actually deliver leads. It is essential to remember that content usually generates cold leads. Typically, they are mainly looking for information, not to buy something. Content delivers leads at the early stage of the buying cycle, and these leads need to be nurtured before you can forward them to sales.
So, it is essential to choose the right strategy. Pawel recommends employing the following lead-generation strategies (which lead to success in his experience):
Lead Magnets
Webinars
SlideShare presentations
Podcasts
Let's start with Lead Magnets. What are they?
«A lead magnet is anything that your potential customer will find valuable.» — Massimo Chieruzzi, CEO, AdEspresso
«A lead magnet is an irresistible bribe that offers a specific chuck of value to a prospect in exchange for their contact information.» — Ryan Deiss, CEO, DigitalMarketer
«A lead magnet is a (free) offer you make to get visitors' email addresses.» — Peep Laja, CEO, ConversionXL
Pawel offers an alternate definition: «A lead magnet is a resource you offer in exchange for a person's email and the chance to develop a relationship with them».
There are a variety of Lead Magnets: e-books, guides, whitepapers, tools, templates — anything that could benefit your audience. There are a number of features that lead magnets should possess to be effective. Lead Magnets must:
Relate to specific knowledge your leads lack. The best way to learn what your leads lack is to ask them. You can launch a quiz for your warm leads, for example.
Promise a solution to a very specific problem.
Be easy to consume within minutes. A 100-page e-book may be a very generous offer, but usually people want something that will work right immediately. The world moves quickly these days, and people don't have time to read through an encyclopedia-length document.
The next strategy is to organize webinars.
It's no secret that one of the main goals of organizing a webinar is to generate leads. Webinars can attract qualified leads that are ready to buy. The benefit of a webinar is that participating in one is a conscious decision for all attendees; they already strongly intend to learn about your company or your service, and they're, potentially, close to hiring you or purchasing your services.
Here is the specific steps to generate leads from webinars: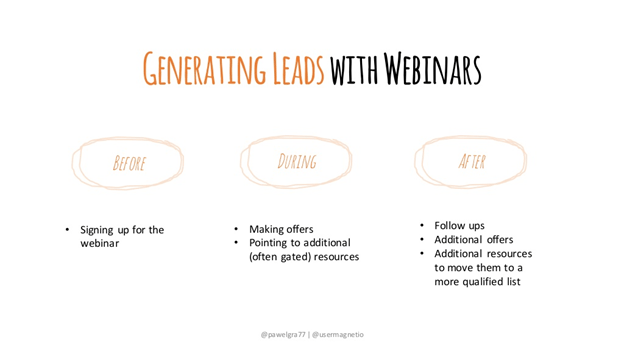 The next lead-generation strategy is to use a SlideShare presentation.
Slides are a great type of content. They are comprehensive, short and attractive. Creating a SlideShare presentation has a couple of important benefits. Firstly, you will receive access to the LinkedIn audience. Secondly, it can easily improve your search visibility. SlideShares have great domain authority; that's why they can boost visibility for a certain keyword much faster than content published on other platforms.
There are three ways to generate leads with the help of SlideShare:
Imbedding a lead capture form below your presentation. You can customize this form, and specify where you want to display it, as well as how and when you want to display it. This form is free, but SlideShare will charge you per lead.
You can place a calls-to-action in your presentation.
You can put a calls-to-action in the description.
The fourth way to generate leads from content is to host podcasts. Despite the fact that a lot of digital marketers do not believe podcasts are an effective means of generating leads, podcasts have a number of advantages compared to other forms of content. Statistics tell us that podcast listeners stay tuned five times longer than readers of blog posts. So how can you generate leads from podcasts?
Point listeners to Lead Magnets in your program notes.
Mention additional resources with signup forms.
Point listeners to your site, services or products.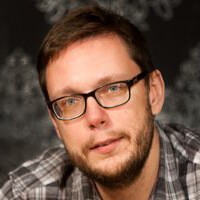 Pawel Grabowski
Pawel Grabowsky is a copywriter and content strategist who runs a content agency called User Magnet, which specializes in lead generation. At Digital Olympus, he proved to us that it is possible to generate leads with content, and he also shared his own top four content strategies for generating kick-ass B2B leads.