Have you ever noticed how difficult it is to sift through content that you are bombarded with anywhere you look? You are not the only one — your customers have a hard time deciding what they should read, and it's impossible for them to go over every piece they would like to. Recent statistics revealed by Buzzsumo show that The Washington Post alone publishes around 1200 posts each day! Can you even compete with that? Moreover, it is predicted that the rate at which new content is produced will keep growing.
To have any chance of getting found in this flood of articles, you have to target the exact preferences of your customers and understand the principles of creating shareable content. This way, you can highly increase your chance of reaching new clients and strengthening your relationship with your current audience.
But what are these preferences? And how to find shareable content? In this piece, I'll show you how you can take your content creation process to the next level. You will learn how to produce content that your audience loves to read and share and how to look for ideas and identify the type of content that has been proven to be effective in your niche.
Once the research part is done, we will talk about structuring your content, choosing the right style and length, as well as adding all the things you should include in your articles to make them compelling. Of course, before we get to the structure, let's take a look at how to search for ideas.
1. Get a list of most shareable content on the topic that you are interested in.
Luckily, almost anything can be researched if you know where to look for data — including ideas for the most shareable content. One of the best tools to do that (and my favorite) is Buzzsumo. Using it, you can learn a lot about the audience and trends (including articles trending right now) in any industry. Let's see how to do that.
To get you started, you can either select a topic from the list of most popular categories or add your own filters to make the content specific to your business (by clicking «Add Trending Feed» you'll be able to follow the content for a chosen topic any time you want. You can view trending content from the last hour, 3 hours, 6 hours, 12 or 24 hours and check the number of total shares (as well as across the most popular social media channels) of each article. Below you can see trending business content from the last 24 hours: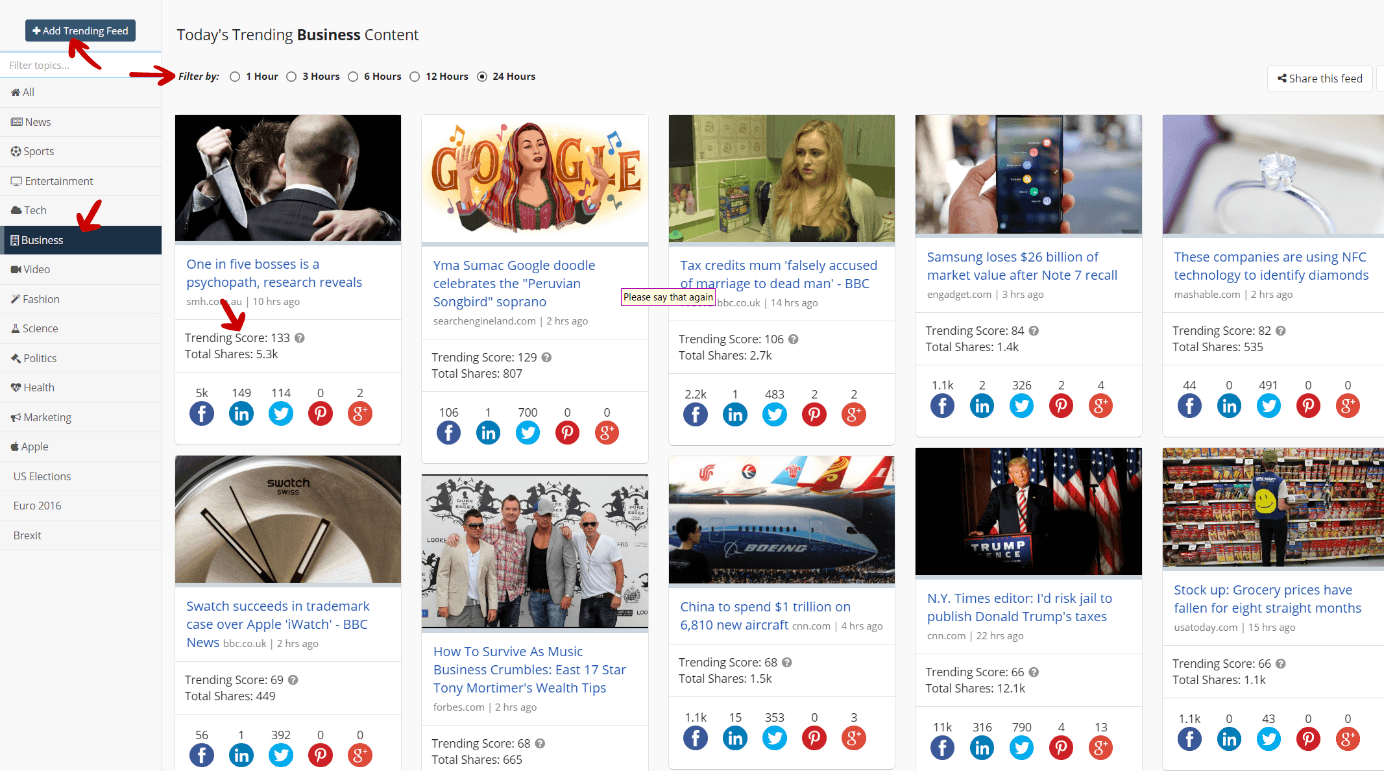 By clicking the «+Add Trending Feed,» you will be taken to the fab feature which allows you to add your own custom feeds based on chosen topics or domains (you can also exclude certain domains from the feed). To simplify, let's focus on cats. We now have to add the feed name and a few topics to help us find more content. This time, we will not be excluding any domains from the results: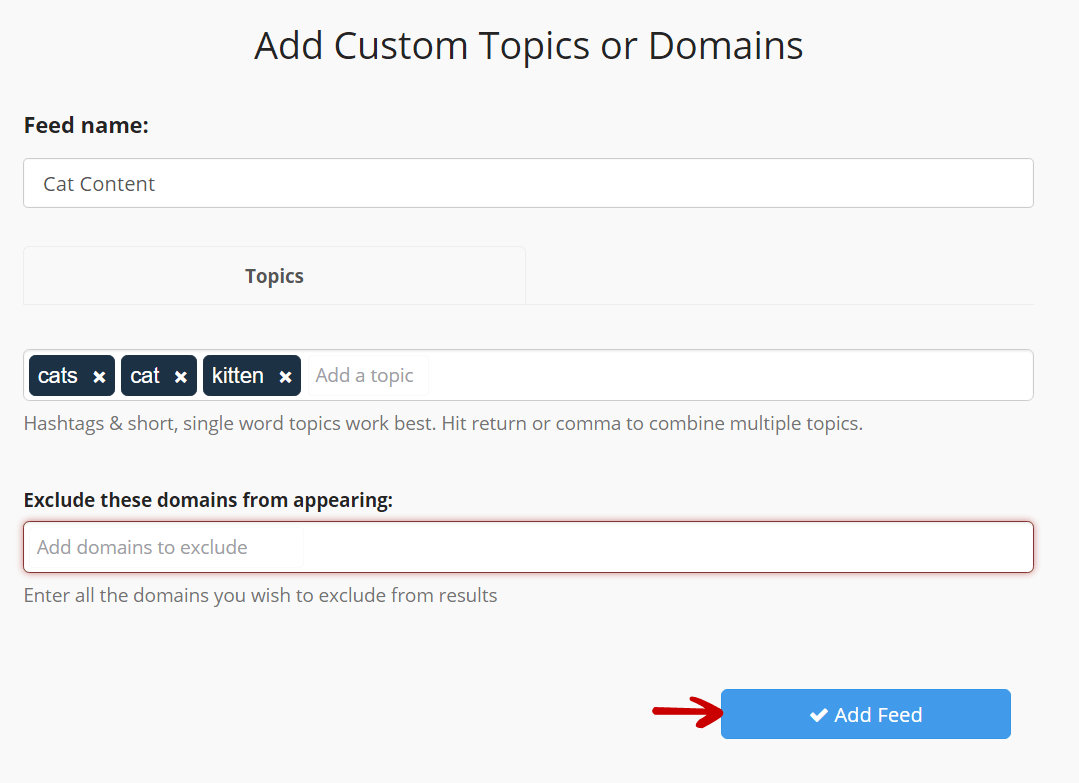 The feed will now appear below the list of standard categories. Once you know the ideas for your article, it's time to brainstorm a couple of topics that would definitely interest your readers and help you generate shareable content. Of course, the topic is just the beginning.
2. Identify the Type of Content That Has Been Proven to Be Effective
After your initial brainstorming session, you should decide on the best way to structure your content. By structure, I mean whether you would like to create a how-to guide, an interview with your customers or authority in your niche (or someone in your company), an infographic, a list-style or expert roundup post. Of course, don't leave your decision to chance. To increase the effectiveness (and ROI) of your content marketing, you should focus on producing exactly the type of content that has performed extremely well in your niche.
There are two ways you could go about finding the right type of content. The easiest way to do that is to use another great feature of the mentioned Buzzsumo — Most Shared search. To get the best examples of the type of content and its structure, simply fill in the topic you are interested in and enjoy the results.
You can also filter it by date (up to one year) and by language, TLDs and content type. I will focus on two topics — «cats» and «content marketing». You don't even have to dive super deep to see what types of content have generated the most shares. In the case of «cats,» the most popular articles are those that include a lot of graphics and images with a little bit of humor: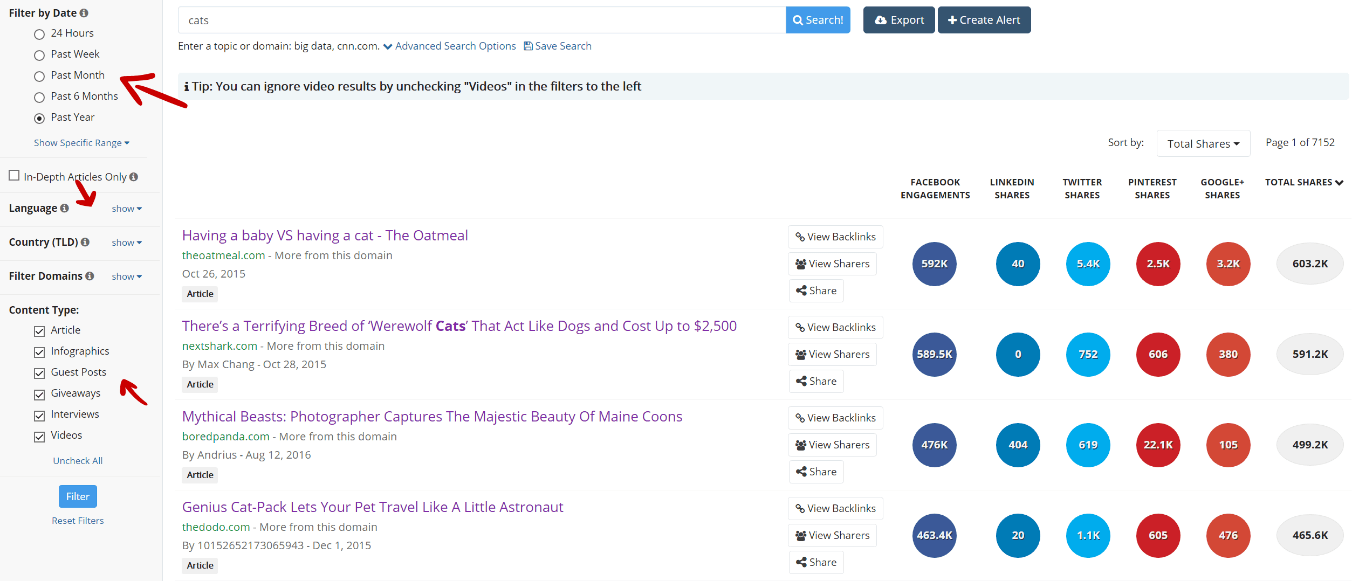 Of course, not all businesses can use cats in their communication — let's now take a look at the «Content Marketing» trending articles (click here, to see a «live» example):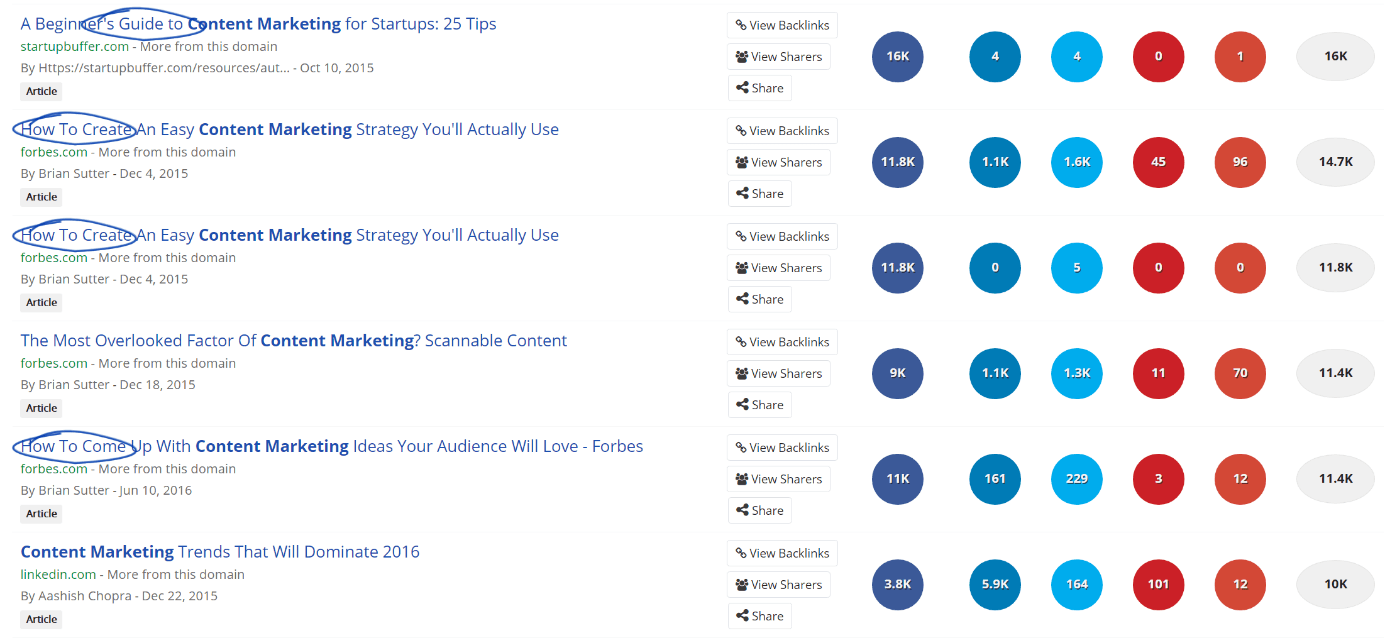 After a quick look, we could differentiate five most successful articles for the niche:
— Guides
- How-to
- List-Style Articles
- Research-Style
As you can see, most of the articles focus on educating people who are interested in the topic of content marketing and provide them with valuable tips and predictions.
While the above method could be enough for some people, especially those who just want to take a quick look at what's popular, let's dig even deeper. Relying on such a shallow analysis could lead to leaving money on the table by producing less effective articles. Even worse, if the content you create turns out to be a complete waste of time and resources by not being appreciated by your audience at all!
Let's now take a look at how you can use the above method and perform a more in-depth analysis, to target the content needs of your audience even more precisely. To do that, we'll use a simple Pivot table, which is a very convenient way of seeing the accurate number of different types of content and the number of shares that each type of articles has.
Start by downloading the list of all the articles you've found on the topic of your interest. Once you have it, sort them manually based on their type. To help you in the process, you can use this list of 105 Different Types of Content created by Convince & Convert — it comes with great examples.
After that, all you have to do is create the table itself. You can see a sample final result in the below image or visit this link to download a spreadsheet in which I classified articles about content marketing.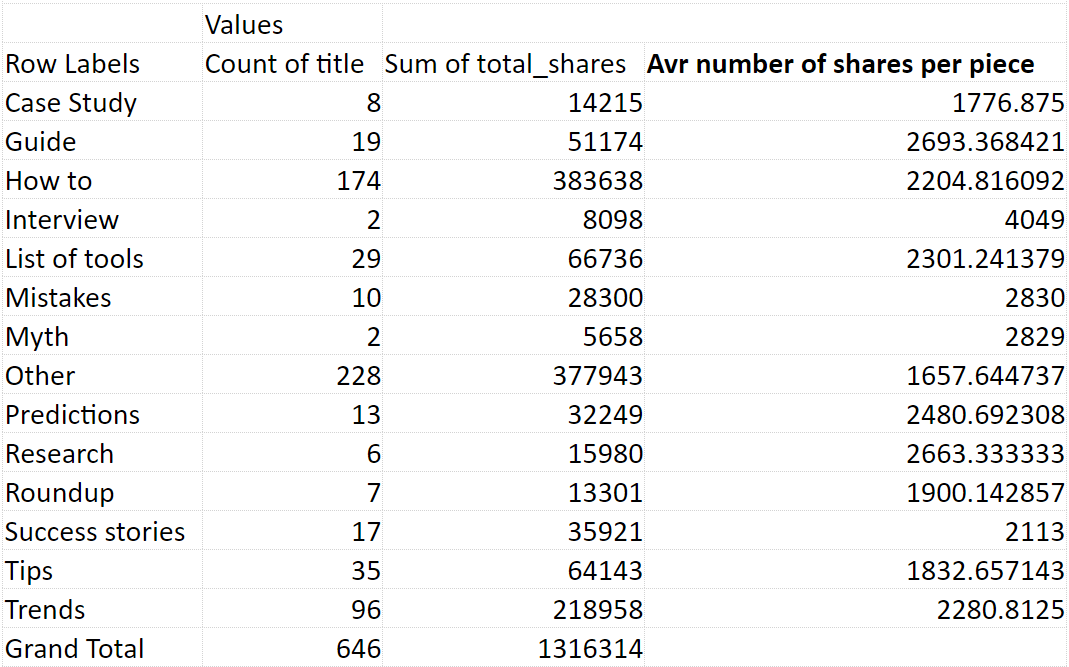 Another benefit of this categorization is that it helps you determine what kind of content is produced less frequently — while you could think this means it's less popular among your audience, you could try to use that to your advantage as there will be less competition and it can actually be easier to promote it and get shares. In my example (content marketing) the most popular articles are guides, research papers, interviews with influencers or popular people within the industry, and case studies.
Great! It's Time to Produce the Content
Now that you have the right topic as well as the list of article types, it's time to create an interesting and valuable piece that your readers will love. What else can you do to boost the quality of your content?
Here are 5 more tips that will help you do just that:
1. Pay attention to the length of your posts.
Again, you can check what's the best length of a shareable article using Buzzsumo. Below, you can see a comparison for two topics — «Content Marketing»:

and «Cats»:

What's interesting is that «Cat» content is shared almost exclusively on Facebook, whereas «Content Marketing» articles are shared most eagerly on Twitter and LinkedIn (for shorter pieces). There's also a difference in length. The most popular pieces focused on cats are between 1000 — 2000 words whereas the audience of «Content «Marketing» content prefers long and thoroughly-researched articles. Of course, there's one big reason to that — Internet users prefer watching cats instead of reading about them!
2. Structure your articles well.
Today, people have no time to read content that is heavy on the eyes. With just a few clicks of a button, they can go to another site and find similar information or get busy and do a million other things. That's why it's so important to use:
Headings and subheadings, to organize the structure and flow of text
Numbered or bulleted lists, for the same reason as above
Colors and highlights

(

but don't overdo it!)
Helpful and relevant links
Multiple paragraphs with just a few lines in each
3. Use unique and quality images.
Nobody likes reading through a black and white wall of text, no matter how well you structure it. Use quality images to illustrate your point and enhance the most important parts of the content. If you can't source the images yourself, go to websites such as Upwork.com and find freelancers that will help you with this.
To further entice readers to go over your content, you can use «deep captions.» These captions consist of 2 to 3 sentences and are designed to encourage your visitors to read the whole article (because most of them will first scan the images before deciding whether they should read the whole article or not).
4. Add relevant quotes and statistics
People love this little bits of information. Statistics spark curiosity while quotes — especially if coming from experts in the niche — add a lot of authority to the content. Make sure that you can provide the link to the source so that your readers can trust your words!
5. Engage with your audience as quickly as possible!
Of course, even the best piece of content is useless if there are no readers. Start engaging with people who might be interested in the article you have just published. Do that as early as possible. As a professional, you can start by trying to find them by searching on Twitter. Although not all content and niches are relevant to what average Twitter user is looking for, you can get almost real-time results — allowing you to engage in the conversation immediately.