I've been following on various digital marketing brands for some time and noticed that their social media engagement doesn't often look as good as it could.
Quite often, it depends on the type and quality of content that they promote, but that's not the only issue here. Today, when people's expectations as consumers are through the roof, running a successful social media channel for a brand is a seriously complicated job. Especially when it comes to Twitter and LinkedIn, where nowadays it's very hard to get a substantial number of likes and shares.
Tip: Facebook is a different story: company pages died a while ago and the only option to keep Facebook engagement up is to launch a community group. That requires x10 more time compared to other social media channels and is not the best next move for every business.
Twitter and LinkedIn are the most commonly used social media for digital marketing brands and lately, LinkedIn has been even increasing in popularity.
Regardless of what social media you are focusing to promote your brand, you'll always have to answer the cornerstone question: how do you keep social engagement up these days?
Isn't it just about posting more?
Yes, that might work on Twitter. I've analyzed some Twitter accounts and noticed that posting more leads to higher engagement. For instance, here are some of the leading digital marketing tools Twitter analytics: the overall engagement that they reached in February 2019, the number of tweets they did in the same period, and their engagement rate per tweet:
| | Number of Tweets | Total Engagement | Engagement Rate per Tweet |
| --- | --- | --- | --- |
| Yoast | 39 | 462 | 11.85 |
| SEMrush | 604 | 11 004 | 18.22 |
| Moz | 187 | 6019 | 32.19 |
| Unbounce | 107 | 485 | 4.53 |
| Buffer | 67 | 3182 | 47.49 |
| Deepcrawl | 337 | 1907 | 5.66 |
| BrightonSEO | 45 | 2536 | 56.35 |
| Screamingfrog | 19 | 1114 | 58.63 |
| Hubspot | 84 | 5419 | 64.51 |
So, this data tells me that posting more is not a universal magic formula. For instance, Unbounce posted only 25% less than Moz but ended up with 12 times less engagement. On the other hand, SEMrush has a prominent engagement per tweet rate and, as a result, their overall engagement also reached quite high numbers.
From my own experience, it makes sense to post more if the account followers are active and interact with it on a regular basis, that is, every post gets at least several reactions.
The average engagement per tweet should already be quite high (as you can see at the example of SEMrush) in order to use more frequent posting as a means of reaching higher engagement.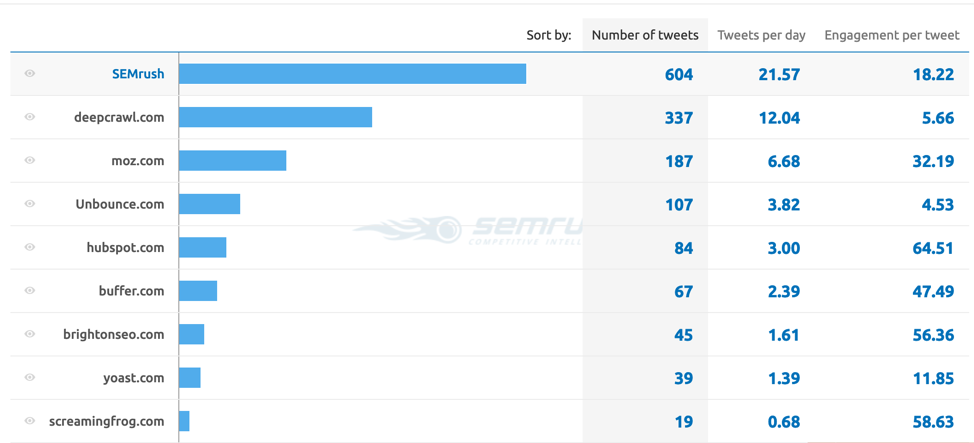 Sadly, Deepcrawl hasn't been able to get even half of the engagement that SEMrush got even though they posted only 50% less. On the contrary, Moz is doing quite good with posting 69% less and getting only 45% less engagement.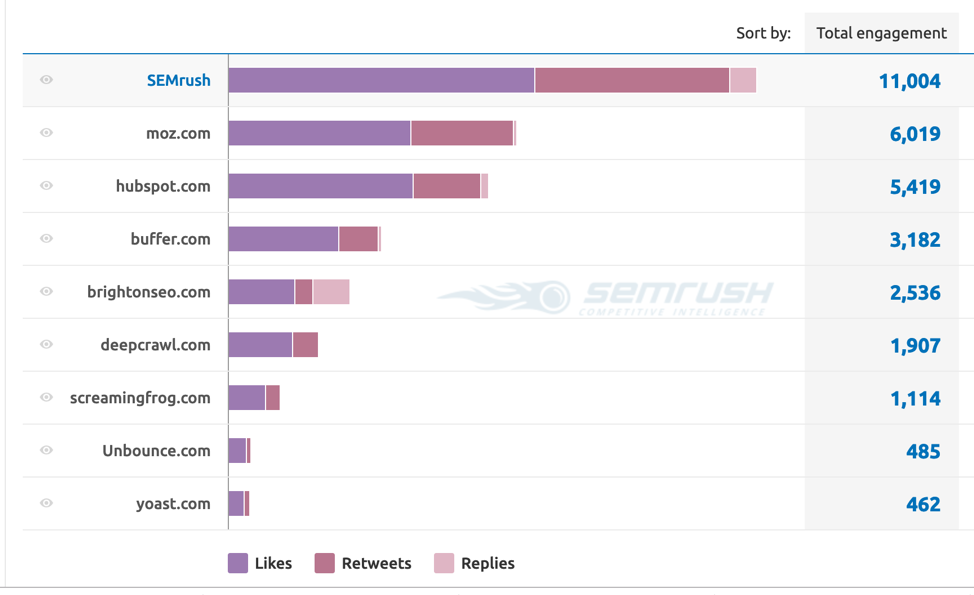 Both SEMrush and Moz have established communities around their brands and can capitalize on them. Also, despite the fact that Deepcrawl's engagement might not be looking as good as Moz's or SEMrush's, they still have a lot of Twitter followers. And some of their tweets have superb engagement rate: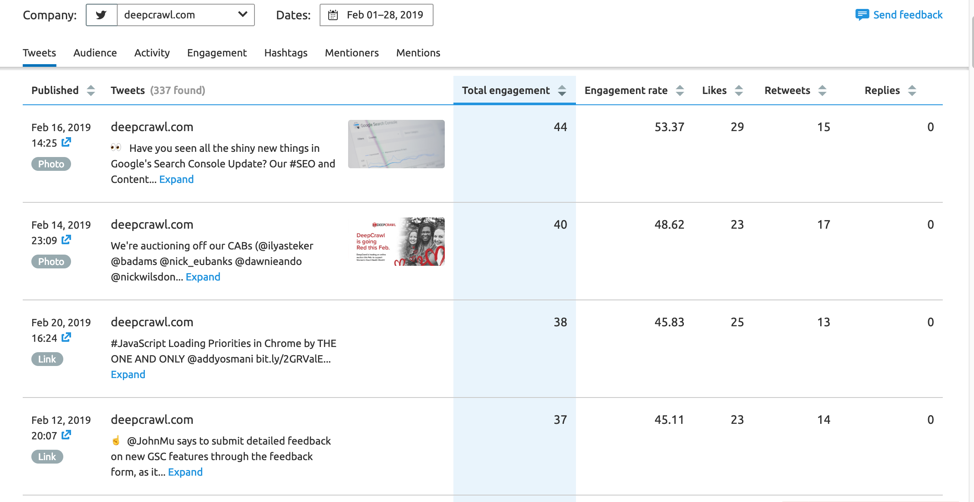 As you can see, the data suggests that posting more might work but not in every case. Social Media Marketing landscape is extremely competitive, so here I want to share with you some of my golden rules to get the highest engagement for 100% of your posts.
Rule 1. Your SMM shout-outs feature multiple experts at once, e.g. round up posts, speaker lineups etc.
Such posts require certain preparation: you need to curate it, create images with experts' photos that they will be eager to share, double-check on the experts' account names etc., but these efforts always pay off.
For example, here are a few tweets that were extremely popular at the time. In the tweet below, DeepCrawl mentioned Ilyas Teker, Barry Adams, Nick Eubanks, Dawn Anderson, Nick Wilsdon, Glenn Gabe, and Bastian Grimm, who liked and retweeted it thus spreading the word about further.

The downside of this strategy is that the engagement from these posts doesn't boost your site traffic since the links often lead to third-party websites. However, on the bright side, your Twitter starts to be visible across a broader audience that is 100% relevant to your business.
If you want to grow your social media engagement, stop focusing on getting clicks… Clicks are important but being friendly and promoting other people on your social media channels will generate organic interactions and build your following. Next time you tweet something, those people you previously featured will go ahead and help promote it to their followers. This is the essence of organic social media engagement: Give to get
Rule 2. You participate in Twitter chats and are often seen in the industry-related conversation threads
Participating in Twitter chats and any sort of conversations always leads to higher engagement. It allows brands to connect with experts and practitioners in an informal way, demonstrate expertise and establish authority in the community.
To get the best out of it, pick the chats where the experts with who you'd like to build a relationship are hanging out. If you spot them posting repeatedly during one hour with a particular hashtag — that's where you need to go. Very often experts are invited to host Twitter chats if they are especially qualified in the subject. In this case, they will most probably share an announcement about it on their channel.
When you're there, don't jump on every thread as a seagull on french fries. Tune into conversations where you can demonstrate expertise, share your personal experience or an interesting perspective.
There are many popular digital marketing chats out there: #vcbuzz chat from Ann Smarty Viral Content Bee, #ContentWritersChat from Julia McCoy's Express Writers, Madalyn Sklar's #TwitterSmarter and more. We, at Digital Olympus, have a Twitter chat, too — #DigitalOlympusChat, which takes place every Thursday at 5 PM by London time. Bottom line, there's always something to choose from.
You can even launch your own Twitter chat — people enjoy the opportunity to share their thoughts on what they do best in an informal way. Be sure to pick a thought-provoking topic and a famous host and you'll get the chance for your account to get really high visibility.
Rule 3. Creating posts about people they know and care about
Loyalty is a valuable resource which can also be capitalized on. Sharing your friends' content always brings higher engagement than the content from people you don't know.
For example, when an expert is sharing news about their new project you should be the first to spread the word about it.
Hint. You can subscribe to the experts' mass emails and be the first to promote their newly launched blog post, webinar, podcast, etc. You can reach the highest engagement only because you're the first to know about it!
Another good idea is to reach out to the experts and ask what content they would like you to promote. This will also increase the chances that your social media shout out won't be overlooked and will get the desired likes and retweets.
The general rules of modern SMM for growth
These days, if your social media engagement is not growing, it might soon start decreasing. To prevent this decline, use these techniques to achieve stable engagement growth:
1. Find a way to involve experts in your posts. The more people you tag, the higher is the engagement. Posts promoting your own blog that don't feature any influencers won't be getting as much attention as they could with them. By the way, if you haven't tried influencer marketing before, in this video Ross Simmonds shares tips on how to leverage it for company's growth and shows how to build long-term relationships with influencers.
2. Connect with the authors before sharing their content. By this, you're increasing the chances that your shout-out will get noticed. There are many ways to do it, for example, leaving a meaningful comment under their post. You don't have to agree or disagree with them, instead, you can ask a question — it always gets more attention.
3. Start conversations and be ready to join them on other accounts. In fact, these days conversations are one of the best ways to bring engagement and that's what you need to work on. Here's a helpful guide on finding Twitter comments to reply to.
4. Don't ignore Twitter chats as they allow your posts to get a lot of attention from 100% relevant audience.
5. Always support your social media posts with custom made images and videos and make them a part of your brand identity. If they are creative and of high quality, people will share them more eagerly.
Tip: if you can't afford to hire a designer, take advantage of the online tools, where you can create custom (and pretty good looking!) images from shapes and templates — for example, Canva.
The same applies to video creation. Gone are the days when you had to invest thousands in video production. These days there are powerful online video creators that don't require money investment or hours of training. For example, video Animation Maker by Renderforest lets you put together professional video animations. All you need is a script. Then, simply create a template and use their visual editor to create your video.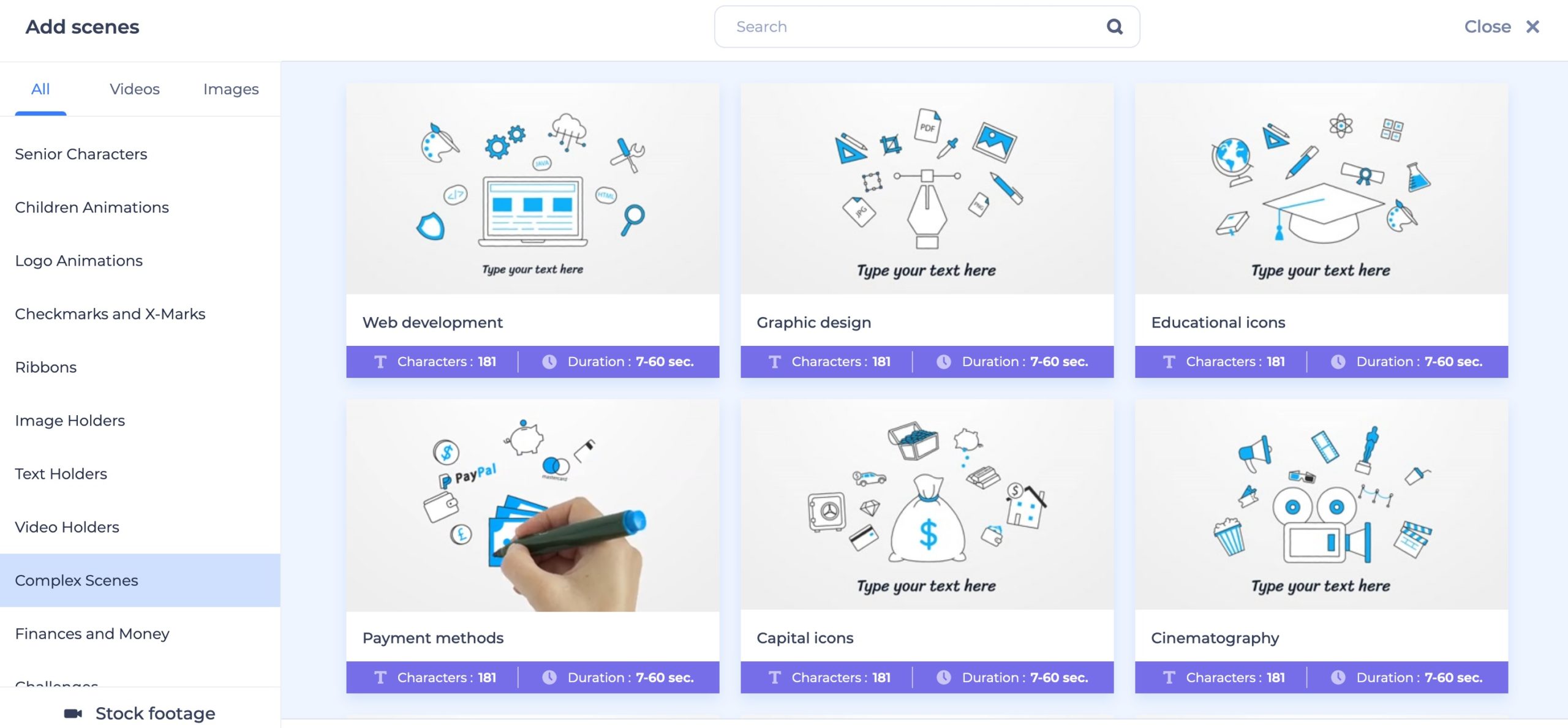 Wrapping up
The Internet is a crowded, crowded space, and it's especially hard for brands to get visibility on social media. But it's not only about getting visibility — it's about sustaining and growing it. The brands that realize that turn out building loyal communities; the ones that don't end up with a half-dead Facebook page only useful to lookup their landline number.
There are many ways to grows social media engagement and I've named only a few. If you know of other techniques that have worked out for your brand, drop me a line and I'd be glad to include it in my future posts!