Who will do link building better, an in-house team or an agency? Here are some pros and cons of outsourcing link building to make the right choice.
To outsource or not to outsource, that is the question.
If you asked any other agency owner whether outsourcing link building is worth it, they would say 'Yes' in a heartbeat. I don't fully support this opinion.
In my experience, the best links can only be built by an in-house team. Wonder why? The answer is simple — «the best» is an extremely subjective definition. Over the past few years, I've heard many explanations of what high-quality links should look like, and these opinions often differed from my own.
I also believe that outsourcing, like all other things, has both advantages and disadvantages. And, if you want to try link building but don't know if you should do it yourself or hand it over to an agency, here are my top pros and cons to help you make a well-informed decision.
Pros of Outsourcing Your Link Building Efforts
Let's start on a positive note and consider the advantages of outsourcing link building. In my experience, there are five main perks: fast link acquisition, scalability, lower costs, access to expertise, and low reputational risks. Let's analyze each of these advantages in detail.
Speed of Link Acquisition
There is a significant difference in how fast an in-house link builder and an agency can help you acquire links. An agency usually has all the connections to get links in no time, and this, to me, is the biggest perk of outsourcing link building.
However, there is one stipulation to keep in mind — you need to check whether the agency works in your niche. In case the agency never worked in a particular niche, building links might take two or three months depending on the size of the agency's team and how difficult the niche is.
Just to provide you with some context, at Digital Olympus, we can help a client build 20−30 links a month if we are well-familiar with their niche. But if the niche is new to us, it could take a while until we can get at least five links.
You might be thinking, if the process of building links in a new niche takes so long for an agency, wouldn't it be easier to do the same but in-house?
Fair point, but it will hardly work out for your benefit. Agencies usually have tried-and-tested link acquisition strategies. What takes an agency a couple of months to figure out will take you twice as long. And it's usually pure luck if you manage to land a few links right away.
So, the agency is more likely to get you links faster. But before you pick the right agency for you, ask them for the samples of links and the names of the clients. This way, you'll be able to check how familiar the agency is with your niche.
Scalability
I should say that having an in-house link building team is not a bad idea, especially if the end justifies the means. But if you need to build links on a scale right away, and your team has just started building connections, it will take you a while to get decent results.
In general, growth isn't easy or comfortable. When Digital Olympus just started, we faced many difficulties, and while growing, we had to adjust all of our approaches and strategies on the go.
Any new link building team will face the same struggle, especially if several people are working on link acquisition. When you are building links alone, you can switch your strategies as often as you need. But when a larger team is involved, a slight change in link building approaches is significant since several people need to adjust their work process, which takes more time.
Cost
You'd be surprised, but hiring an in-house link builder will cost you more than a long-term partnership with a link-building agency. Your own link builder will cost you $ 2−6K a month or around $ 40,000 a year. To compare, a top-level contractor at a link building agency costs around $ 30 an hour.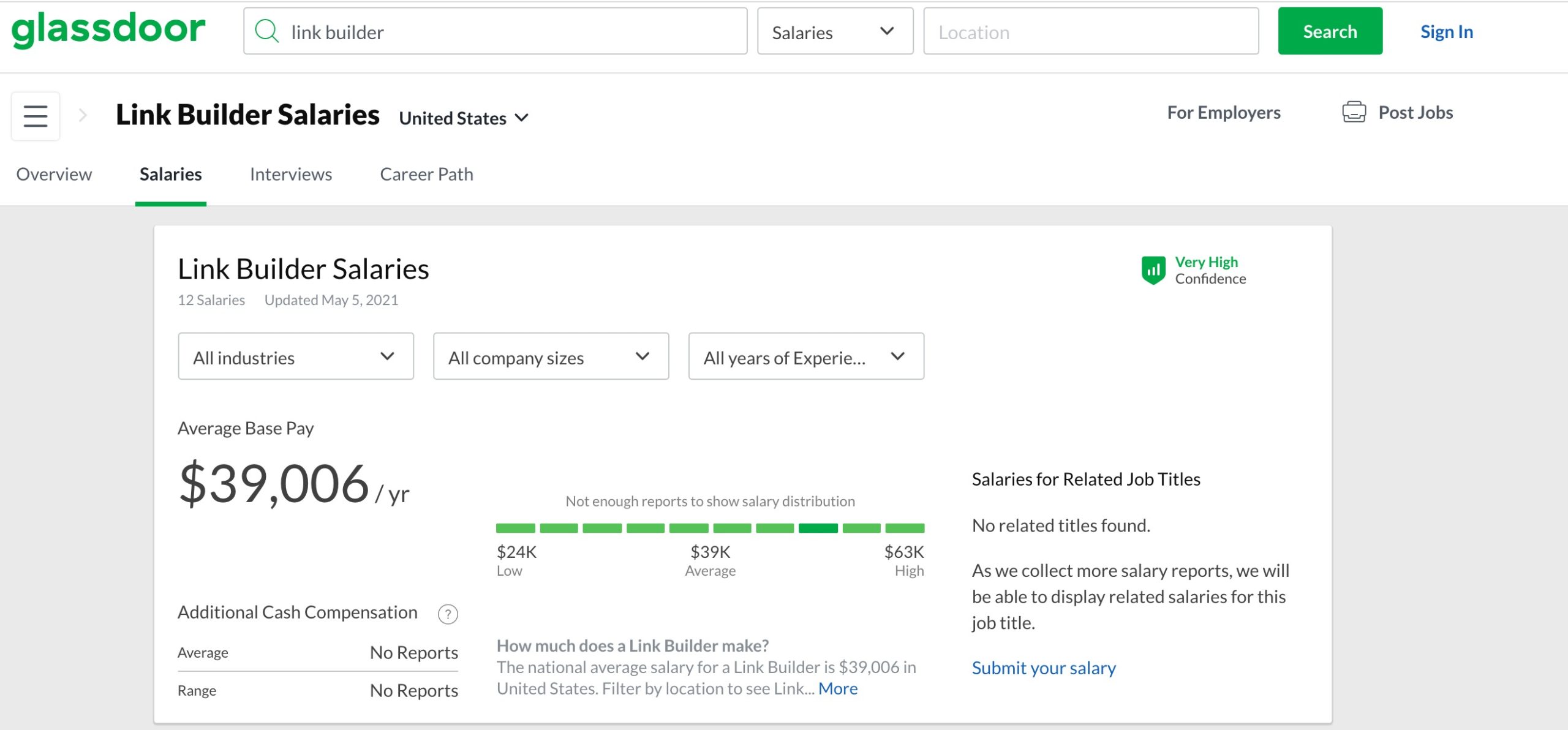 But the bigger issue here is getting your money's worth. Consider this: it will take an in-house specialist from up to a year to start building 60 links a month, even if they are experienced. At the same time, an agency already has all the tools and an elaborate strategy to build links within a shorter time span.
Also, to give you an insider perspective, it's pretty hard to find a professional with a great background in link building. In my agency, we hire people with basic marketing experience and put them through training. It might take in-house link builders up to a year before they learn the specifics and finally start landing link building opportunities for your brand.
Apart from that, I should remind you that your in-house specialist will need access to the link builder's toolkit, which usually includes solutions like Ahrefs, Majestic, SEMrush, etc. They might also need an outreach management system such as Pitchbox, which helps determine how many websites they should contact to get one link. This tool also helps evaluate the effectiveness of your link building strategy.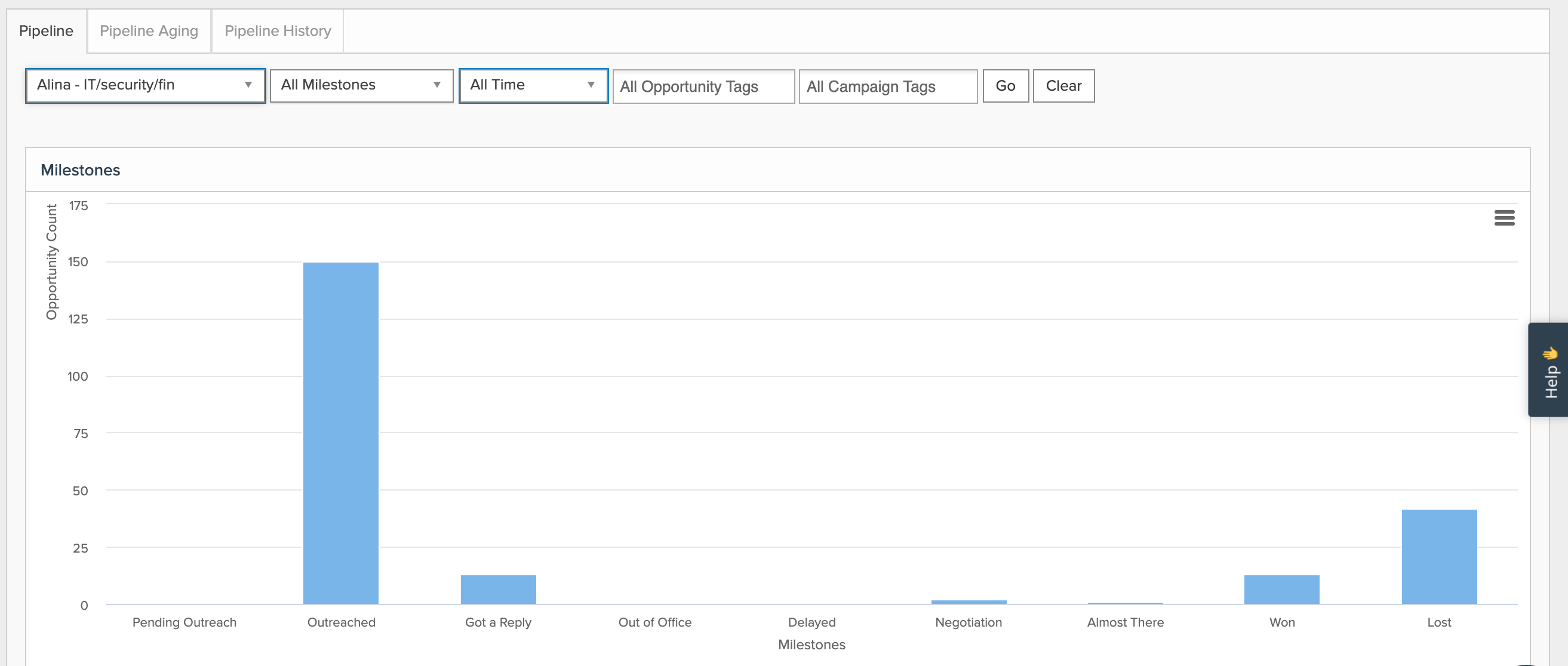 To cut a long story short, if you have a budget of $ 3−4K a month, an agency will regularly deliver 10−15 links a month. So, in this case, outsourcing link building to an agency is quite cost-effective and doesn't involve any additional expenses.
Knowledge and Expertise
When you outsource link building, you pay someone for their knowledge and experience. Agencies will always know more than you since link building is their primary line of business. Besides, agencies have link quality control guidelines.
It's also important to add that outsourcing link building will help you avoid common mistakes associated with link acquisition. For example, I noticed that my clients often don't see the difference between the links from a corporate blog and a media outlet. The link from a media outlet is a poor quality link that will stop working over time once this website loses its visibility on google. Meanwhile, the value of a link from a corporate blog will keep growing and add trustworthiness to your website.
Zero Reputational Risks
One more important point to consider is your reputation. Link building involves outreach, which is a PR approach at its core. If you don't know how to do outreach properly, you'll end up sending a gazillion of emails that many recipients might consider spammy.
If you decide to outsource link building, some agencies don't disclose the client's name and do outreach from their corporate emails. At Digital Olympus, we keep the name of the client a secret up until the very last moment. This way, an agency also takes care of your reputation besides building links for you.
Cons of Outsourcing Your Link Building Campaigns
There is no doubt that outsourcing link building to an agency will take a huge weight off your shoulders. That is, of course, if you know exactly what results you expect to get.
With that in mind, there are cases when outsourcing link building is not the best option. Let's take a closer look at them.
Building Good vs. Exceptional Links
Surely, an agency has all the connections to build good links. But it's not just about the connections. It's also about motivation.
Agencies often have many other link building projects going on, and while they can do everything in their power to help you build links, they cannot cater to your needs 24/7. For example, we usually discuss the websites where our clients want to build links, but not web pages, since it overcomplicates the process to the point that it becomes unprofitable for us.
On the other hand, an in-house link builder will have more motivation and time to select web pages that rank well in SERPs and have great link building value. This is a rather labor-intensive task that takes a while to execute.
Agency Owns All The Contacts
I believe that the best thing you can get from link building is connections. The partnerships that you build will stay with you for years, and you will be able to take advantage of them in the long run. That is true if you do link building yourself.
However, if you outsource link acquisition, all the connections will belong to the agency. This is a disadvantage, without a doubt, since you could find someone who writes guest posts and, via only one connection, build not one but a bunch of links right away. Besides, in-house outreach can bring you partners from other marketing niches and even new clients.
You Lose Control Over Link Building Process
Similar to not being able to take credit for all the connections, outsourcing link building deprives you of all the control over the entire process. The agency will keep you posted about the general state of things, but not the nooks and crannies of link building.
So, if you have a hard time entrusting link acquisition to someone else, it's better not to outsource it. At the end of the day, when you don't do the job yourself, there's always a risk you won't get the results you expect. Even at my link building agency, we can't always control our clients, who sometimes delete pages to which we build links and don't even add redirects.
Final Thoughts
To conclude, I must say that there is no right or wrong in outsourcing link building. If we consider the financial aspect of the question, it's more profitable to hire an agency since it already has qualified staff and all the tools to do the job.
Another great point in favor of hiring a link building agency is the speed of link acquisition. An agency usually has the necessary connections to get you links faster than an in-house team would. Just make sure you ask if the agency works in your niche.
That being said, if you are not confident enough about the agency's expertise, outsourcing may not be the right solution for you. It's true that no one will have a greater motivation to work on high-quality links than an in-house professional. Besides, with outsourcing, you'll lose the opportunity to get all lucrative connections that could benefit you in the long run.
Whatever you decide, my final advice to you is to figure out your exact link building goals. Without these goals, you will have difficulty finding the right agency, which you can trust.