SEO Doesn't Take Place in a Vacuum
Let's face it, SEO is a dog-eat-dog arena where if one website moves up in rank, another one has to move down to make room for the newcomer. That means that the name of the game is to beat out the competition. I say this to emphasize the importance of obtaining ongoing reports on competitor rank and investing time in competitor research that will help you better understand the underlying factors leading to your rank versus that of your competitors.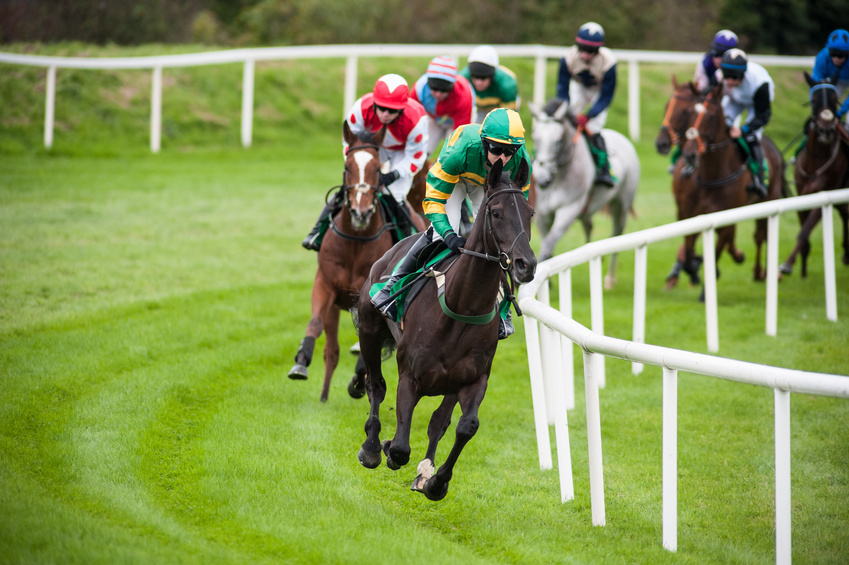 In this article, I will present the general process of identifying your online competitors and will give some specific examples and techniques which will help you learn from your competitors and then outrank them.
Determining the Keywords You Need to Target
Before you can determine who your top competitors are, you need to decide what it is you are competing for, i.e., what are the keywords that you aim to rank for. Compiling a list of target keywords requires employing multiple techniques:
using keyword research tools like Google Keyword Planner
discovering keyword synonyms using Google's related search results and autocomplete
putting on your thinking cap for brainstorming sessions and traditional research such as reading blogs and forums covering your website's topic.
Rank Tracking to Identify the Top Competitors
An important thing to understand when doing competitor research and analysis is that the companies that you identify as your main competitors in the traditional marketing and advertising mediums often are not the same competitors you are facing online. You may see companies spending lots of money on TV, newspaper, and billboard advertising, and therefore they have a big footprint in the offline world, but the online world can be a completely different picture. Those same companies often understand the importance or have the technical savviness to have a successful, optimized web presence.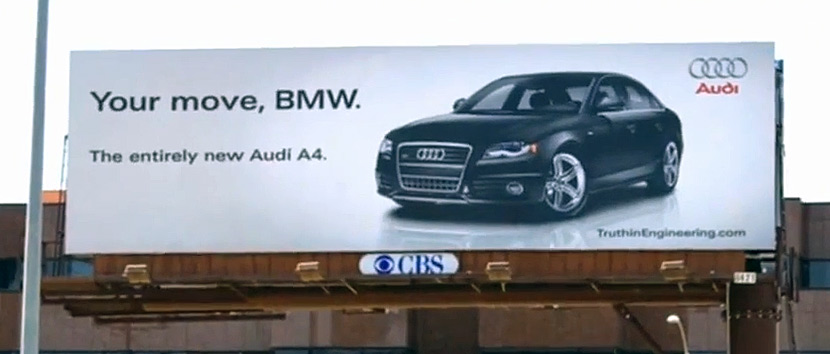 As we go through the following illustration of the process of competitor discovery we will see a real-life example of the dissonance that can be found between online and offline competitors. For this example, I'll use Rank Ranger's Rank Tracker which has a very powerful competitor discovery tool — the Top Organic Competitors report.
For our example, let's assume that we're doing SEO for EasyJet, a British airline that provides service to over 30 countries worldwide.
When asked by the SEO consultant who they considered to be their main competition, they mentioned the following companies:
RyanAir
Wizzair
KLM
British Airways
Vueling
These companies are big airlines that have significant brand recognition. If you search for EasyJet on Google and look in the Knowledge Panel you will see Google's «People also search for» feature and you will find those companies listed there and that's because many people search for those airlines.


After carrying out the required keyword research, a list of approximately 50 keywords relating to various travel destinations and special deals were chosen and added to the rank tracking software for the EasyJet.com domain and their competitors' sites.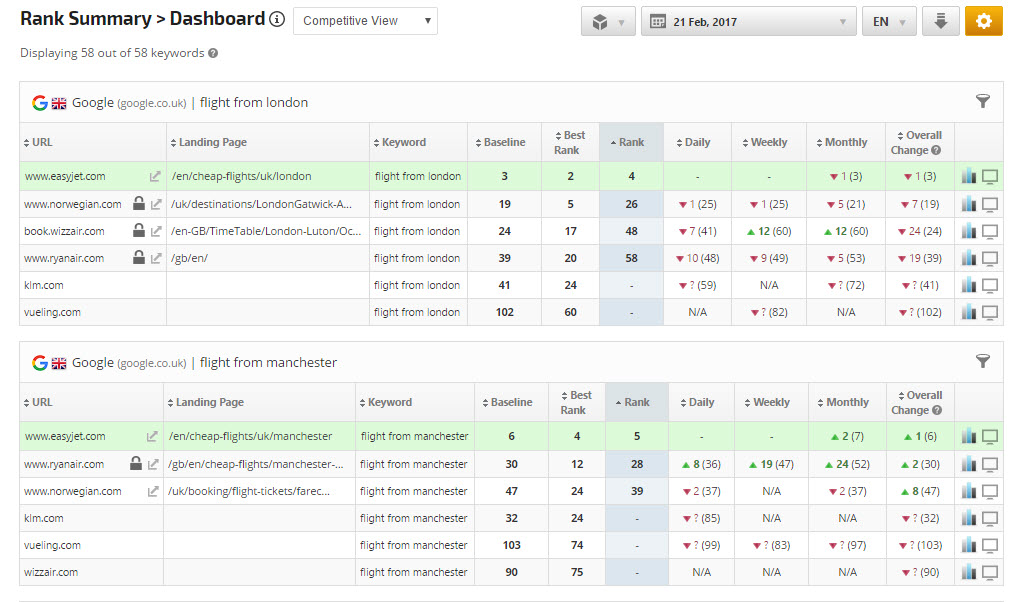 As you can see in the above rank tracker dashboard (displayed in competitive view), the rank of the companies that EasyJet may have thought were their main online competitors is not even close to EasyJet's, and that is where Rank Ranger's Top Organic Competitors report comes in.
The report shows up to 1,000 competitors that rank in the top 20 results for at least one of the keywords you are tracking. That's more than enough for your competitor analysis. By default, the websites are listed by the total number of tracked keywords that appear in the top 20 Google search results in descending order.
Looking at the report below, we discover a completely different picture of who EasyJet's online competitors are. None of the competitors that were originally identified appear in the top ten and only one of the top ten here appeared in Google's «People also search for» list.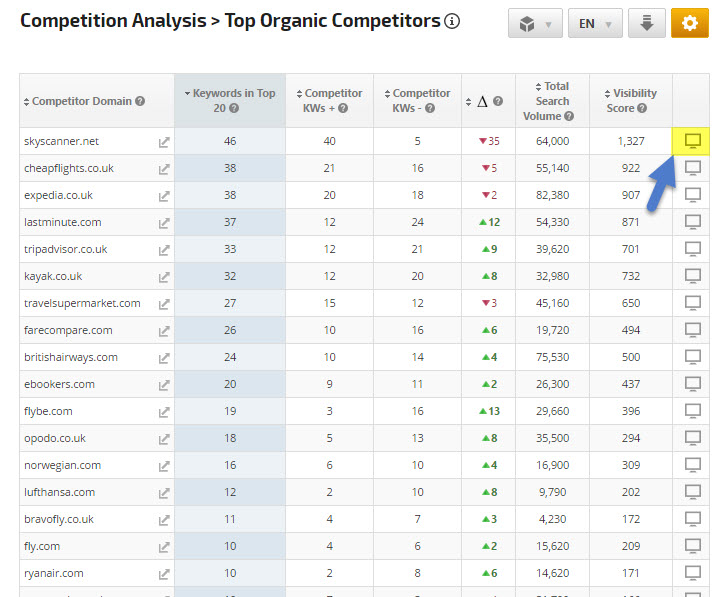 If we click on the icon that looks like a computer monitor on the far right side of the table, we can get access to some really valuable data. For each website, it shows us a list of all the keywords that the competitor's domain is ranking for in the top 20, the total monthly search volume for each keyword and the competitor's rank next to our website's rank. In the example below, Skyscanner.net is ranking in the top 20 for 40 keywords versus EasyJet's five keywords.
We can easily identify the top 2−3 websites for each keyword and then the next step is to see which landing page on the competitors' websites is ranking for that keyword. We can see that by clicking on the arrow next to the competitor's rank.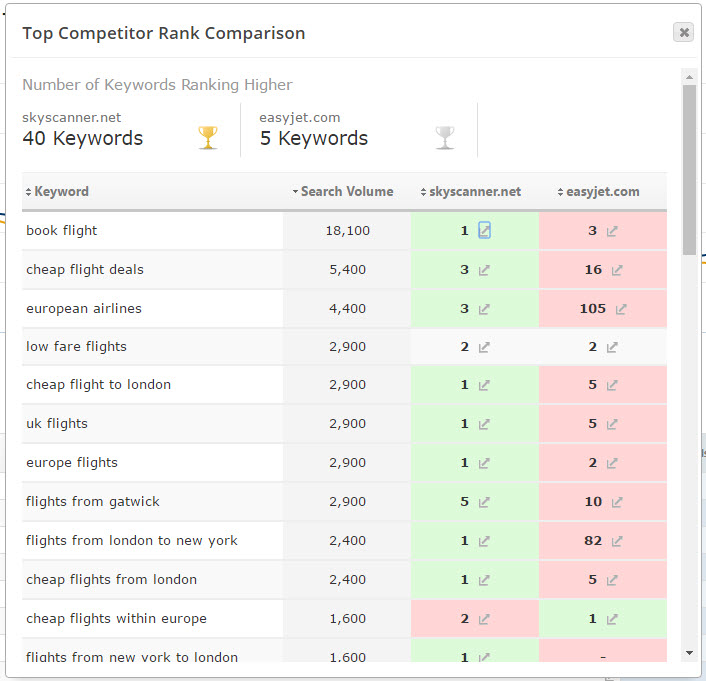 Armed with a list of our main organic competitors, we can now set out to analyze two main areas of their online presence which can help us to improve our rank versus theirs. As an aside, although this article focuses on how competitor analysis can be used to guide your SEO efforts and improve your ranking, it goes without saying that an SEO technical audit of your website is essential to any successful SEO work. More on that can be found in the resources section at the end of this article.
What You Can Learn From Your Organic Competitors
There are many things you can learn from your online competitors, but for the purpose of this article I am going to focus on two main areas: on-page optimization and backlinks.
On-Page Optimization
The most important factor of on-page optimization is the quality of the content itself and the user experience (UX) on the page. The content on your page needs to contain the keywords your audience is searching for and to conform to many other requirements, but most importantly it needs to provide unique, quality solutions on the topic that people are looking for.
When analyzing why your competitor's landing page is outranking yours, first examine the content itself, the graphic presentation and the general user experience and then think about how you can improve on it.
Besides the content and UX on your landing page, there are many other elements to examine and improve. Here is a partial list:
SEO title and meta description
Tags

(

H1, H2, H3 etc)
Image naming and image alt tags
Page speed
User-friendly URL
Canonical tags
Number of internal and external links
Mobile friendly
You can analyze all these parameters using Netpeak Spider. It crawls your site like a search robot and checks 50+ on-page parameters.
To cover On-page optimization comprehensively would require a dedicated article (or series of articles) regarding all the aspects, but in this article I want to demonstrate a few valuable insights that can be gained by on-page analysis of competitor websites.
On the Top Organic Competitors report, we can see that Skyscanner.net is ranking in the number one position on Google for the keyword «cheap flight to London». If we click on the landing page launch arrows to examine the landing pages of Skyscanner.net and EasyJet for this keyword, we can immediately pick up on differences in the user experience and in the appearance of the keyword on the page.
Skyscanner's landing page (see below) has a search form right at the top of the page with the destination «London» already entered and ready to go. All the person needs to do is to fill in their departure point and intended flight dates and they will receive price quotes. Remember, the keyword is «cheap flight to London» so the person is looking for prices for flights to London from a specific location, and Skyscanner's page is giving them a very quick way to get the information they are looking for. Google obviously considers that to be a very good user experience and this is one of the contributing factors that put this page in the top position. The words «cheap flight» and «London» appear above the fold as breadcrumbs (although it's not that prominent).
Although the exact keyword does not appear on the page, both the SEO title and the H1 tag are «Flights to London.» The phrase «Cheapest flights to London» appears as an H3 tag and the keyword «cheap flights» appears four times on the page. In addition, several synonyms of the main keyword appear in the body of the page «best deals on flights to London» and «the lowest fares for London flights.»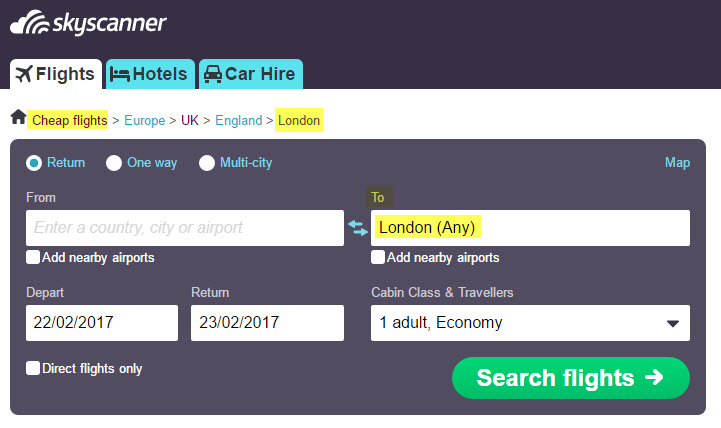 Unlike Skyscanner.net, EasyJet's landing page does not offer a form to quickly get price quotes. It does display a short price list for various departure points in the right column (see screenshot below), but that just doesn't compare to Skyscanner's front and center form to get information from any point.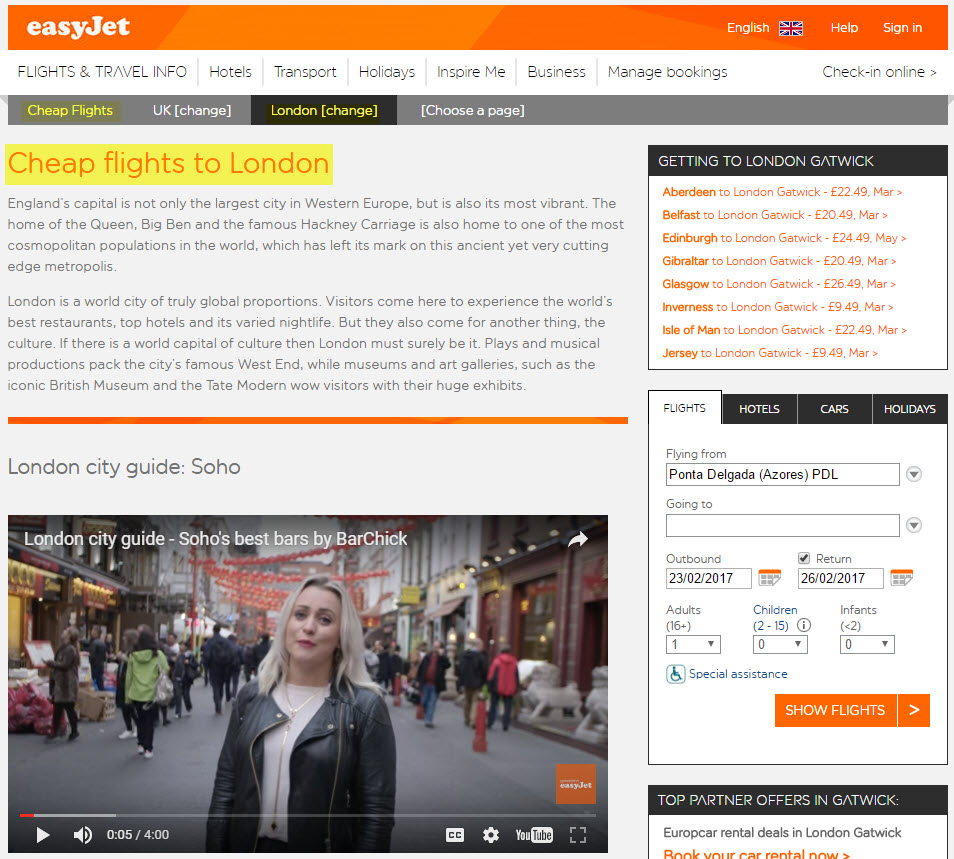 EasyJet has two of its own original London travel videos appearing on the page. The first one, which appears above the fold, reviews the best bars in London, is eye-catching for the prospective traveler, and definitely should be considered a positive factor in the user experience being weighed by Google, but the main user intent for this keyword is to find cheap flights to London and that's what Skyscanner.net provided.
A quick review of the keyword's presence on the page shows that a close variant of the keyword appears both in the SEO title (easyJet.com | Cheap flights to London Gatwick for £9.49 or less), and in the H1 tag (note that the keyword does not appear at the beginning of the title). Various other synonyms of the keyword appear on the page as well, but regarding its competition with Skyscanner, the story here is the fulfillment of user intent through the user experience.
After getting a taste of the value of on-page analysis of your competitors, this can be applied to all the on-page elements and you will find lots of areas to improve your landing pages.
The final area I want to cover in this practical overview of SEO competitor analysis is the review of the competitors' backlinks.
Off-Page Competitor Analysis
As hard as Google and the other smaller search engines are working to improve their search algorithms, they still cannot properly rank domains and web pages without backlinks which serve as third party votes of confidence.
In order to get an accurate picture of your competitors' backlink profile, you will need a professional tool to provide you with that information. I recommend using Majestic.com which is one of the best services in the field. Majestic provides you with a comprehensive list of a website's backlinks and valuable metrics for each link such as whether the links are Follow or NoFollow, and Majestic's proprietary Trust and Citation flow ratings, and well as other information such as the link's anchor text, the target URL in the link and much more.
The best way to view and analyze this data is to export it and open it in Excel or in a Google Sheet.
The purpose of analyzing your competitor's backlinks is twofold:
Seeing your competitors' backlinks lets you discover which websites are interested in this type of content. You can then reach out to the same websites or others like it to make them aware of your content so hopefully they will link to it.
You can get a good indication of whether your competitors are manually building links

(

are they paid links?). That gives you a good clue into what you're up against and you can adjust your own backlink strategy accordingly.
Google still relies heavily on backlinks in its rank algorithm and particularly when the differences between the competing landing pages are not significant. Evaluating your top competitors' backlink profiles can give you insight into why your on-page efforts are not turning the tide. Often, the competitors' backlinks can overshadow the minor advantages your page has over theirs. Instead of breaking your head over how to modify your already optimized page, you can focus your efforts on building backlinks to the page.
Competitor Analysis — A Worthwhile Investment
Just like the best armies in the world spend a large percentage of their budgets on intelligence because having that information is truly a game changer, so too SEO professionals must invest time and resources in an ongoing effort to monitor their competitors and to learn from them. Although there are a large number of factors that go into Google's ranking of web pages, examining multiple high-ranking competitors will give you powerful insight into how you can successfully optimize your web pages.
When starting out, the time investment to do this type of analysis is not insignificant, but the truth is as you gain insights through your research, you will acquire an understanding of the general principles of what successful content and UX looks like and will not need to invest as much time on this aspect of competitor analysis.
The bottom line is that SEO competitor analysis, if done properly, has an excellent return on investment, and now is the time to get started.
Some Additional Resources:
Two very good articles to get you started on the road to keyword discovery are Jayson DeMers' article «How to find relevant and proof terms for your content» and Roger Montti's How to Do Keyword Research: A Complete Guide.
Recommended Technical Audit software:
Screaming Frog and Deep Crawl