How to Use Social Media to Identify Better Search Keywords
While social media doesn't directly have a major influence over SEO, there's still a lot of value in minding what people are saying about your brand on Facebook, Twitter, and other networks. Gathering this information allows you to better optimize content pages, write great blog posts, and craft engaging email campaigns. In this presentation, Kelsey shows us three searches on social media that can help you craft better SEO and online content.
1. Instagram autocomplete.
Instagram's own autosuggestion search engine shows you how many posts there are for each hashtag and what the trends are in your audience's language. When you start typing hashtags on Instagram, it shows you how many posts for each hashtag there are. This is very helpful when trying to find out more about trends in your audience's language, how they talk and what terms they're using.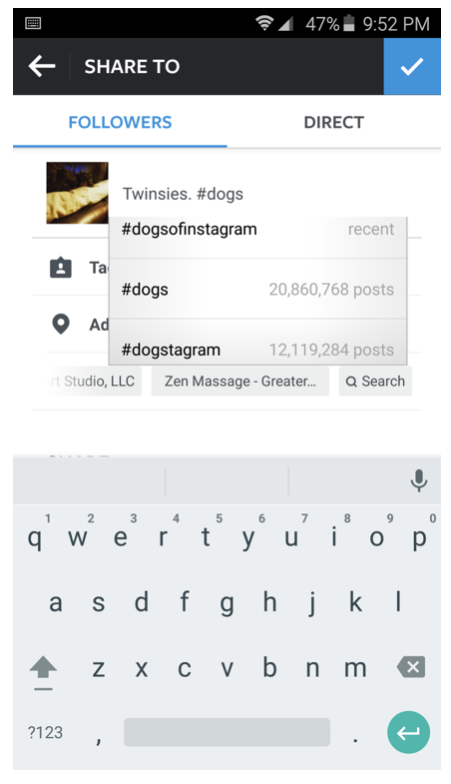 If for some reason you don't like using the Instagram app, but still want to get ideas, there is a free tool that can be found by going to http://iqta.gs/ .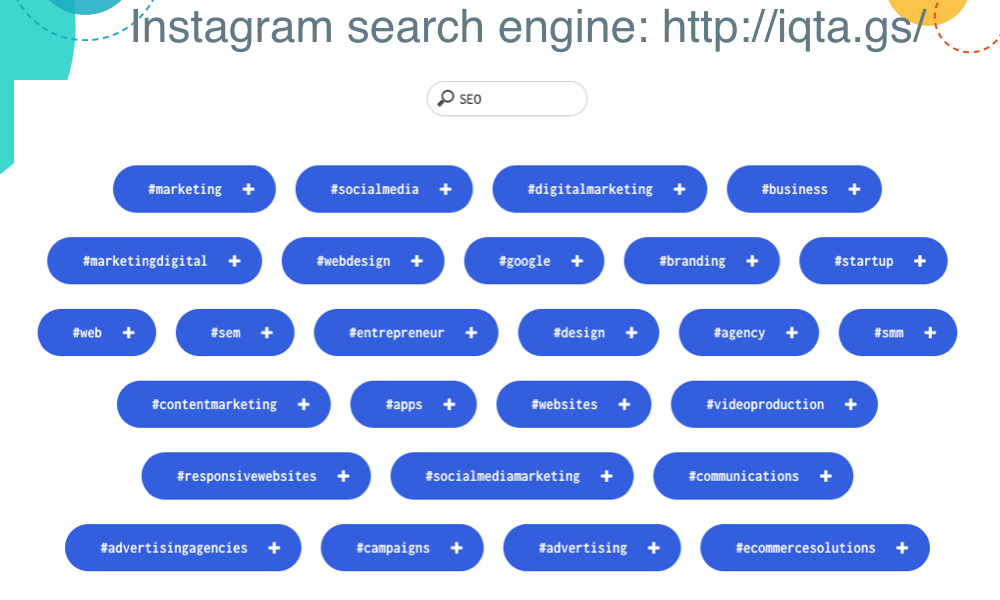 It's very easy to use. Simply type in a keyword and you'll see related hashtags people are using. Use this tool as a backbone when building your keyword list for an SEO campaign.
2. Hashtag search tools
Besides Instagram, there are several other social media platforms on which people use hashtags, such as Twitter and Facebook.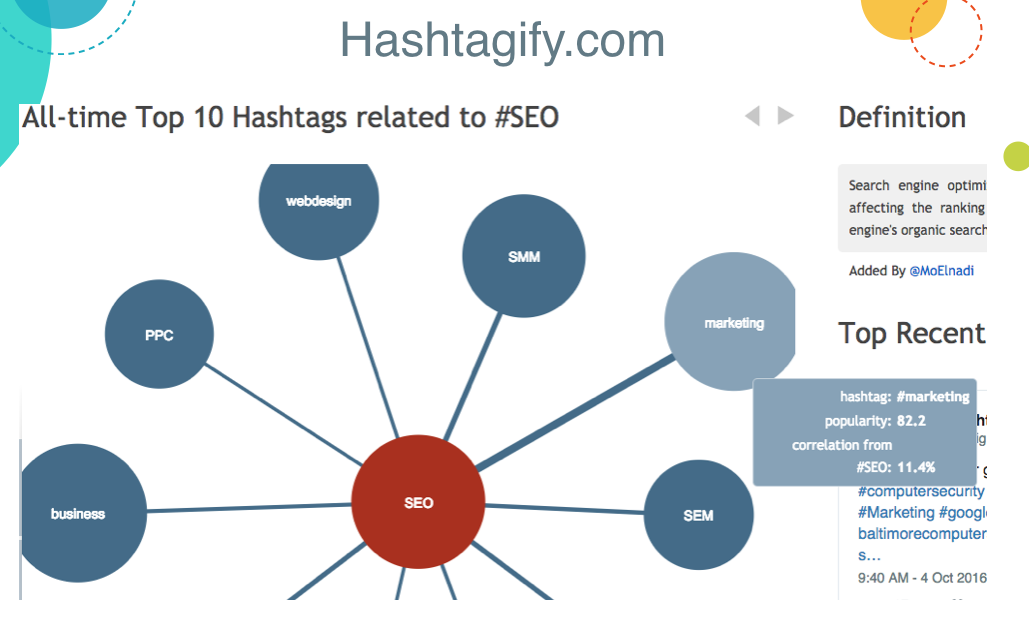 Hashtagify.com looks at the top 10 most related hashtags to the one you enter and also provides the correlation percentage. This tool is very helpful for brainstorming long tail phrases.

Hashtags.org is another handy tool. It offers both a free and a paid subscription. But when Kelsey demonstrated how the tool works, it came up with a few really interesting suggestions she hadn't thought of herself.
3. Facebook and Twitter trends
For an overall view of what people are posting, Kelsey uses TagBoard.com. It allows you to look at posts on several different platforms at once and determine what your target audience is actually talking about online.
Facebook search will give you a good understanding of your audience's behavior when it comes to SEO campaigns. You can narrow down your search to a specific group of people, location, or date, allowing you to look at trends through the years.
Twitter search is great for expanding your list of marketing keywords by getting inspired by related searches for your term. Twitter is also good for searching by location as well. So if you're a local business, or if you're an e-commerce website, you should take advantage of that.
4. Competitor monitoring
In SEO, monitoring your competitor's activities is very common. But Kelsey prefers looking at exactly how they are talking about the industry. One way to do that is to build a Twitter list. This tactic allows you to look at all the tweets of your list members, which gives you an overview of how and what people are talking about. As a word of caution, if you add someone to a Twitter list, they are going to see that you added them, so name your Twitter list appropriately and professionally.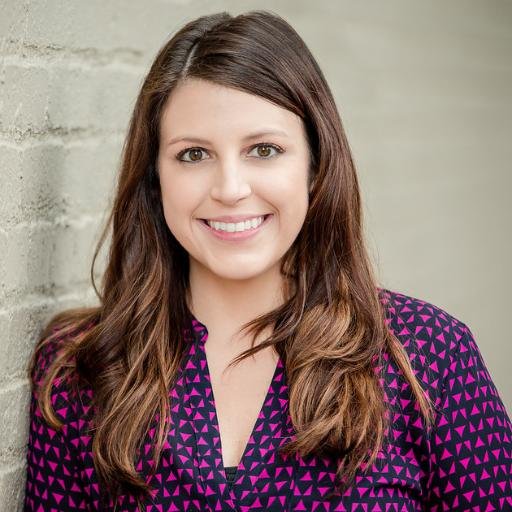 Kelsey Jones
Kelsey Jones is the CEO & Founder of StoryShout, the first news content marketing agency, and is also the Executive Editor of Search Engine Journal. She has been writing and editing since 2005 for newspapers and online publications. Kelsey is based out of Kansas City and has worked with Salesforce, Intuit, Social Media Examiner, Search Engine Land, and more.