How to Triple your Organic Traffic through Content
Since Google launched its Panda and Penguin algorithms, content has begun to play a crucial role in website ranking. It is important to create great content while keeping in mind that user experience is becoming increasingly important to Google--in fact, it is now a major ranking factor. It's also no less important to assess your company's' success, and there are a number of special tools that are great for doing so. SimilarWeb is highly recommended by Anton, as it not only allows you to track your sources of traffic and their quality, but also to compare your site's metrics with your competitors'.
Another tool recommended by Anton is Serpstat. It's great for creating your content strategy.
Ahrefs' Content Explorer and BuzzSumo are also among the tools for content exploration recommended by Anton. What other tools and features will be useful for creating your content marketing campaigns? PayWithaPost helps you ask your audience to share your content, so it can go viral. You can offer them an e-book in exchange, a video of a conference or any other asset that is useful for users, so it will be mutually profitable. SendPulse is a service that allows you to send push notifications to your customers.
So what types of content were most effective for helping WebPromoExpert stand out? Take a look at the following:
1) Blog articles
2) Webinars. There are two key things that can help you attract a larger audience: outstanding speakers and popular topics. The tools mentioned above will help you find engaging topics. As for great speakers, this is where building relationships becomes important — find influencers, reach them, and interact with them. You can find presentations on how to do this at Digital Olympus [Link to Steve Rayson's presentation].
3) Virtual conferences. In order to host a successful virtual conference, you face the same difficulties as with organizing webinars.
4) WebPromoExpert.TV
Links matter as well. To stay on top, you should fight for the best links. To get them, you should provide best-quality and/or unique content.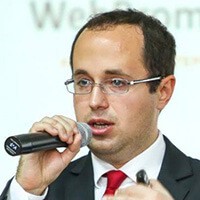 Anton Woronyuk
CEO at WebPromoExpert Online Marketing Academy. CBDO at WebPromo Online Marketing Agency. Google Partners Certified Trainer. Certified in Google Analytics, Google AdWords, Bing Ads, Yandex Direct, Yandex Metrics, Google Apps for Business