How to Get New SEO Clients On Board
Sara's presentation consisted of three answers to the most burning SEO questions: how and where to find new SEO clients, why agencies fail to acquire new clients, and what you can do to offer value to prospects right from the start.
The biggest mistake SEO agencies make is that sometimes they take on projects and clients that aren't a good fit for them. So it's important to understand whether you're pitching your services to big brands or SMEs. Sara's advice here is to segment your prospects and refine your list before you get down to the outreach.
If you're trying to connect with corporate brands, reach out to a digital marketing director, a head of SEO, or a marketing manager. If you're dealing with an SME company, your point of contact would be a founder, co-founder, CEO and the like.
After that, you need to determine the right place to find new prospects. Those include but aren't limited to:
Business database + LinkedIn

Yahoo Answers, Quora, Google Product Forums

Freelancing websites

Chambers of commerce

Your own website
To answer the question 'Why do agencies fail?' Sara came up with a list of really good reasons:
They don't pre-qualify clients

They fail to analyze the competitive landscape

They set or agree on unrealistic expectations

Expectations aren't managed from the start

They take on projects without having prior experience

They fail to confirm/establish clients' objectives
Sara explained that understanding your company's business objectives is critical because it helps you get a better picture of (your?) internal budget/resource allocation, and because you will be able to contribute to your business' growth and development.
When you start working on a new project, or take on a new client, you need to make sure that you «have the right chemistry» with the business you're working with. If you don't care about the brand's product or service, all attempts at marketing it will fail.
In order to make the right impression on your client, take advantage of Sara's «NEAR» approach:
Check the LinkedIn profiles of decision makers to find their direct contact information, and to understand what they care about and what posts they tend to share. Send them a brochure with a voucher for an online competitor analysis. Or you can send a postcard with a picture of your team to a potential client and tell them where they rank for their most relevant keyword.
Stay active on social media profiles. Put together a great case study related to their industry. Offer to write a free piece of content for a client's blog, and explain the benefits of blogging. Organize monthly webinars on SEO-related topics.
Prepare a free SEO analysis (for example, missed linking opportunities, 404 errors, meta data, out-of-date content, duplicate content, poor mobile experience). The best way to start a dialogue with a potential client is to explain what you can do to fix their issues affecting their SEO, visibility, and performance on the Web. Analyze competitors: dive into how they are presenting their product/services, and try to understand what they're ranking for and what's driving traffic to their website.
Marketing automation: segment users based on their on-site behaviour; send out email newsletters with content that is relevant to their interests. Don't just attend SEO events, network with your target audience.
As a final note, Sara recommended choosing clients wisely and trying to understand their real business challenges. She also suggested developing a strong relationship with clients and learning as much as you can about their customers and processes.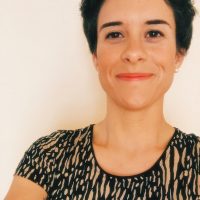 Sara Borghi
Sara Borghi, 33 years old, was born in Modena, Italy. After graduating in Economics and Marketing from the Universityof Modena and Reggio Emilia, she attended a Master in Communications at the University of Lugano, Switzerland. She has lived and worked in Australia as SEO and Digital Marketing consultant for 5 years. She's now back in Italy, where she is the Head of Digital Marketing at Bytek Marketing, a fast growing Inbound Marketing agency. She recently wrote a book: "Vademecum SEO", a practical guide to SEO that works and deliver lasting results.