Content Gap Analysis for SEO
According to the Content Marketing Institute, «around 80 percent of B2C marketers plan to produce more content in 2016 regardless of its effectiveness.» This means that a lot of content marketers lack comprehensive roadmaps and criteria for success.
SEO Rank is one of the metrics used to measure the success of content marketing campaigns: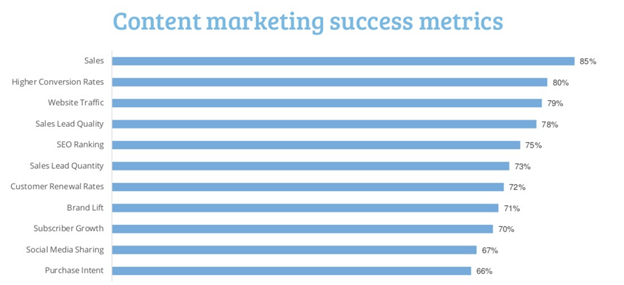 Source: Stephen Kenwright's presentation at Digital Olympus
Stephen is focusing on SEO ranking, but reminds us that content is not only created for SEO rankings, as the traffic your site receives is useless unless you can convert it.
How to put together a gap analysis and a business case?
First of all, check your site's ranking positions and pages for specific keywords. Stephen recommends doing this with the help of SEMrush or Moz. After you know your site's ranking results, you can make the following assumptions:
If your site has no ranking position for the chosen keywords, you don't have a relevant page. So, you should create one.
If some of your pages rank, but outside the top 20, Google thinks that you have a relevant page dedicated to the topic, but that it isn't well optimized.
If the wrong page is ranking, you should try to improve the preferred page and look at its internal linking
Before creating a page, get an idea of how highly your future content will be ranked by Google. To do that, find your average position for the pages that are ranked by Google. Filter out non-ranking positions, and then find their average positions. You can expect that if you create content that targets a keyword that does not currently rank, it will probably rank in this position after a few weeks.
It is good to calculate the average position for your competitors' pages as well. This is the approximate position in which your competitors' content would be ranked if they created a new page It will help you to understand your competitors' content authority vs. your own.
After that, create a Click-Through Rate Model with the help of Excel's VLOOKUP function. Stephen prefers a NetBooster CTR model: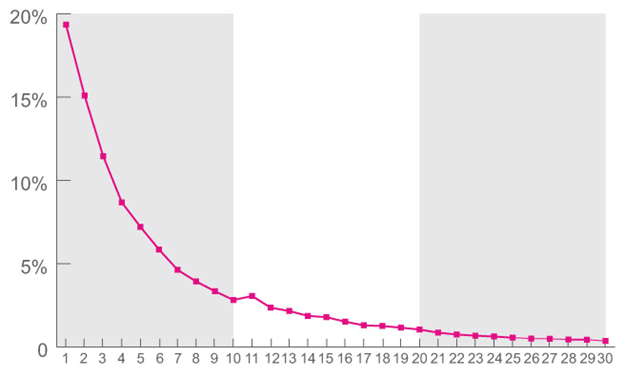 Source: https://www.netbooster.com/one-click-curve-to-rule-them-all/
This CTR model shows that in the first position of the Google SERP, your page is likely to receive 19 percent of its clicks from this keyword's overall search volume. Stephen recommends sticking to the top 30, because your page is not likely to receive any traffic if it does not appear in the top three pages of Google SERPs. With the help of this model, you can predict how much traffic a newly created page will get.
After that, lookup the search volumes of your keywords. For that, you can use AdWords Keyword Planner. Paste your keyword's search volumes into an Excel table. After that, you can estimate the number of clicks you're getting from each of your keywords by multiplying Average Monthly Search Volumes by the click-through rates you've got using VLOOKUP. If your business is seasonal, it is best to make several estimations.
The next step is to calculate your brand split.
Divide all of your traffic driving keywords into branded and non-branded ones. Compare your percentage split between them. This will help you understand how well your site is performing in organic search. This will also help you estimate how accurate your keyword research is. In fact, you should continue doing keyword research until you get more accurate data. Where do you find more keywords? Here are the most effective resources:
Google Analytics. Look at historical data as well as your current Search Query report.
SEMrush or Searchmetrics. Use them to find other keywords.
Refreshing your brand/non-brand split calculation every month — because it can vary.
After that, find out how much your keywords are worth. To estimate this, paste a column with your site's average conversion rate (you can use Google Analytics to calculate this) into your Excel spreadsheet. Multiply this by the Traffic Estimate column. After that, multiply your conversions by your Average Order Value (AOV) in order to estimate your non-brand organic revenue from each keyword.
So, completing these steps will allow you spot content gaps. After you've done that, you could either create new content and pages using keywords you found during your research or optimize your current content for these keywords. Let's start with the latter technique.
Check your metadata. Is the keyword you want to rank for in the title tag or at least the H1?
Assume that you will be adding 1−2 paragraphs. Consider adding design elements too, like a graphic, table, or video.
Understand how long it will take for your efforts to pay off. Apply the CTR model and conversion rate to your new average ranking position and you can estimate a ROI on your resources.
What about creating new content?
We are assuming that your site is not ranking for certain keywords because it does not have relevant pages. We are also assuming that you can apply your average ranking position to your future pages that you will create to rank for these keywords. Here's what you need to remember when you create new pages:
These new pages should be at least as good as your current pages. If they are below your average quality, they will rank below your average position.
Again, assume that you will be adding 1−2 paragraphs. Consider adding design elements, too, like a graphic, table, or video.
Again, understand how long it will take for your efforts to pay off. You should remember that it will take more time to pay off than it will if you just makes changes to your existing content.
And don't forget about link building. For your backlinks research, use Majestic and Ahrefs, for example.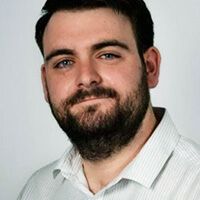 Stephen Kenwright
Stephen Kenwright is the Director of Search at Branded3. At Digital Olympus he gave a presentation explaining how to analyze and detect content gaps in order to improve your SEO strategy and your rankings.