Digital Olympus team is very excited about the upcoming conference. Why do we think it is going to be great? It is all about our agenda! The time has come to look behind the curtain of the future Digital Olympus conference and to share the hot issues which are to be covered.
This time we decided to have seven sessions and united our speakers by the topics of their interest in order to provide some heated discussions. You can join us either during the whole event or to choose one particular session and meet at least three digital marketing gurus.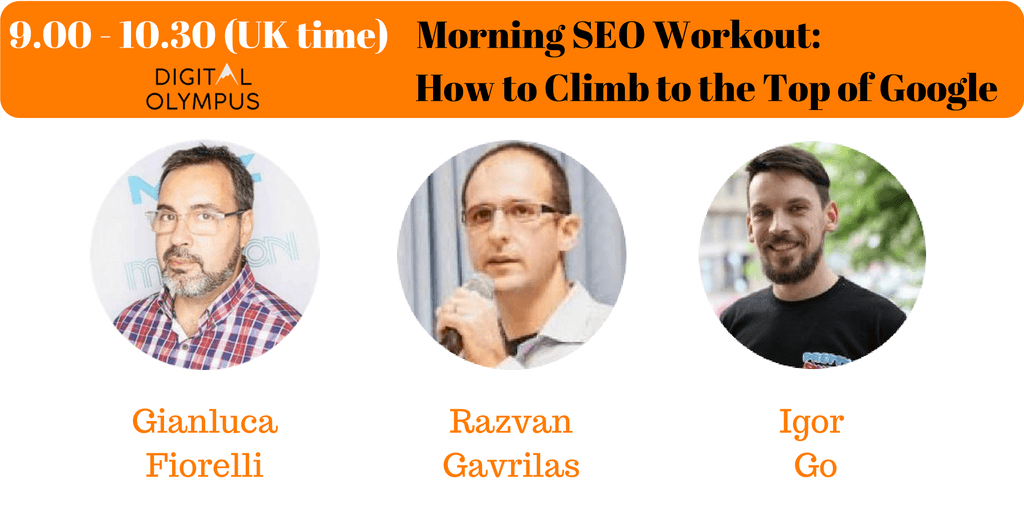 How do you feel about morning SEO exercises? Be under the guidance of these three SEO-experts and learn great tricks to improve your results:
Gianluca Fiorelli

will present methodology to follow in order to create buyer personas that are not based on the real data and information, as well as on our own perceptions. He will also show how to use buyer personas to create an effective content strategy which is able to transform random visitors to loyal customers.

Since the latest Real-time Penguin 4.0 everyone is wondering how to move forward with their link building strategy. In this presentation, Razvan Gavrilas will share unique tips, creative strategies and case studies on how to organically build links in a post-Penguin era.

Igor Go

will give you some valuable advice on how to find the relevant sources for guest-posting and to approach all types of editors. Igor will also speak about choosing the content relevant to your audience and the ways of outreach process automation to get the best results.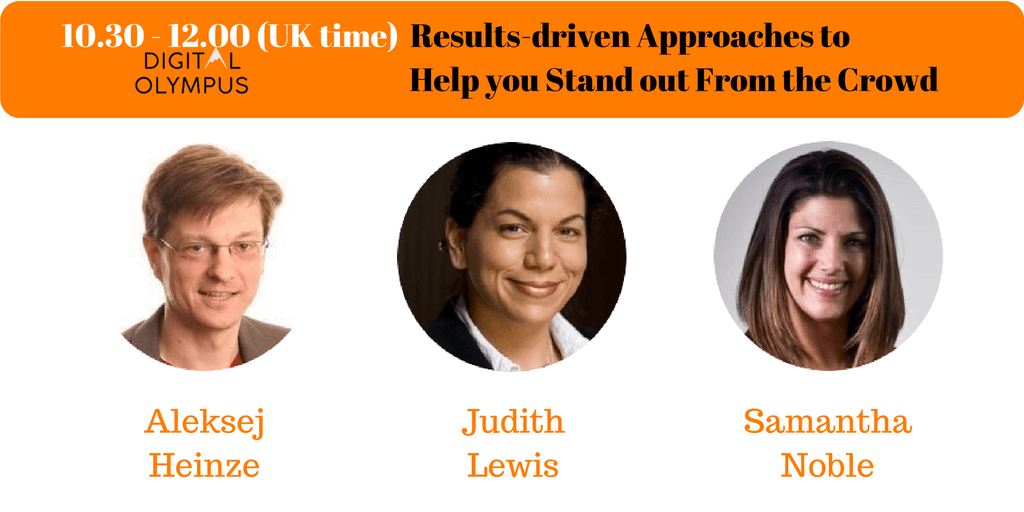 Join this session
The second Digital Olympus conference session is dedicated to digital marketing strategy. If you need a piece of good advice regarding 2017 strategy planning, this session is definitely worth attending:
Aleksej Heinze

will speak about the basis of building up a working strategy focusing on the five components of a digital marketing strategy summarised by the Buyer Persona Spring. Moreover, he is going to review a self assessment questionnaire for digital marketing strategy evaluation.

Who can you trust now when Google is handing out penalties based on bad links? Most valuable links seem to come from bloggers but how do you judge who is right for your business? How do you reach the quality influencers most effectively? These and many others hot issues will be covered by

Judith Lewis

.

Together with

Sam Noble

you will look at what lifetime value of a customer actually means and how to use PPC to increase loyalty to in turn increase the lifetime value of a customer. Find out which strategies will give you loyal customers who become advocates of your brands.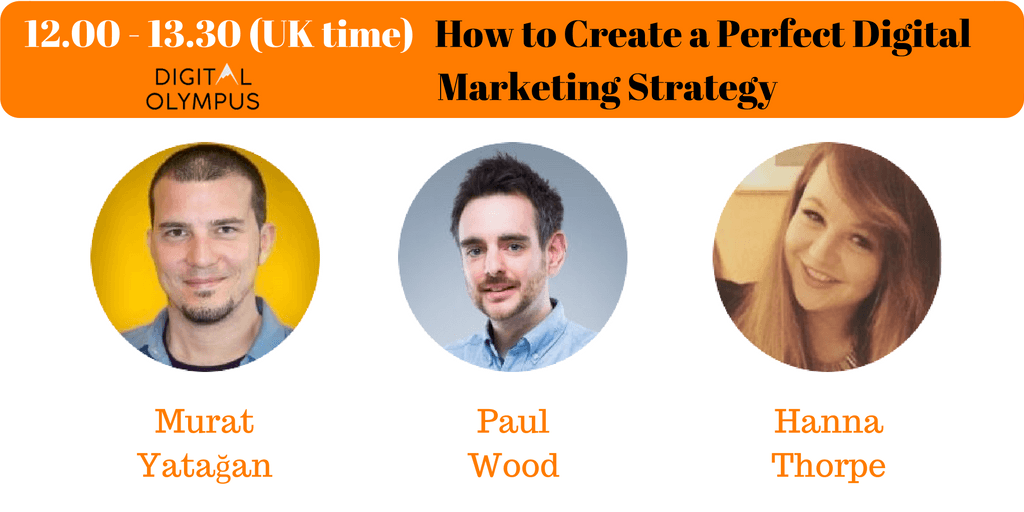 Join this session
We will continue discovering the secrets of digital marketing strategic planning in the following session. Take a look at the topics our speakers have prepared for you:
Murat Yatağan

is going to show you how to create high quality content for websites visitors and to make it Google-friendly.

Meanwhile,

Paul Wood

will give a serious talk on how the way we market products and services to customers online can have a profound positive or negative impact on the happiness of our customers. Paul argues that, although empowering, choice can also be debilitating and one of modern-life's most prevalent sources of frustration. Thus, online marketers and the creators of online experiences should take notice and understand how to reduce stress and provide an enjoyable experience.

Hanna Thorpe

will explain how to determine a quality strategy, empower your team/agency to make smart decisions and follow the overall direction of your marketing mission.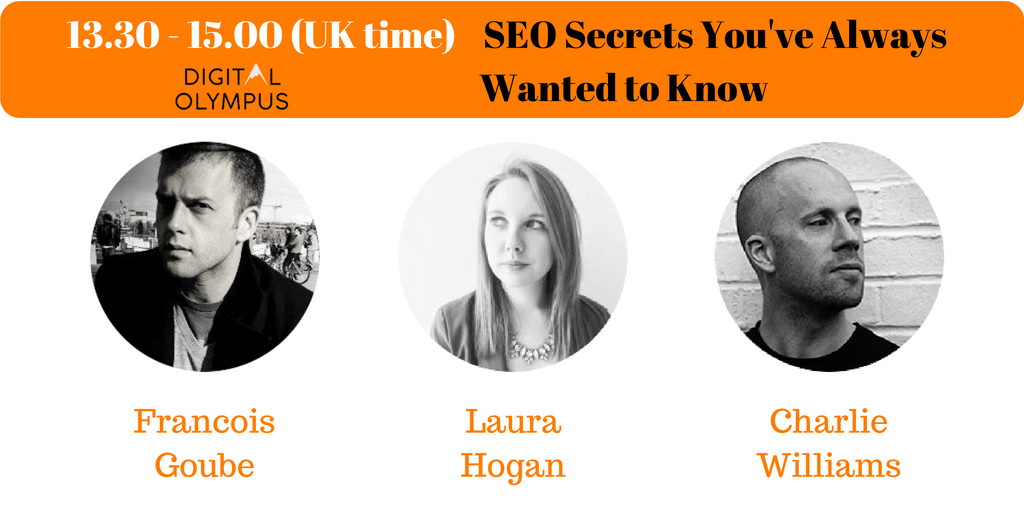 SEO is something completely common… and not clear! We believe in SEO and our speakers, so do not miss a chance to learn some secret hints:
Francois Goube

will focus on Logs, Analytics and Crawl data that can help SEOs detect which ranking factor could have the biggest impact and present several use-cases that will show how to prioritise your SEO actions and get results.

Learn how to use your competitors to your advantage: from understanding why they've been featured in a publication, to uncovering the influencers they're targeting with

Laura Hogan

.

Charlie Williams

has promised to explain how do we create content that's got mobile in intent. In this talk He will show how a mixture of content development, technical SEO and different thinking can help to adapt current work.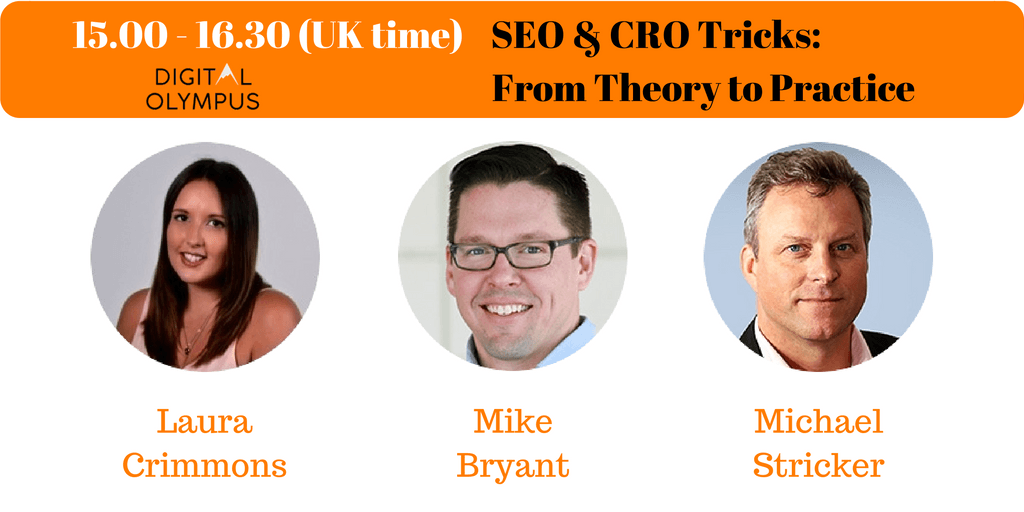 Join this session
In the 5th session we suggest our Digital Olympians to continue dealing with SEO issues and also to think over CRO:
Laura Crimmons

will share precious experience: she will talk through nine tried and tested tactics that she uses at Branded3 that work across different clients and industries to deliver quality links that have a real impact on SEO performance. This will include case studies showing real examples of the techniques employed in campaigns.

Mike Bryant

is planning to break down the core elements of properly branding your YouTube channel. Namely: s

tructuring your channel for your audience; t

he value of playlists and community interaction; v

ideo content that matches your channel / branding goals; s

etting realistic viewership expectations based on your relevant audience size.

This presentation will also feature an exclusive case study featuring keyword/tag correlations to organic view count data over time.

In his talk

Michael Stricker

suggests applying Four Horsemen of the Apocalypse — War, Famine, Plague and Death to Conversion Rate Optimization. How will he do that? Check on December, 6!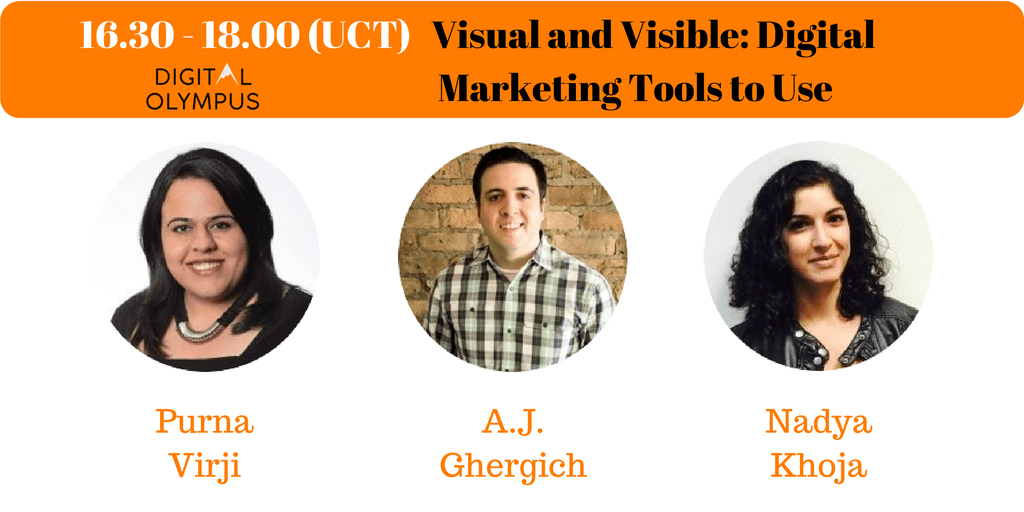 Join this session
Creating a proper content means A LOT. It can be visual, it can be displayed on numerous gadgets, it can bring you to new horizons. Our next speakers will try to push you:
Purna Virji

will help you how to prepare yourself for the rise of artificial - intelligence and will share actionable tips on:

How to re-think keyword research, targeting and creative optimization; Key local and mobile tips marketers can't afford to ignore;

How to grow your brand in a multi-sensory world;

How to re- think keyword research, targeting and creative optimization; Key local and mobile tips marketers can't afford to ignore.
A.J. Ghergich

has prepared an in-depth dive into Google featured snippets. You'll see new data and key findings from an exclusive analysis, performed in partnership with SEMrush, of more than 80 million keywords. Join him for actionable takeaways to help you start earning valuable featured snippets.

Do you want to know how to create impressive visual content that builds real and long-lasting relationships with top influencers? We bet you do.

Nadya Khoja

and Venngage have figured out how. Learn with Nadya how to: f

ind and pitch influencers in your niche; c

reate compelling visual content for those influencers; b

uild high quality backlinks with images and kill it on SEO.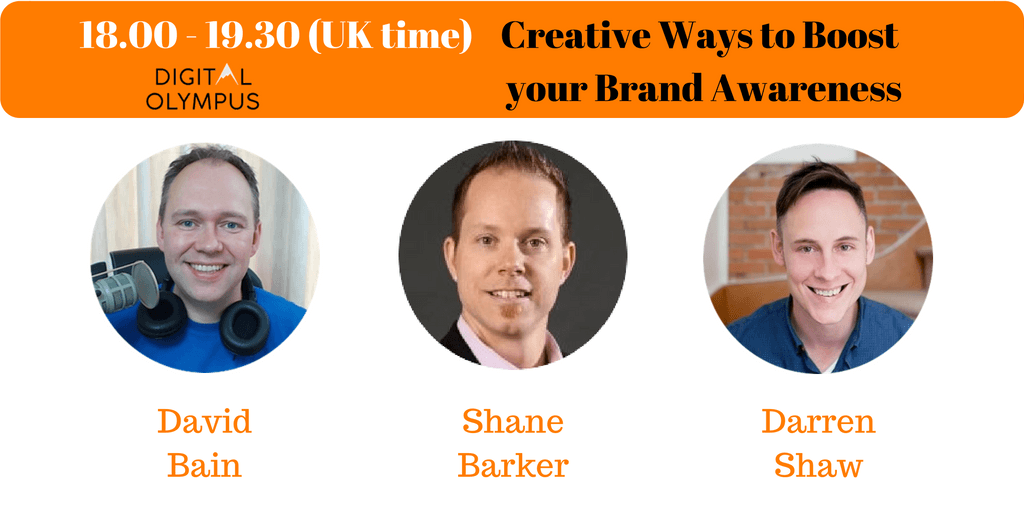 Last, but not the least, this session will be full of unique insights. Be brave and creative, and these digital marketers are going to help you:
David Bain

will take you through the journey that he has gone through from publishing an audio podcast to hosting an online live event with hundreds of live viewers and thousands of repeat viewers. David is going to show how you can host very own successful online events if you just follow his 5-step plan.

Find out how to identify and work with the right influencers for your business and how you can pitch to them with

Shane Barker

. Learn about the various tools that can help you with better influencer marketing and which platforms would be best for launching your campaign. Additionally, get creative ideas on what type of content you can use, how to successfully launch your influencer marketing campaign and increase sales.

Have you noticed that local search results are getting more and more localized?

Darren Shaw

has been researching the impact of proximity on local search results and will share his findings, as well as provide insights on how to overcome proximity bias to reach more customers from a wider radius.
We hope that you are inspired as much as we do! Join us on December, 6 and be ready to plug into the digital marketing world with its best representatives!
Register here for Digital Olympus conference: https://digitalolympus.net/#register