Come join me while I'm on a hunt for a backlink analysis tool that will give you access to vast amounts of data as well as provide you with an advanced set of functionalities. On a side note, I've recorded a series of videos that you can find by clicking the link below. This post compliments the videos but it's not a transcript. So keep reading if you're really interested to know which of the digital marketing tools has the best data quality, offers the most diverse set of functions, and provides the most value, you need to read this post. This piece also contains some additional information I've decided to share exclusively in it!
Are you ready? Let's get started!
Here's a list of backlink analysis tools we'll be scrutinizing today:
Some other things we'll be looking into are:
Data quantity
Functionality

(

row-data processing and additional features)
Value
The below section of an article is dedicated to the first and most controversial parameter — data quantity.
Data Quantity: Size Matters?
Nowadays, when solving problems, people gravitate towards being cost-effective while giving up on things that matter the most, like trustworthiness or value.
Unfortunately, that's exactly how our current market is shaped: quantity over quality. The same rules apply to internet marketing.
Quantitative data has gained authority over qualitative data, and modern marketing is thought to be more of a science than an art. Thanks to personal computers and smartphones, we now generate 2.5 quintillion bytes of data a day, according to a BBC news report. In other words, every two days we create more data than we used to up to 2003.
The big data revolution has irreversibly changed the digital marketing industry, and in many ways for good. The avalanche of quantitative data allows companies to experiment with segmentation and personalization. But not only did it create limitless digital marketing opportunities, it complicated things for digital marketing software and tools, including backlink analysis tools. We tend to look at what's easier to get ahold of, what's floating on the surface. Among the most popular reasons why we put data quantity over data quality are :
Lack of time to thoroughly look into the matter.
A tendency to intentionally omit information about the type of data the tool has, or what the source of this data is

(

to find out, you need to either register, or sign up for an online product demo.
You have to rely on what bloggers and experts say. In this case, you should try to avoid taking their word for it and be more selective. I'm sure you know why. That's right, it's because they might be receiving commissions for mentioning this or that tool, or simply act like they know a lot about a tool, but in fact have no understanding whatsoever of how it works. Yeah, that happens, too.
Now, why would you trust someone like me? Well, I have been working in the digital marketing tools industry for quite a while (and, yes, I used to work for SEMrush for a few years), and currently my daily grind is being an independent digital marketing consultant while working closely with digital marketing tools.
I decided to embark on a journey to find out which one of the top four digital marketing tools style="font-weight: 400;">— Ahrefs, Moz, Majestic or SEMrush — has the biggest backlink database. While doing my research, I looked at:
Websites and what they offer at a glance
A randomly compiled list of 1K domains and data extracted from these four tools
What Do Ahrefs, Moz, SEMrush, and Majestic Claim On Their Websites
I thought it was going to be easy. All I needed to do, I falsely assumed, was to check out their websites. Every brand wants to brag about their impressive numbers on their main page. Nah, I wasn't going to fall for that. Let me tell you what kind of difficulties I faced when looking for those numbers and you'll understand the reason why I'm a little upset.
On the 'Backlinks Features Page,' SEMrush gives a lengthy description of what their backlink checker does, how it works, and what its main advantages are. However, there's not a word about the size of their backlink database.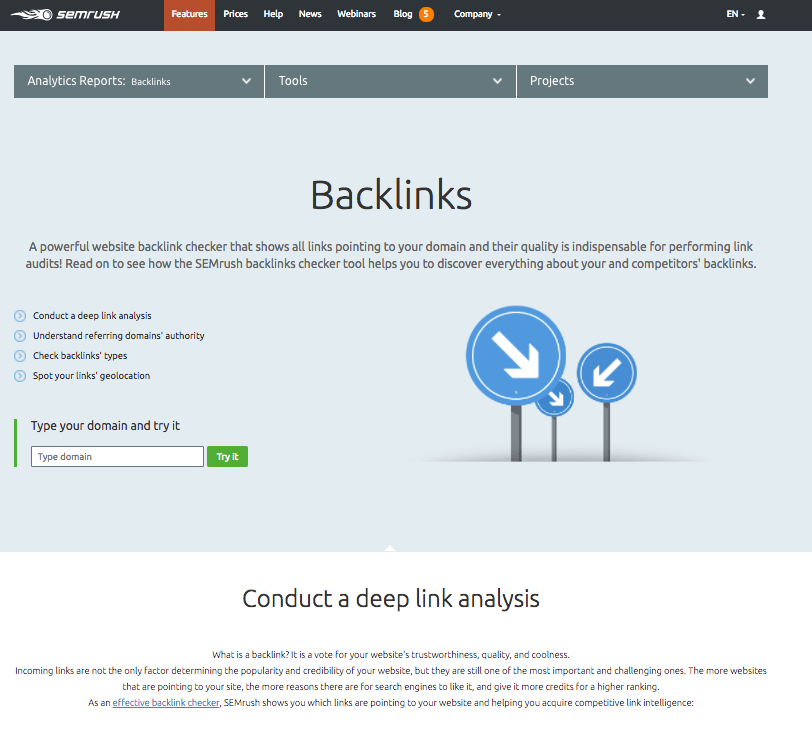 In order to find out, I had to send an email inquiring this information because I wasn't able to find that magic number anywhere.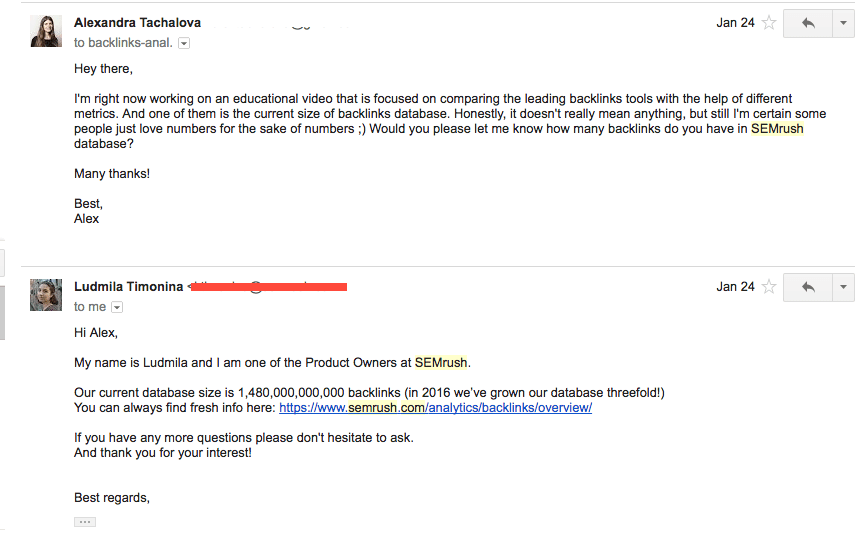 What's also interesting is that they show some stats about their keywords, domains and users on their homepage, but nothing about backlinks. Are they hiding this information intentionally? Who knows.

Then, I looked at Majestic. I wasn't able to find out what the exact size of their backlink database was, either. So, I got on Twitter and asked my question directly. In one of their tweets, Majestic stated they will not disclose that information. Here's a screen shot of our Twitter conversation —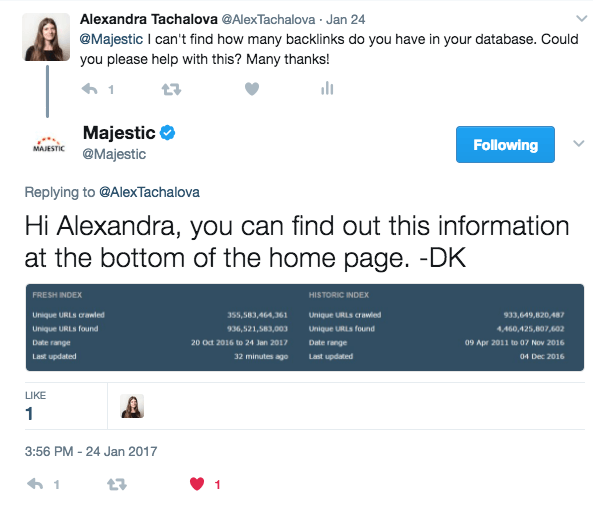 I think Majestic could be really close to Ahrefs in terms of their backlinks' database. But I'm only guessing here.
With Moz and Ahrefs I spent less than a minute trying to get a hold of the desired information.

Man, I wish some things in life were that easy!
So here're the results: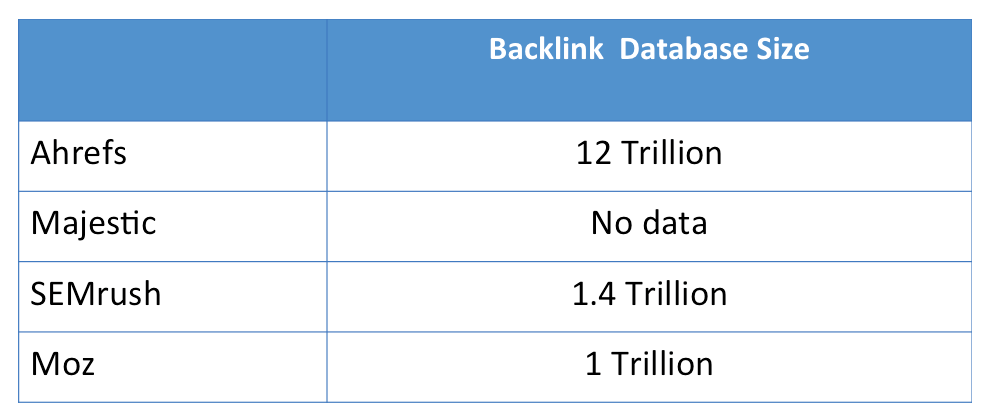 While trying to size the database of each tool, I've discovered a fascinating fact. Turns out, a majority of digital marketing industry players (SaaS companies, in particular) struggle with the same problems. But I didn't stop there. I did my best to try to come up with the most fitting solution for each problem.
It's hard to keep your numbers up-to-date and consistent across all your website's pages.
If you know the true meaning of consistency, I would suggest using dynamic scripts to avoid all possible issues that may occur.
Disclaimer: My intent is to share the knowledge I've gained after conducting research. This article is not promoting or discrediting any specific tool.
Ahrefs
On Ahrefs home page they claim that they have over 15 trillion links.
However, if you go to 'Features Page' you'll see a different number — 12 trillion known links.

My guess here is that the rest of their links are unknown.
Majestic
Here's a screenshot of Majestic's home page.

And here is what I found on Majestic's FAQ page:

To keep these numbers consistent, I'd recommend using dynamic content. As Techopedia defines it, dynamic content in the context of HTML refers to website content that changes either constantly or regularly based on user interaction, timing and other parameters that determine what content is delivered to the user. This means that users aren't going to see the exact same text, video, advertisements or even layout and color scheme because of different parameters. To give you an example, the most popular site that delivers dynamic content is Facebook, as every user sees different content based on their friends and social interactions, although the layout stays generally the same.
You can also find this type of content on SEMrush's main page. They've implemented a small script that keeps everything homogeneous, so there's no need to manually re-enter or update any information.
A product's «Features' Page» must mirror all the changes.
For instance, here's a completely outdated SEMrush page on which they promoted their backlink analytics.
How do I know the information on it hasn't been updated in awhile? I was browsing through their menu, and in the 'News' section I read about their updates related to backlink reports, quite a few of them, actually. But the «'Features' Page «seems to be missing on all of them.
Not all tools use the same quantity evaluation metrics and terminology for their backlink databases.
It is true, and, from a user's perspective, I find it very confusing. Imagine a situation when you need to convince your manager or the CEO of your company to purchase a new subscription to a different tool. In this case, you have a very slim chance of doing that because this new tool will make no sense at all to your boss.
I guess for up-and-coming tools it would make more sense to figure out what kind of metrics their competitors are using and apply them to their tool's interface, rather than trying to invent something new.
Keep calm and doubt things
Yet still, most marketing processes can not be measured precisely or checked with certainty. Sometimes we are forced to rely blindly on the data we receive.
All four of the tools I've analyzed claim that they have trillions of links. If I'm trying to get to the bottom of something, I like to doubt things. This is why I decided to delve deeper in to my research. In most comparison reports you'll see that the data quantity of a tool is justified by an overly simplified calculation: the company takes a few domains (ten, in most cases) and then compares the numbers.
But this is not a legit way to backup your statement (as you can tell, I am really into thorough and detail-oriented research, and am quite fond of working with big data sets), so I so I thought I should take a fairly large sample to prove mine.
The Methodology
I looked at 792 domains. In order to have a diverse range of domain sizes and niches, I decided to export this data from SEMrush's 'Winners and Losers' report — a list of sites that either experienced a significant growth or lost traffic within a period of time.
Here is a list of the domains' distribution by organic traffic (based on SEMrush estimations):
Less than 20K — 70
20K — 99K — 296
100K — 300K — 285
More than 300K — 141
In order to analyze these domains I used two different approaches:
Using a 'Bulk Link Checker' tool
Using an API
Some tools like Ahrefs and Majestic allow you to analyze more than 200 domains at once (using an internal 'Bulk Link Checker' tool). The data I received from Moz and SEMrush has been collected with the help of their API.
I really like the way the 'Bulk Link Checker' works in both Ahrefs and Majestic. But I was taken aback by how powerful Majestic's bulk checker is, as it is capable of analyzing up to 10,000 domains instantly by letting you upload .csv or .txt files: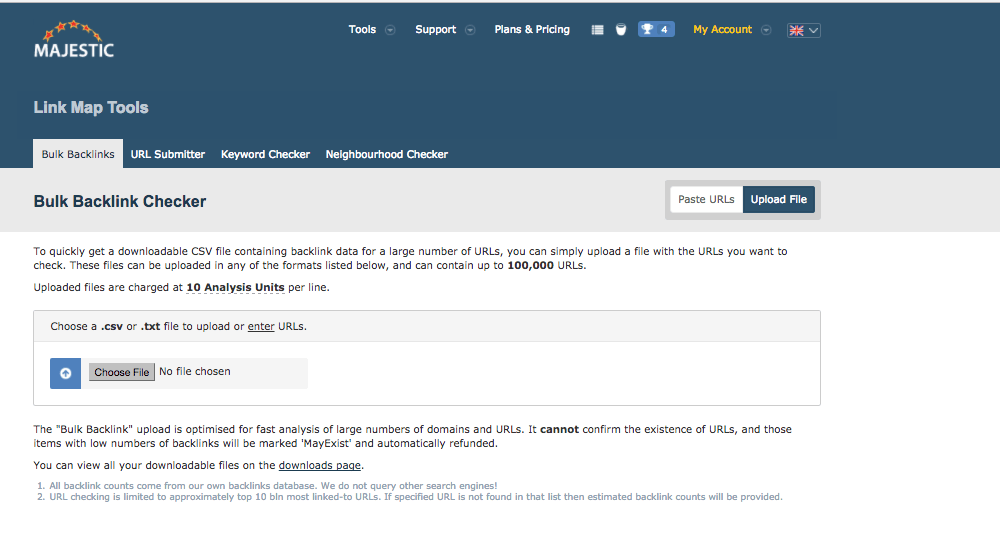 Majestic's tool rocks! It's a fantastic feature that will come in handy for those users who don't know how to code (me, for example) but have a strong desire to work with large amounts of data. By the way, I didn't know about this nifty feature until Dixon Jones pointed it out to me. Thanks, Dixon!
And here're the results of checking a random selection of domains:

If you're interested in getting a bigger picture, here's a link to my raw data file. In order to do a more extensive research, you are going to need to have access to the above mentioned tools, hours of free time and a personal developer. I did my research utilizing all the resources I had available at hand.
Turns out, what these tools claim almost matches with what my research revealed.

And The 'Quantity Category' Winner Is…
…Ahrefs! Kudos to Tim Soul and the rest of the team.
When companies embark on marketing campaigns, quantity, in most cases, is regarded as a good thing. Lots of traffic — good. Thousands of pageviews — excellent! The more the merrier.
And from all of those numbers, and social interest, businesses have high hopes for a myriad of leads.
The thing is that with data, quantity in itself cannot drive success and profit. Having tons of data won't help you. In fact, it's more likely to blur your vision and make decision-making arduous, increasing cost and reducing efficiency.
Operating large amounts of data requires you to have the right functionality to work with it. And this is what the next section is about.
Functionality (raw data processing and additional features)
This section is dedicated to reviewing a range of additional metrics and features all backlink analysis tools I've looked at have under their hoods. For your convenience, I've also created a video material covering this subject.
Are you ready? Let's get started!
Typically, if a tool doesn't allow you to process raw data, you are not working effectively and missing out on a lot of opportunities. Something's telling me that every digital marketer went through the excruciating and endless process of dealing with raw data in order to get a hint at what's going on with their SEO plan. Time is a precious commodity, and a lot of tools nowadays adopt this philosophy by offering such insights within a reach of a few clicks. And I value those digital marketing tools that give me exactly the type of information I'm looking for, without the need of filtering data manually.
The same logic applies to backlink analysis tools. You simply can't make a right decision without having pre-built metrics at hand. When working with backlinks, we want to know whether a specific site has a spammy profile or not, and estimate the general quality score of links acquired from this site. Spammy or not: understanding the nature of a link or a domain In this section I put together a list of metrics that help marketers determine trustworthiness of referring domains linked to a specific website. In a table below you will find metrics that are crucial when it comes to checking quality of a backlink profile. The table shows if a particular metric is featured in any of the tools I've analyzed. I'll be explaining why I've chosen these metrics as key in understanding the nature of any backlink profile below.
Spammy or not: understanding the nature of a link or a domain
In this section I put together a list of metrics that help marketers determine trustworthiness of referring domains linked to a specific website.
In a table below you will find metrics that are crucial when it comes to checking quality of a backlink profile. The table shows if a particular metric is featured in any of the tools I've analyzed. I'll be explaining why I've chosen these metrics as key in understanding the nature of any backlink profile below.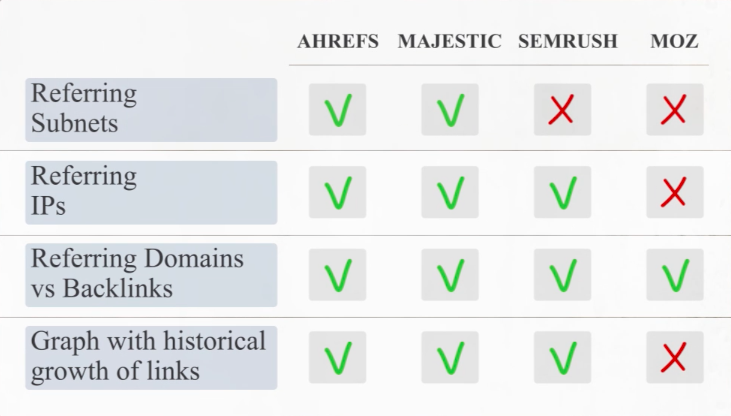 Information about diversity of referring subnets and IPs points out if websites linked to a certain domain are hosted on the same servers. Google checks both of these metrics and penalizes sites that have too many links coming from the exact same subnets or IPs. Besides that, I've noticed that every time I analyze backlink profiles of various domains, I also look at the ratio of domains and backlinks they have. This metric shows if the backlink profile is organic, or, in other words, isn't comprised of spammy links.
For example, a domain has 1,000 referring domains with 100,000 backlinks. These numbers look very suspicious, so you need to stay alert to such red flags.
Ahrefs allows you to filter out domains that have the largest number of backlinks, export them into a file and manually check if any of them are toxic.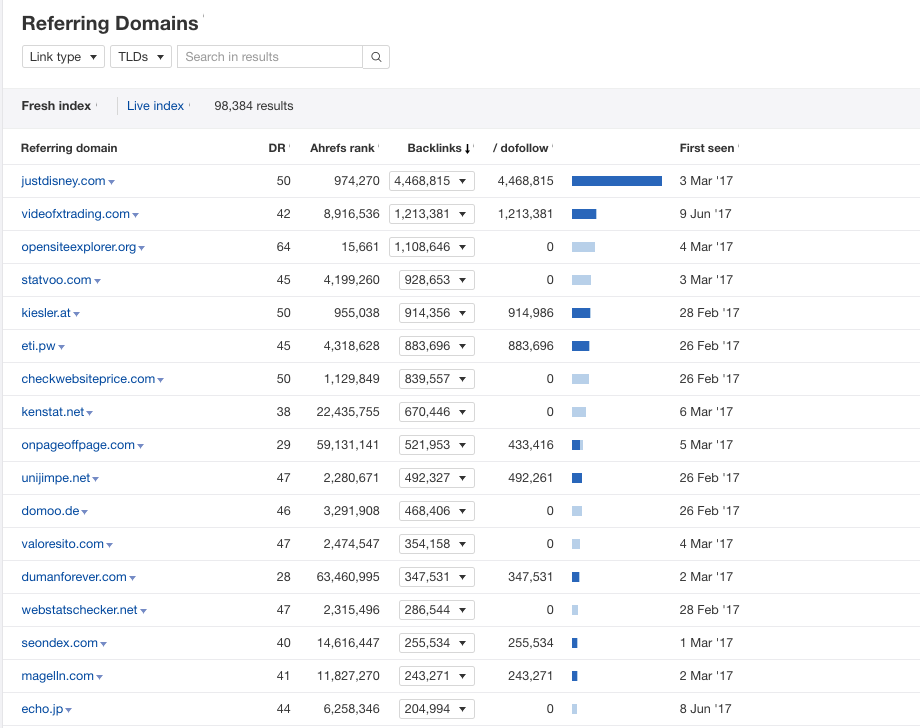 The same task can be performed in SEMrush: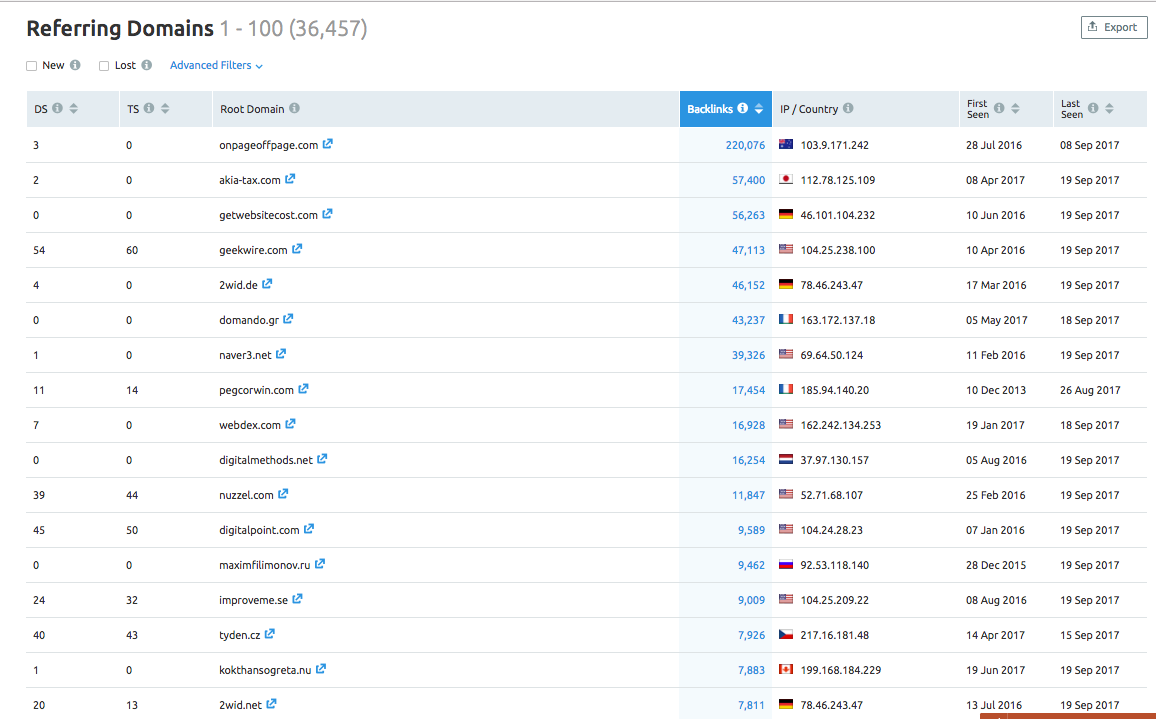 Speaking of Majestic, there's one particular feature that I find extremely helpful. Because Ahrefs categorizes its database of links, it is able to show you which industry does a specific domain belong to. This feature saves me a lot of time because I can easily track down spammy domains from industries irrelevant to my clients: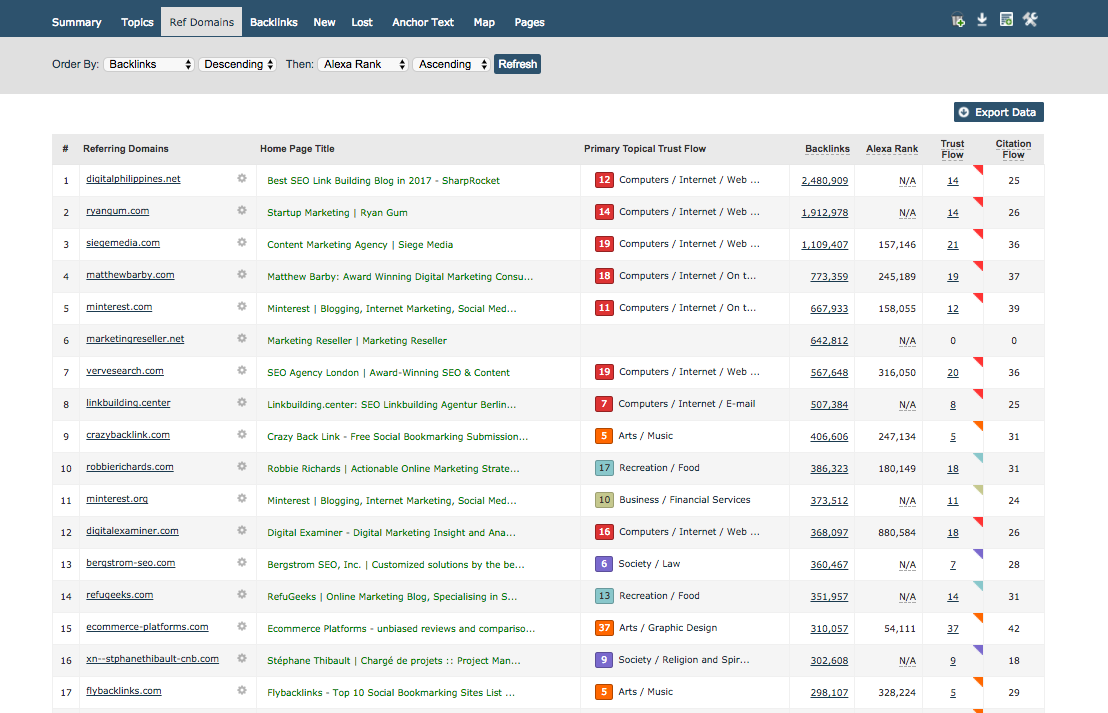 Last but not the least, there's another metric I always keep in mind when analyzing a backlink profile. Backlink history shows how many links to a given domain Majestic's, SEMrush's and Ahrefs's web crawlers have found in the past. The charts indicates of the backlinks growth associated with a specific domain, and it shouldn't have any ups and downs. Information about backlink history can be found in all tools, except for Moz.
General Quality Score
The group of metrics presented in a table below will assist you in finding the general quality score of any domain or link. Ideally, you need to gather information about all of these metrics in order to ensure that you're not making any headstrong conclusions: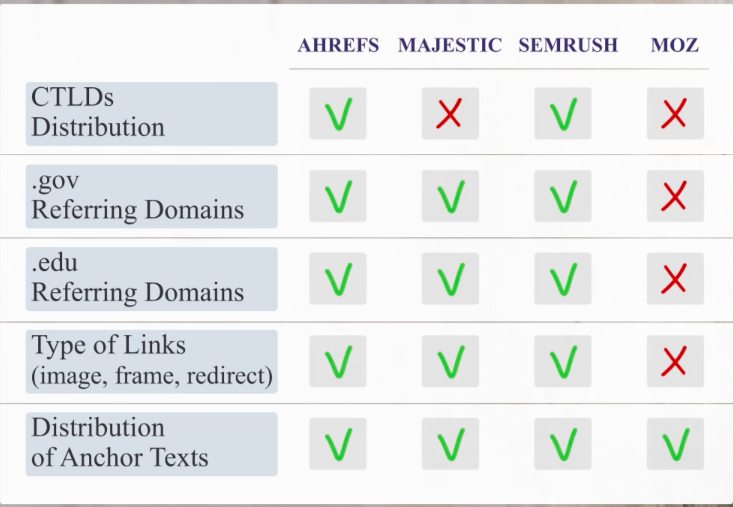 Most tools show CTLDs distribution on a main dashboard visualized as a map. This data is based on country code top-level domain (ccTLD) which is an Internet top-level domain generally used or reserved for a country, a sovereign state, or a dependent territory. The number of .gov and .edu referring domains also adds up to a domain's trustworthiness and credibility level because these sites will never refer to a spammy website in the first place. Unless they are hacked, but that's a different story.
In my opinion, the most important feature among all other features I've mentioned in the series of this post is the anchor text distribution. Sometimes, by looking at what kind of anchor texts a domain or an URL has you can easily track down suspicious activities related to acquiring links. If you're still not sure what type of anchor profile should be considered spammy, read one of my articles that's been published on the SEMrush blog gives a detailed explanation of that matter.
Metrics beyond categorization
Some metrics can be listed under a specific category, but there are some that aren't that easy to label but they are still worth mentioning because somehow they make the lives of digital marketers easier. In Moz, in the Inbound Links report there's a column called «Spam Score». This number is calculated based on 17 unique factors and ranges between 0 to 17. The lower the number, the lower the link's spam level. Here's a very thoroughly written post from Rand, Founder of Moz, where he explains exactly how this metric is calculated. Personally, this metric is very handy for digital marketers that aren't very well versed in link-building, but want to keep an eye on the quality of links they currently have.
Another feature that I'd like to mention is Majestic's Topical Trust Flow. I've referred to this feature previously in this post, but now I'd like to talk about it in more detail because if you haven't used it before you've missed out on a lot of functionality.

The Topical Trust Flow feature identifies which niche does a link belong to, and how precise this prediction is, according to Majestic. Majestic's team has also categorized the subdomain and the root domain levels. The screenshot above shows the root domain categories for the BBC.co.uk. The site has a lot of authority in the Arts and Television niches, but it's not that credible when it comes to Auto industry. For example, if you queried the «Top Gear» page as a URL on BBC's website, that page has considerably higher Topical Trust Flow in that sphere.

So if you doubt how relevant some of the referring domains are to your site, you don't need to go through the trouble of checking this information manually and spend hours on it anymore. Your time can now be filled with much more joyous activities.
In conclusion
After a thorough comparison, Ahrefs is a winner when it comes to functionality, but Majestic is breathing down its neck. Both tools offer a wide range of capabilities, and help digital marketers with their daily professional routine.
Be on a look out for more updates to be included in this posted in the nearest future because we will be selecting the ultimate winner! It's going to be interesting, stay tuned!